Many Interrail travelers pass through Denmark on their journey. Since most popular destinations in Denmark are easy to reach by train, it's an obvious way to travel around the country.
Here is a full guide to Interrail in Denmark if you are interested in doing such a trip!
Choose your Interrail Pass
First and foremost, you need an Interrail Pass to do an Interrail trip. You can either get a travel pass just for Denmark (prices start at 105€) or a global pass covering most of Europe (prices start at 208€).
If you only intend to visit Denmark, then get the local travel pass. But for most travelers, Denmark will only be part of the journey, and therefore it's best to get a global pass. That way you can also visit neighboring countries such as Sweden and Germany, along with any other European destination that you have in mind.
Destinations in Denmark
Denmark has several nice cities that you can consider visiting.
Copenhagen is the capital and the largest city. If you are into history, art, shopping or general entertainment, Copenhagen is a great city to visit. Furthermore, it is very close to the Swedish city Malmö, so it's the perfect entry point if you intend to continue your trip into Sweden. Read our articles about where to stay in Copenhagen and the best attractions to see.
Aarhus is the second largest city, located centrally in the country. It's one of the oldest cities in Denmark, but these days it's primarily known as a booming university city with a great nightlife. Due to its central location in Denmark, it's an ideal city to use as a base for your trip. Find out where to stay in Aarhus here.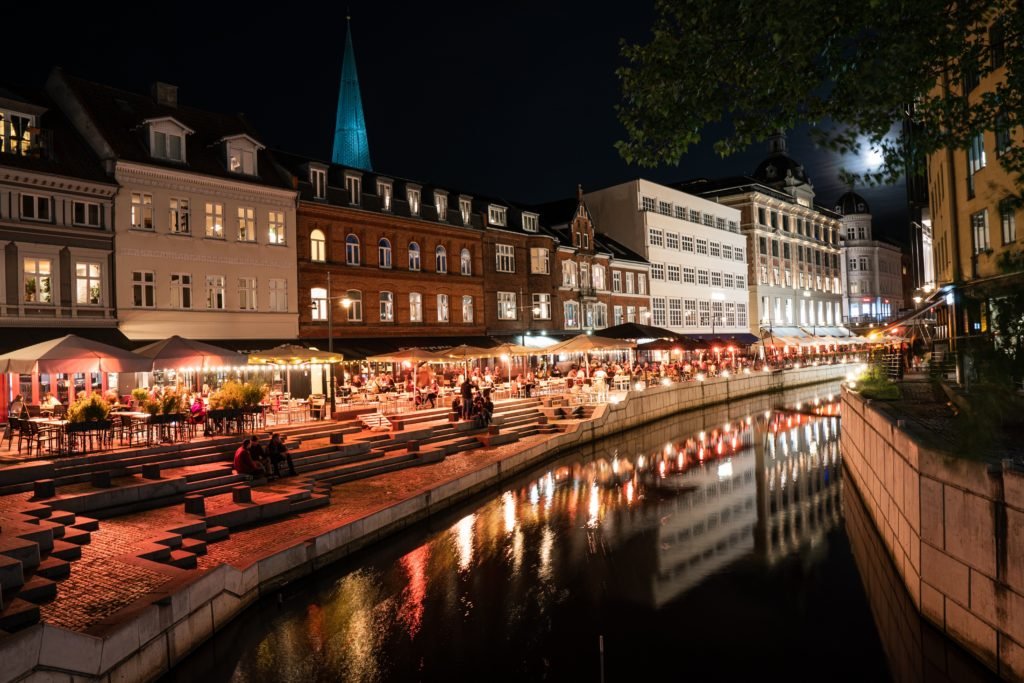 Odense is the home city of world famous author, H.C. Andersen. Located on the island of Funen, in between Copenhagen and Aarhus, it's a great place to go for a day or two. History lovers will particularly love it, but almost all visitors enjoy Odense and its beautiful streets. Read our Odense travel guide here.
Aalborg is the largest city in the north of Denmark. It used to be a heavy industrial city, but in the last couple of decades, it has evolved into a center for education, art and entertainment. Aalborg is home to Northern Europe's largest annual carnival. The locals call it "the Paris of the north", and while it's lacking a bit in size, the charm of Aalborg does justify that title a little bit. Learn about the best attractions and find out where to stay in Aalborg through our articles.
All the main cities are connected to each other with the national train network.
Some other places worth visiting in Denmark:
Roskilde (near Copenhagen)
Helsingør (also near Copenhagen)
Bornholm island
Sønderborg
Herning (near Aarhus)
Vejle (also near Aarhus)
Billund (home of Legoland)
Løkken (near Aalborg)
Skagen (the northernmost town in Denmark)
Trains in Denmark
DSB is the company that runs all domestic trains in Denmark. Some Swedish and German companies are also active near the border area. But more about that later.
The most popular type of train in Denmark is the InterCity Lyn train. It starts in the north of Denmark (depending on the route, either in Frederikshavn or Aalborg) and continues all the way to Copenhagen, the airport usually being the final destination.
The InterCity Lyn only has a few stops along the way. However, there is also the regular InterCity train – it has a lot more stops in smaller towns along the way, and is therefore slower.
There are also regional trains in some Danish regions, under sub-divisions of DSB. They cover regional routes, usually having many stops in even the smallest towns.
City trains
Copenhagen has some trains that are just operating in the city and its suburbs. S-Tog is the name of the suburban trains and they run several times per hour every day.
Copenhagen also has a metro, mainly covering the center and a few suburban areas.
Aarhus has a relatively new light rail system (opened in 2017). It covers the center of the city and some outer areas. The system is currently being expanded into several more lines.
These city trains in Copenhagen and Aarhus are very useful for exploring the cities in detail. They are usually fast and well-working.
Aalborg, Odense and all other Danish cities and towns do not currently have metros, light rail or local suburban trains. They do, however, have a lot of frequent buses.
Travel times between Danish cities
A quick overview of expected travel times between the main cities in Denmark. In order, from north to southeast.
Aalborg-Aarhus: 1h30min
Aalborg-Odense: 3h15min
Aalborg-Copenhagen: 4h30min
Aarhus-Odense: 1h35min
Aarhus-Copenhagen: 3 hours
Aarhus-Esbjerg: 2h25min
Odense-Copenhagen: 1h20min
Roskilde-Copenhagen: ~30min
International connections
The SJ high-speed train runs between Denmark and Sweden. It connects Copenhagen to Malmö and continues into other Swedish destinations.
InterCity Express (ICE) trains go from Aarhus and Copenhagen into Hamburg in Germany, operated by DB.
Here are the international connections and expected travel times:
Copenhagen-Hamburg: 4h45min
Copenhagen-Malmö: 42min
Copenhagen-Oslo (via Gothenburg): 7h30min
Aarhus-Hamburg: 4h30min
You can also find longer connections, such as the Copenhagen-Basel route, but these connections will usually have long stops or shifts along the way.
When is the Interrail Pass valid?
An Interrail Pass is valid on all trains in Denmark.
InterCity Lyn, InterCity, S-Tog and local trains such as Nordjyske Jernbaner are all fully included in your Interrail privileges. However, it is recommended that you book a seat reservation if you travel with InterCity Lyn or InterCity in the morning or in the afternoon, since they are usually full at these times. However, it is completely up to you. Even if all seats are booked, you can still just stand up in the train – it is not compulsory to book a seat reservation with InterCity trains, so do not worry about whether you're able to travel with them or not. You can always do so if you have a valid Interrail Pass.
If you take the InterCity Express into Germany, you must book a seat reservation along with your pass in the summer months. However, in the winter months, early spring and late fall, it is not officially necessary (but still a good idea). Find more information here.
The SJ high-speed train into Sweden also requires you to to book a seat reservation. You can only take the train if you have a reservation on top of your Interrail pass.
Seat reservations in Denmark for Interrailers
If you wish to book a seat reservation in the InterCity Lyn or InterCity trains in Denmark, which is not compulsory but simply a good idea, you can book it at the station, by calling DSB, or through an online reservation service in advance. It costs 30 DKK (4€) for a seat reservation, no matter how long the journey is.
The price is approximately the same if you want a seat reservation for the ICE going into Germany. Once again, you can book it at the station, or by calling DSB or DB in advance, or by using the online reservation service for Interrail card holders. It is necessary to book a seat in the summertime, but not for the rest of the year.
To book a seat reservation in the SJ train heading into Sweden, which is always a necessity if you wish to travel with the train as an Interrailer, you have to pay 126 DKK (27€) for a first class reservation or 52 DKK (7€) for a second class reservation.
Ferry discounts with Interrail
Want to take a ferry to Norway? If so, good news: You can get up to 20% discount on the ferry ticket if you have an Interrail Pass. There may also be discounts on ferries to Sweden, Germany and Poland, but it can vary a lot, so you need to check up on that yourself. It's always something you can ask about when you book your ferry ticket (can usually be done directly at the harbour).
Conclusion
Interrail in Denmark can be quite an adventure. You get the chance to see interesting modern cities such as Copenhagen and Aarhus, but also various hidden gems in Denmark.
As mentioned in the early part of this article, you can either book an Interrail Pass just for Denmark, or you can book the Global Pass where you can travel all over Europe. We recommend the Global Pass, since Denmark is a small country, and since most foreign travelers do get the urge to see Sweden and Germany as they are really close.
Enjoy your trip!