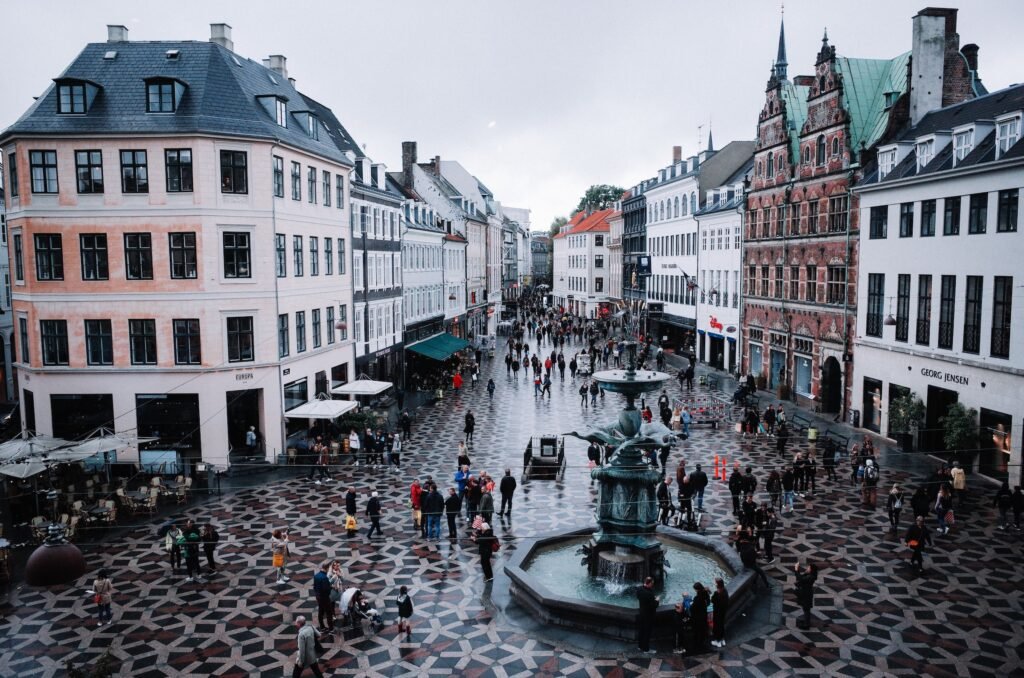 Copenhagen has a lot to offer. In fact, no matter how long you stay in the Danish capital, there will always be something new to do. It is the cultural center of Denmark and with around 1,000 years of history, there is a lot to see and do in Copenhagen.
In this article, we are zooming in on the best sights and attractions in Copenhagen. We will describe each of them in detail, and when you get to the bottom of the article, you can download a checklist to bring for the trip.
Enough talk, let's get started – these attractions will include everything from castles to churches, restaurants to department stores, monuments to museums. A better way to say it: All the things that make Copenhagen special!
Cultural sights in Copenhagen
We will separate the attractions into different groups: The first and main category will cover cultural sights in Copenhagen.
Amalienborg Castle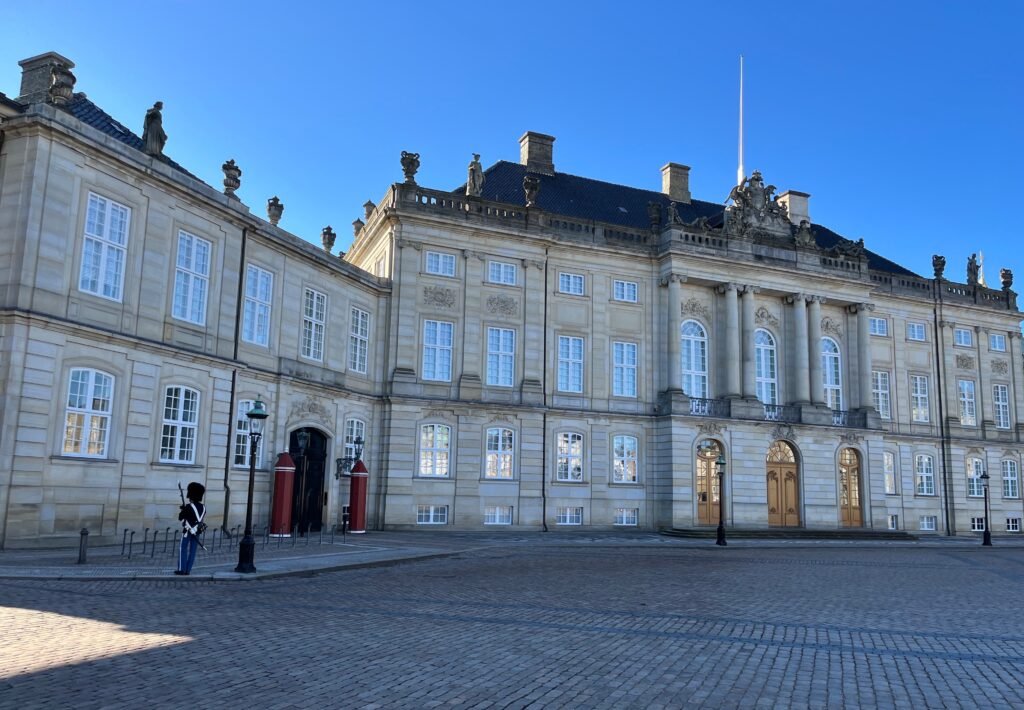 The residence of the Queen, and also one of the great architectural sights of the city.
Amalienborg is a must-visit attraction on a trip to Copenhagen. It is one of the most famous venues in Denmark, it has historical significance, and it is a great place to go and take some pictures!
Be sure to notice the royal guards too. And take a walk around the area – quite beautiful, with the water near. I recommend going here in the evening when it's less crowded.
The Little Mermaid
Arguably the most famous attraction in Copenhagen.
The story of The Little Mermaid originates from the fairytale of H.C. Andersen. Since then, this bronze statue was made, and it has grown to be a great symbol of Denmark and Danish culture.
It is located on the Langelinie waterside. It was unveiled back in 1913 but has sometimes been transported to other venues. The Little Mermaid has also been a target of political activists at times, and the statue had to endure a lot – but it is still standing, and it is something most people visit when they go to Copenhagen.
At first, it can be a bit underwhelming to see The Little Mermaid as the statue is small and unimposing. But be sure to enjoy the moment and take a picture! After all, it's one of the symbols of Copenhagen, and Denmark as a whole.
Christiansborg Palace
This palace now serves as the centre of politics in Denmark. This is where the politicians go to work every day, which obviously makes it a place of interest. But at the same time, it is interesting from an architectural point of view. There has been a castle at the location since the 12th century, but due to many fires, it has been rebuilt a few times. The current construction was completed in 1928. The architectural style is a mix of Baroque, Neo-baroque and Neoclassicism.
You can easily visit Christiansborg Palace. It is owned by the state, and many parts are open to the public. A full ticket costs 160 DKK (around 22 euros) but children can get in for free. It makes sense to pay a bit extra and get a guided tour!
Rundetårn
This tower is one of the most famous landmarks in all of Denmark. King Christian IV loved architecture and cultural projects – he asked for this tower to be built, and in 1642 it was completed.
The tower is 41.55 meters tall. A decent height, but not extremely tall by any means. It is a cultural highlight, though. It does not have stairs, but rather a spiral path with windows all the way up. On the top, there is an observatory and you can get a pretty good view out over the surroundings.
Rundetårn is one of the most popular tourist attractions in Copenhagen, so we highly recommend it! Entry is just 40 DKK (~5 euros) for adults. It is open every day of the week, except for a few selected holidays such as the 24th and 25 of December.
Rådhuspladsen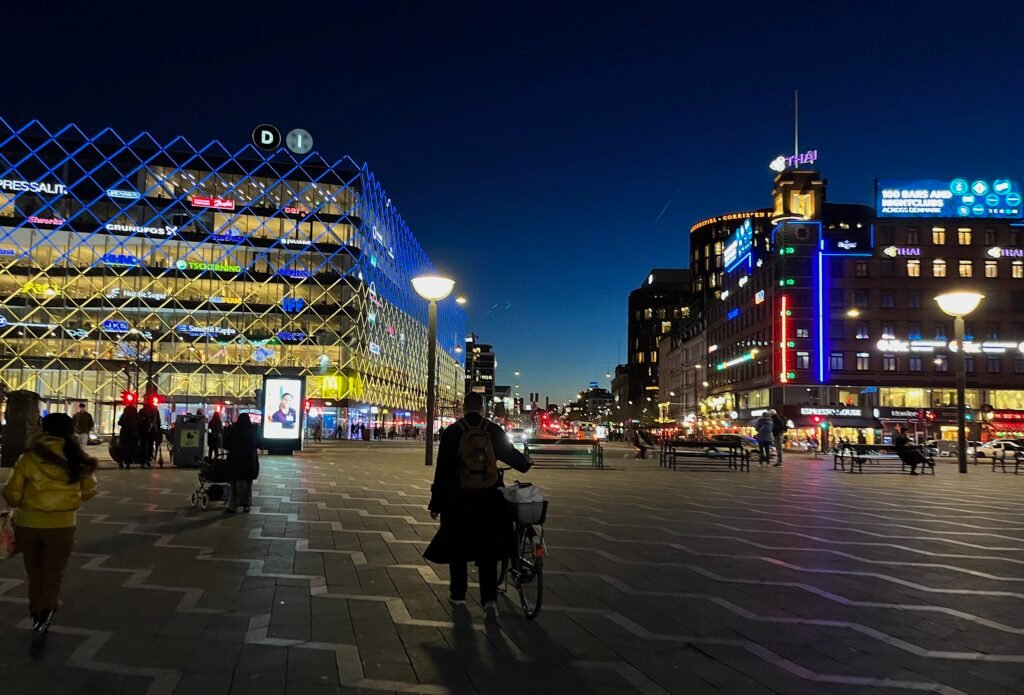 The square in front of the city hall is an important place. The image is famous and widely used in Danish TV and movies. It is one of the most trafficked spots in Copenhagen. 60,000 cars pass it daily, it has a major metro station, and it also works as a meeting place for the locals.
The roofs around the square contain some of the largest and most expensive public advertisement spots in the country. There are a few monuments on and around the square. One of the most prolific ones is a statue of author H.C. Andersen.
Charlottenborg Palace
Right on the edge of Nyhavn, we find Charlottenborg Palace. The oldest part of the palace dates back to the 1670s, although some parts are newer.
This palace is not as impressive on the outside as Amalienborg and Christiansborg. But it remains a huge attraction because of its interior. Charlottenborg Palace houses an art academy and several art institutions. There are often exhibitions, and it is in every way a remarkable place.
Entertaining attractions
After checking out the main cultural sights, you probably want to move on to something else. Our suggestion will be to check out one of these entertaining attractions in Copenhagen.
Tivoli
Tivoli in Copenhagen is one of the world's oldest attraction parks. It was founded by Georg Carstensen in 1843 and it has a very central location in Copenhagen, near the central train station and the shopping street Strøget.
The park is open between April and September, with special openings during Halloween and the days leading up to Christmas. There is a total of 27 attractions and 4 roller coasters inside. It also has a theatre and several restaurants, so even if you aren't into the rush of trying speedy attractions, you can still have a great time!
It is the most visited attraction park in Denmark and the third most visited in Europe. Over 4.4 million people visit Tivoli each year. Stay updated on the entry price and opening hours here.
Bakken
Bakken is in fact the oldest amusement park in the world. It was founded in 1583 and is located in Klampenborg, roughly 10 kilometers north of central Copenhagen.
There are many fun attractions here. Generally, it is easy to go here and have some fun. Many people go to Bakken for social reasons in the summer. It has over 20 different restaurants and a solid handful of bars. Bakken is also famous for hosting Denmark's largest revue, Cirkusrevyen.
The entry price is 279 DKK if you pay at the entry. If you book online over a week in advance, the price is lowered to 229 DKK. The open season is between May and September. During the Danish autumn holiday in the middle of October, Bakken is also open for a week. It then opens again for a special Christmas season in December. Visit their website for more information and to book your ticket.
Museums and exhibitions
This category covers museums in Copenhagen, along with other places where you go to see something and go through an entrance – such as zoos, aquariums, etc.
The State Museum of Art
This remarkable museum is known as "Statens Museum for Kunst" in Danish – literally meaning the State Museum of Art.
It's probably the best in the city, despite the tough competition. This museum has a large collection of Danish and European art from the 14th century up until the present day. In total, there are over 9.000 paintings and sculptures, along with about a quarter of a million drawings and sketches. You can't possibly see everything in a day, so focus on the sections you are most interested in, or plan two trips to the museum!
Glyptoteket
Ny Carlsberg Glyptotek, or "Glyptoteket" as people call it in daily speech, was founded by brewer Carl Jacobsen. You probably know his beer, Carlsberg.
Jacobsen had a huge collection of art. However, he couldn't fit it all at home, so he decided to move the collection to this building and make it accessible to the public. A few years later, in 1888, he finally decided to give it all to the Danish people. The location was changed, but the collection is still there, and some additions have been made since.
Glyptoteket primarily has sculptures, but there are also paintings and old artifacts. You will find interesting sections related to the ancient Egyptian, Greek and Roman cultures.
This museum is an absolute highlight, and if you could only choose one, this might be it!
Louisiana Museum of Modern Art
This alternative museum has been famous ever since it opened. Louisiana is focused on modern art and the majority of the works are from the late 20th and early 21st centuries.
There is a clear emphasis on paintings, but don't forget to stroll to the sculpture park. On occasion, some very alternative pieces of art also show up. In total there are over 4,000 pieces so you can easily spend several hours here. Louisiana is particularly great for open-minded art enthusiasts with a taste for something special.
Frilandsmuseet
Frilandsmuseet is a special museum focused on architecture and culture. It is a collection of over 100 buildings and constructions from all over Denmark that has been moved to the museum. It also has some nice gardens. Among the highlights are the classic windmills.
The Geological Museum
If you're looking for some interesting geological exhibitions, this is the place to go. The museum has unique minerals, meteorites, and even a moonstone. It's a great place to visit. The museum is also a place of research for students at the University of Copenhagen.
The Copenhagen Zoo
Not a museum, but we will place the Copenhagen Zoo in this category since it is a similar attraction.
It's one of the oldest zoos in Europe. Located in the municipality of Frederiksberg, it is just slightly outside Copenhagen's center, yet very accessible. Roughly 1.2 million people visit the zoo annually. There are over 3,500 animals and over 200 unique species to see. The entry price is 195 DKK for an adult. You can book it online and it can be used any day within the following year.
The Zoological Museum
Speaking of the zoo, you should also have a look at the Zoological Museum. It is connected to the Geological Museum mentioned earlier, so both can be enjoyed on the same day. You will find some interesting exhibitions – they get updated regularly, and new things are always added. You can even see some dinosaur fossils here, so it is one of the cultural highlights.
Den Blå Planet (The Blue Planet)
The largest aquarium in Northern Europe is located in Copenhagen and it's called Den Blå Planet, which means The Blue Planet! So if you want to see everything from sharks to turtles, this is the place to go.
The aquarium has species from all different seas, and it is open every day of the week. Tickets can be bought online or at the spot. An adult ticket is priced at 185 DKK which is fairly reasonable. It's a venue where you can easily spend some hours, and it is well suited for families and students.
The Botanical Garden
The Botanical Garden is connected to the Geological and Zoological museums. It's a beautiful place with several unique gardens. There are over 13,000 species in total. One section only has native Danish plants, so that is the highlight if you want to learn more about Danish nature. The garden also has trees, plants and flowers from other parts of the world, so be sure to take enough time to see plenty!
Cathedrals and churches
Copenhagen has several interesting religious places, such as cathedrals and churches. If you are Christian, or if you are into architecture and history, these places are highly worth visiting!
Vor Frue Kirke
Vor Frue Kirke is the cathedral in Copenhagen. It is dedicated to Virgin Mary who was also known as "Vor Frue" in Denmark.
There has been a church at this spot since the 12th century, but three times it has been burned. The current cathedral was built between 1817 and 1829. The architectural style is classicist and the cathedral is located on Nørregade in the heart of the city.
On the inside, you will notice grand sculptures of Christ and the 12 apostles. You can attend mass each Sunday. Aside from the regular churchgoers, Vor Frue Kirke is visited by over a half million tourists each year.
Commercial attractions
This category will cover special stores, department houses, specific malls, typical shopping streets, and so on.
Strøget
The main shopping street of Copenhagen. It is right in the middle of the city, and it is very long. In fact, Strøget is the longest pedestrian street in the world, and it's also the oldest classified pedestrian street.
The street goes from Rådhuspladsen (City Hall) in the west to Kongens Nytorv in the east.
Strøget works as a general sight/attraction in the city, but it is also good for entertainment purposes. Check out some of the many stores or cafés. Strøget is also a popular meeting place for many people, and there is always something fun going on when you look around.
Magasin du Nord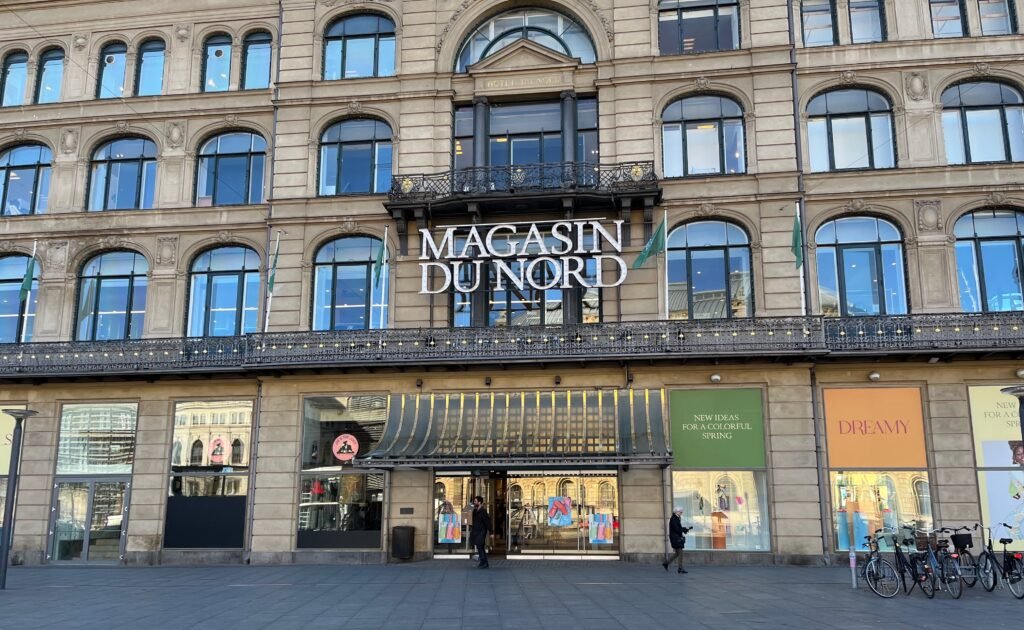 The classic department store is right in the middle of the city. You can actually reach it from Strøget.
Magasin du Nord is arguably the most famous store in Denmark, and it has been shown in many movies and series. It's a popular place to go shopping, as you will find all kinds of items.
We highly recommend going to Magasin du Nord (or simply Magasin as we call it) – it's one of the things to do in Copenhagen that is enjoyed by almost everybody.
Illum
Det Nye Illum, better known just as Illum, is also a great place to go shopping. Also located very central in Copenhagen, it's perfect to go there right after you're finished in Magasin.
Illum primarily has fashion, clothes, perfumes and so on. If you want to buy any of these, or simply look around, it is a great place to go.
Frederiksberg Centret
A popular mall in Frederiksberg. A bit outside the main centre of Copenhagen, but not my much. You can get there somewhat fast just by walking, and otherwise, you can take a bus or the S-train to a nearby stop.
Frederiksberg Centret has a lot of stores. It also has some great cafés, juice bars, and a couple of restaurants.
It's a decent attraction and a nice place to go shopping. We recommend it. Especially if you are already in the Frederiksberg area.
Visit their website for information on opening hours, pictures and more.
Fisketorvet
Another mall, located by the harbour, at Kalvebod Brygge. This one is also worth visiting, as it is very popular among the locals. Most tourists who go there also end up having a good time.
Fisketorvet has almost 100 stores. It also has over 20 restaurants and cafés, along with a cinema and other attractions.
You will find a huge variety of shops, with plenty of things to do. Fisketorvet is one of the best malls in all of Denmark, so it definitely makes sense to go – especially if you are into shopping!
Check out their website here for opening hours.
Culinary Experiences
There is also a very high chance that you want to eat out in Copenhagen. Here are some famous restaurants and bars that can be considered attractions – they certainly belong on a Copenhagen to-do list!
Here are the top Michelin-restaurants in Copenhagen:
Geranium
Noma
Kadeau
AOC
Jordnær
Kokkeriet
Søllerød Kro
Best midrange restaurants:
Pluto
Ibu
Geist
Marv og Ben
Uformel
Anarki
Pony
Please note that middle-class restaurants in Copenhagen might in fact be more expensive than top restaurants in most other cities. Yet, the prices of the restaurants above are considered middle-class compared to the top restaurants.
For more specific information about gastronomic experiences in Copenhagen, read our full guide on where to eat in the city.
Areas and districts of interest
You might want to visit some areas rather than focusing on singular attractions. Some areas are known for having a special vibe or for facilitating a certain type of lifestyle. Here are the most prominent areas in Copenhagen from the tourist point of view.
Nyhavn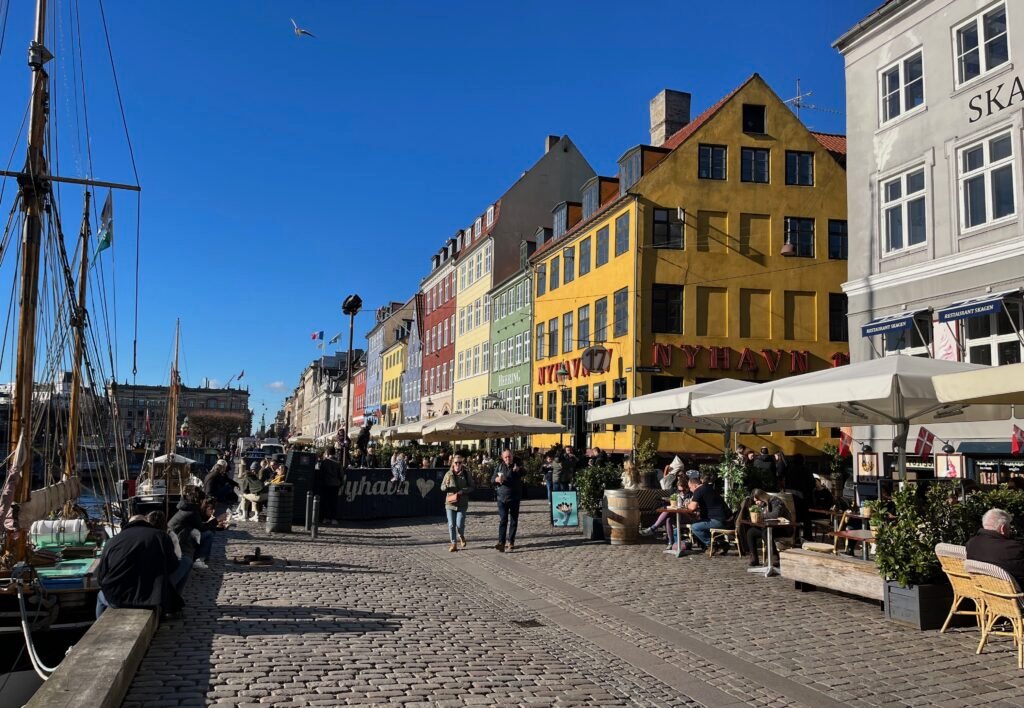 When you see a photo of Copenhagen on a postcard or in a book, it will almost always show Nyhavn.
This is the idyllic little port where traditional private boats are surrounded by some of Copenhagen's most colorful buildings, most of them containing bars and restaurants.
The Nyhavn area was founded back in 1673. It was meant to work as a commercial port, but quickly became a place of entertainment where sailors could go out to drink, party and meet women. Nowadays, it is a tourist quarter and it's considered to be one of the best tourist attractions in Copenhagen.
Nørrebro
Copenhagen is separated into several districts. Some of them are Nørrebro (northern borough), Østerbro (eastern borough), and Vesterbro (western borough). They all have their own distinct vibe.
Nørrebro is famous as the most multicultural borough in Copenhagen. A significant percentage of the population has an immigrant background. For this reason, it feels different than the rest of the city. Some people love it, some hate it. Unfortunately, it is one of the most dangerous areas of Copenhagen at night. However, there is a wide variety of small restaurants with all sorts of different food. Historically, many artists have lived in Nørrebro and that is still the case today. Along with the reputation of being very multicultural, Nørrebro also has a very large hipster scene.
Nordhavn
This is one of the newest parts of Copenhagen. Nordhavn is located directly east of Østerbro, and a bit northeast of the center. Traditionally this has been a port as well as a very industrial area. But since 2005, a lot of changes have happened. Residential buildings, as well as cultural attractions, are being formed on an increasing level every year. It has become one of the most expensive districts of the city. Also, the plan is to make Nordhavn a hotspot for cruises coming into Copenhagen.
Tours in Copenhagen
You might want to go on some tours. Booking a tour will obviously cost some money, but in most cases, it is worth it – it makes the experience better and you get to learn more when you go to an attraction. Here are our favorite tours in Copenhagen.
Attractions in other Danish cities
You will also find popular attractions in other Danish cities. A lot of travelers choose to take a day trip to at least one other city in Denmark. Since the public transport options are quite good in Copenhagen and beyond, you can reach a lot of interesting destinations in a very short time.
Here are some cities to visit near Copenhagen:
Roskilde
Helsingør
Malmö
Odense
Kalundborg
If you don't mind going a bit further, Denmark's second-largest city Aarhus is also within a fair distance of Copenhagen.
Find more suggestions here: Best day trips from Copenhagen