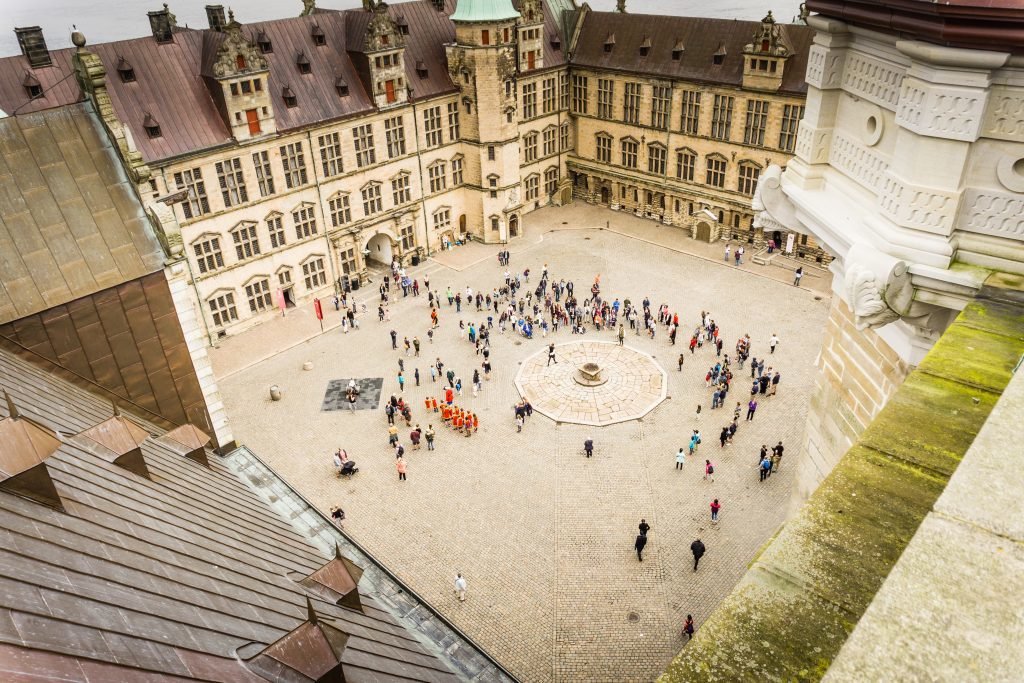 If you are going to Copenhagen, you will have plenty of things to do. However, if you also want to visit other interesting cities in Denmark, a day trip would be a great idea.
Here is some inspiration – 10 cities and towns that are relatively close to Copenhagen.
Roskilde
Roskilde is one of the oldest cities in Denmark. It is famous for hosting the Roskilde Festival, which is the largest music festival in northern Europe.
However, the most important attraction is the Roskilde Cathedral. It is one of the best attractions in all of Denmark, due to its history and wonderful architecture. The Royal families of Denmark are buried here. Several art works are painted inside the cathedral, describing the history of Denmark. Since 1995, Roskilde Cathedral has been on the UNESCO World Heritage List.
Aside from that, Roskilde has a great Viking museum. Here, you will be able to see original Viking ships. The city also has many other museums, some of the best in Denmark. In the past, Roskilde used to be the most important city in Denmark.
Roskilde has a major university, and a big part of the residents are young people.
It only takes between 20 and 30 minutes to travel from Copenhagen to Roskilde. You can drive yourself, or take the train.
Read our Roskilde travel guide for more information.
Helsingør
Another historic Danish city.
Helsingør is located north of Copenhagen. It is known as the gateway to the Baltic Sea and to the rest of Scandinavia, since you must pass it while sailing in. On the opposite site of the water, you will find the Swedish town of Helsingborg, and you can sail between the two cities by ferry.
However, we recommend you to stay in Helsingør at first. It is one of the best places to go if you want a day trip from Copenhagen to another city.
Helsingør is home to Kronborg, the famous castle that is on the UNESCO World Heritage list. The story of Hamlet takes place here.
Kronborg is an amazing castle that is well worth the visit. It is quite old and used to have significant importance for the Danish military. Nowadays, it is an attraction with a lot of interesting things inside. That includes the Holger Danske statue, based on the legendary Danish warrior Holger Danske.
Helsingør is directly north from Copenhagen. It takes 45 minutes with train, and around 5 minutes less with car.
Read our Helsingør travel guide here!
Malmö
It's obvious to visit Sweden as well. Copenhagen and Malmö are very close to each other, and they are connected by bridge. That means you can drive there, take the train, or take a bus. There are a lot of options!
Malmö is not as large as Copenhagen, but it has a decent size, with a nice handful of attractions to offer. The Swedish style is very charming, and walking around Malmö is a great experience. It is somewhat like being in a Danish city, but just a bit different. And – you get to say that you visited two countries on your Copenhagen trip!
Going with the train is fastest, as it will only take between 30 and 40 minutes. Driving yourself will take around 45 minutes, while a bus ride is around 2 hours.
Lund
If you go to Malmö, why not visit Lund as well – it is another nice Swedish city, and it's not that far from Malmö. You can quickly add it to the trip if you drive by car, and by train it is also easy and fast.
Lund is a university city. It has a young vibe, and it's a fun city. However, it also has plenty of attractions, historical as well as modern.
It is not the absolute best day trip from Copenhagen, as the competition is hard, but Lund is definitely worth a visit. Especially if you already intend to visit Sweden.
Frederiksborg Castle in Hillerød
A famous Danish castle that was built in 1560. It is located in Hillerød, quite central in the northern part of Sjælland. It's less than an hour away from Copenhagen, and we highly recommend going there if you have a day available.
Frederiksborg Castle is large and for a while it was the royal residence. Now it is a museum of national history. In other words, you get to see a famous and historic castle, but you also get to see one of the main museums of Denmark!
Aarhus
If you don't mind going a little longer, a trip to Aarhus is an awesome idea.
Aarhus is the second largest city of Denmark. It is home to Scandinavia's largest university, and the city used to be the capital of Denmark. It has a lot of bars and a significant part of the population are students.
You will find great museums in Aarhus, great shopping venues, and plenty of historic sites. It's a great place to go for a one day trip, or perhaps even to stay for a day or two. There are many interesting attractions in Aarhus to keep you busy.
You can fly to Aarhus from Copenhagen and it takes about 45 minutes in the air. However, you have to be at the airport an hour before, and the Aarhus airport is located a bit away from the city, so you are looking at roughly 3 hours of travel time.
So instead, we recommend you to take the train or to drive yourself. That also takes 3 hours, approximately – and there are many great views on the way. Book a ticket from Copenhagen's central train station, and you will arrive directly in the heart of Aarhus 3 hours later. You can also book a car and drive yourself, if you prefer that!
There are plenty of good hotels in Aarhus if you decide to stay for more than a day – read about where to stay in Aarhus if you need recommendations.
Odense
Odense is the third largest city in Denmark, and it's a bit closer to Copenhagen than Aarhus is. That makes it a great opportunity for a day trip, as it takes less than 2 hours to go there (by train, car or bus).
The famous Danish author H.C. Andersen was born here. Odense is a very charming city with a lot to do. You will particularly find historic attractions, beautiful old houses, and a very nice city centre with cool activities.
Furthermore, Odense is not a very touristic city at all, unlike Copenhagen, so in many ways, you are getting a true Danish experience! Definitely one of the best options when it comes to day trips from Copenhagen.
Dragør
Dragør is the southern part of Amager, very close to the Copenhagen airport. It is 12 kilometres from the centre of Copenhagen, but not considered as part of the city.
Although not a large city, Dragør has a lot to offer. It has well-maintained old houses and buildings. The streets are beautiful, and everything looks typical Danish. It has a nice museum – Amager Museum – and a fishing port. Dragør is super romantic, and it feels like an old part of Denmark, but with modern supplies.
It's great to go to Dragør if you need a day away from the big city. Go here to take some photos, or to sit down at a café and enjoy the view. Dragør is very calm and very charming – it has been mentioned in the New York Times as a very unique and beautiful travel destination.
So, if you have an hour or two to spare while you are in Copenhagen, then go here and see Dragør!
Holbæk
A calm town, located a bit northwest of Copenhagen. You can get here fast, probably in less than an hour.
Holbæk is a nice town and worth a visit if you want to see a smaller Danish town and observe the daily life here. Holbæk is located by the water. It has a lot of great restaurants, a good reason why people go, along with some nice stores.
Not a top priority, but if you are staying in Copenhagen for a month or so, it could be a decent place to visit!
Lolland-Falster
Two islands located southwest of Copenhagen. Lolland and Falster are separate islands, but very close geographically and culturally, and for that reason often mentioned together.
The people living here have a unique way of speaking. It is a very interesting place to go, and you can take the train directly from Copenhagen.
Maribo is the best place to go. Very central on Lolland, it has a cathedral, and several old stores and houses.
Furthermore, on Lolland-Falster you will find a safari park (Knuthenborg Safaripark is the name) and a museum of trains – Museumsbanen.
The islands have some of the best golf courses in Denmark. It's also a great location for fishing. In general, we recommend going here, perhaps even as a weekend trip instead of just a one-day trip!
—
There we have it – 10 different places you can visit if you want a day trip from Copenhagen. Despite the location on the eastern edge of the country, Copenhagen is easily connected to other important cities and towns, so transportation is no issue. The only question is – where are you going?