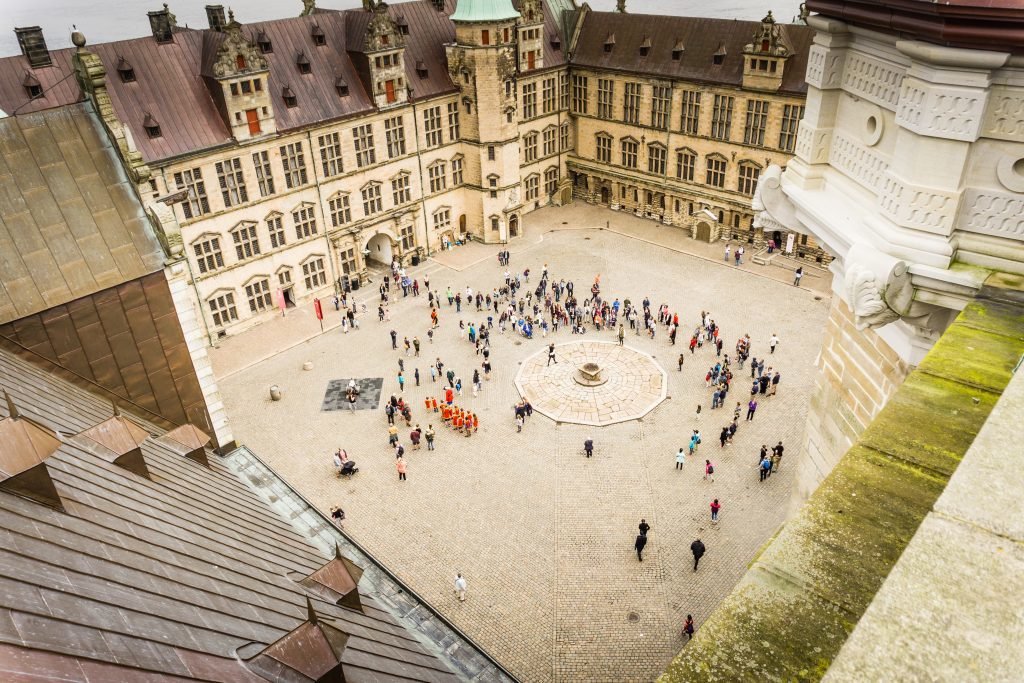 If you are going to Copenhagen, you will have plenty of things to do – the city is awesome. But if you want to visit more places in Denmark, the best way to do it is by taking day trips. That allows you to stay in Copenhagen and still visit multiple destinations on your trip.
Here are some quick recommendations – 10 cities and towns that are relatively close to the Danish capital. It's the perfect overview if you are looking to do some day trips from Copenhagen!
Roskilde
Travel time from Copenhagen: 25 minutes
How to get there: Train, taxi, car rental
Roskilde is one of the oldest cities in Denmark. It is famous for hosting the Roskilde Festival, which is the largest music festival in northern Europe.
However, the most important attraction is the Roskilde Cathedral. It is one of the best attractions in all of Denmark, due to its history and wonderful architecture. Most members of the Royal Family of Denmark are buried here. Several artworks are painted inside the cathedral, depicting the history of Denmark. Since 1995, Roskilde Cathedral has been on the UNESCO World Heritage List.
Aside from that, Roskilde has the great Viking Ship Museum. Here, you will be able to see original Viking ships. The city also has many other museums, some of the best in Denmark. In the past, Roskilde used to be the most important city in Denmark.
Roskilde has a major university, and a large percentage of the residents are youngsters.
It only takes between 20 and 30 minutes to travel from Copenhagen to Roskilde. You can drive yourself, or take the train. Trains depart multiple times each hour.
Read our Roskilde travel guide for more information about the city!
Helsingør
Travel time from Copenhagen: 45 minutes
How to get there: Train, bus
Another historic Danish city.
Helsingør is located north of Copenhagen. It is known as the gateway to the Baltic Sea and to the rest of Scandinavia since you must pass its narrow strait while sailing into the Baltic. On the opposite side of the water, you will find the Swedish town of Helsingborg, and you can sail between the two cities by ferry.
However, we recommend that you stay in Helsingør first. It's one of the best places to go if you want a day trip from Copenhagen to another city.
Helsingør is home to Kronborg, the famous castle that is on the UNESCO World Heritage list. The story of Hamlet takes place in Kronborg.
Kronborg is an amazing castle that is well worth the visit. It is quite old and it used to have significant importance for the Danish military. Nowadays, it is a landmark and a tourist attraction with a lot of interesting things inside. That includes the Holger Danske statue, based on the legendary Danish warrior Holger Danske, mentioned in the legends of Charlemagne as 'Ogier the Dane'.
Helsingør is directly north of Copenhagen. It takes 45 minutes to get there by train or car – slightly longer by bus.
Read our Helsingør travel guide here!
Malmö
Travel time from Copenhagen: 40 minutes
How to get there: Train, car, bus
It's an obvious choice to visit Sweden as well. Copenhagen and Malmö are located very close to each other, and they are connected by a bridge. That means you can drive there, take the train, or take a bus. There are a lot of options!
Malmö is not as large or dynamic as Copenhagen, but it still has a decent size with a nice handful of attractions to offer. The Swedish style is very charming, and walking around Malmö is a great experience. It is somewhat like being in a Danish city, but just a bit different. And – you get to say that you visited two countries on your Copenhagen trip!
Going by train is the fastest as it will only take 40 minutes. Driving yourself will take around 50 minutes, with additional costs, while a bus ride is around 2 hours.
You can take the train from the central station in Copenhagen or from the airport station.
Lund
Travel time from Copenhagen: 55 minutes
How to get there: Train, car
If you go to Malmö, why not visit Lund as well – it is another nice Swedish city, and it's not that far from Malmö. You can quickly add it to the trip if you drive by car. And by train, it is also easy and fast.
Lund is a university city. It has a young vibe, and it's a fun city. It also has plenty of attractions, historical as well as modern.
It is not the best day trip from Copenhagen (the competition is high) but Lund is definitely worth a visit if you have a long stay and want to see something different. Especially if you already intend to visit Sweden.
Frederiksborg Castle in Hillerød
Travel time from Copenhagen: 40 minutes
How to get there: Private tour, car, or train + bus
A famous Danish castle that was built in 1560. It is located in Hillerød, quite central in the northern part of Zealand. It's less than an hour away from Copenhagen, and we highly recommend going there if you have a day available. The easiest way to go there is by joining a guided tour. Most tours will include transportation to and from the castle.
Frederiksborg Castle is quite large and for a while, it was the royal residence. Now it works as the Museum of National History!
In other words, you get to see a famous and historic castle, but you also get to see one of the main museums of Denmark!
Aarhus
Travel time from Copenhagen: 3 hours
How to get there: Train, bus, car, plane
If you don't mind going a little further, a trip to Aarhus is an outstanding idea.
Aarhus is the second largest city in Denmark. It is home to Scandinavia's largest university, and the city used to be the capital of Denmark some centuries ago. It has a lot of bars and a significant part of the population are students.
You will find great museums in Aarhus, great shopping venues, and plenty of historic sites. It's a great place to go for a one-day trip from Copenhagen, or perhaps even to stay for a day or two. There are many interesting attractions in Aarhus to keep you occupied, even if you stay for a while.
You can fly to Aarhus from Copenhagen and it takes about 45 minutes in the air. However, you have to be at the airport an hour before, and the Aarhus Airport is located a bit away from the city, so you are looking at roughly 3 hours of travel time.
So instead, we recommend that you take the train. That also takes 3 hours, approximately – but it's much more manageable and there are many great views on the way; especially as you pass the bridges of Storebælt and Lillebælt.
Book a ticket from Copenhagen's central train station, and you will arrive directly in the heart of Aarhus three hours later.
You can also rent a car and drive yourself if you prefer that! But be aware that there are high fees for passing the Great Belt Bridge, so taking the train is cheaper unless you're traveling with three other people in the same car and you share the costs. Driving also takes a bit longer, so first and foremost, we recommend taking the train.
There are plenty of good hotels in Aarhus if you decide to stay for more than a day – read about where to stay in Aarhus if you need recommendations.
Odense
Travel time from Copenhagen: 1 hour and 15 minutes
How to get there: Train, bus, car
Odense is the third largest city in Denmark, and it's a bit closer to Copenhagen than Aarhus. That makes it an easier day trip option, yet you still get to see another major Danish city. It only takes 1 hour and 15 minutes to go there on the InterCity Lyn train. It will take about two hours by bus or car.
The famous Danish author H.C. Andersen was born here. Odense is a very charming city with a lot to do. You will particularly find historic attractions, beautiful old houses in the historic part of the city, and a very nice city center with shops and cool activities.
Additionally, Odense is not a very touristic city at all, unlike Copenhagen. So in many ways, you are getting a true Danish experience! It's definitely one of the best options when it comes to day trips from Copenhagen.
Dragør
Travel time from Copenhagen: 25 minutes
How to get there: Taxi, bus (with a change on the way), or metro + bus
Dragør is the southern part of Amager, very close to the Copenhagen airport. It is 12 kilometers (7.5 miles) from the center of Copenhagen, but not considered part of the city itself.
Although not a large city, not even a large town, Dragør still has a lot to offer. It has well-maintained old houses and buildings. The streets are beautiful, and everything looks typically Danish. It has a nice museum – Amager Museum – and a fishing port. Dragør is super romantic, and it feels like an old part of Denmark, yet with modern infrastructure and lifestyle.
It's ideal to go to Dragør if you need a day away from the big city. Go here to take some photos, or to sit down at a café and enjoy the view. Dragør is very calm and very charming – it was mentioned in the New York Times back in 1985 as a very unique and beautiful travel destination. That is still the case today!
So, if you have an hour or two to spare while you are in Copenhagen, go south and see Dragør! The easiest way to go is by taking a taxi. That way it takes about 25 minutes to get there. Using the Copenhagen public transportation system is also an option, but you will have to make a change along the way since there aren't any direct routes there. Locals often bring their bikes on the train, go by rail down to Amager and bike the rest of the way to Dragør. A decent option.
Holbæk
Travel time from Copenhagen: 45 minutes
How to get there: Train, car
A calm town, located almost directly west of Copenhagen. You can get there fast: It takes about 45 minutes by train and roughly an hour if you drive yourself.
Holbæk is a nice town and worth visiting if you want to see a smaller Danish town and observe the daily life here. Holbæk is located by the sea. It has a lot of great restaurants, and that's a strong reason why people go. There are also some nice shops in town.
Holbæk shouldn't be a top priority, but if you are staying in Copenhagen for a month or so, it could be a decent place to visit!
Lolland-Falster
Travel time from Copenhagen: 1 hour and 20 minutes+
How to get there: Car, train, bus
Two islands located southwest of Copenhagen. Lolland and Falster are separate islands, but very close geographically and culturally. For that reason, they are often mentioned or even grouped together.
The people living here have a unique way of speaking. Very authentic. It is an interesting place to go, and you can take the train directly from Copenhagen to the town of Nykøbing Falster. This takes around an hour and 20 minutes. From there, you can take another train or a bus to other places on the islands.
Maribo is the best place to go. Very central on Lolland, it has a cathedral, and several old stores and houses. Super charming place.
Furthermore, on Lolland-Falster you will find a safari park (Knuthenborg Safaripark is the name of it) and a museum of trains – Museumsbanen.
The islands have some of the best golf courses in Denmark. It's also a great location for fishing. In general, we recommend going here, but perhaps as a weekend trip instead of just a one-day trip!
Conclusion
There you have it – 10 different places you can visit if you want to go on a day trip from Copenhagen.
Despite its location on the eastern edge of the country, Copenhagen is easily connected to other important cities and towns, so transportation is no issue. The only question is – where are you going? There are several Copenhagen day trips to consider, and we hope that these descriptions have been helpful in finding the right day trip for you.