Copenhagen offers some fine public transportation options. The trains are usually the most popular, but Copenhagen also has a well-working metro and several buses driving around.
In this article, you are getting a full guide to public transport in Copenhagen. It should make your trip easier in a variety of ways!
Trains in Copenhagen
Arguably the most popular transportation method in Copenhagen and its surrounding suburbs. A lot of people travel with the city trains, known as S-Tog – and in many cases, it also makes sense as a traveller.
If you take the S-Tog, you can reach almost any location of central Copenhagen, as well as the outskirts of the city. It covers way more than the metro does, although with longer waiting time between departures.
This network allows you to stay in any area of Copenhagen and still get around the city easily. We would recommend you to stay central anyway, though. Read our guide on where to stay in Copenhagen for more info.
Check out the map of the S-Tog here: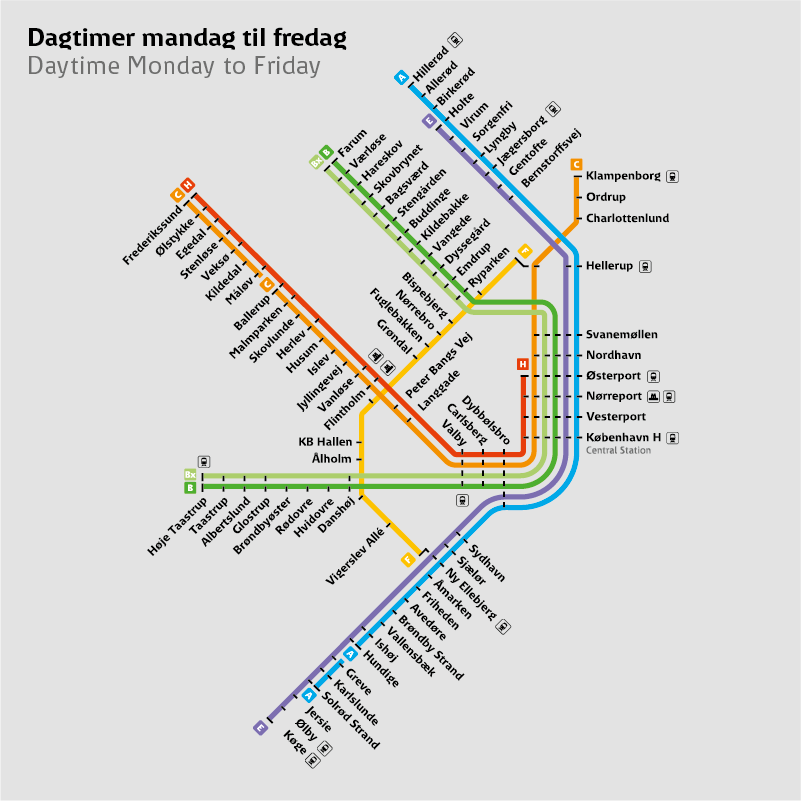 These city trains operate during all daytime hours from Monday to Sunday. They also operate all night between Friday and Saturday, and between Saturday and Sunday. Very convienient!
You can buy a ticket at each station if you don't have a travel pass. Continue reading this article for information about how to get a travel pass.
The Copenhagen Metro
The Copenhagen Metro is fairly small, but yet efficient. It is very modern and had some recent developments, going from two to four different lines.
The metro covers the most central areas of Copenhagen. It is one of the preferred ways to go from the airport to the city centre.
Lines 1 and 2 go from west to the southeast, passing the city centre along the way. Line 2 is the airport line, so you might be using that if you are flying in our out of Copenhagen and using the metro as transportation. Line 3 is a circular route passing through some of the most important areas of the city. Line 4 goes from the central train station to the northeast of the city.
While not the best way of transport in Copenhagen, because it doesn't cover as much of a distance as the S-trains, it is still useful in many ways. The metro is super fast and always functioning well – and it covers the most central and important areas.
Here is a map of the Copenhagen metro system:
In other words, it makes sense to take the metro if you are traveling between selected areas in the centre and you want as quick travel as possible. For longer distances though, take the S-trains.
Again, you can buy tickets at any station. Or you can use your prepaid travel pass (scroll down for more information on this).
Buses in Copenhagen
Copenhagen has a lot of buses, and they work well. They cover most areas within the city, and you can also find buses that drive to other Danish cities – obviously.
When you find a bus, simply get on it. We recommend you to buy a ticket on your phone before entering, or to obtain a travel pass. If you can't do either, buy a ticket inside the bus, although it will be slightly more expensive.
Buses in Copenhagen are yellow and very visible. You can find route plans on any bus stop, or you can browse them online. It's also possible to ask a bus driver for information if you are lost – most of them speak English very well!
City Pass
A good idea is to get the City Pass – at least if you are traveling to Copenhagen and plan to go around the city a lot.
With the City Pass, you get unlimited access to all transportation in Copenhagen. You decide how long you want the pass to be active. The smallest amount of time is 24 hours, while the highest is 120 hours. So it's perfect if you are going on a trip. When you have the City Pass, you don't need to worry about any public transport. You can use all the most popular options: Buses, trains and metro as long as it is within zones 1, 2, 3 and 4.
Prices start at 80 DKK for adults and at 40 DKK for children under the age of 15.
You can buy it at the airport, or you can book it online.
Copenhagen Card
While the City Pass is great if you only intend to use it for transportation – the Copenhagen Card goes a step further.
With this card, you also get access to all the transportation methods, and on top of that, it gives you free entry to 86 attractions and museums in the city. The card also provides you with a discount for certain restaurants.
However, because it provides high value, the Copenhagen Card is also a bit more expensive than the City Pass. Check the website of the Copenhagen Card here for specific information.
Rejsekort – If you live in Denmark
If you are not only going to Denmark on a trip, but if you are actually moving here, either short term or permanently, it makes sense to get the Rejsekort.
You can only get it if you have an address in Denmark. However, if you do, it has a lot of benefits. So if you're planning to come and work in Copenhagen, or if you are an exchange student staying for a semester or a full year, get this card!
It is a travel card that you can use for all the transportation methods – bus, train, metro, and so on. Not only in Copenhagen, but actually in all of Denmark.
You use the Rejsekort to check-in and to check-out of every trip you make. It gives you a discount from the beginning, making it cheaper than regular tickets. And the more you use your Rejsekort – the cheaper it becomes!
Conclusion
Public transport in Copenhagen is quite simple and straightforward. At any given time, you can find a way to get to where you want.
We hope that this article was useful to you – let us know if you have any comments, questions or additions to the transport guide.