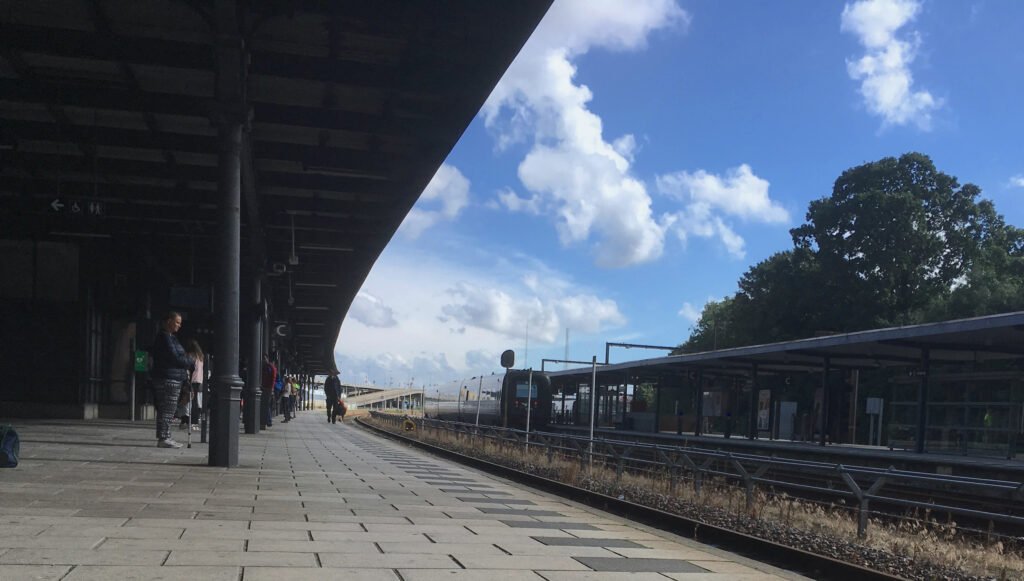 Denmark is a small nation with great infrastructure. That makes it easy for travelers to explore the country. If you are staying in Copenhagen or another Danish city, there's a good chance you are considering some day trips. In this article, we will show you how to buy train tickets in Denmark.
The easiest way to get around Denmark is usually to take the train. All major cities and towns have a train station and are well connected to each other. If you haven't bought any train tickets in Denmark before, it might be a bit confusing. But don't worry – in just five minutes, you will know how to do it.
Railway companies in Denmark
DSB (Danske Statsbaner) is the largest railway company in Denmark. The majority of Danish rail traffic is handled by DSB. So in most cases, this will be the company with whom you will travel.
The exceptions are mostly in Jutland where some lines are operated by other companies. Nordjyske Jernbaner handles most of the traffic in the North Jutland region, while multinational company Arriva operates a few lines in Jutland as well.
The metro in Copenhagen, the light rail system in Aarhus, and the Aalborg Commuter Rail are handled by regional companies.
German rail company DB and Swedish rail company SJ are present with a few international connections in the border sections.
How to purchase DSB tickets
If you travel from one city to another, or from one town to another, you can always book your tickets online through DSB. Even if you travel with one of the other rail operators, it is still possible to book your ticket through DSB.
You can also always book your ticket at the station. The bigger stations have ticket offices, and all stations have ticket machines. It is very easy to buy a ticket at the station, but you risk the train being overbooked. It can happen, especially at peak hours in the morning and in the afternoon.
To avoid this problem, you can also book your Danish train ticket online in advance. Buying tickets online is usually a lot cheaper, too.
Go to dsb.dk. On the front page of the website, you can fill in your starting point and your destination. You then have to fill out the date, your preferred hour, the number of passengers, and whether you want a specific seat reservation.
After you have filled everything and clicked the search button, you will be presented with the options. They will typically show you all the available connections between the two destinations that particular day.
Choose the time that suits you best and proceed to booking. Here you have to fill in your name, email, and the ID-number that is written on your passport/drivers license. Then you pay, and it is done by credit card.
Once you have paid, you can immediately download the ticket. When you travel on a Danish train, it is perfectly fine to show the digital copy of the ticket on your phone. You can also print it out in regular paper format if you are more comfortable with that.
An important thing to know about Danish rail travel is that the conductor checks your ticket inside the train after it has already departed. So you don't have to show your ticket before getting on the train. You just walk right in, and someone will come to check it on the way.
How to purchase Nordjyske Jernbaner tickets
If you travel by train in the North Jutland region, you can still book your ticket through DSB as mentioned above, but you can also book it directly with the operator of those local trains – Nordjyske Jernbaner.
This is done on ntbillet.dk. It basically works the same way as when you book a ticket through DSB. You fill in your place of departure and your final destination, you fill in the day of travel, and you are then presented with the options. Pick the one that suits you, fill in your information, and pay with your credit card.
The majority of the stations in North Jutland also have ticket machines where you can buy tickets if you prefer to do it in person rather than online. Trains in this region are rarely overbooked so there is no risk in buying at the station.
How to purchase urban rail tickets in Denmark
If you need to travel within a city – for instance, with the Copenhagen Metro or the Aarhus Letbane – you don't need to book anything online. Just buy your ticket at the station. There are automatic machines where you can do so. Preferably, use your credit card in these machines. There are no fees, you just pay for the fare.
Where can you go by train?
All the major Danish cities and towns have a train station and are connected to the rail network.
In fact, one line goes through most of the country, starting in Frederikshavn and ending in Copenhagen. It passes through cities such as Aalborg, Aarhus and Odense along the way.
In order to reach some towns, you might have to switch trains along the way. Even so, you can still book one ticket that covers the entire journey.
If you are going to one of the few places in Denmark that don't have a train station, you can take a bus instead. Each region in Denmark has its own bus network and it works really well.
Save money and buy Orange tickets
It can be expensive to buy regular train tickets in Denmark.
If you are taking a long-distance connection, like from Copenhagen to Aarhus, we have a tip for you.
Search for fares online on DSB.dk and look specifically for "Orange" tickets. These are special tickets offered by DSB. They are way cheaper than normal fares, but they are limited and they must be booked a few days in advance. They are usually less than half price of normal tickets, so it definitely pays off to plan things early and get an Orange ticket.
Seat reservations in Danish trains
A seat reservation is not automatically included when you book a train ticket in Denmark. To get a specific seat, you have to pay 40 DKK extra. Your seat will then be mentioned on the ticket. If you book a regular ticket, without a seat reservation, you can sit anywhere in the train except for seats that have been reserved by others. At peak hours, most seats are reserved, so we recommend you to reserve one as well. Otherwise, you might end up having to stand up for the entire journey (it happens)!
International train connections to and from Denmark
You can travel from Copenhagen to Malmö (Sweden) by train.
You can travel from Aarhus and Padborg to Hamburg (Germany) by train as well. There is another connection to Germany, from Tønder to Südurlügum. Then there is the Vogelfluglinie, a corridor from Copenhagen to Hamburg, which passes through some islands. Currently, however, part of this journey must be made using a train ferry.
International tickets from Denmark to Germany should be booked online. Tickets from Copenhagen to Malmö can easily and safely be bought at the station.
Alternatives to train travel
Many regional connections in Denmark are covered by buses. Sometimes, it makes sense to take a bus – it can be a bit slower, but more flexible.
GoMore is a rideshare platform where you can find people who are driving somewhere privately. You pay a fee and you go along for the ride. If you are lucky enough to find somebody who is going the same place as you, you can tag along. This is usually cheaper than taking public transport.
Renting a car is also an option. You can rent cars in all the major Danish cities.