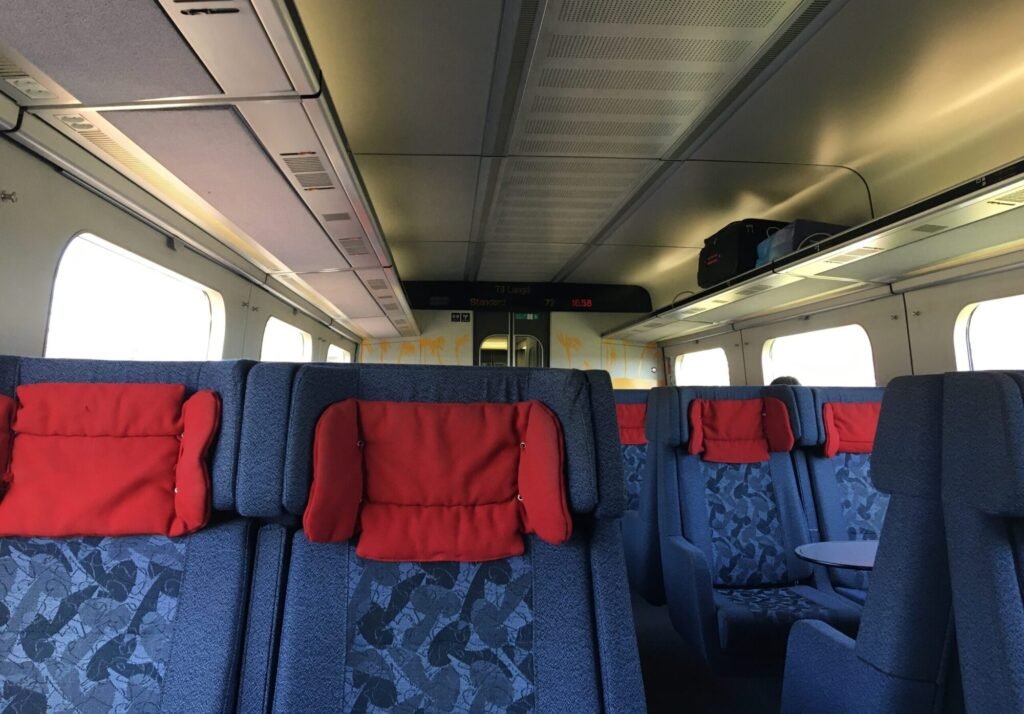 Copenhagen receives the largest share of tourism in Denmark, but Aarhus is rising in popularity. Many travelers are interested in visiting multiple cities while in Denmark, and that brings up the possibility of visiting both Copenhagen and Aarhus on the same trip.
The two cities are not too far apart, so it is possible to arrange this. You can either do a day trip to Aarhus while staying in Copenhagen, or you can arrange a longer stay if you have time for it.
Here are the best ways to get from Copenhagen to Aarhus.
By train
The best and easiest way to go from Copenhagen to Aarhus (and vice versa) is by taking the train.
On average, it takes 2 hours and 47 minutes if you take the fastest train in Denmark, the InterCity Lyn route, which only stops in selected cities and offers great comfort on the journey.
It is very practical to take the train since the main train stations are located centrally in both Copenhagen and Aarhus. So you simply get on and off and there's likely no need for further methods of transportation.
There are more than 30 connections per day. Trains are usually full in the morning (6-9) and in the afternoon (14-17). On all other hours, it is not usually that crowded. We recommend that you book a specific seat on top of your ticket, just to be sure.
Ticket prices start at 99 DKK ($16) if you choose the "Orange" ticket. Orange is a special offer by DSB which you can only get if you book online in advance. It is basically tickets that are on discount, so take advantage if you can. Otherwise, the typical price is around 400-500 DKK ($65-$85) for a single ticket, depending on availability. So get Orange tickets if you can! All booking takes place at DSB.dk. You can also buy tickets at the station, but it will likely be more expensive.
By bus
This is the cheapest way to go to Aarhus from Copenhagen. There are several bus companies that cover the route. The cheapest one is Flixbus – prices start at 69 DKK with the average being around 99 DKK for a single ticket.
The trip takes a bit less than four hours, usually 3 hours and 45 minutes.
There are 4 connections on most days, so you can easily travel at the time of the day that suits you.
Most buses drive from Copenhagen's central terminal to Aarhus' central terminal. But there can be exceptions – some buses depart from Valby Station in Copenhagen instead. This is not quite as central, so always be sure to check on your ticket where you are supposed to get on and off the bus.
Nothing beats the prices though, and despite taking a bit longer, taking a bus is a great option for tourists traveling on a budget.
By car
Do you have access to a car when you're in Denmark? In that case, you can drive there yourself, but there are some things to be aware of.
In order to go from Copenhagen to Aarhus, you must cross the bridge Storebæltsbroen. There are toll fees to cross it. The price depends on the size of your car but for most drivers, it will be around 200 DKK ($32). On top of that, you obviously have to pay for fuel and possibly car rental if you are renting a car in Denmark.
The route is fairly simple – when you drive from Copenhagen, you get on the E20 motorway heading west and continue on it until you reach Jutland. Then you drive into the E45 motorway heading north until you reach Aarhus. Obviously, if you are going from Aarhus to Copenhagen, it is simply the other way around. The full trip takes around 3 hours and 20 minutes. You can generally drive 130 km/h on Danish expressways, but be aware of lower speed limits in some sections. The full distance is a bit over 300 kilometres.
You can share a private ride with other people going in the same direction as you. Check the website GoMore which is very popular in Denmark – you can find drivers who are taking the trip almost every day. The price of joining a ride is usually just around 100-150 DKK. That is very cheap compared to other means of transportation. Travel time is the same as if you are driving yourself. However, the place for pickup and the specific destination address will depend on the driver, so watch out for that and make sure it also suits your needs. Some drivers are flexible though and don't mind driving you to the area where you want to be dropped off.
By plane
It is possible to fly from Copenhagen to Aarhus via the airline SAS, but it is not really worth it. The flight itself takes just 40 minutes, but you have to get to and from the airports, and since Aarhus Airport has a bit of an odd location 44 kilometers northeast of the city, it often ends up being even more troublesome.
If you do decide to fly anyway – book a SAS flight from Copenhagen to Aarhus, go to the Copenhagen Airport an hour ahead of your trip, fly to Aarhus, and take the bus into the city. Total travel time can vary but expect around 3 hours when everything is taken into account.
Day trip or longer stay?
Since it typically takes between 3 and 4 hours to make the trip from Copenhagen to Aarhus, you have to decide how long you want to stay.
It is possible to make it a simple day trip – but that will naturally be a day with many hours on the road. If you leave Copenhagen at 8 in the morning, you will be in Aarhus around 11-12 am. Let's say you stay until 8 pm before going back – you will then be in Copenhagen a bit before or around midnight. So a day trip is possible.
But we would recommend staying a bit longer. It's more comfortable if you have more time in Aarhus. There are also many nice hotels in Aarhus, so you can easily find a place to stay for the night. If you have a lot of time in Denmark, we would recommend that you split your time almost evenly in Copenhagen and Aarhus, although it depends on your personal preferences.
Conclusion
It's relatively easy to go from Copenhagen to Aarhus and vice versa, but it does take a bit of time (3-4 hours). Depending on the method of transportation you select, the journey can also be expensive. Buses and trains are the best options.
In any case, the trip is highly worth it, since it gives you the opportunity to see Denmark's two largest cities on the same trip. Both Copenhagen and Aarhus are wonderful to visit. They are highly cultural cities full of interesting attractions, so be sure to enjoy your trip!