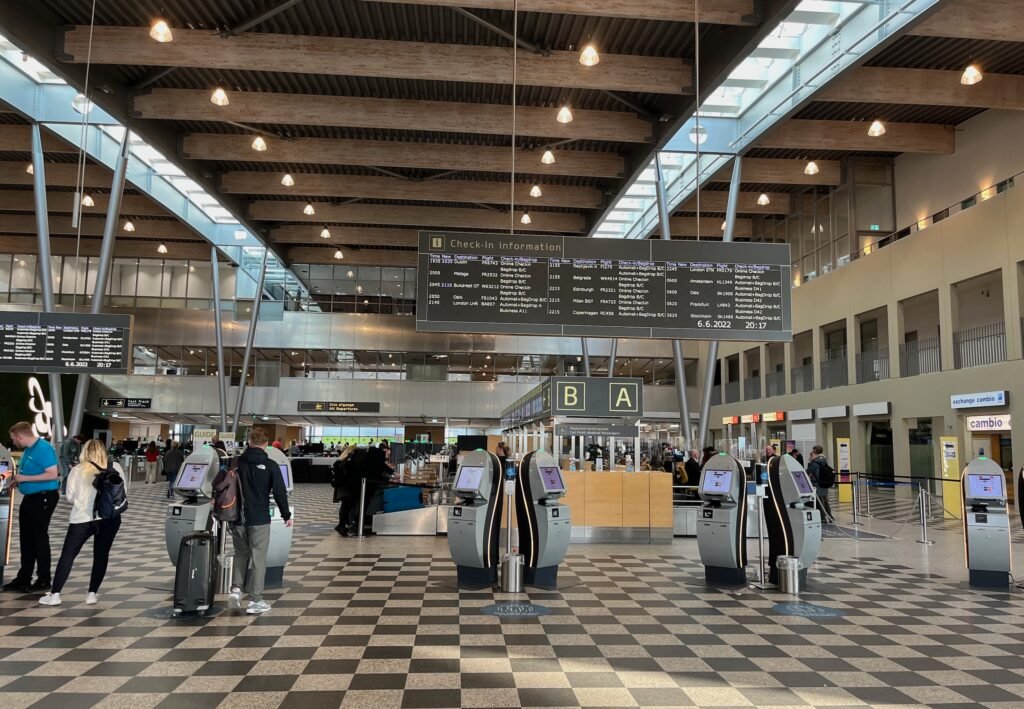 Billund Airport is the second largest airport in Denmark. It is located near the Legoland attraction park and within a short distance from cities such as Aarhus and Vejle. So the airport naturally attracts a lot of passengers each year.
Here is our full guide to Billund Airport – you'll learn about transportation, nearby hotels, main flight connections, parking, and what to do inside the airport.
Facts about the airport
Billund Airport (BLL) is an international airport located in a somewhat central part of Denmark. It is the second largest in the country and it carries the second largest amount of traffic in Denmark.
Construction of the airport began in 1961 when Lego director Godtfred Kirk Christiansen decided to make an 800-meter airfield close to the Lego factory in Billund. Later, with the support of Christiansen, it became a public airport, and the local municipalities invested in it. These municipalities still own the majority of the shares in the airport.
The number of passengers has increased every year, expecting to reach more than 3 million per year going forward. There is only one terminal in the airport, but it is large enough for several airlines to serve Billund.
Flying in and out of Billund makes sense if you intend to visit Legoland, the Triangle Region in Denmark which consists of Vejle, Kolding and Fredericia, the oldest town Ribe, or even Denmark's second-largest city Aarhus.
Transportation to and from Billund Airport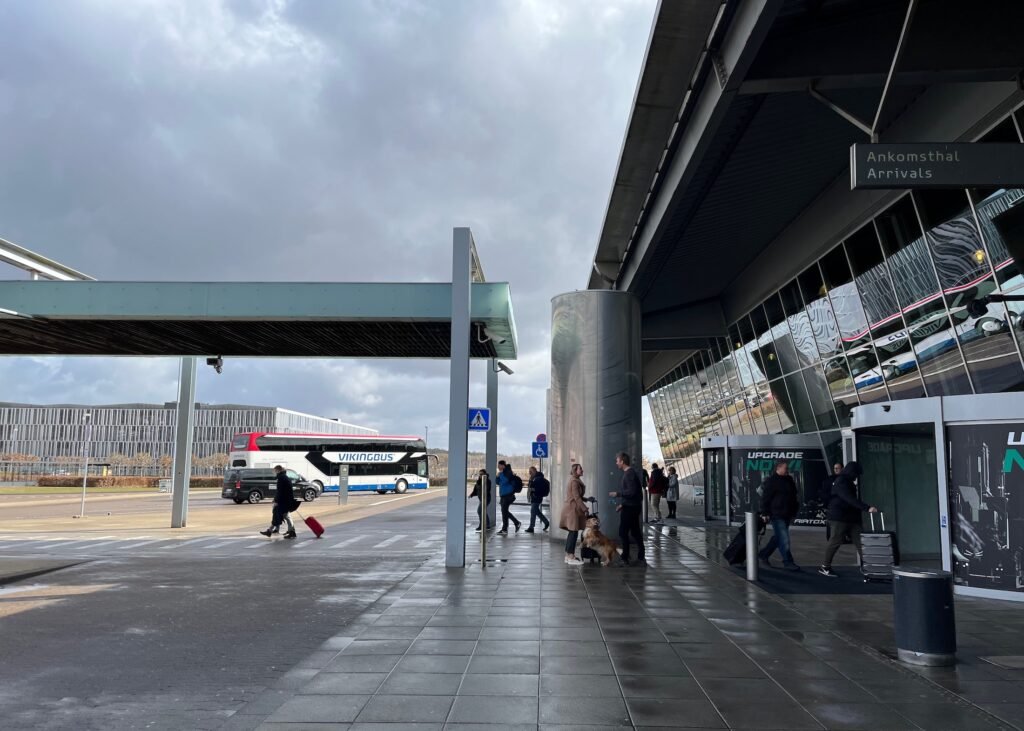 There are several options when it comes to transportation to/from the airport.
Unfortunately, there are no trains going to BLL.
But there are several buses servicing the airport.
You can also take a taxi to wherever you're going, or you can rent a car. Taxis are parked outside, while a car can be rented at one of the counters inside the airport.
Here are the buses that stop at the airport bus terminal:
912X: Billund Airport – Vejle – Horsens – Skanderborg – Aarhus
43 and 143: Billund Airport – Vejle
144 and 944X: Billund Airport – Esbjerg
119: Billund Airport – Give-Tørring
166: Billund Airport – Kolding
FlixBus: Billund Airport – Odense
ShuttleBus: From the parking area to the terminal
Summer ShuttleBus: Drives from the airport to the center of Billund
The ShuttleBus is free – just hop on and off. As for the normal lines, you can buy a ticket when you get on the bus, or you can do it on your phone in advance. The FlixBus usually requires a prior reservation.
The buses are easy to locate. There is a small bus terminal right outside the airport building. Stay up to date on the schedules of all public buses on Midttrafik and Sydtrafik. Midttrafik manages buses to the central Danish region (such as Aarhus) and Sydtrafik to the southern region (Vejle, Kolding, etc).
Several taxi companies also offer airport transfers. Get a full overview of all the companies here. You can call one them in advance to arrange your pickup. Or you can just find a taxi outside the airport. All the taxi companies are safe to use.
Car rental can be arranged at the airport, as there are six rental companies present at BLL. You can rent your car upon arrival and return it again when you're flying home. You'll get the best price if you book your car rental in advance. But it's still possible to just show up and find a car once you land in Billund.
Hotels near Billund Airport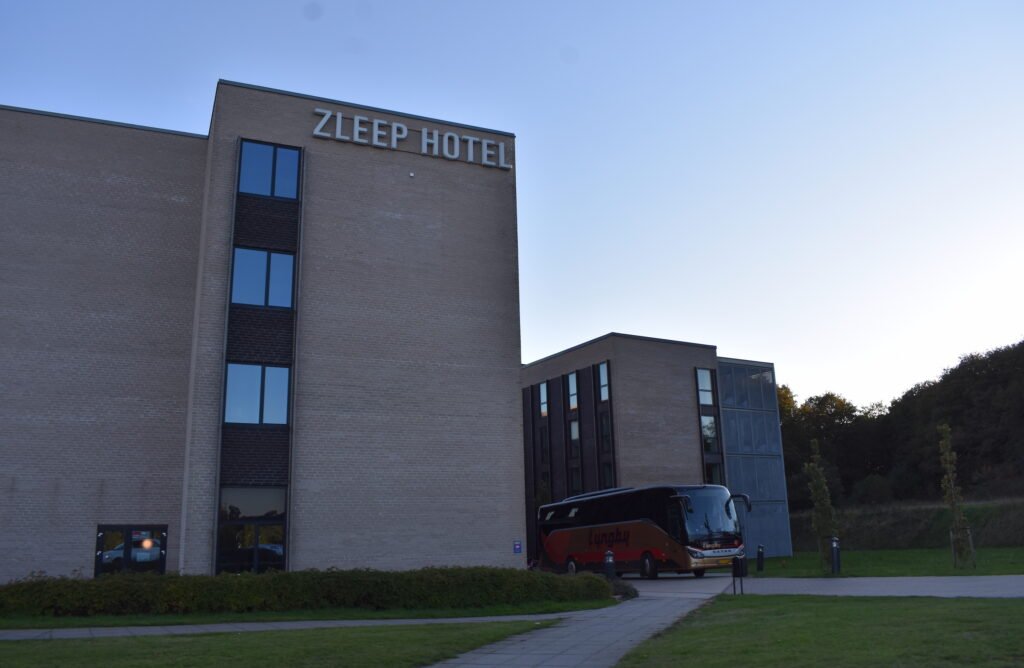 If you have an early flight, if you're staying in Billund for just one day, or if you simply prefer being close to the airport, you have one good option.
Zleep Hotel Billund is located just five minutes away (on foot). You can check in and out at any time. The hotel is very convenient if the location near the airport is important to you. It's a nice modern hotel with excellent facilities, although not a luxurious hotel. Previous visitors rate it 4 out of 5 on average.
There are 163 rooms and the hotel is handicap-friendly. Zleep Hotel offers free Wi-Fi, a gym, and storage for your luggage. It also has a restaurant, a bar, and a café, so you can always get something to eat or drink. If you are bringing a car, you can park it at the airport while staying at the hotel.
Book your stay with Zleep Hotel Billund here!
Aside from Zleep Hotel, which is the closest to the airport, you can also choose one of the local hotels in Billund – for example, close to Legoland. It will require you to take a bus – or drive to the airport when you're going back and forth, but the distance is still relatively short, so it will be a quick trip. Get an overview of the best hotels in Billund here.
Main airlines and routes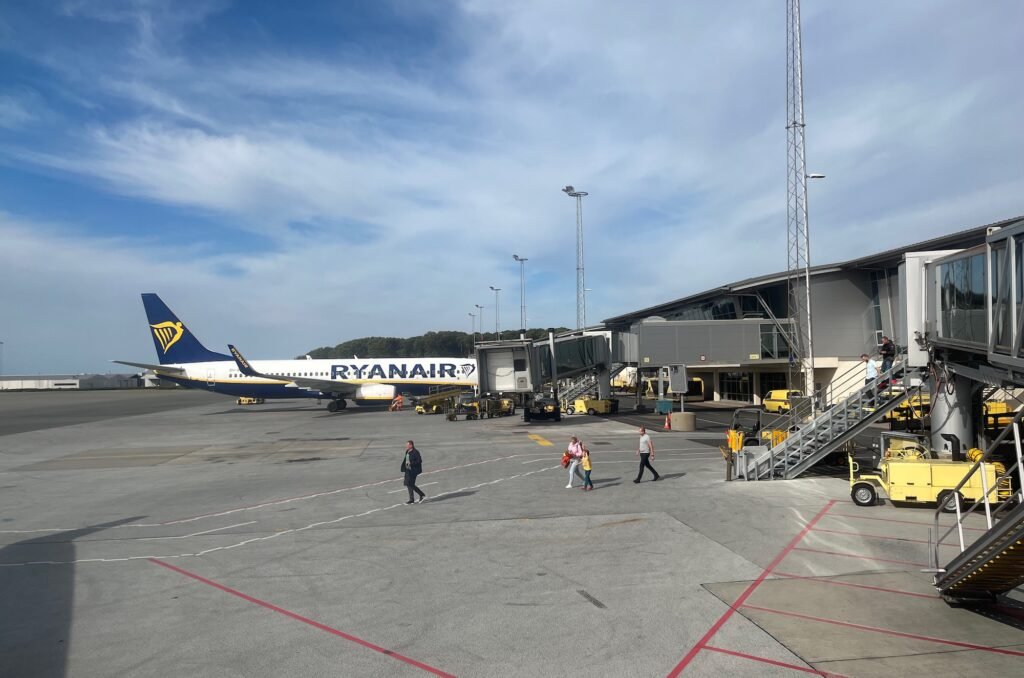 The most popular route is Billund-Amsterdam, served by KLM.
Scandinavian Airlines (SAS) has a daily domestic route between Billund and Copenhagen, although it is not as popular as Aalborg-Copenhagen. Due to the close proximity between Aalborg and Billund, there is no direct route between the two airports, at least not when it comes to commercial traffic. Aside from Billund-Copenhagen, SAS also offers the route Billund-Stockholm.
Norwegian flies frequently between Billund and Oslo, Alicante and Las Palmas.
RyanAir uses Billund as the base for several Boeing 737-800 aircraft, covering an increasing number of routes each year. That means Billund is connected to destinations such as Dublin, Edinburgh, London, Gdansk, Budapest and many other airports in Europe.
Lufthansa has a daily route to Frankfurt am Main. Air France has a route between Billund and Paris-Charles de Gaulle. You can also fly to Istanbul with Turkish Airlines all year round.
British Airways lets you fly from Billund to destinations such as London, Manchester, Munich, Bergen, Oslo and Stockholm.
Primera Air is another big name in Billund: It offers regular & direct connections to Antalya, Barcelona, Faro, Lisbon, Málaga, Nice and Venice.
Aside from these main routes, there are many seasonal options. Primera Air flies to Alicante, Azores, Crete, Mallorca, Rhodos and several other destinations.
Icelandair has a seasonal route to Reykjavik. AirBaltic flies to Riga. WizzAir opened routes to Gdansk and Vilnius and plans to add more.
News is always coming in about new destinations. Likewise, it sometimes happens that a route is removed. But overall, there are many ways to reach Billund, and many ways for the locals to get out. BLL ranks second among Danish airports when it comes to the number of connections.
Parking at Billund Airport
Billund Airport has plenty of parking spaces. Unlike in Aalborg Airport, you do have to pay to park there. The prices depend on the area you choose.
The cheapest is the P3 area. However, it's only meant for short-term parking, like if you're waiting for someone to arrive or accompanying someone who is taking off. The first hour is free at P3. After that, you pay 30 DKK per hour.
The other parking spots usually cost either 85 or 90 DKK per day. There is a discount if you book a parking spot for a whole week. If you prefer indoor parking (so the car doesn't get dirty), the price rises to 150 DKK per day.
You can save money and get a guaranteed spot for your car if you book in advance. It can be done by calling +45 75 35 40 33. They recommend booking at least 4 months in advance to get one of the main parking spots, but there should still be some availabilities, even at the last moment.
Shopping and dining options
The airport has a couple of shops where you can spend some time when waiting. Visit the Lego shop, Bestseller, Danish Design, WHSmith, or the large Tax-free area if you want to shop and look for products.
If you want to eat at Billund Airport, you can choose one of the following places, all located inside the airport:
Gastro (restaurant with a great view)
Diner (calm and nice restaurant)
Café Square (for a quick drink, snack, or smaller meal)
Lagkagehuset (if you want Danish cake, sandwich, juice, or coffee)
Sunset Boulevard (a Danish fast-food restaurant chain)
Café Square is located before check-in. All the other restaurants are located after the security section – which means you must have a boarding pass to get to that area.
Food is expensive in the airport, just so you're warned. The quality is quite good though. You can get a nice meal before flying – or grab something to eat upon arrival at BLL.
Lounges
There is currently one lounge at BLL. It is called the King Amlet Lounge, situated on the first floor of the building. You get there by turning to the right after you reach the shopping area. Then you will see some stairs – just walk up and you will reach the lounge. There is also an elevator.
The King Amlet Lounge is comfy and elegant. It is equipped with Danish design furniture of the highest quality. The lounge area is calm, there is a private WiFi network, workstations, free newspapers, and refreshments.
Lounge opening hours are from 4.30 am to 10.00 pm every day of the week.
There are three different sections in the lounge, one suited for dining, one for families (you can play chess, checkers, and other games there), and one quiet zone where people usually sit and work.
Every passenger can buy access to the lounge. Prices depend on the number of hours you want to spend there. A single hour's access is set to 175 DKK. The maximum price is 500 DKK – you will reach that price if you stay for six hours or longer. As a solo passenger, you can just show up at the lounge and pay for access. If you're traveling as a group, it's a good idea to contact the lounge personnel ahead of time – here's the email: lounge@bll.dk.
Passengers with a premium membership of some airlines may qualify for free lounge visits. You may be able to use 'miles' from frequent flier programs to gain access too. Check up with your airline before going to the airport.
Service at the airport
The level of service at Billund Airport is very good. Some would even say spectacular. The airport is nice and clean, it's easy to get around, and if you have a question or need help, just ask the staff! They are friendly and police. Everybody speaks Danish and English, some also speak additional languages.
It happens that flights get delayed, just like anywhere else. Fortunately, Billund Airport is a nice place to wait – even though it doesn't have the sheer size of many international airports outside of Denmark. The downside is that shops and cafés are expensive, so if you have a prolonged stay in the airport and get hungry, it can quickly get frustrating to deal with the Danish prices!
But generally speaking, most visitors are happy when using Billund Airport. While Copenhagen Airport offers more connections and Aalborg Airport offers a more smooth experience, Billund still offers a very good overall package. If you're flying in, you can certainly anticipate a nice experience.
Handing over checked luggage
If you need to check in your luggage, you must now do it yourself. Billund Airport has installed a self-service system rather than using old luggage counters. So you find the luggage section prior to the security area and follow the instructions. There is a small screen where you can print out the paper with the QR-code/barcode. You do that, and you wrap the paper around the handle of your suitcase. Then place it on the counter and it will roll away.
It's a straightforward process, but if you need any help, it is possible to call someone over.
Regarding carry-on luggage, just keep it with you at all times. Some airlines may measure the dimensions and weight of your carry-on luggage at the gate, before boarding the plane, but it rarely happens.
Security and passport check
The security section is modern. The people working there are usually polite and helpful. When you pass through security, just do as you would anywhere: Take off your jacket and belt, empty your pockets, take electronic devices and liquids out of your bag, and simply pass through. You can bring liquids up to 100 ml. They must be placed in zip-locked plastic bags. If you don't have one, they provide them for free in the security section.
It usually takes 5-10 minutes to pass through the security section, depending on the number of passengers at the airport on your travel day.
If you are traveling from BLL to a Schengen country, or if you are arriving from one, you may or may not be asked to show your passport. If you are traveling to a country outside of the EU, you must be able to show a current passport. This is often the most time-consuming activity at the airport.
You obviously need a boarding pass to get through security and make it through to the gates. Billund Airport allows you to use printed boarding passes as well as digital passes on your phone. If you buy something inside a store at Billund Airport, they will ask for your boarding pass so they can scan it – just like at other airports.
Conclusion
Billund Airport is certainly not a large airport by international standards. But it is highly pleasant and the staff is great. There are already a decent number of connections, and new ones are constantly added, particularly by low-cost carriers such as Ryanair and Wizz Air.
If you are arriving in Billund or flying out of the airport, we wish you a great experience. Any additional questions about the airport? Just let us know!