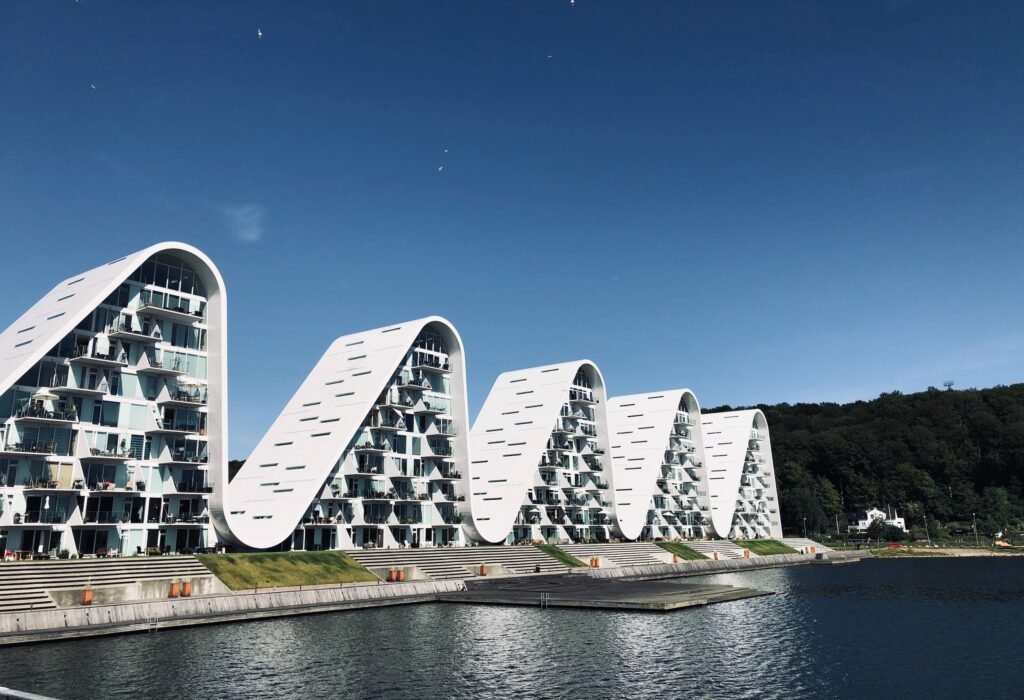 Vejle is one of the ten largest cities in Denmark and it is an integral part of the busy Triangle Region in the south of the country. Located by the Vejle Fjord, the city is locally famous for its modern architecture on the seaside. Meanwhile, the city centre and the suburbs are hilly, and on the northwestern side of Vejle there are some beautiful green landscapes.
To make the most of your trip, you need to find out where to stay in Vejle. There aren't too many guides covering this on the web, so we will provide some information here.
You can easily get around the city, either by car, on foot or on a bike, but it is still nice to be situated in an interesting and safe area. You will find descriptions of the best areas of Vejle below, as well as a hotel recommendation in each of them.
City centre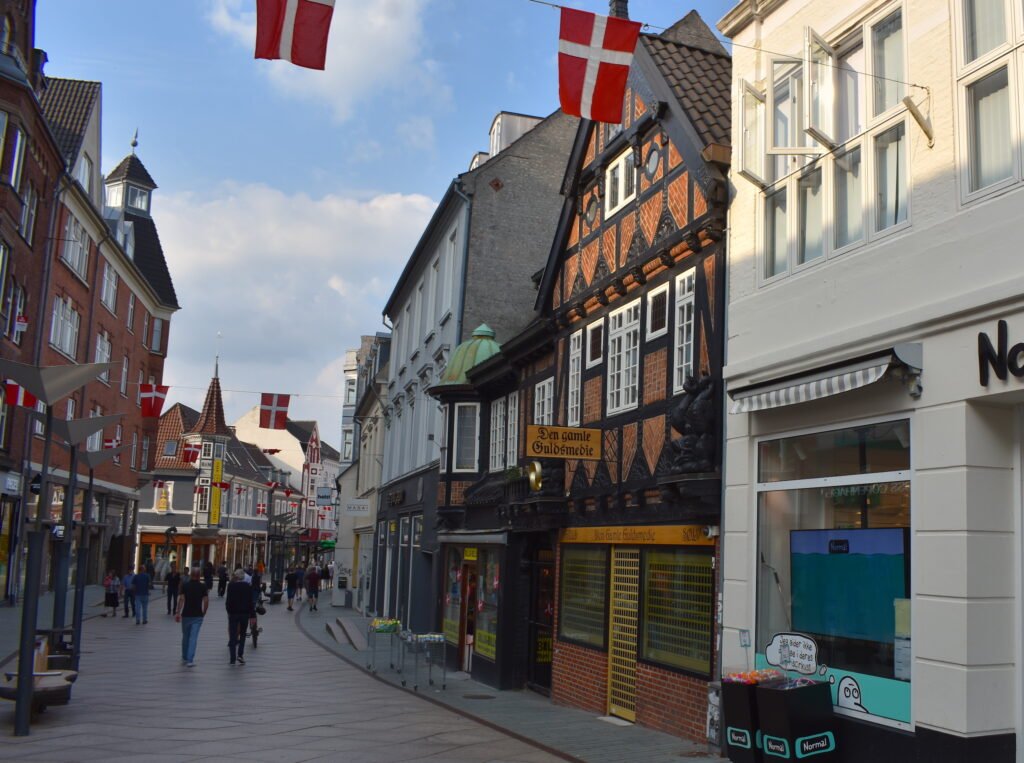 The city centre of Vejle is situated just slightly inland of the fjord. It is generally considered to be the area around and just north of the river running through the city. The streets Søndergade, Torvegade, Nørregade and Kirkegade are packed with shops and attractions and they form the main parts of the centre.
This is the best area to stay in for most people. You will be close to the main sights and attractions – and you will be surrounded by lots of shops, restaurants and bars. Furthermore, the train station and the main bus terminal are located in the city centre, so you can easily reach the other areas or go on excursions to nearby towns by the means of public transportation.
Best hotel in Vejle city centre: Torvehallerne
The location doesn't get much better than what this hotel offers. Best Western Torvehallerne is situated near the train station right in the commercial and historic area of Vejle.
With a spacious and well-decorated interior, comfortable rooms, and a great level of service, you can expect a quality stay by booking a room at Torvehallerne. It is a modern hotel with some nice extra facilities. It also has a solid restaurant.
You can choose between six different room types. Prices start at 700 DKK per night which is relatively cheap for a hotel in Vejle.
Munkebjerg
This hill on the southern end of the fjord has become an area of luxury and entertainment. It is located a few kilometers southeast of the centre, so you won't be in the middle of Vejle, but you will certainly be in nice surroundings..
Most famous for its casino and its golf club, Munkebjerg is a part of the city that tourists love. When staying in this area of Vejle, you can walk down to the water in just a few minutes. Here you will find a nice ice cream vendor and you can sit down to enjoy the views. If you look west, you can see the central parts of Vejle and its trademark seaside architecture. If you look east, you can see some gorgeous nature. The coastline near Munkebjerg is a bit rough, so it's not that well-suited for bathing. But if you go just a bit further east, there will be several beaches, the main one being Sellerup Beach.
This area is well suited for travelers interested in nature and classy entertainment rather than cultural sightseeing.
Best hotel in Munkebjerg: Hotel Munkebjerg
Hotel Munkebjerg is generally considered to be the best hotel in Vejle. Surrounded by nature on the Munkebjerg hill, this hotel is ultra-stylish and features modern rooms with designer furniture. They have everything from rooms with single beds to larger family rooms. The breakfast is great and you can park at the hotel for free.
The hotel has its own casino – one of the most popular casinos in Denmark where several big poker tournaments are held. It also has three restaurants, a bar, pool, spa, gym, and a magnificent terrace overlooking the terrain. The wine cellar has over 600 wines and you are free to pick any one of them for your dinner or for private consumption in your room.
Starting at 1000 DKK per night, prices aren't among the cheapest in Vejle, but it is also the most luxurious hotel in town.
If you want a high-class experience in Vejle, this is the hotel to pick.
Vejle Fjord
Staying near the water makes sense if you want a nice view. There are also some beaches and beautiful green areas near the fjord.
Many tourists are impressed by the modern architecture at the inner part of the fjord. Just west of this section, below the highway, there is the Albuen Beach.
Best hotel at Vejle Fjord: Munkebjerg Hotel
The inner part of the fjord near the city centre is still in development and at the moment it mostly has modern apartment buildings. You might be able to find an Airbnb or a Vrbo holiday apartment rented out by private owners, but there aren't any hotels in this area.
You can stay at the Munkebjerg Hotel – the same one as we described in the previous section – because this hotel is also located by the fjord, just not in the inner part of it. Still, it is well within reach if you take the bus or rent a car or a bicycle.
Vejle N & Nørremarken
The northern part of Vejle, known as Vejle N, is more industrial. Many businesses are located here, but so are many shops. You will find a Bilka department store, fastfood joints such as McDonald's and Burger King, and a bunch of other large stores.
The neighborhood of Nørremarken is situated between the city centre and the northern district, but it is sometimes considered to be part of the north. It is also a fascinating area since it is very sporty. Many local sports clubs are located in Nørremarken. This is also where we find Vejle Stadion, the home stadium of the city's football club.
Staying in Vejle N or Nørremarken (the two areas are right next to each other) makes sense if you want to experience the day-to-day life in Denmark. People go to work there, shop there, do recreational activities there. There is a camping facility in Nørremarken, but we recommend picking a hotel.
Best hotel in Vejle N: Hotel Hedegaarden
Hotel Hedegaarden is the only hotel located in this part of Vejle, so that makes it an easy choices. Fortunately, it is also a good hotel, so you aren't compromising.
It is a family-owned hotel located near Bilka and the expressway. It is a nice hotel for tourists, but also for business travelers due to the location. A lot of people choose this Vejle hotel if they are only staying in the city for one day. Prices are affordable, and the service is pretty swift.
The rooms are modern. The smallest rooms are not so spacious. For one person, it is okay, but if you are traveling as a couple or family, consider booking one of the larger rooms. Hotel Hedegaarden has a nice restaurant. A unique thing they offer is that you can order a lunch box. So if you go to explore the city during the day, if you're going to the beach, or if you have a business meeting, you will have some nice food with you. This is a cool idea and that makes the hotel interesting. It offers free parking for those staying there.
Vestbyen
Vestbyen is the neighborhood to the west of the city centre. It is more residential but still interesting in its own rights. There are several educational facilities (a high school, a business school and a campus) in Vestbyen. That gives the area a youthful vibe. It also has pizzerias and a few bars, although it is still better to go to the centre for eating and drinking.
There are sports clubs in Vestbyen, just like in Vejle N, and the area has DGI Huset which is basically a big event centre for sports, exhibitions, concerts, conferences and such.
Overall, a decent area to stay in, and not too far from the cultural attractions in the city centre.
Best hotel in Vestbyen: Vejle Center Hotel
The Vejle Center Hotel is one of the best-rated places of accommodations in the city, and prices are very reasonable with rooms starting at 700 DKK per night. The hotel has a nice style with spacious rooms, a restaurant with a terrace, and some decent extra facilities. All guests are offered one free entry to the swimmingpool. The morning buffet is better than at most other hotels, so you can get an appropriate start to the day if you decide to stay at this Vejle hotel.
Located right next to DGI Huset, it is the perfect choice if you are visiting Vejle for an event or an exhibition. It is also close enough to the city centre to make it a relevant hotel for those of you who intend to go sightseeing and shopping.
Conclusion
Vejle may not be the largest city in the world, or even in Denmark, but it does have several interesting areas and plenty of hotels to choose from. We recommend staying in the city centre if you want a cultural experience, while you should stay at Munkebjerg if you want a fancier trip focused on entertainment and pleasure. The other areas can be considered if you are coming to Vejle for a specific purpose – such as on business, or if you are attending an event.
Don't forget to check our accommodation guides to other cities and towns in the vicinity – other fascinating destinations are Billund, Kolding and Odense!