Odense is the third-largest city in Denmark. Over the last few decades, it has also been popular among tourists. It's a highly cultural city, mostly known as the birthplace of author H.C. Andersen, and it has a lot to offer. With cultural attractions and green areas, most tourists love visiting Odense, but you need to stay in a central area to get the most of your trip.
Here is a guide about where to stay in Odense. We will begin by recommending the best hotels in Odense, followed by descriptions of certain areas and neighborhoods. Let's get started!
Best hotels in Odense
Below, we are recommending the three best hotels in Odense at the moment:
Hotel Odeon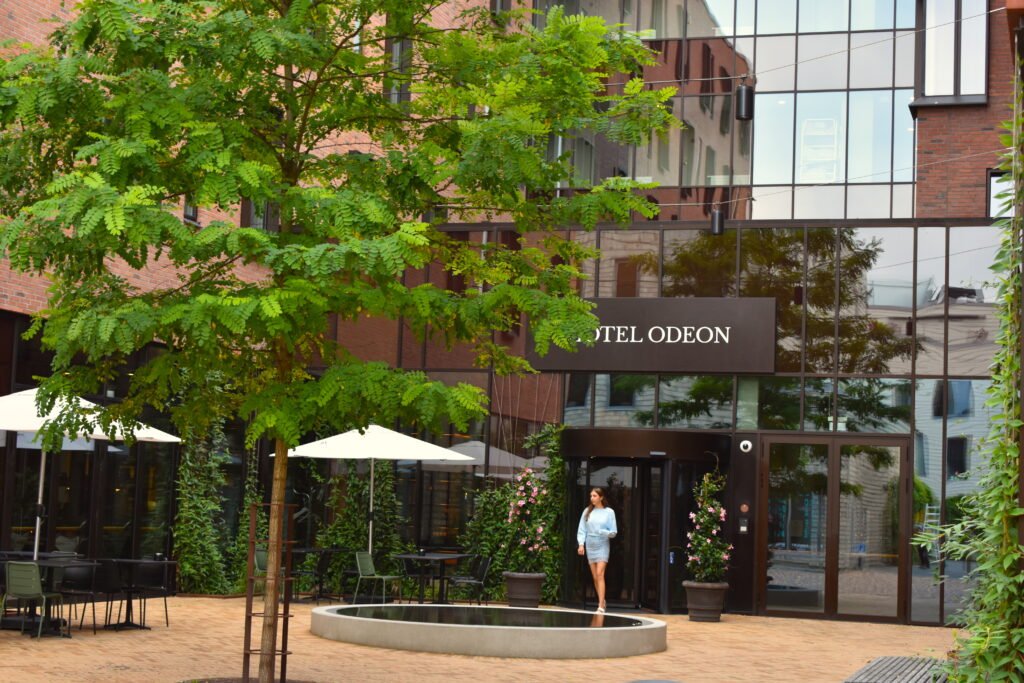 With a central location in Odense and over 230 rooms, Hotel Odeon is certainly the top option in the city. It's a 4-star hotel with plenty of space and facilities. That makes it a great option for all kinds of travelers.
It is located near the H. C. Andersen Museum (considered to be one of the top attractions in the city). When staying here, you are within a short distance of all the important places in Odense, and you also have public transport nearby. If you are arriving by car, Hotel Odeon offers parking for a small extra fee.
Odeon has been designed as a highly artistic hotel. It is stylish and gives a hint of luxury. As you can imagine, that also makes it one of the most expensive hotels in Odense, but if you want a great experience, staying here is well worth the price. The hotel has a beautiful lobby with great decorations. It has a very popular restaurant with quality food – mostly serving traditional Danish dishes. The kitchen is open-faced so you can often see how they prepare the food. If you choose to stay with Odeon, be sure to eat at the hotel restaurant at least once.
The rooms are generally spacious and luxurious. There are different ones to choose from, though: With a total of over 230 rooms, you will find everything from basic solo rooms to larger suites. Several rooms at Hotel Odeon are family-sized rooms, so if you are traveling as a family or as a group, it will be highly practical to stay with this hotel.
The style of the rooms is the modern Nordic minimalistic style. There's a focus on simplicity, while still creating comfort. Hotel Odeon is known as the hotel in Odense with the best furniture. The beds are super comfortable. As you expect, all rooms are equipped with heating and air-conditioning, so you can comfortably stay here at any time of the year.
There's free Wi-Fi, cleaning services, business facilities, and free breakfast if you make your booking online in advance. Expect to pay between 1500 and 2500 DKK per night, depending on the room you select, and depending on the time of the year (summer is most expensive, autumn is cheapest).
This is the hotel to pick if you want the most luxurious experience and if you want to be in a modern hotel in Odense.
→ Book your stay at Hotel Odeon here!
First Hotel Grand Odense
While Hotel Odeon is a modern minimalistic hotel, this one – First Hotel Grand Odense – is a more traditional hotel that can give you a more old-fashioned experience.
It is located in a historic building and it is a highly popular hotel. In the main travel season, it is often fully booked, so you have to make your reservation early. We highly recommend this hotel due to the beautiful settings and the great service that you'll receive. It also has respectable prices, being a bit more affordable than Hotel Odeon as we mentioned first, but the prices naturally depend on which room you choose.
In total, there are 135 rooms. They have different sizes though, and you will find everything from a standard double room to a nice suite. However, all rooms are pleasant, well-decorated and stylish. They are spacious and come with private bathrooms. Service is there when you need it, and don't worry about the internet – like all modern hotels, there is free Wi-Fi. The good thing about First Hotel Grand Odense is that it is actually fast!
The hotel has a gym, bar, restaurant, common areas, business rooms, and much more. You can rent a car with the hotel if needed. So most likely, you won't lack anything. Thanks to the central location in Odense, you will be within 10 minutes of the major attractions on foot. First Hotel Grand is close to Odense Castle and the most popular museums.
Overall, we highly recommend staying here. You can expect a quality experience – rooms are nice and service is top-notch. The staff speaks Danish and English, with some also being fluent in French and German. As mentioned before, you should make your booking in advance since this is a very popular hotel and rooms are often booked quite early. If you book 2-3 weeks before your trip, it should be fine – the sooner the better, though!
→ Make your reservation at First Hotel Grand Odense here!
Comwell H. C. Andersen
Another central and popular hotel in Odense is Comwell H. C. Andersen. It is named after the famous author and is located just 100 meters away from Andersen's old house. It is also near the central train station, so if you are only staying in Odense for a short while, Comwell could be a very practical place.
The hotel is modern, comfy, and the prices are reasonable. You can choose between a standard room, a business room, or a family room. All rooms are pretty spacious with nice furniture and decorations. Smoking is not allowed at Comwell, but pets can be brought along for the trip for an additional price of 250 DKK per day.
You can park your car in front of the hotel which is also a plus. There is a bar, a restaurant, a gym, and some other useful facilities on the location. The staff speaks multiple languages, so communication is never an issue. All these benefits make Comwell one of the best places to stay in Odense. Especially if you want to be near the city centre and have a comfortable bed to rest in when all the sightseeing is over.
→ Book your room at Comwell H. C. Andersen here!
Best neighborhoods in Odense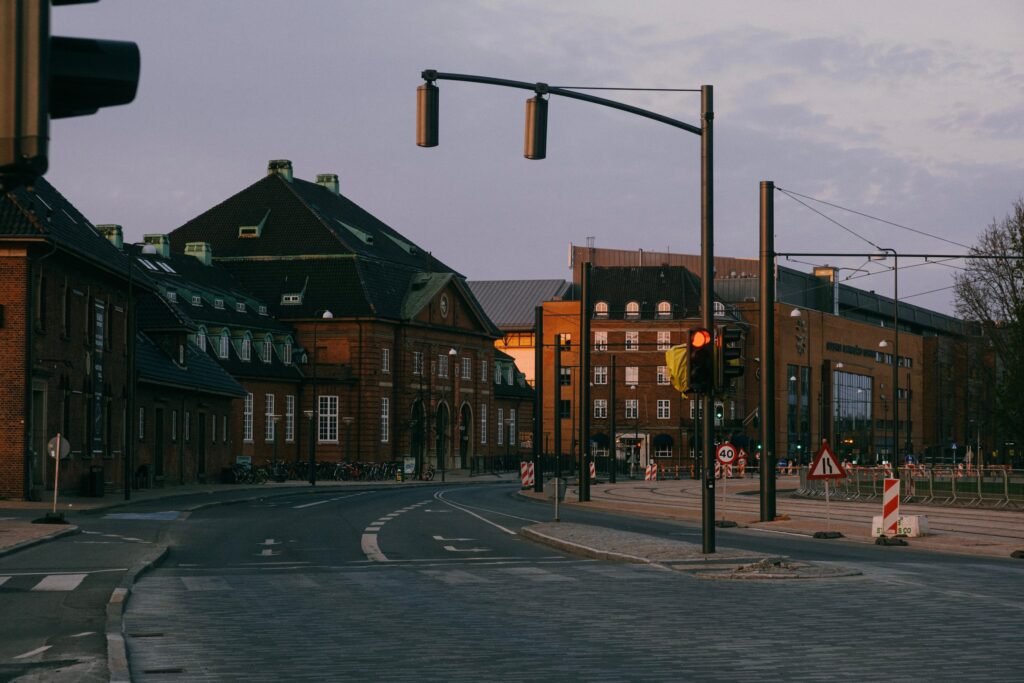 Aside from the hotel recommendations in Odense, we would like to inform you about the areas and neighborhoods in the city. That can be useful if you want to look at more hotels yourself and you want to know if the area is good or not. It can also be useful if you're staying in Odense for a long while and need something more permanent.
Odense Centrum, which is just called Odense C, is the top area. As the name suggests, it is the most central part of Odense – the historic centre to be more exact. Odense C is where you'll see most of the old architecture. Tourists generally like this area, and there are plenty of nice accommodation options. For locals, it is the most expensive area though, since apartments are very exclusive in Odense C. The benefits of being in the city centre are that it is so authentic and that you have all the attractions and best shops nearby.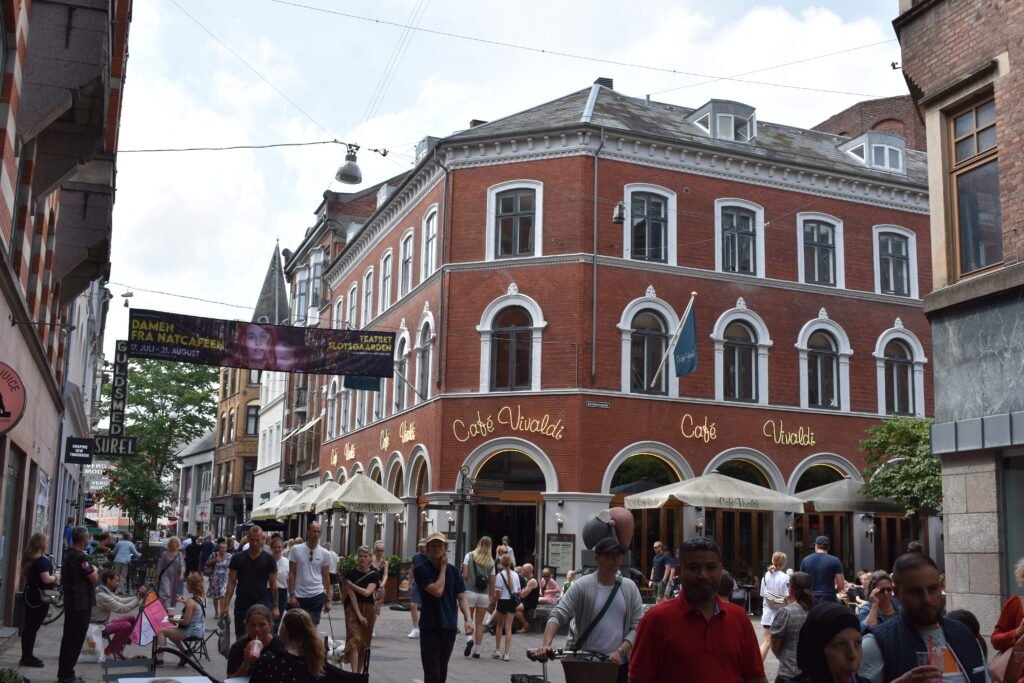 Within Odense C, there are a few significant neighborhoods, such as Latinerkvarteret and Skibhuskvarteret. Latinerkvarteret (The Latin Quarter) is a neighborhood of art, culture and fashion. Skibhuskvarteret is like a village within Odense, in the northern part of the centre where the canal ends. The locals in this neighborhood are very close, it is super charming and has pedestrian streets and local shops.
Odense Midt, known as Odense M, is the other centre in the city. It can be a bit confusing for those who haven't been to Odense yet, but the city has two centres. Odense M is located just south of Odense C. It's another great area to stay in – but it is also expensive. Odense M was founded a few hundred years ago when the wealthy inhabitants of the old centre decided that they wanted some more space, so they decided to move a bit south. Since then, a lot of big villas have been built in this area, along with some hotels. Odense M offers some of the best restaurants in the city, some nice places for shopping, and it is close to charming green areas.
Odense Havn is the harbour area. It was previously an industrial harbour with a bit of a rough environment, but that has changed – it is now a more cultural district with museums, restaurants, bars and cafes. Some sections of Odense Havn might still look a bit rough – many of the industrial buildings are still there – but most tourists just find that interesting, and since new developments are constantly happening in the harbour area, it is already one of the best areas to stay in Odense and it might become even more popular in the future.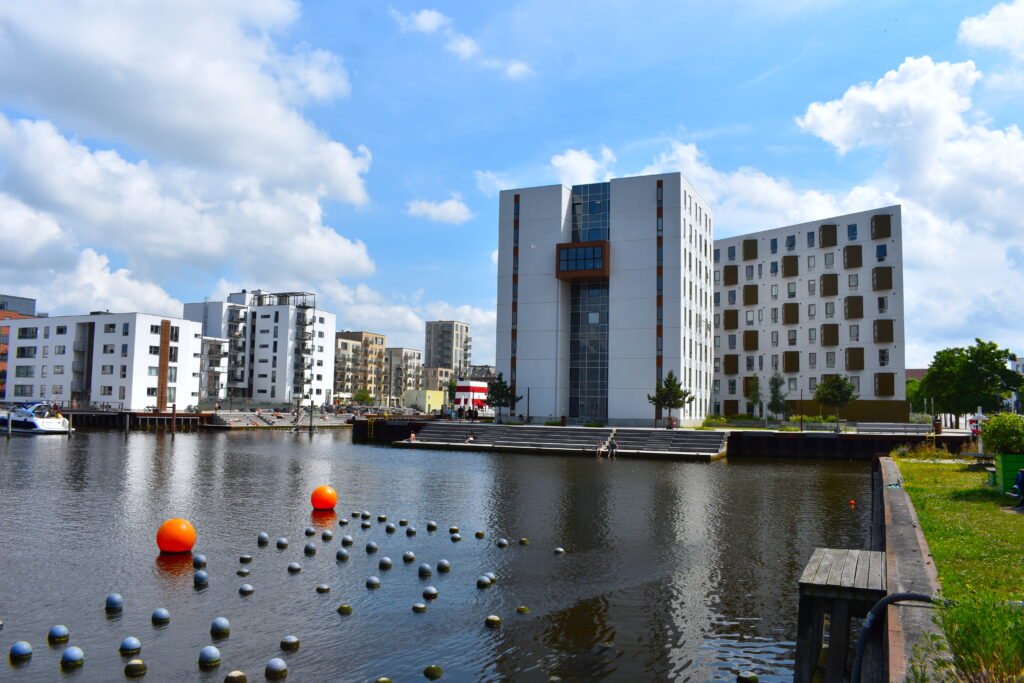 Dalum is another nice neighborhood, west of Odense M and southwest of Odense C. A fancy area with many stores, one of the most popular neighborhoods among the locals.
City Campus is a brand new district of Odense. In fact, it is still being developed. Located between the harbour and Odense C, it is a district meant for students since there are multiple educational facilities nearby. If you want to be in a modern and youthful environment, stay near City Campus. It could potentially become Odense's most popular districts a few years into the future!
These neighborhoods and areas of Odense are undoubtedly the best ones, and as a tourist, those are the ones you will be spending most of the time in.
Which areas of Odense should you avoid?
Vollsmose is the worst area of Odense. It has the official status as a ghetto. It is located in the eastern part of the city, characterized by big apartment blocks. It is one of the most densely populated areas of Odense. Vollsmose can be a bit dangerous. As a tourist, there is no reason to go there.
Kertemindevejkvarteret, northeast of Vollsmose, should be avoided as well.
Solbakken, a neighborhood in the district Dalum (which is otherwise quite nice), is another area to avoid in Odense. It also has ghetto status and can be a bit dangerous.
Overall, Odense is a fairly safe city though, so it is unlikely that you experience anything bad. If you stick to the good areas – the typical tourist areas – your trip should be safe and pleasant.
Getting to your hotel
Odense has a small airport but it is unlikely you are getting into the city that way. Most visitors fly to Copenhagen or Billund – these are the two biggest airports in Denmark – and then go to Odense via train, bus or car rental.
There is a central train station in Odense. When you arrive at the station, you can likely walk to your hotel since the station is right in the middle of the city. If needed, there are taxis too. They are expensive, even for short rides, but if you carry a lot of bags with you, it's an option.
As for getting around the city once you're settled, we recommend you to walk. Odense is a very walkable city. By walking you get to see more parts of the city, you might discover some hidden gems, and it gives you an impression of the mood and soul of the city.
If you don't like walking around, there are plenty of city buses that can take you to any area of Odense.
Odense Letbane, a light rail system, is currently in development. The first line, which goes from north to south, is expected to open in early 2022.
Other accommodation options
So far we have looked at where to stay in Odense and given some hotel and area recommendations. But if a hotel is not your cup of tea, there are also some other options.
Odense has a couple of hostels. Hostels are more affordable than hotels, so that's something you can consider.
Like any other noteworthy city, there is a selection of holiday apartments as well. Most of them are private. Check Airbnb to get an overview of holiday apartments in Odense. This can be a nice way to feel the authenticity of the city. Some travelers also like to have a kitchen available, which is generally not possible at a hotel, but it is possible in a holiday apartment.
If you're young and want to socialize, check out Couchsurfing and see if any locals in Odense can host you for free.
Things to do and see
If you are staying in the central part of Odense, there will be a lot of things to see and do. The city is full of attractions – historic attractions as well as modern ones.
To learn more about what you can do while you are staying in Odense, take a look at this article:
→ Best Sights & Attractions in Odense
Conclusions
Odense is a cool city with plenty of things to do. But in order to enjoy your trip fully, it is necessary with a nice place to stay.
If you have been wondering where to stay in Odense while planning your trip, we hope that this article has helped you decide. We consider Hotel Odeon to be the best hotel in Odense, with First Hotel Grand Odense as the best alternative. Both hotels are very central and perfect for cultural travelers who want a great experience. Of course, if you prefer a holiday apartment, you can also check the current listings on Airbnb. That's another good option – just make sure you find a nice and safe area!