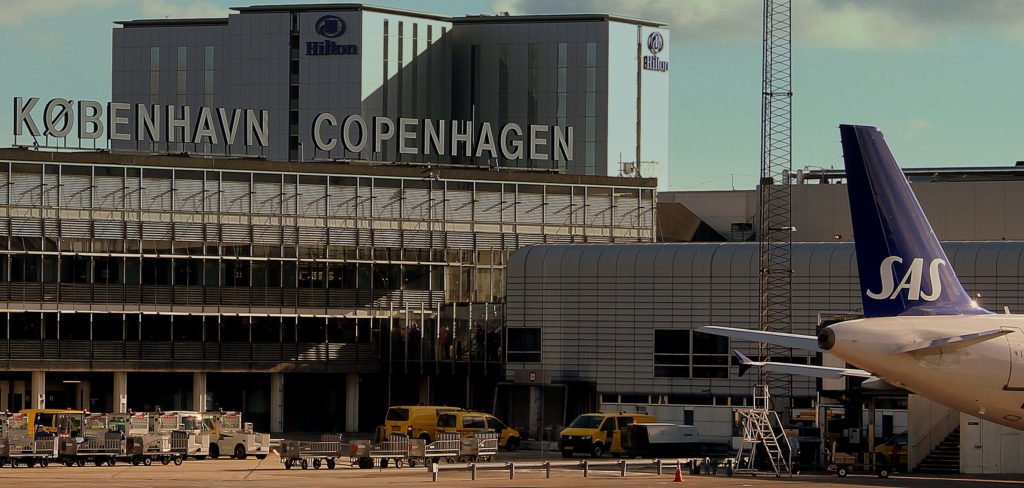 The Copenhagen Airport (CPH) is the largest airport in Scandinavia. It serves as Denmark's main international airport and it has approximately 30 million passengers per year.
If you are planning a trip to Copenhagen, there is a very high chance that you will use the airport. For that reason, we are providing this in-depth guide to Copenhagen Airport. You will learn about how to get from the airport to the centre of Copenhagen, and we will also take a look at the infrastructure, gates, terminals, shops, restaurants and much more.
Let's get started with it!
Facts about the airport
Copenhagen Airport was founded in April 1925. That makes it one of the world's oldest of its kind. Throughout the years it has continued to grow in traffic, and now it serves as the largest and most used airport in all of Scandinavia.
The airport is located in the Kastrup suburb, on an island called Amager. This island is connected to the rest of Copenhagen by 8 bridges and a tunnel for the metro. The airport is quite close to the city centre – it is just a 7 kilometer (4 miles) trip to get there.
The official address of the airport is Lufthavnsboulevarden 6, 2770 Kastrup, Danmark.
CPH is the international code for the airport.
It has two terminals that handle all flights. When you are inside the airport, it is very straightforward and easy to navigate around. Due to only having two terminals, it's also easy to transfer when you have a layover.
Copenhagen is not the only big city that airport serves. Malmö, one of the largest cities in Sweden, is just 24 km (15 mi) away. Therefore, the airport is also used by a lot of people with the intention of going to southern Sweden.
Terminals in CPH
There are two terminals in Copenhagen airport:
Once there was a Terminal 1 – it was used for domestic flights, but now everything has been gathered in the more modern terminals 2 and 3.
Most big international airlines depart from Terminal 2.
Terminal 3 has a bit of everything, there are some big airlines present. This is also the terminal that many of the low-cost airlines use. They often depart from the CPH Go area of Terminal 3.
A Terminal 4 might be built in the future, but currently the airport just has the two. However, that can be an advantage since it is very easy to transfer between them. They are relatively easy to navigate.
Transport: Copenhagen Airport to city centre
Airport transportation is an important topic. After you land in the airport, you have to get to the centre of the city – or to wherever you are staying.
Due to the close proximity to the city centre, it is easy and fast to travel between the airport and the central part of Copenhagen.
You have several options available:
Taxi
Metro
Train
Bus
Car rental
Taxis are parked right outside the airport and drive to wherever you want. However, taxis in Denmark are incredibly expensive, so expect to pay a lot – even though the airport is located very close to the city centre.
You will find a metro close to Terminal 3. It departs approximately every 5 minutes during the daytime and ever 15-20 minutes during the nighttime.
From Copenhagen Airport to the central station of Nørreport, it takes around 15 minutes with the metro. Super fast and easy. You can buy your metro ticket at the station. Be aware that the automatic ticket machines don't accept notes – they only take Danish coins and credit cards. However, you can pay in more ways if you visit the DSB ticket office. They will also answer any questions you have about the airport transportation.
You can also take a normal train. You will find trains that go to Copenhagen and Helsingør. With a stop in the central Copenhagen train station, you can change to another train and reach any major city or town in Denmark.
It is also possible to take a train from Copenhagen Airport to Sweden. Every 20 minutes, there is a train departing for Malmö. A couple of times per day, you can also take trains to Ystad, Gothenburg and Kalmar.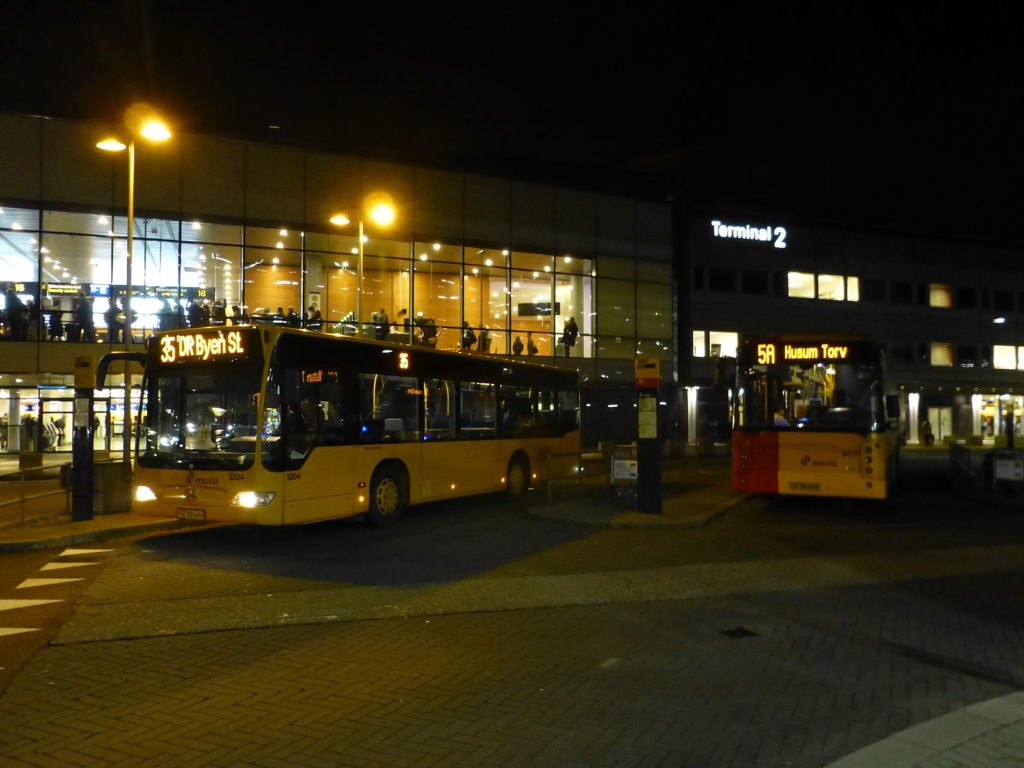 Buses are a bit slower than metro and trains, but it can be cheaper. There are 3 bus lines you can take: Lines 5C, 35 and 36. 5C is the one you want to take if you want to reach the centre of Copenhagen. These buses cost money, so don't confuse them with the free local airport buses (they don't leave the airport area).
Several private bus lines drive to the airport as well: Flixbus and Nettbuss are the two most common.
Car rental
When you arrive at the airport, head to the huge Car Rental Centre. All the popular car rental companies operate from here, and you will be able to rent a car and drive it immediately after.
Here's how you get to the Car Rental Centre in Copenhagen Airport: Take one of the free buses that depart from both terminal 2 and 3. They drive approximately every 10 minutes. The Car Rental Centre is located west of the terminals. It's impossible to miss once you get there – the building is big and has the words Car Rental written pretty clearly!
The Car Rental Centre is open between 7.00 in the morning and 23.00 at night.
You will find the following car rental companies inside:
Avis
Sixt
Europcar
Budget
Hertz
Enterprise
If you have booked your car online, you only need to show up, confirm your booking and show some ID. If you didn't book anything before arriving, you can arrange your booking and pay with a credit card upon arrival. However, this may take a bit longer. Expect around a 30-minute process.
Parking
There is plenty of space for parking at the airport, but you have to pay for it. Depending on where you want to park your car, the prices start at 360 DKK per week.
You can book your parking online, or you can pay for it at the airport. It is possible to do so with a credit card.
You can park for an unlimited amount of time, as long as you pay for it.
There are free parking options outside of the main airport area, but this gets a bit impractical, so we will not get into it.
Generally speaking, you might as well save the parking money and take public transport to and from the airport. It is super fast and not that much of an annoyance.
Hotels near Copenhagen Airport
Do you have an early flight out and want to stay near the airport? Or are you arriving late at night and do you want to hit the bed immediately?
Zleep Hotel Copenhagen Airport is the easiest choice. It's a typical airport hotel, just a 5 minute drive away, and less than 10 minutes with public transport. You can even walk there if you want to. Rooms cost $85 per night (on average), so that's actually a fair price compared to many of the other hotels in Copenhagen. We recommend Zleep Hotel Copenhagen Airport if you want to be near the airport.
Airlines and routes
You can fly to Copenhagen from various airports around the world. As mentioned before, it is the largest airport in Scandinavia, and there are direct lines to almost all Western countries, along with several other nations as well.
Copenhagen Airport is the main hub of these airlines:
SAS and Norwegian have plenty of connections to destinations around the world. SAS is a medium/high-priced airline and has routes to most European countries, to several Asian countries, a few connections to the Americas, to the Faroe Islands, to Iceland and to Greenland.
Norwegian is a low-cost company. They fly to most major European and North American cities. With Norwegian, you can fly affordably to Copenhagen from American cities such as Boston, New York, Miami, Las Vegas and Los Angeles.
But several other airlines are present too. Those includes large companies such as British Airways, AirFrance, KLM, Iberia, TAP Portugal, Aeroflot and more – but also low-cost companies such as RyanAir and EasyJet.
So, in other words, there are plenty of travel options to and from Copenhagen Airport!
Check in & baggage
Terminal 2 has a big area for checking in and delivering baggage. You can do the same in Terminal 3, and it is very straightforward.
If you need to check-in your baggage or if you would like any assistance with your ticket, stand in line at the counter of the airline you are flying with. Get there early, as there can be long lines, just as in any other airport.
On the other hand, if you only carry hand luggage and just wish to print out your ticket, there are several machines available that you can use. They are fast and simple, and you can use them in many different languages.
Passports are not routinely checked between EU destinations, but they are checked for flights to non-EU destinations. However, be prepared to show identification if anybody ask for it. No matter where you are from, it is best to bring a valid and current passport. Also, be prepared to show your boarding pass at the security point. You also need to show it if you purchase any items at the airport, and once again when you board your flight.
Restaurants
You will find plenty of nice restaurants inside the Copenhagen Airport. Both terminals have places to get food, so that is never any issue.
FoodMarket is one of the best places to go, as they are open for most of the day and have a nice selection.
Joe and the Juice has fresh juices and coffee. There are other coffee places as well, so you will never be in need of that. Riccos kaffe is another good choice. And of course, there is a Starbucks as well.
Tapa del Toro is a Spanish-inspired restaurant that we also like.
Aside from those, take a walk around the airport, look at the menus and eat whatever you like. You can find everything from nice restaurants to fast food chains, along with smaller sandwich bars and Grab & Fly.
Shopping
There is a wide selection of stores where you can shop for clothes, souvenirs and practical items inside the airport.
In fact, there are more than 120 stores. Depending on how much time you have in the airport, you can at least get to visit some of them. A nice way to spend time while waiting.
The prices can be a bit steep, just like inside the city of Copenhagen. But even looking around is fun.
Here are some of the stores you will find:
Tiger
Pandora
Burberry
H&M
Georg Jensen
LEGO
Victoria's Secret
And much more. Look around yourself and discover all the stores and shops in Copenhagen Airport. There are over 120!
Lounges
The Aspire-lounge is one of the most popular lounges inside the airport. It's a nice place to sit down, get a coffee, read a newspaper (in all Scandinavian languages and English), and use the ultra-fast Wi-Fi.
There is also the Aviator lounge, which is a solid alternative, with many of the same benefits.
Atelier lounge is a more calm, yet colorful place. Certainly very interesting.
Eventyr lounge is open for everybody traveling outside the EU. A very nice lounge as well.
And then there is the Apartment Business Lounge, a high-class one, where the Wi-Fi connection is incredibly fast. They also have the best furniture in the entire airport there!
Conclusion
Transport between Copenhagen Airport and the center of Copenhagen is easy and straightforward. Car rental is also simple, and you can arrange it all before you even arrive.
Once you are in the airport, you have plenty of things to do – visit some stores, eat at a restaurant, or sit down and use your smartphone or computer.
Overall, Copenhagen is a nice airport. I hope that this guide was useful and that you will enjoy your trip to the Danish capital.
If you have any questions regarding the airport or any further additions to the article, feel free to post in the comment section below.