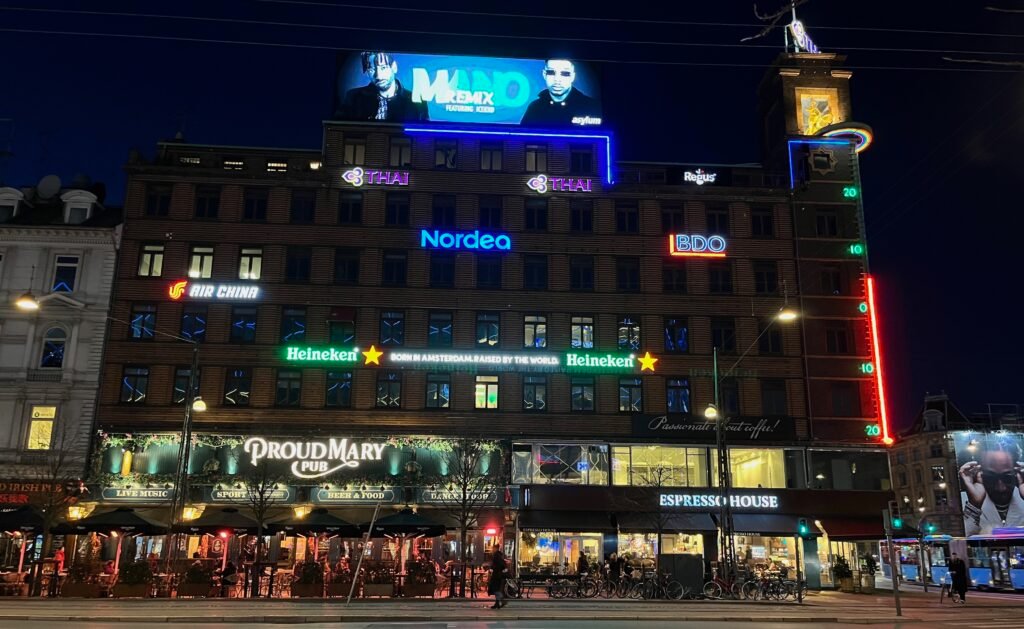 The Copenhagen nightlife is very active for the entire year. When going out in Copenhagen, you have a wide selection of bars and nightclubs to choose from. In this guide, we are sharing some useful tips if you plan to go out at night, and we will share some of the top venues.
The bar scene is particularly strong in Copenhagen. Danes generally love drinking beer – so many venues are centered around that.
But the Copenhagen nightlife has something for everyone. Before going out, it is a good idea to decide what you want to do for the night. Is the goal to meet new people and make connections? Do you want to try some fancy drinks and go dancing all night? Or do you simply want to get drunk with the friends? Whatever it is, you can certainly do it in Copenhagen, because this city is perfect for partying!
A lot of travelers like to go out partying for at least one night when they visit Copenhagen. It can be fun, it is a good way to meet new people, and it gives some good cultural insights. This guide aims to provide you with all the information you need if you want to experience Copenhagen's nightlife as a tourist.
Danish party habits
To begin the guide, we should look into the Danish party habits. This will give you a general idea of how locals act in the nightlife.
Going out to bars and nightclubs can be quite expensive. For that reason, many young Danes have a habit of drinking at home before going out. When a group of friends get together, they often meet at somebody's house first and get a few drinks to warm up. This is known as a forfest, or simply pre-party if we translate it into English. They will usually consume enough drinks to get a light buzz, but not enough to get fully drunk.
They will then hit the bars and clubs between 10 pm and midnight. In other words, this is when the action starts. Many nightclubs will be empty or at least thin before midnight, but after that, they will be well-attended. So don't go out too early – it might be boring if you go out a few hours before everybody else does.
Older Danes (40+) will typically skip the pre-party and instead go out for a meal at a restaurant before hitting the bars immediately after.
Each bar and nightclub can obviously set its own closing hour. But in general, people who party in Copenhagen stay out until 3-5 am before they return home. There are some venues that close early, while others stay open until the next morning – at least during the weekends. So you can always find a place that suits your needs.
Young people in Denmark (teenagers and people in their 20s) will often get very drunk when they go out. There is a strong drinking culture among the young Danes, so if you drink with the locals, know your tolerance and don't be afraid to say no if you can't keep up – it can get wild.
Copenhagen can be a loud city at night due to the partying scene. If you are renting a central holiday apartment during your stay, there's a good chance you will notice this.
Best areas for going out
The entire city centre is lit up and has countless great bars and clubs. But some neighborhoods are better than others.
Nørrebro and Vesterbro are the best places to go out. Not only do these two neighborhoods have multiple award-winning bars selling some of the world's best craft beers – they also have an awesome vibe when the city gets dark, and they are some of the best areas to visit if you want to socialize with locals.
Generally speaking, you will find the best bars in the neighborhoods of Nørrebro and Vesterbro. If you want a cool night out with emphasis on enjoying some high-quality beers and cocktails, you should mainly spend your time in these districts of the city.
But if you are looking for nightclubs, there is no doubt that Indre By, also known as København K, has the best selection. This is where you should go if you want to party hard. There are some huge clubs, many venues have long opening hours, and the area is full of energy at night. It gets loud too, but it is the best place to go if you want to dance and have a crazy night out.
The northern section of Amager, also known as København S, has some decent bars and clubs as well, often with lower-priced drinks.
Østerbro is a great area for cultural attractions and for general living, but it doesn't have as many nightlife venues as the other neighborhoods we have mentioned. But if you are staying in Østerbro, like many travelers do, it will still be easy to get into main the party districts of the city.
Some of Copenhagen's suburbs also have decent options for partying, but we would recommend you to stick with Nørrebro, Vesterbro and Indre By since they have more venues and it is more practical to be in those areas.
Bars in Copenhagen
Copenhagen has some of the best bars in the world. They have amazing craft beers. It can be expensive to visit the best bars in the city, but it is certainly worth it for the experience you get.
Here are some of the most popular bars in Copenhagen. Search for the name of a bar on the map in your phone to get directions.
Mikkeller
Brewers Inc.
Brus
Nørrebro Bryghus
Kølsters Tolv Haner
Strøm Bar
Lidkoeb
Ruby
For more information on the bar scene, you should check out the following article that goes more in depth with each of the top bars in the city: Best Bars in Copenhagen
Nightclubs in Copenhagen
There are some very good nightclubs in Copenhagen. We will describe the best ones here.
Chateau Motel
In the middle of the city we find Chateau Motel, a four-floor nightclub that plays four different genres of music. It is one of the largest nightclubs in Denmark and it is a great choice for a group of friends since everyone can have a good time there. The club has an interesting design – it regularly tries to be innovative yet the building also has a unique history. Entry is free if you show up before midnight.
Address: Knabrostræde 3, 1210 København K
Culture Box
This venue is extremely popular since top-class electronic music artists regularly stop by to perform. Culture Box is separated into three different sections, so it has multiple things to offer. The highlight is the Black Box floor which is where the artists come to perform on the weekends.
Address: Kronprinsessegade 54 st., 1306 København K
Bremen Teater/Natbar
Although Bremen Teater functions as a theatre for most of the week, it turns into a proper nightlife venue on Fridays and Saturdays where it goes under the name Natbar. Bremen Teater is not as wild as Chateau Motel or Culture Box, but it does have great drinks, live music, and the opportunity to dance. It closes at 4 am, so you can stay there for most of the night. There is no dresscode but you have to be over 23 to get in. The venue was previously owned by Danish business magnate and party king Simon Spies so it also has a really cool history.
Address: Nyropsgade 39-41, 1602 København V
HIVE
One of the few high-end nightclubs that aims towards attracting young people. The majority of visitors are in the twenties, so it becomes a wild place with plenty of energy. HIVE is beautifully designed with a modern, simplistic style. Friday is the best day to go there as there will be live DJs. Saturdays are a bit weird since they run a Medieval theme. You can charge your phone at the club, so no need to worry about running out of battery.
Address: Skindergade 45-47, 1159 København K
Sigurdsgade
Another nightclub that a lot of young people visit. Sigurdsgade is located in the neighborhood of Nørrebro. It has a massive dancing floor and great music – the genre changes every now and then, so it's the kind of place where you get a different experience every time you go. Sigurdsgade has a bar with a tropical theme, so you can get some tasty exotic drinks there.
Address: Sigurdsgade 39, 2200 København N
Socializing in Copenhagen's nightlife
It can be difficult to meet people and make connections during the day in Copenhagen. People are friendly, but Danes aren't as open to strangers as people are in other countries. Most Danes prefer to discuss real subjects or at least to make some good jokes. It is important for Danes to have legitimate topics to talk about. So you won't get far with basic small-talk. Foreigners often perceive Danish people as being a bit cold and close-minded, but the truth is that Danish people are very friendly when you get to know them.
At night it becomes a lot easier to socialize. People go out at night to have a good time, unlike during the day when they typically just go out for errands. So the chances of making new friends become a lot higher at night. When the Danes get a bit to drink, they become way more social and open to strangers. Some of the best places to socialize are obviously in the bars. The clubs are too loud, but in bars you can actually keep conversations going.
If you meet someone in the nightlife that you hit it off with, make sure you exchange contact information so that you can talk again later. Otherwise, you might never see the person again. Danish people typically communicate with friends through Facebook Messenger, Instagram, Snapchat, iMessage, and regular SMS messaging. Apps such as WhatsApp and Telegram are used by some people, but they are generally not as popular as in other countries. Facebook Messenger is the go-to app for most Danes, so you will have the best chances of staying in touch with locals if you use this application.
Copenhagen always gets a lot of tourists, so you will also be able to socialize with foreigners. This is typically easier since tourists are more open to making new friends while traveling. Almost all the tourists in Copenhagen will be partying in the areas of Indre By and Nørrebro, so these are also the top neighborhoods for finding other foreigners to socialize with. If you are staying in one of the hostels in Copenhagen, you can easily find people to go out with – and many hostels arrange bar-crawls and similar activities.
How much does it cost to go out in Copenhagen?
Drinks are expensive at the bars and nightclubs in Copenhagen – hence why so many Danes pre-party with the friends at home before going out.
If you go out to the best bars in the city to try high-quality drinks, it will be an expensive night out. A regular branded beer in a glass with usually cost between 40 and 60 DKK in the Copenhagen nightlife. Craft beers will typically cost a bit more (but fully worth the difference).
Some bars and clubs have happy hours and special discounts. The cheapest way to get drunk is to find a place that has a good offer on shots. It is almost always possible to find some venue with a discount on shots.
Most nightclubs have an entry fee. Sometimes, women won't have to pay, but most clubs do charge a fee for every visitor. It can be anything from a small fee of 50 DKK in some clubs to a much larger 500 DKK in the high-end nightclubs. Before you enter a new venue, try to find out what it costs. Most nightclubs nowadays have websites where they list the prices of entry and drinks. This can help you decide where to go.
But in general, be prepared to spend a lot of money if you go out at night in Copenhagen. It will often set you back between 500-1000 DKK in total. You can pay with your credit card almost everywhere but cash is also accepted.
Safety tips and precautions
Copenhagen is a safe city for the most part, but obviously you need to be more cautious at night than during the daytime.
If you expect to get drunk, don't bring too many valuables with you. Don't wear a fancy watch. It is a good idea to have company if possible. If you are a solo traveler, try to join a MeetUp event, a hostel event, or make some local friends before you go out. If you travel with friends, stick with them the entire night as you go out.
Some sections of the Nørrebro neighborhood can be a bit dodgy. Be aware of your surroundings in Nørrebro. Women need to be particularly careful. Indre By, where most of the top nightclubs are located, is a safer area than Nørrebro but some precautions are still needed.
Using cannabis and harder party drugs is illegal in Denmark so we recommend against it. It comes at a high risk and could give you trouble. Don't break the law because the police is present in the nightlife and they frequently search people for drug possession.
If you go out to bars and clubs near your place of accommodation, walking home should not be an issue. However, if you are staying far away from the main nightlife districts, we recommend taking a taxi home. Taxis accept credit cards.
The emergency number is 112 in case you need it.
Most tourists do just fine and have an amazing time when they go out in Copenhagen, so don't worry too much. Try to have fun, but remember also to stay safe.
Stay near the city centre
The nightlife is centered around Indre By, Nørrebro and Vesterbro. These areas also happen to be the core of the city centre, so you might as well stay in one of these parts of Copenhagen as you are visiting. The neighborhood Østerbro is also an amazing area to stay in. Although it lacks the number of nightlife venues that the other central neighborhoods have, it is located close enough for you to still be able to enjoy the nightlife.
Read our article on where to stay in Copenhagen to find hotel recommendations and more in-depth descriptions of the main neighborhoods.