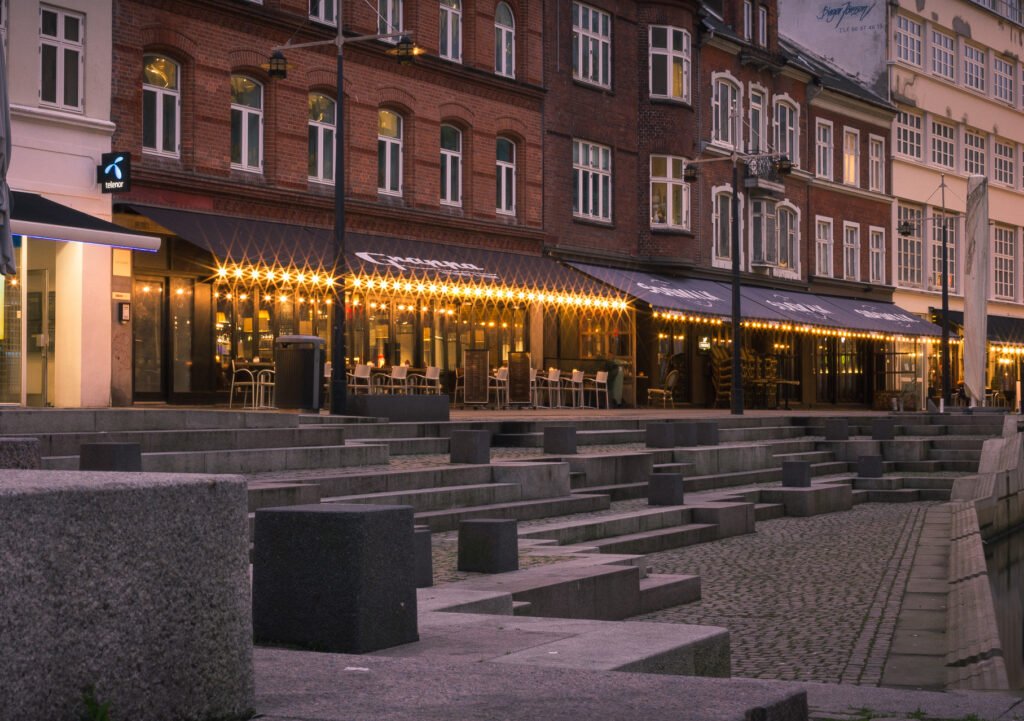 The city of Aarhus has an awesome bar scene. It has everything from high-end cocktail bars to gritty beerhouses. When they come to visit, most tourists want to experience at least one night out. So let's take a look at the top ten bars in Aarhus!
Most bars in Aarhus are expensive, but we try to include venues within all price ranges. The address of the bar is listed in each description.
Travelers are welcome at all these bars, but you can expect most other visitors to be locals. Fortunately, this is exactly what most visitors are looking for!
BarStart
BarStart is an ultra-cool bar that could fit well into a Tarantino film. It is known for its high-quality drinks. The talented bartenders put a clear emphasis on cocktails. We highly recommend trying a few of those. But even so, you can also buy beers, and the menu card has a bit of everything.
At BarStart, the surroundings are not as loud as other Aarhus bars, so you can actually sit down and talk to people. It's a decent place for a date. While the venue doesn't have any official dress code, most guests show up well-dressed, so you should do the same. Smart-casual works well here.
The bar is open from 6 pm to 2 am on Thursdays, and from 6 pm to 3 am on Fridays and Saturdays.
Address: Fiskergade 28, 8000 Aarhus C
Clemens Bar
This bar has a great reputation among locals and it ranks as the top bar in Aarhus for the adult crowd. You must be over 25 to get in – so that excludes most young troublemakers who are just trying to get drunk.
Clemens has all sorts of drinks. You can grab a beer there, or you can order a cocktail. The bar is famous for its gin. It's a relatively large venue, so you can either hang out there and talk to people, or you can go on the dance floor. The only negative is that Clemens is only open on Fridays and Saturdays. Opening hours are long on those days though, as the bar typically stays active until 5 am. It has a great location on Åboulevarden (the centre of Aarhus' nightlife) under the Skt. Clemens Bridge from which the bar takes its name.
Address: Åboulevarden 35, 8000 Aarhus C
St. Pauls Apothek
Located on Frederiksbjerg, St. Pauls Apothek is one of the most popular cocktail bars in Aarhus. It used to be a pharmacy when the building opened in 1899. Currently managed by the sixth generation of pharmacists, they sell a different type of cure – drinks!
Despite the grand history of the venue, it is actually a super innovative bar with some of the coolest drinks out there. The menu card has more than 30 cocktails on it, and the majority are inspired by the nightlife in cities such as London and New York. The bar equipment is Japanese-inspired. So you certainly get an international feeling when you visit St. Pauls Apothek, and the drinks are among the best in the city. The bartender will typically serve a complimentary snack – one that goes well with the taste of the drink. The bar has previously won the Danish championship in cocktails.
Opening hours are somewhat limited. The bar usually closes at midnight or at 2 am. It is a place to go in the evening, before proceeding to other bars in Aarhus later in the night. The good news is that St. Pauls Apothek is open from Tuesday to Saturday, so you can go there for most evenings of the week.
Address: Jægergårdsgade 76, 8000 Aarhus C
Rømer
Rømer is one of the most central bars in Aarhus and it has a positive reputation among locals as well as tourists.
It is a café / cocktail bar / lounge where you can order high-quality food and drinks. Rømer is open all day long and serves brunch, lunch, and dinner. On Fridays and Saturdays, it turns into more of a cocktail bar. There is a clear emphasis on serving tasty drinks and offering a calm vibe, rather than hosting people who just get drunk.
We recommend going to Rømer to have dinner with a drink or two, before going out to other bars. Rømer is a place where you can sit down with your partner or your friends and have a good time together. It is not the best place for socializing with strangers, but it can be a great venue for a date. Or simply having a cozy evening with those you travel with. Located on Åboulevarden, you can quickly move on to another place if you want to dance or have more drinks after. The entire street is loaded with bars and clubs.
Address: Åboulevarden 50, 8000 Aarhus C
The Australian Bar
As the name suggests, this bar has a strong Australian vibe and is inspired by the country Down Under. Most locals just call it the A-bar.
It has a very young audience: Most guests are between 18 and 22. So if you are an exchange student in Aarhus, or if you are traveling to the city right after finishing your education, it should be one of the top locations in the Aarhus nightlife.
Prices are very reasonable, the music is loud, and the bar is very spacious which makes room for a lot of people. It is open from Wednesday to Saturday, and it usually doesn't close until 5 am! The perfect venue for an all-nighter, as long as you bring the energy!
Address: Åboulevarden 21, 8000 Aarhus C
S'vinbar
If you are more into wine than beer, this is the place to visit. S'vinbar is run by a true wine expert. It's a great place to go if you want a nice glass or two.
The wines on the menu are all authentic, and you can order wine from all corners of the world: Italy, France, the US, Chile, and all the top wine producers. But also the bar also has a solid wine selection from places such as Georgia and Austria. Plus many other lesser-known producers around the globe.
S'vinbar has a cool tradition where you can ask the staff to pick a wine for you. And if you can correctly guess what wine it is, the bottle is on the house! But this would require you to be a true expert, so it is easier said than done! You can order snacks to go with the wine, something that many guests do.
Address: Klostergade 62, 8000 Aarhus C
Shen Mao
This is basically a merge of a nightclub and a bar, but we will include it on the list.
Shen Mao doesn't have too much space, yet you will most likely have a great time if you visit.
People go there to drink, play ping-pong, and dance. If you love playing games while you are drunk, this place will be fun. The walls have a lot of graffiti on them and it adds to the gritty vibe. Shen Mao is popular among the young crowd. It's not the kind of place you stay for the whole night. But it's awesome for an hour or two, and it can be a great place to meet some new people to hit the next bar with.
Address: Sankt Clemens Torv 17, 8000 Aarhus C
Heidi's Bier Bar
Beer is the most popular drink in Danish nightlife, and if you want to go crazy with classic brews, go to Heidi's Bier Bar. It is strongly inspired by German and especially Bavarian culture, but it also has some Danish traditions.
It is a large venue with three floors. You can sit down and talk to your friends, or you can go to the dance floor. There is only one certainty: You will get a lot of beers to drink! This bar is literally flooded with beer and most guests end up supremely drunk by the end of the night. For an old-fashioned fun night out, Heidi's Bier Bar is an awesome choice. It is open Thursday to Saturday from 8 pm until 5 am.
Address: Klostergade 34B, st., 8000 Aarhus
Kurts Mor
One of the more dodgy bars in Aarhus and locals have mixed opinions about it. Some love it and some hate it. It's an old-fashioned bar with smoke-filled rooms and cheap beers. It has built a legendary reputation in Aarhus since its opening under the current name in 1996. Most guests at Kurts Mor are regulars, and the vast majority are locals. If you want to visit a non-touristic bar in Aarhus with a true bar-vibe, this is a great choice. It is open until 2.30 am on the weekends – with slightly more limited hours for the rest of the week.
Address: Fredens Torv 7, 8000 Aarhus C
Bodegaen
Bodegaen is another classic bar in the Aarhus nightlife. It is a great place to go with friends, as you can have some drinks, talk, and play games. The music is not as loud as in other bars and the beers are some of the cheapest on Åboulevarden. There's no dress code at all, so this is the place to go if you want a good time without being fancy. It is one of the best places to socialize, and another positive thing about Bodegaen is that it is open every night of the week – often until 5 am, and sometimes even longer (on Thursdays). That makes it one of the top drinking venues in Aarhus if you want to party all night long!
Address: Åboulevarden 33, 8000 Aarhus C
---
Before rounding off the article, we want to wish you a good time when you visit the bars in Aarhus.
Don't miss our general Aarhus nightlife guide or our article about where to stay in Aarhus for travelers.