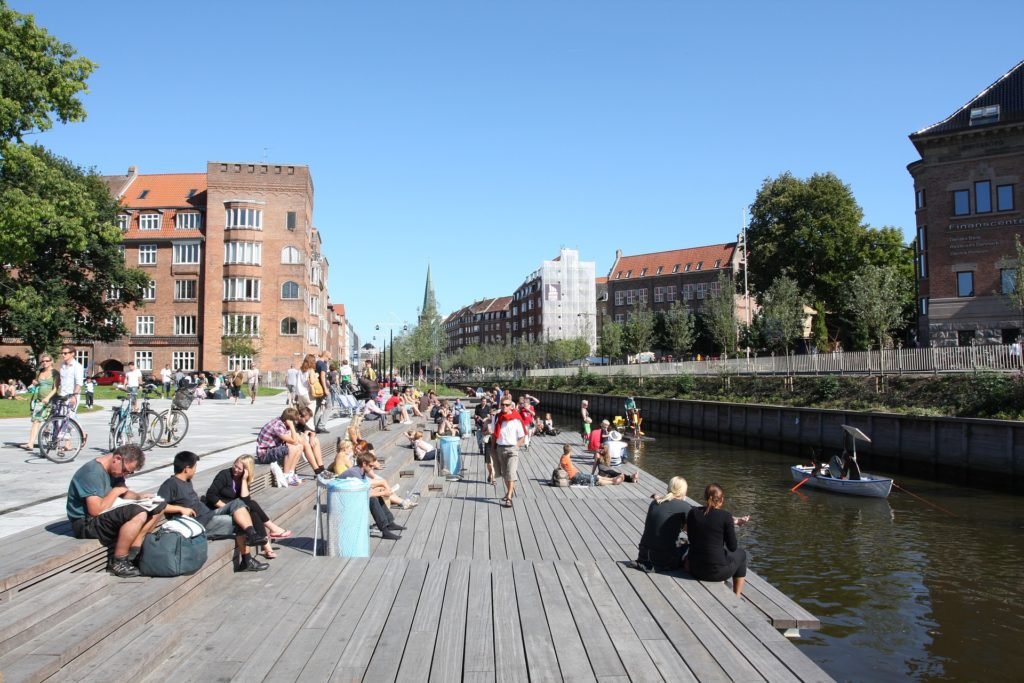 Aarhus is a wonderful city to visit if you are into culture, shopping, gastronomy, nightlife or general sightseeing. However, it is the second-largest city in Denmark, so the location you choose will be important. Read these tips on where to stay in Aarhus. We are recommending some of the best hotels in the city, spread across different price ranges!
Location is important on any trip. Regardless of whether you visit a famous tourist city or a more unknown destination, you want to be near the best sights and local activities. A stay in Aarhus will be no exception.
Since Aarhus is considered a mid-size city by international standards, the location is not as important as in Copenhagen, but it should not be underestimated, and to prepare yourself properly, we advise you to choose a central hotel.
Areas of Aarhus
Aarhus is split into several areas and quite fortunately, it is easy to identify each of them.
The area you want to stay in is Aarhus C. This is the central part of Aarhus – the classic part of the city where you will find the Cathedral, the major shopping street Strøget, and the famous ARoS museum, among other things. This is the most expensive area, but there are several hotels and Airbnbs here, so there will almost always be availability. Most hotels will be placed near the train station, and these are all very nice. But you can also opt for a holiday apartment and in that case, we advise you to find one in Latinerkvarteret, a smaller neighborhood within Aarhus C.
Aarhus N, the northern part of the city, is also a decent area to be in. It's a more residential/educational area, but certainly not bad. It doesn't have too many tourist attractions, but many students live there, and that makes it interesting. If the prices in Aarhus C are too unreasonable, and you see something nice in Aarhus N, it can be considered. But you should know that if you get far north and into the suburb of Risskov, prices will actually go up. Risskov is one of the most expensive areas of Denmark and it is an area where many rich people live.
Staying in Aarhus V, which is the western area of the city, is something we recommend against. Again, a very residential area, but the negative thing about Aarhus V is that it's the area of Aarhus with the highest crime rate. It can be dodgy, especially at night. Therefore, there's not much of a point in staying here, especially not if you have the option of staying in the central or northern part of Aarhus. The same goes for the neighboring town Brabrand – don't stay there. The shopping mall Bazar Vest could be worth visiting during the day, but aside from that, there's no reason to go west of Aarhus, and hardly any reasons to stay there either.
The south of Aarhus is quite nice. If you can stay near Marselisborg, which is just a bit south of the center, you might get yourself a nice experience. Going further south does not make much sense since you will be far away from the main sights, but there are some fun recreational things to do in this area, such as golf, nice beaches, and opportunities to go sailing.
As you see, most of the areas in Aarhus are marked with a letter. In general, it doesn't make much sense to consider anything else than Aarhus C, so we recommend you to focus on finding a place in this area.
Best hotels in Aarhus
We first and foremost recommend Hotel Royal. It is the best hotel in Aarhus if you want the ultimate experience in the city. The location is absolutely perfect since Hotel Royal is located right in the center, just steps away from the Cathedral.
You will be in Latinerkvarteret, arguably the most interesting area of Aarhus, so it doesn't get much better when it comes to location. Also, the hotel is situated in a classic elegant building from 1838, one of the most beautiful in the city. So this is absolutely the best option if you want a great experience in Aarhus. Hotel Royal gets an average rating of 8.6 out of 10 from previous visitors, and couples rate it 9.7. Despite being the best hotel in the city by many standards, the prices are not unreasonable. The average cost is 147€ per night, but of course, that depends on the room and the current availability.
Again, we highly recommend Hotel Royal above all other hotels in the city, so it's undoubtedly a place you should consider. If you decide to go with it, you can book your stay for the best price here.
If Hotel Royal happens to be fully booked, you can consider Radisson Blu Aarhus as an alternative. It's a more commercial, modern-style hotel. While lacking a bit in charm, it instead provides several great facilities, and it is also a very central hotel in Aarhus, near ARoS, the central train station, and the main shopping area. The price range is around the same as Hotel Royal, at least for rooms of similar size and conditions.
In the north of Aarhus, you can stay with Zleep Hotel in Skejby for an average price of 71€ per night. A very affordable option if you wish to stay at a cheaper hotel. The quality, however, is still quite impressive and the hotel receives nice reviews.
On the contrary, if you wish to stay in the south, a little bit away from the hustle and bustle, in a more quiet area, you can consider Helnan Marselis Hotel. It is located near Marselisborg Dyrehave, one of the best attractions in Aarhus, and you'll have a great coastal view since the hotel is just meters away from the sea. It's a popular 4-star hotel with an average price of 117€ per night.
Other accommodation options
Aside from booking a hotel in Aarhus, you also have the options of finding a hostel and finding a holiday apartment. Let's look at these options because they could also help you decide on where to stay in Aarhus.
Hostels in Aarhus
There are several hostels in Aarhus. You can consider staying in one of them if you are on a budget or if you simply like socializing with other travelers.
Here are three hostels you can have a look at:
But be aware that even the hostel prices are high in Aarhus, and in Denmark in general, so the price difference between hostels and hotels is not as big as you would typically expect.
Holiday apartment in Aarhus
Unlike with hotels and hostels in Aarhus, we are not providing any specific recommendations to holiday apartments. The reason is that our experience is limited and that the selection always changes a lot.
However, you can browse Airbnb to see the current selection. The price for a night in an average holiday apartment will be similar to the price for a night in a central hotel. Pricewise, there's not much a difference, so it's all about preferences: If you like having a kitchen, a little more space, and more responsibility, then an apartment will be a good choice. But keep in mind that check-in and check-out won't be as flexible as in a hotel and that you won't get as much personal service.
If you decide to search for Airbnb, try to look for apartments in the Aarhus C area. Ideally, you want to stay as central as possible, since this is where most of the attractions are located.
Planning a stay in Aarhus
The important part is the planning. It is possible to show up without any plans and find a place to stay on the spot, but that will often be way more expensive and stressful. So we do recommend preparing in advance.
When you know your travel days, you can have a look at the best hotels in Aarhus and make your pick. Location matters, even though the city is very walkable, so read our area descriptions in the early part of this article if you need inspiration.
Of course, you also have to find out how to get to the city. If you are coming in by train, that is no problem, since the train station has a very central location in Aarhus. But if you're coming by bus from either Aarhus or Billund Airport, some more prepration could be needed. Both airports are relatively far from the city (at least 40 minutes of driving) so be sure to arrange proper transportation into Aarhus. If you can, choose a hotel with flexible check-in times as well. Some hotels are open for check-in 24/7, and this is ideal – but there are also some with limited hours.
Enjoying the city
When staying in Aarhus, it is essential that you get the proper Aarhus experience! The city has a very youthful vibe, it is common to spend time outside whenever the weather is good, going on a picnic or playing sports. The nightlife is pretty good, so don't hesitate to visit one of the many bars in Aarhus while you're in town.
Shopping can be highly recommended since Aarhus has several malls, department stores, and interesting shopping streets. It is very common among the locals to get lunch while they are out shopping – so you could easily replicate that. Check our Aarhus shopping guide for specific info on everything related to this.
On top of those things, don't forget to be a tourist – Aarhus has some very interesting attractions that will give you a great impression. The Aros Museum and the Old Town Museum are considered to be the highlights. A great reason to stay in the central part of Aarhus is that you can easily get around to all major landmarks and places of interest in the city.
If you have enough time in Aarhus, such as a week or longer, you can consider going on day trips to some of the nearby cities and towns.
Conclusion
There are plenty of nice places to stay in Aarhus. Before choosing a hotel, hostel or holiday apartment, it's a good idea to be aware of the areas, and we hope that this guide has helped a bit.
Our final recommendation is to stay in a hotel in the central part of Aarhus. Hotel Royal is the best choice, and if the rooms here are all booked, you can look at Radisson Blu Aarhus as a nice alternative.
We wish you a nice trip and be sure to read our other guides to Aarhus. They cover topics such as general attractions, day trips, shopping tips and where to eat.