The cozy university city Aarhus is full of surprises. It is one of the oldest cities in Denmark, and we get an ideal blend of new and old. At the same time, we get to discover modern as well as classic attractions in Aarhus.
If you're planning a visit to Denmark's second-largest city, it is very useful to know where to go. In this article, you will be introduced to 15 of the best things to see and do in Aarhus.
Den Gamle By (The Old Town)
The Old Town is not the old historical area of Aarhus: Rather, it is a fictional place showing what life was like in the old days of Denmark. This open-air museum is by far the best attraction in Aarhus.
It consists of over 75 old historical buildings, brought to Aarhus from all parts of Denmark. The buildings and the rooms inside are decorated in the original style, and there are workshops, groceries and other facilities too that show the way life used to be like in a Danish village. The staff of the museum takes part in everything and work as actors to provide the illusion of the town being real. They might serve roles such as merchants or house-workers.
Den Gamle By i Aarhus (as the Danes call it) has existed for over a hundred years already. It receives nearly a half-million visitors per year, making it one of the prime targets for the people that visit Denmark. It costs around 20€ to get in, but students get a discount. If you want to book a guided tour, the price is 100€ – but it is only necessary if you want to be accompanied by someone who can tell you about the place. Most tourists just get the regular ticket.
We recommend going here in December since there is a special mood in the Old Town during Christmas, but it is a nice place to visit for the entire year. To learn about opening hours and price discounts, visit the official website of the museum.
Aros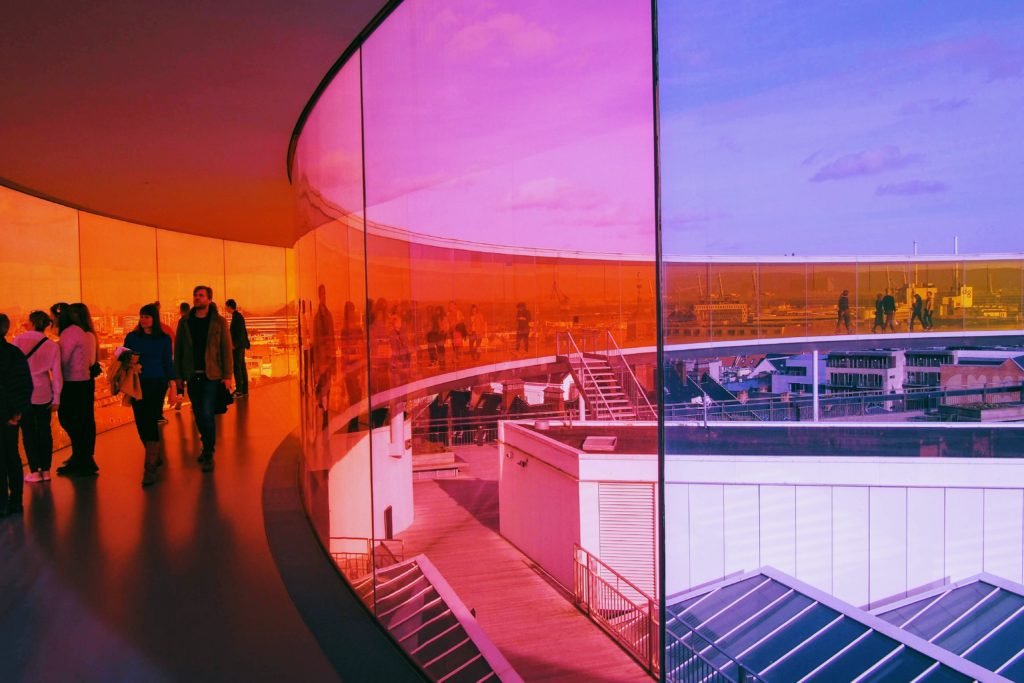 Aros, or ARoS as it is officially styled, is an art museum with a breathtaking design. The name 'Aros' is inspired by the old Viking name for Aarhus. Around a thousand years ago, Aarhus was in fact known as 'Aros'.
In the center of Aarhus, you will find this 10-floor art museum. When looking at the sheer size, it is one of the largest museums in Europe.
There is a wide scope of art and you can see a bit of everything. Aros shows special exhibitions every year, but among the mainstays we have classic Danish art from the golden age (1800-1850), Danish modernist art, and current international art. The most famous piece is the large sculpture "Boy" by Australian artist Ron Muecks.
Aside from the art and exhibitions, Aros also has a market, some shops and a café inside. In 2018, over 700,000 people visited Aros, making it the most popular paid attraction in Aarhus.
It is fairly cheap to get in: Adults pay 20€, and it is free for everyone under the age of 18. Aros is open every day of the year, except for Mondays and the 24th, 25th, 31st of December and 1st of January. You can visit the Aros website for more information.
Aarhus Cathedral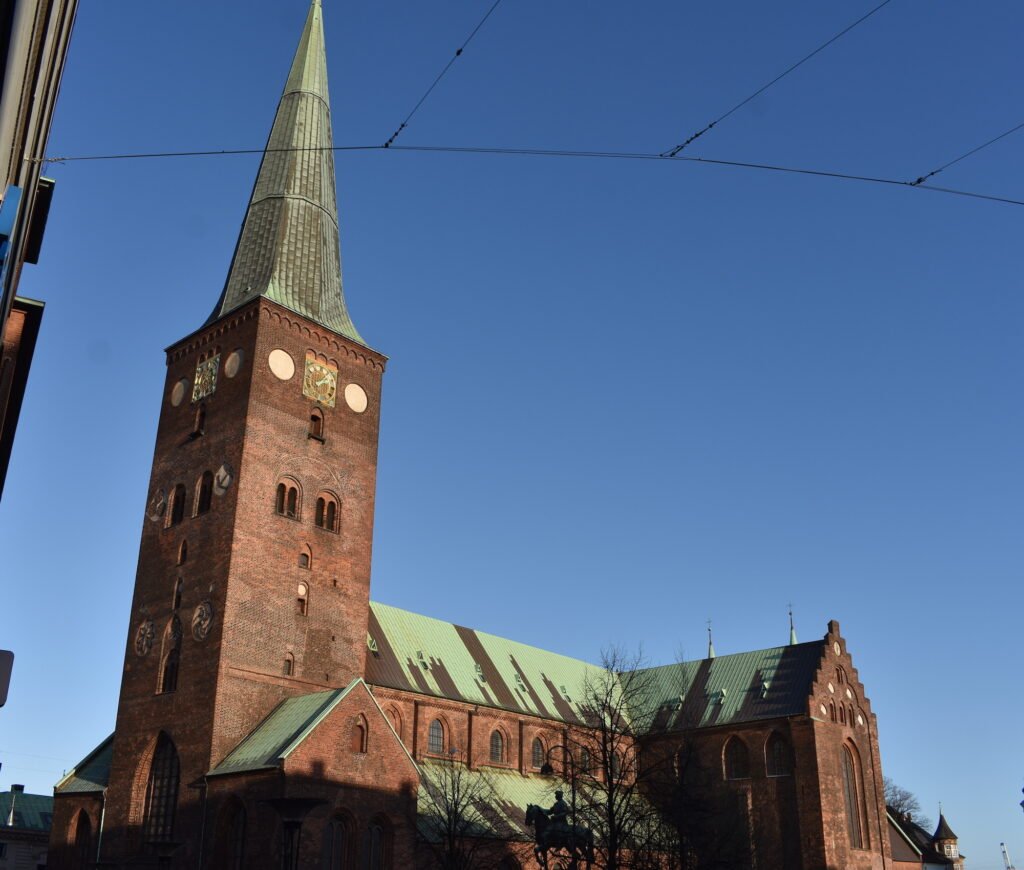 One of the oldest religious buildings in Denmark is the cathedral of Aarhus. Located right in the central part of the city, it is very easy to spot the cathedral, and it is highly worth a visit.
The tower is 96 meters tall, making it the highest church tower in Denmark. The interior is highly impressive – you can see beautiful pieces of art dating back hundreds of years. Aarhus Cathedral itself is nearing a thousand years old. A wooden church was originally known to be on the spot, and it was replaced by this cathedral in 1190. Then, between 1420 and 1480, the structure was rebuilt into the cathedral that we see now.
Tivoli Friheden
If you have visited Copenhagen or another major city in Denmark, you will already be familiar with Tivoli.
There are a couple of Tivoli parks around the country, and they are always fun to visit. Tivoli Friheden is the name of the one in Aarhus, and if you are not familiar with the Tivoli-concept, it is simply a large attraction park with roller coasters, cable cars, laser games, cinemas, sky towers, Ferris wheel, restaurants, beautifully decorated parks, and much more.
Visiting Tivoli Friheden is arguably the most entertaining thing to do in Aarhus. Therefore, we highly recommend it. It is an amazing attraction for families, but people of any age can enjoy it. When visiting Tivoli in Aarhus, you will see all kinds of people: Large families, couples, groups of adult friends, groups of school kids – there are very few limits. Tivoli is an attraction park with things to do for everyone.
Their website will provide you with all the information you need. To go to Tivoli Friheden, you need to go just a little bit outside of the central part of Aarhus. Entry price can depend on several factors, such as your height, group size, if you want a buffet ticket included in your ticket – and several other things. Tivoli is open in the late spring, for the whole summer, and again around Christmas time. Again, visit the website to find all the exact information.
Marselisborg
A little bit outside of Aarhus, the castle of Marselisborg is located.
This castle was built between 1899 and 1902 as a wedding gift to King Christian X and Queen Alexandrine. They began to use it as their summer residence – a tradition that later monarchs followed.
Near Marselisborg Castle you can also explore Marselisborg Dyrehave. An open park with animals, covering around 22 hectares in the northern part of Marselisborg's forest. It is owned by the municipality of Aarhus, and it is completely free to visit. The only cost will be the bus ticket to Marselisborg, which is quite cheap!
The Eternal Bridge
Den Uendelige Bro – or The Eternal Bridge in English – is another very interesting attraction to see in Aarhus.
The bridge does not have a real purpose: It is simply an artwork out in the open. Located at Ballehage Strand in Aarhus, visitors can step onto the beach from the sand and walk out from there. The Eternal Bridge is round, so you can keep on going around forever if you'd like to. Simplicity is a key component in Nordic design, and this bridge represents that very well. Therefore, it is a great sight to see. The Eternal Bridge has so far been a temporary construction but in May 2020 and forward, it will be a permanent piece of art that anybody can visit for free.
The Viking Museum
Interested in the Vikings and their culture?
If so, a visit to the Viking Museum is one of the more obvious things to do in Aarhus! The museum displays the findings from around a thousand years ago, and it is quite interesting. The Viking culture was very primitive in some ways but advanced in other ways. And they certainly did things that few others dared, which is arguably the reason why we consider them so interesting today. History lovers will enjoy a visit here. While the Viking Museum isn't anywhere near as large as Aros, for example, it is still a place where you can easily spend some hours.
Be aware that you can only pay with a credit card at this museum, so cash is a no-go for entry tickets and souvenirs. It is open every day except for Sundays and holidays.
Botanical Garden
The Botanical Garden in Aarhus is highly worth a visit as well. Located close to the center, just a bit northwest, it is a place where you can easily go at any time during your trip.
It is free to visit, so if you're looking for a more relaxing place where everything can happen at a slow pace, this is the spot. The Botanical Garden is an oasis with many different surroundings. There are lots of trees, but also lakes and open terrains. It's a great place to go for a picnic, for a couple of hours of playing ball, or if you are interested in plants. Each one has a sign saying the name in Latin and in Danish, so it's also a great place to go for learning.
The highlight of the Botanical Garden is the building known as the Tropical Houses. Step inside, and you will see a completely different kind of nature. Inside this building, there are four different climate zones, and it feels like a museum of nature. You can see and learn about various plants, flowers and trees. Absolutely one of the best free attractions in Aarhus – and ideal for people of all ages.
Aarhus Street Food
Who doesn't love street food?
To get a taste of some foods from all over the world, you should definitely visit Aarhus Street Food. It is a market with 24 different food stands, and you will find everything from traditional Danish food to Vietnamese, Turkish, French and Italian dishes. Get an overview of all the different options here.
The charm of Aarhus Street Food is that you can go as a group of friends or a family, and you can all order wildly different foods, but still sit down at the same table and enjoy it together. Don't worry about the weather – most parts of the street food market are indoor. It is also open for the whole year, with standard hours being between 11.30 and 21.00.
As you would expect, it is not only about food. You can also order drinks, and beer is particularly popular here. You can find many different varieties. There are also sodas, juices, etc.
The food is reasonably priced, but the amounts are not as big as they would be if you go to a restaurant. It is not possible to book in advance: You simply show up, order what you like, and find a place in the area to sit or stand.
Øst For Paradis
Are you a movie lover or a film nerd? Then you might want to consider a trip to Øst For Paradis.
This cinema is considered to be one of the best in Aarhus. It is a very artistic cinema with movies that you can't watch in the normal commercial movie theatres. However, Øst For Paradis also shows many new movies. Tickets are fairly priced, so it's a great way to spend a couple of hours. You can see the schedule on their website – here you can also book your tickets in advance if you prefer to do so.
"Øst For Paradis" is the Danish translation of "East of Eden", a classic film starring James Dean. The cinema has taken this name since it was the first movie that it ever screened. However, it does not feel like an old cinema, thanks to several renovations in recent years. You can expect a tremendous experience here – and once again, you can watch films that all the normal movie theatres don't show. Films are never dubbed here, so you will be watching the original version (regardless of what language it is) with Danish subtitles.
Vor Frue Kirke
Several churches in Denmark share the name of Vor Frue Kirke, but that doesn't take anything away from the one in Aarhus – it is very impressive indeed.
This church originates from the Middle Ages and it was once a cathedral. The crypt of the church is even older than the main structure, dating back to year 1060. This crypt church is the oldest stone church in Scandinavia, and it can still be seen upon entry.
Most tourists in Aarhus don't put a special focus on seeing the churches of the city, so it shouldn't be that crowded when you visit. Due to the impressive look of Vor Frue Kirke and the central location in the city, there is no reason not to visit!
Møllestien
Møllestien is the most charming street in Aarhus. It is relatively narrow, and cobblestones are laid as the foundation. It dates back to the 14th century, and the street has had its current name ever since the 16th century.
The houses on the street are very idyllic and picturesque. Most of them were built in the late 1880s. The funny thing is that nowadays, this street is considered to be one of the most beautiful in Aarhus. However, right up until the 1960s, it was part of a slum neighborhood that wasn't particularly wealthy. History also tells us that two women living on Møllestien were charged for witchcraft in 1688.
Of course, it is completely free to take a walk along this street, and it is something we recommend for every traveler. It will give you a great impression of Aarhus and of classic Danish architecture. So look the street up on your phone map and stop by – whether on foot or on a bicycle!
Ole Rømer Observatory
Ole Rømer was a famous Danish astronomer and scientist who lived between 1644 and 1710. He was born in Aarhus and is probably the most impactful person who has ever lived in the city. Rømer was the first scientist to make a close estimation of the speed of light. He also invented the modern thermometer, based on the freezing and boiling points of water.
Well, the Ole Rømer Observatory has been named after him, and it is a highly interesting place to go. We consider it to be one of the best attractions in Aarhus if you are into astronomy. It is partly a museum, so you can easily visit it, but it is also used as a center for research by Aarhus University. There are two high-quality telescopes, and the observatory regularly hosts debates and classes.
Museum of Natural History
Aarhus has several sights and attractions that are dedicated to nature, and here is yet another one.
The Museum of Natural History is perfect for you if you are curious about the world and its many species of animals. It is the second-largest of its kind in Denmark, having millions of animals in its exhibitions. The museum is located very close to Aarhus University (Scandinavia's largest university), so it's a nice opportunity to see both of these places the same day.
It costs 95 DKK, around 12€, for an normal entry ticket. Students get a small discount, while kids get in for free. Aside from visiting the museum and seeing all the exhibitions, there are sometimes special events that you can take part in. The Museum of Natural History is open every day of the week between 10 and 16. It is however closed during the days of Christmas and New Year, like almost all the other major attractions in Aarhus.
City Hall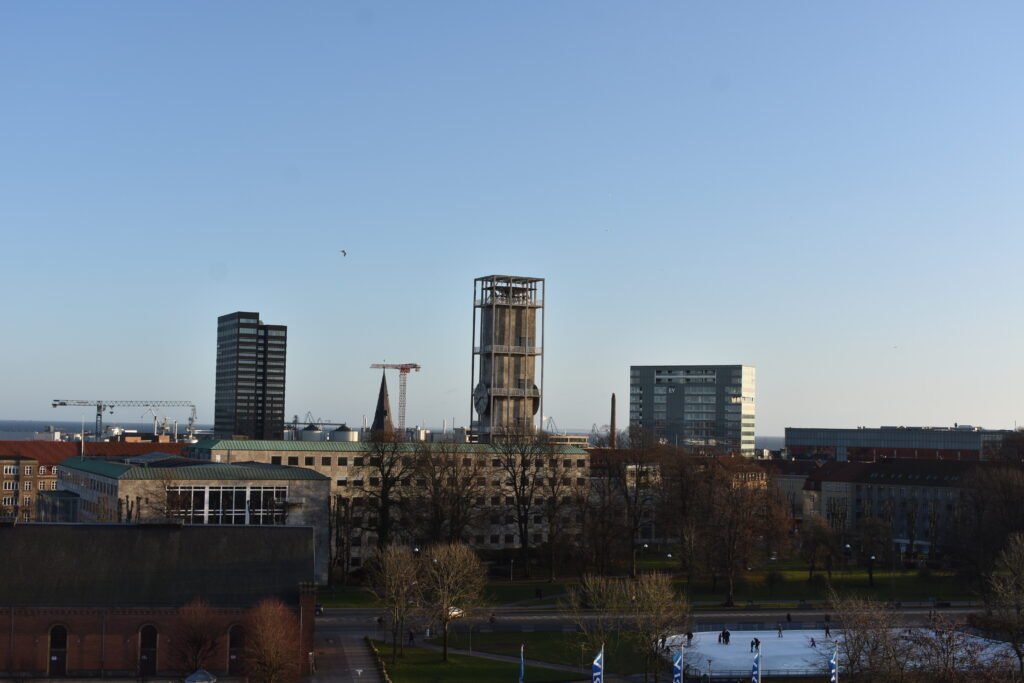 And, finally, we have Aarhus city hall. This building is one of the more unique ones, as you will surely see upon arrival. It was built between 1938 and 1941 and is made of concrete and grey marble. The look can even be reminiscent of a communist building in Eastern Europe, so it does not have the style of the city's surrounding architecture. The city hall was designed by Arne Jacobsen and Erik Møller. Jacobsen was heavily into functionalism, something that can easily be seen here.
You can stop by to see it at any time, but it is probably most remarkable at night when it gets lit up. It is one of the tallest structures in Aarhus, so it will be hard not to spot eventually if you are walking around the city center.
---
In conclusion, Aarhus has a lot of great sights and attractions. You can easily spend a week there and be well occupied every day. Furthermore, there are many interesting cities and towns near Aarhus, so you can also consider a day trip or two. Have a nice journey!