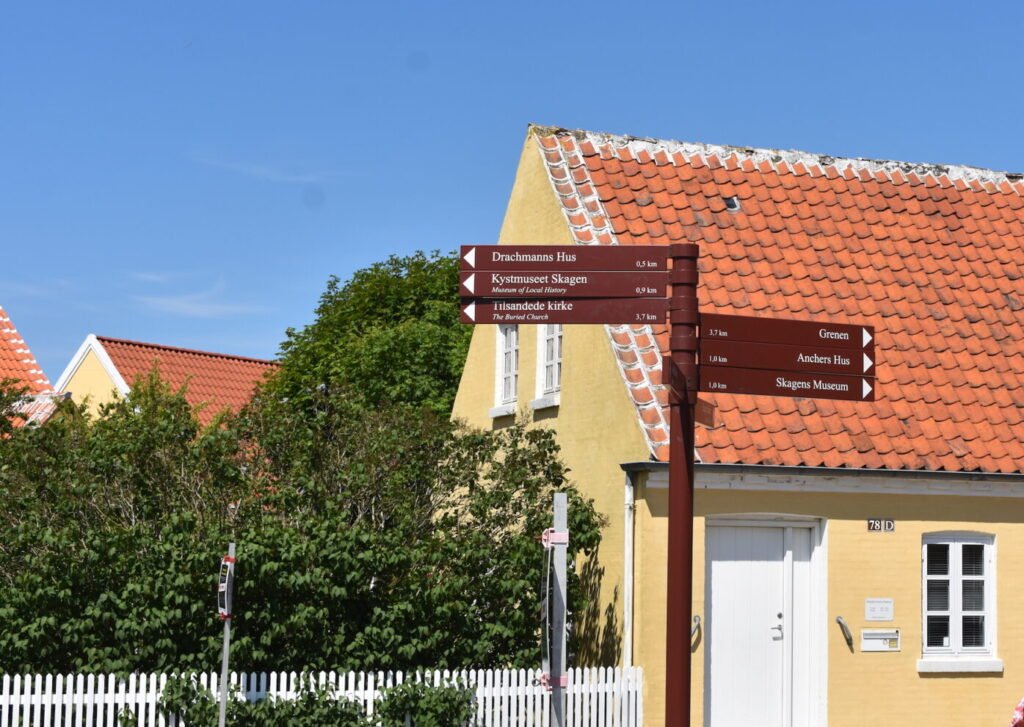 Skagen is the northernmost town in Denmark. It is a popular travel destination during the summer, but you can visit it all year around. Skagen is famous for being the preferred location of many Danish artists during the 19th and early 20th centuries. It also has its trademark yellow houses with red roofs, great seafood restaurants and a long beach.
Here are some suggestions for even more things to do in Skagen – mostly focused on particular sights and attractions.
Grenen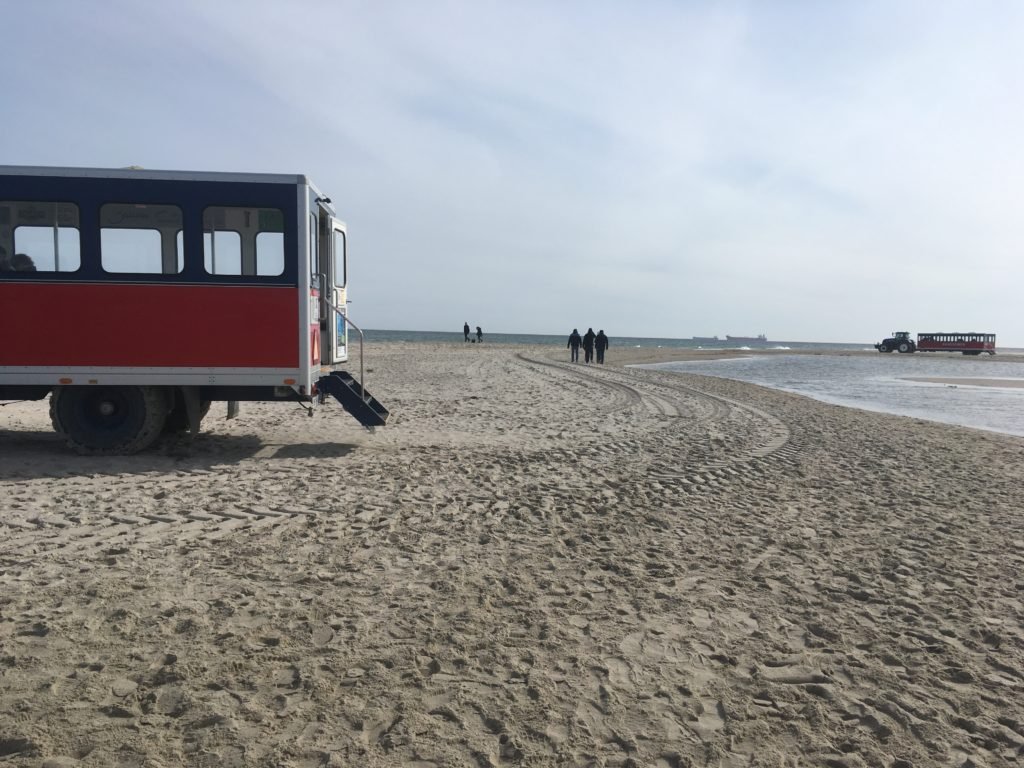 Grenen is the peak of Skagen. It is a long beach area and the northernmost point of continental Denmark.
The two seas of Skagerrak and Kattegat flow into each other in the peak, and you can actually watch this while it happens.
Due to strong currents and waves, it is not allowed to bathe at this beach, but it is allowed to stand with just the feet in the water. Even though bathing is not allowed, Grenen remains a highly popular tourist spot. The reason is obviously that you can see the two seas flow into each other – but also that you can walk for a long time on the cozy beach. The alternative is to take the historic bus, Sandormen, to reach the peak of Grenen. This is very popular and it is a solid alternative if you do not wish to walk for 30 minutes in the sand to get back again!
And a final thing about Grenen in Skagen: It is the place in Denmark where you can observe the largest variety of bird species. During spring, it is even considered the best place in all of Northern Europe to observe birds of prey, as they will be present in significant numbers.
Den Tilsandede Kirke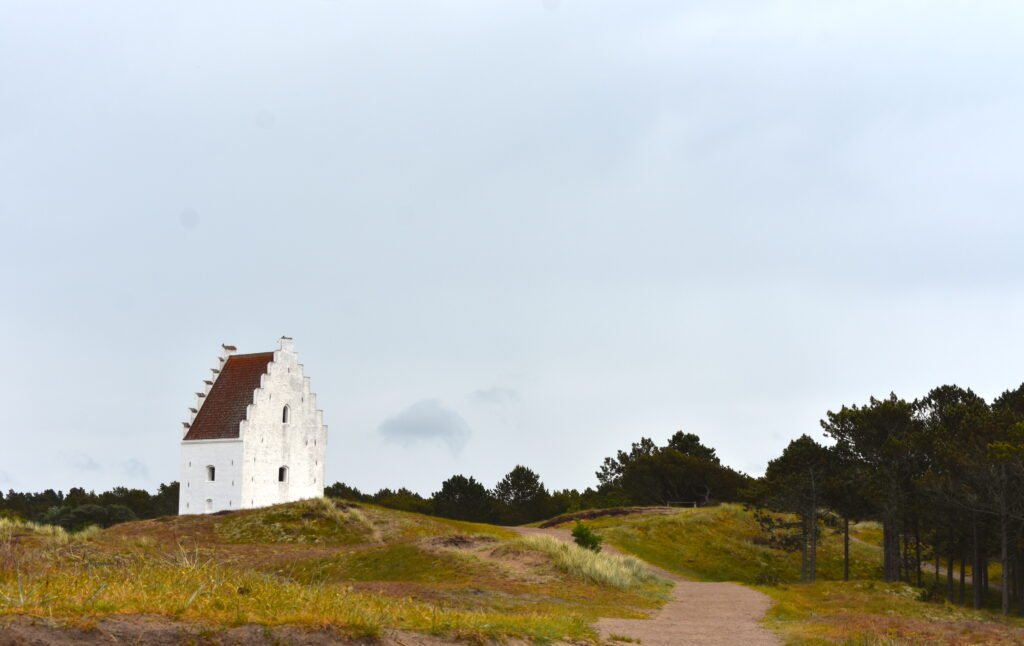 Four kilometers southwest of Skagen's center, we find one of the most famous attractions in the region.
Den Tilsandede Kirke (The Sand-Covered Church in English) is a very charming site. This old church was built by the end of the 14th century. But due to the sand deflation by the coast, it started to become partly buried in the 17th century. Originally named Skt. Laurentii Kirke, people finally had to dig their way in on Sundays, so it closed for service in 1795.
However, it is now an important tourist attraction in Skagen because of its distinct look. The National Museum of Denmark removed parts of the sand in 1909, so now you can easily see most of the church, even though the bottom part is still covered with sand, giving it the unique look. H.C. Andersen described the church and so did many other writers throughout the years. A visit here is free and highly recommended.
Skagen Church
Den Tilsandede Kirke is not the only church in Skagen. We also have the central church, which is much newer and still in use. Thanks to its tower, it has the appearance of a church, but the yellow cover of the outer walls and the red roof makes it reminiscent of a normal house in Skagen.
Skagen Church was built to replace the sand-covered Skt. Laurentii church. The location was also a lot better since it is closer to the locals. Talented Danish artists, such as Andreas Paulsen, have provided paintings and sculptures, so a look inside the church can be very interesting.
Museum of Skagen
Skagens Museum, known as the Museum of Skagen in English, is a popular city museum with over 130,000 annual visitors.
It is considered to be one of the best museums in Denmark. A large part of the collection focuses on Skagensmalerne – the famous painters that lived in Skagen during the late 19th and early 20th centuries. You can see the paintings of Ancher, Krøyer, Tuxen, Johansen, Drachmann and others.
The Museum of Skagen was founded in 1908 and it is located inside the former inn of the Brøndum Hotel. In beautiful settings, you can get acquainted with the art of Denmark's best artists in the realist era. A must-visit museum for any art or culture aficionadio who visits Skagen!
It usually opens at 9 am, although some days at 10 am. It then closes at 17. Stay updated on prices and opening hours on the official website.
Ancher's House
Speaking about art: A visit to Ancher's House is also highly recommended.
Arguably, the two most famous painters based in Skagen were Anna and Michael Ancher. They bought the house in 1884 and lived here until their deaths in 1927 and 1935. It remained in the hands of the family up until 1964. We can only wonder how much great art was created in this house – and that makes it and interesting place to visit.
These days, it is used for exhibitions, so it is in fact a small museum. While not as large as the Museum of Skagen, it is very charming and if you really want to explore the history of the local art, you should absolutely visit Ancher's House.
Opening hours and entry price match that of the Skagen Museum since they are run by the same organization.
Vippefyret
Near the coast, you can take a look at Vippefyret – often referred to in English as Skagen's Lever Light.
It is a very unique construction that was built to provide a mechanical navigational light. It was the first of its kind, and even though the original light is now gone, it is replaced by an exact copy at the site where it once stood. As one of Skagen's many free attractions, it is a good idea to stop by and see it up close.
The Grey Lighthouse
Skagen's Grey Lighthouse is now over a 150 years old, but it remains in service.
It is a famous construction designed by Niels Sigred Nebelong, and until 1952 it was the tallest lighthouse in Denmark. Visitors can come in to see it every day of the year, aside from the days of Christmas and New Year's Eve. The lighthouse has also become a popular place to go for bird-watching enthusiasts.
The Bunker Museum
When you walk the beaches of Skagen, you will see several bunkers from World War II. During the German occupation, the invading soldiers built bunkers along the coasts of Denmark, and a lot were also built in Skagen.
These bunkers were originally used as places to stock supplies and to treat wounded soldiers. After the war, they were left useless, but eventually, locals decided to turn some of these bunkers into museums.
One of them is the Skagen Bunker Museum. It is privately owned, and not run by the state or the municipality. It gives an introduction to the history of how the bunkers were used, and there are exhibitions showing uniforms, weapons and artifacts found from the WW2 era. Skagen Bunker Museum is season-based and only open between April and October. If you come to Skagen during this time, it makes great sense to visit this historical attraction.
As a side note, there are also empty bunkers standing on the beaches that you can go and have a look at.
The museum is open from 11 to 15 every day with extended opening hours in the summer. Entry is 50 DKK.
---
And here we have it: The end of the article. If you're visiting the north of Denmark, you should absolutely have a look at these attractions in Skagen. It is easy to argue that Skagen is the best place to visit in Northern Denmark. The town is very charming, it has beautiful architecture, classic sights, and you will also find some of Denmark's best seafood restaurants.
To explore other nice cities in Northern Denmark, read our guides to cities such as Løkken, Hjørring and Aalborg.