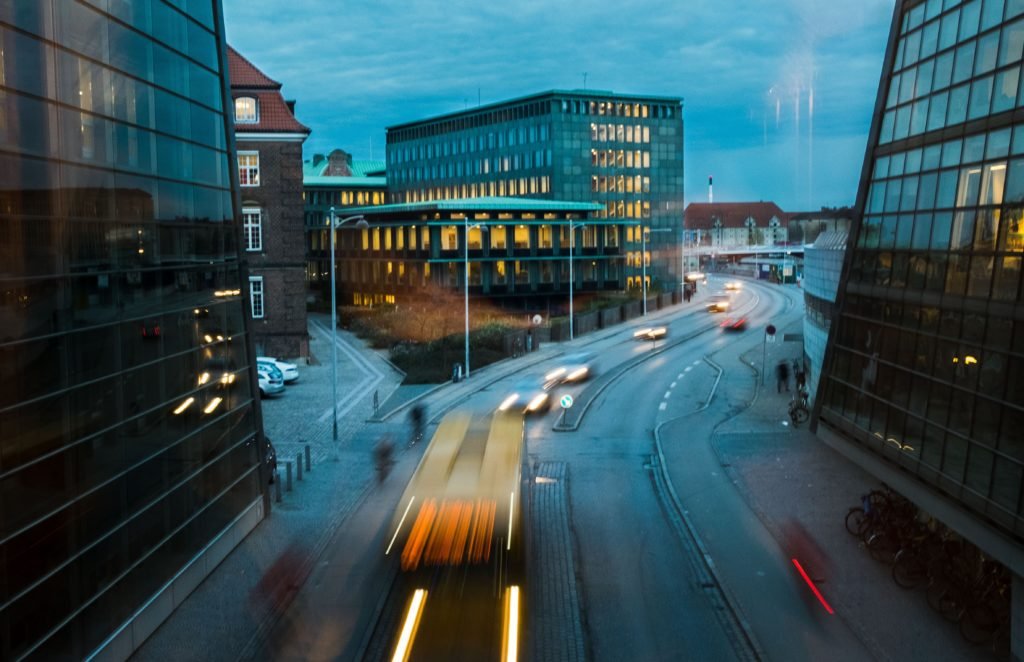 Denmark is relatively small, but it offers a lot of nice attractions throughout the country. A road trip is the best way to explore the regions of Denmark and in this article, we will introduce you to the ideal Danish road trip itinerary!
Danish nature is a bit underrated, and driving around the country is a great experience. The highlight is driving near the northwest of the country – the coastline there is just beautiful – but don't miss the hilly area around Vejle or passing through the bridges that connect Jutland, Funen and Zealand with each other.
There are also many different cities that are interesting, where completely different tourist attractions can be experienced. Let's look into it so you can get started on your Denmark road trip!
The main places to visit in Denmark
The beauty of a road trip is that you plan everything yourself. Nothing is out of reach, and you can include any destination that you would like to visit.
Obviously, you should include the main cities of Denmark: Copenhagen, Aarhus, Odense, and Aalborg shouldn't be missed. They are the largest cities, so you can experience lots of attractions, shopping opportunities, and nightlife. But they are also historic cities and you can dig deeply into the Danish culture.
The trip should be built around these four cities.
But along the way, you can also visit some of the smaller, perhaps more underrated Danish destinations on your road trip.
For example, the southwestern city Ribe is the oldest in the country. It has a historic cathedral, and several sights and attractions related to the Vikings.
Billund has Legoland, a place highly worth visiting if you want a fun and simple day in an amusement park.
A personal recommendation from us is to experience the northwestern coast. The best beaches in the country are located here, and it's a beautiful area, although you won't find any big cities. Yet, this area is already popular among tourists, as you will quickly see if you visit cities such as Blokhus or Løkken in the summer.
Another highlight is Skagen, the northernmost town where you can see several museums, eat out at night restaurants, or simply walk on the beach and watch the two seas flow into each other.
It's all up to you where you want to visit. That's the best reason for going on a road trip to Denmark instead of a traditional type of vacation. We will suggest a route below, and later on, you will get some specific tips on how to adjust it to your own preferences.
The route: Our suggestion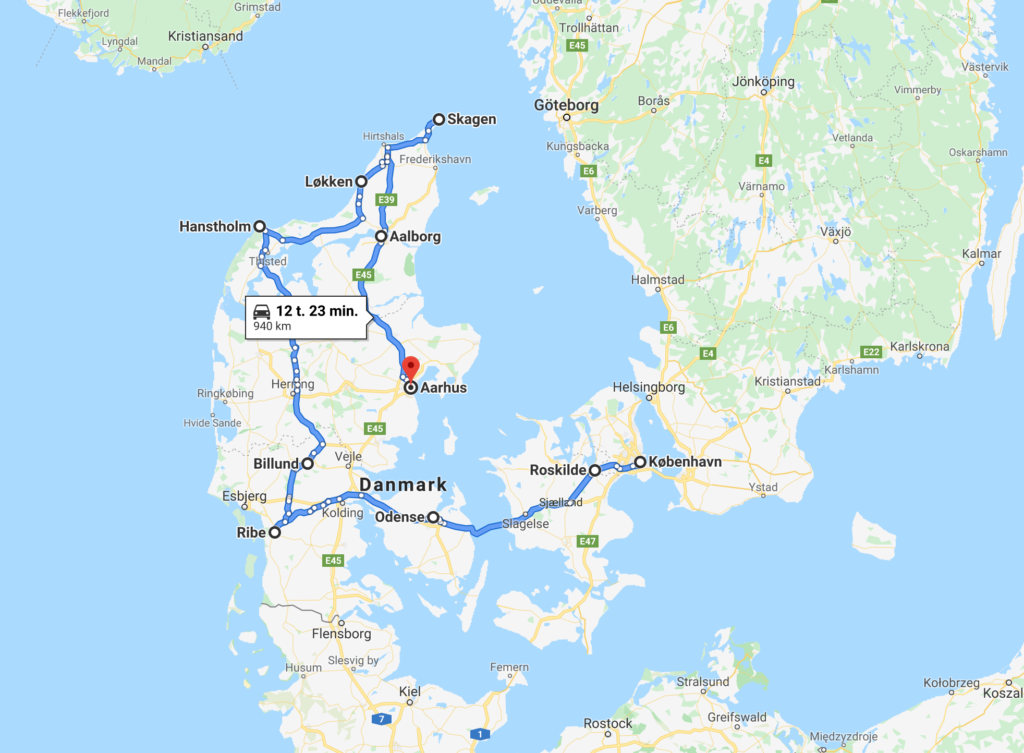 The route above can serve as inspiration for you. We believe it's a really good route where you get to see all the highlights of Denmark.
This Denmark road trip can be done in around 14 days, but you can also stay in each city a bit longer if you prefer that. By removing a city or two, it is also possible to do the road trip a bit quicker.
Assuming you're flying into Copenhagen, this is where the journey starts. Rent a car immediately at the airport and find a nearby hotel. You should stay in Copenhagen for a day or two so you can explore the city. Day 1 and 2 can be spent here, before departing for Odense on day 3. We advise you to drive early in the day and stop by in Roskilde for lunch – here, you can see sights such as the magnificent cathedral that is well worth a visit. Spent a couple of hours in Roskilde, and find a hotel in Odense to check into in the evening.
Take one full day in Odense (that will be day 4), before departing for Ribe on day 5. Ribe is small but very interesting. You can see everything in a day, so on day 6, you leave again. This time, go to Billund, and perhaps stop by Esbjerg on the way there for a couple of hours.
In Billund, you can take a full day to go to Legoland on day 7, and in the evening you can then drive to Hanstholm to stay for the night. It will be one of the longest drives on the route. Hanstholm doesn't have a lot of attractions, but it's located by the gorgeous sandy west coast of Denmark. From here, drive up to Løkken on day 8 and spend a single night before driving to Skagen and spend another single night. In each of these cities, you should have some nice sights to see, and these are some of the best towns to visit if you want to eat at seafood restaurants!
After a day in Skagen, the trip moves to Aalborg where you will spend at least one full day, which – in this case – will be day 11. Read our guide on what to do in Aalborg here, and check out the best places to stay. Then, on day 12, you drive to Aarhus where you spend the same amount of time as in Aalborg. Aarhus also has a lot of nice things to do.
Ultimately, you take a ferry back to Zealand. The ferry route is Aarhus-Sjællands Odde. You can easily bring your rental car on the ferry. From Sjællands Odde, you drive to Copenhagen which takes around an hour and a half. The road trip is now over, so you can hand back the car, but if you're liking the Danish culture, nothing is in the way of spending a couple of extra days in the capital. A day trip to Helsingør, located a bit north, can also be considered in this case.
Overall, this will be the journey:
Day 1: Copenhagen
Day 2: Copenhagen
Day 3: Copenhagen > Roskilde > Odense
Day 4: Odense
Day 5: Odense > Ribe
Day 6: Ribe > (Esbjerg) > Billund
Day 7: Billund > Hanstholm
Day 8: Hanstholm > Løkken
Day 9: Løkken > Skagen
Day 10: Skagen > Aalborg
Day 11: Aalborg
Day 12: Aalborg > Aarhus
Day 13: Aarhus
Day 14: Aarhus > Copenhagen
After that: Either fly back home or spend some more days in Copenhagen!
Planning your own Danish road trip
The route above is a great choice if you want to explore the best places in Denmark. However, you might have some personal preferences, and it makes sense to arrange your road trip in the way that you want it. Therefore, feel free to choose other cities/towns and create your own route. You can't really go wrong: Denmark is small, so even the consistency of the route isn't that important since you can reach almost any destination within a day.
Most likely you will arrive in either Copenhagen Airport, Billund Airport or Aalborg Airport if you are flying in. You can rent a car in any of these airports, and return it in any one of them as well, so that is never a problem. Fly in, rent your car, and get going!
On the contrary, if you are living in a nearby European country, you may simply want to drive your own car across the border and start the trip from there. It will save you a lot of money since gas and accommodation will be the only travel costs.
A road trip in Denmark can be done exactly as you want it. The roads are of fine quality, and the speed limits are decent. Traffic safety is quite good and you will most certainly enjoy driving around in Denmark. We highly recommend it. But of course, be sure to go to the right places. Cities like Copenhagen and Aarhus will offer the most things to do, but Ribe is the oldest city and has a lot of attractions, and you can also visit popular beach towns such as Skagen, Løkken and all the other places we mentioned in the early part of the article.
An alternative option to a longer road trip, driving from town to town, is to simply stay in some central part of Denmark (like Aarhus, Vejle or Billund) – and from there, you rent a car and do a lot of day trips. For more information on this travel idea, read our suggestions for the best travel itineraries in Denmark where day trips play a huge role.