Curious about the best way to explore Denmark? Most travelers stay for around a week, and that's plenty of time to see several different places. Copenhagen is a must, but there are several interesting cities and towns in Denmark.
We suggest two different itineraries for Denmark here – one that is centered around Copenhagen, and one where you focus on the western part of the country.
Itinerary 1: Copenhagen and Zealand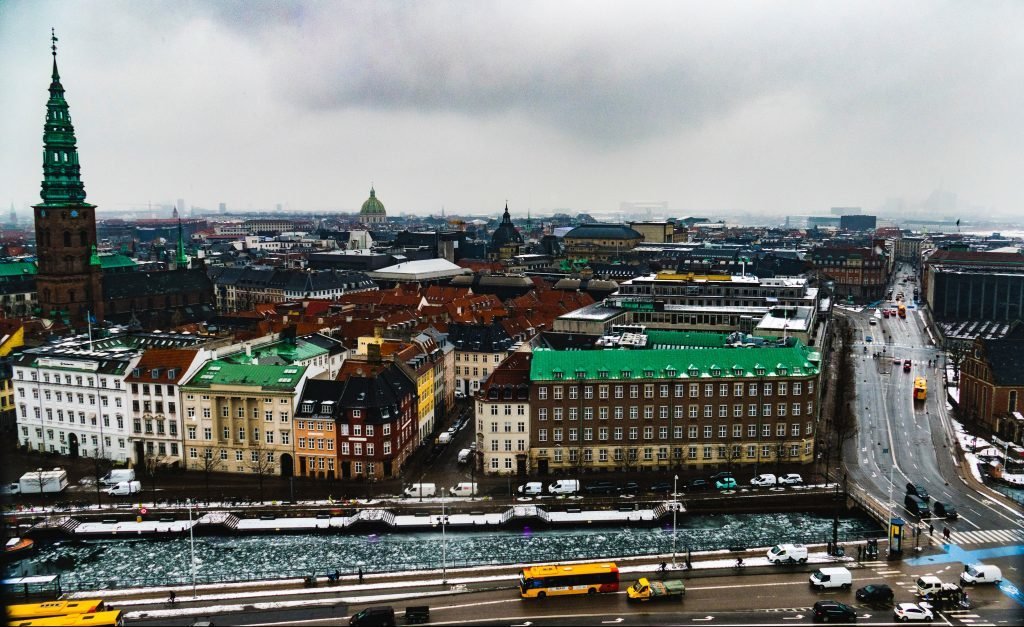 The first Denmark itinerary is based around the capital, and it will assume that you are flying into Copenhagen with the intention of staying there for most of the time.
Since it is more practical and economical to stay at the same place for the whole week, this itinerary will be based around day trips. You will have two travel days where you're flying in and out of Copenhagen, one full day to explore CPH, and then four day trips to nearby cities.
Here's the schedule:
Day 1: Arriving in Copenhagen, checking in to your hotel, eating out and having an evening walk in CPH.
Day 2: Day trip to Helsingør. Leave early in the day, spend around 4-5 hours there to sightsee and have lunch: Then eturn to Copenhagen in the late afternoon. The rest of the day can be spent in CPH.
Day 3: Full day trip to Malmö, Sweden: Leave early in the day, and come home late. It's a large city, so there's a lot to do and see in Malmö.
Day 4: Full day in Copenhagen – use it for sightseeing, or for charging the batteries for the upcoming day trips.
Day 5: After charging the batteries on day 4, head to Aarhus on day 5. The trip is 3 hours each way, but you will have a nice view if you take the train, and you will have a solid amount of hours in Aarhus – Denmark's second-largest city.
Day 6: On the last full day of your Denmark-trip, you will take the half-hour trip to Roskilde where you can see the Cathedral, the Viking Ships, and some other attractions. 3-4 hours is enough, so like day 2 in Helsingør, you can enjoy the evening in Copenhagen by eating out, and perhaps visiting some bars.
Day 7: Flying home again. Spend the last few hours walking around Copenhagen, and take the train or the metro to the airport when it's time to leave.
Wondering where it's best to stay? We recommend Absalon Hotel or Copenhagen Admiral Hotel, both located in the center of the city.
Itinerary 2: Aarhus and the West
Unlike the first Denmark travel itinerary, you will stay in two different cities in this one: Aarhus and Billund. Some day trips are still involved, and you'll get to see several different cities in a more authentic part of Denmark.
Day 1: Arrive in Billund Airport – then take the bus to Aarhus, check in to your hotel, and have dinner at a nice restaurant.
Day 2: Full day in Aarhus – see the main sights and go crazy with some shopping.
Day 3: Day trip to Aalborg. The ride is between an hour and an hour and a half, so you'll have time to spend almost the whole day in Northern Denmark's largest city.
Day 4: Day trip to Odense, Denmark's third-largest city. The trip is an hour and a half each way, so three hours of transport time in total. You'll have several hours there to explore H.C. Andersen's classic home city.
Day 5: Spend the morning eating breakfast in a café in Aarhus. Then, check out of your hotel and take the bus to Billund. Here you will check in to a new hotel where you will stay until the end of your stay. The afternoon and the evening can either be spent in Legoland if you arrive while the season is open. If not, then take the bus to Vejle and have dinner in Denmark's hilliest city, and return to Billund by the end of the evening by taxi.
Day 6: Go from Billund to Ribe. Being the oldest city in the country, Ribe is incredibly interesting, but it is also fairly small, so everything can easily be seen in just a day. It's a quick trip between Billund and Ribe. You'll return again in the evening, and you can even consider stopping by Esbjerg to eat dinner and to have a walk by the harbor.
Day 7: Time to leave. Since you're staying in Billund, it will be very easy to get to the airport. You'll probably have a bit of time to spare unless it's an early morning flight, so take a walk around the center and experience the life in a smaller Danish city.
Our recommendation on where to stay in Aarhus: Wakeup Aarhus, located in the center, right near the train station.
Recommendation for Billund: Hotel Propellen if you want to be near Legoland. Zleep Hotel Billund if you want to be near the airport.
Best ways to get around
Ideally, it is best to have a car. But assuming you can't bring your own, the only realistic option is to rent. Car rental is a bit expensive in Denmark compared to other countries, but outside of the travel season, it is a decent possibility, especially if it is just for one week. Be aware that the gasoline prices are also quite steep, so that will probably be the main cost. And to cross some of the bridges (for example, between Jutland and Funen, between Funen and Zealand, between Copenhagen and Malmö), you need to pay a fee.
A car gives you more freedom and allows you to see more things, but if we look at the perspective of what is easiest – you can just take the train. Denmark has a decent network of trains. Despite lacking high-speed rail, you can always reach any region within a couple of hours due to the small size of the country. Prices are decent if you book in advance: A train ticket between Copenhagen and Aarhus can set you back as little as 99 DKK (14 EUR) if you book the DSB Orange ticket a couple of weeks before the actual departure. If you buy your ticket at the station, it will be more expensive, and the same route can be up to 500 DKK (67 EUR).
So if you intend to travel by train: Plan your whole itinerary in advance, and book all your tickets a few weeks before coming!
There are trains between most of the main cities in Denmark. And when that isn't the case, you can always take a bus. Bus travel is quite popular, and many Danes ride buses to get around. Taking the bus is also cheaper than taking trains, although it is not a huge difference. The large cities and towns in Denmark have a lot of buses driving around, and even the smallest villages are usually connected to larger cities/towns through buses.
When being in the center of Copenhagen, you can take the metro to get around. And to reach the suburbs, take the S-tog. Both work well and are somewhat fast.
Aarhus also has a light rail system that covers both the center of the city and the suburbs. It is called Aarhus Letbane, and it is a new network that opened in December 2017. Despite some initial issues, Aarhus Letbane generally works well, and it will be a nice form of transportation around the city. Many locals, however, still prefer buses. Aarhus is famous for having a nice and wide network of buses, covering almost every area of the city, and driving until late at night.
Copenhagen and Aarhus are the only cities in Denmark with metro and/or light rail. To get around in other places, simply walk or take a bus.
Read our Danish travel guides
Denmark is probably the country we have described in most detail here on Scope Trip. Therefore, you'll find specific travel guides for every important city.
To browse the selection, simply go to the Denmark category.
Some of the most popular articles are these:
We wish you a nice trip. Let us know in the comment section if you have questions regarding any of the Denmark itineraries, or if you simply have alternative suggestions to other travelers!