Vejle has a great location at the inner part of the Vejle Fjord. The city has a great history, and the oldest streets date back to the Middle Ages. But it also has several modern development and a beautiful waterfront.
If you are visiting Vejle, you should see the main attractions. Get an overview of the 11 best things to do in Vejle with descriptions and directions here. We will include attractions in some of the neighboring towns since they are easy to reach.
And don't miss our guide on where to stay in Vejle if you are looking for a hotel.
But enough said – let's look at the attractions!
Dyrehaven
Dyrehaven is one of the nicest attractions in Vejle – especially for families with kids, but also for everyone who want a nice hike in the forest while seeing some animals.
Dyrehaven is basically an open park where animals live. It is home to about 60 deers and these deers have become very people-friendly due to all the visits this park gets. There are also ducks, owls and birds in the park. You are not allowed to feed the animals, but you can 'socialize' with them.
Most people choose to walk through the park since there are many nice trails and since it allows for a calm stroll in beautiful surroundings. But in fact, you can also drive through the park in your car or ride through it on a bicycle.
The park is located east of the city centre, by the Nørreskov forest on the northern side of the fjord.
Address: Helligkildevej, 7100 Vejle
Fjordenhus
This iconic building was designed by Olafur Eliasson and placed on the waterfront in Vejle. It was his first major work, and he has since become world famous.
When you visit Fjordenhus, which in itself is a masterpiece, you can see Eliassons artworks on the ground floor. This floor is free to visit and open from 8 am to 8 pm every day of the week. On the first floor, there is a gourmet restaurant, and on the top two floors there are offices. At night, Fjordenhus lights up and can appear like a lighthouse.
Fjordenhus is purposely built so that two rooms get flooded with water from the fjord. You can get some unique views from inside the building and you will surely leave the place baffled at the entire experience.
Address: Havneøen 1, 7100 Vejle
The architecture
All over Vejle you can see interesting pieces of architecture. While the city has a rich history and while some buildings date back many hundred years, Vejle is now mostly known as an innovative city and there have been a lot of new constructions over recent decades. Especially on the waterfront, but also near the parks of the city.
Here are some architectural sites that are worth checking out as you are visiting Vejle:
Bryggen
Vejle Fjord Bridge
Tröndur
Bølgen (The Wave)
De 5 Søstre (The 5 Sisters)
Vejle Mølle (Vejle Mill)
Everyone who is interested in modern architecture will certainly find the city of Vejle very fascinating. And new buildings continue to be constructed, so if you like Vejle the first time you visit, you have a solid reason for coming back again later.
The Vejle Umbrellas
In the city centre of Vejle, basically in the old area on the northern end of the main pedestrian street, there is a special outdoor exhibition from April to October every year. Umbrellas are placed above the street. This is a concept frequently seen in Southern Europe to protect pedestrians from the sun, but in Vejle it is done more as a decoration.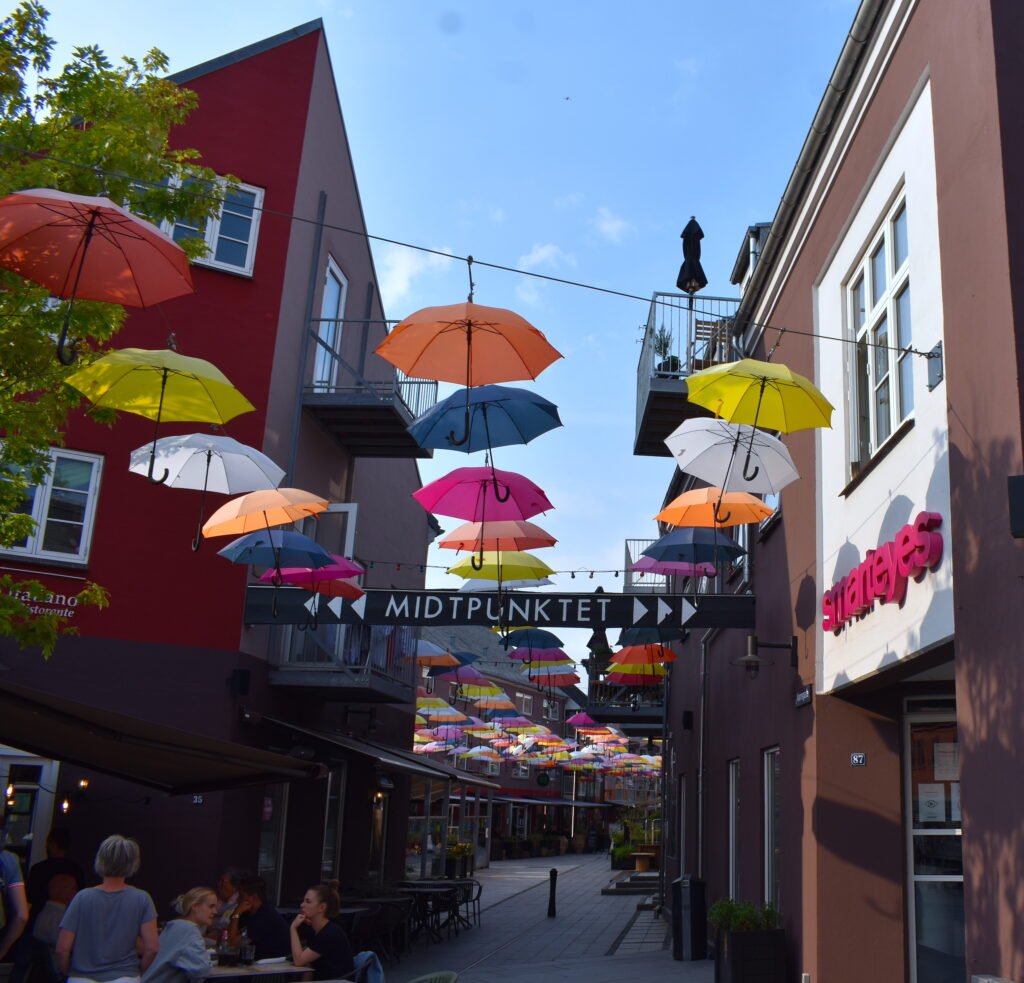 It looks great and gives the city centre a colorful vibe. So if you visit Vejle during the summer, be sure to pass this section of the centre and enjoy this sight. As a free attraction in Vejle, it makes sense to see it. On top of seeing the umbrellas hanging in the sky, try visiting some of shops, cafés, bakeries and pastry shops in the area.
Address: Tønnesgade og Nørregade
Vejle Kunstmuseum
The art museum in Vejle mostly has Danish art from 1900 and onwards. The collection has a great number of paintings and sculptures. You will see exhibitions of classic modernism, but also waves of surrealism from the 21st century. There are several permanent exhibitions as well as temporary ones that change every season.
Vejle Kunstmuseum is open from 11 am to 5 pm every day of the week except Mondays when the museum is closed. It is free to enter the museum and see the exhibitions, but if you want a guided tour you have to book it in advance and pay.
Address: Flegborg 16-18, 7100 Vejle
Kulturmuseet
Another museum in Vejle is Kulturmuseet which means – you guessed it – the museum of culture.
This museum is also free to visit and has the same opening hours as the art museum (11 am to 5 pm Tuesday to Sunday).
Kulturmuseet tells the story of Denmark from ancient times up until now. The exhibitions include several archeological findings such as Egtvedpigen and old treasures. Along with the items, there are many interactive displays where you can learn about the history of Denmark, and the local history of Vejle.
Address: Spinderigade 11, 7100 Vejle
Økolariet
Økolariet is an exhibition center focused on science, nature, climate and technology. It has highly modern exhibitions where you learn through experimenting. There are interactive exhibitions where you have to do certain tasks and this is what makes it fun. Most visitors learn a lot when they visit Økolariet. Don't worry about any language barrier – you can try all the things with instructions in English or German if you aren't great in Danish.
One of the best exhibitions is the one on the top floor right under the roof. Most visitors never get to see this one, but you should. It is a display of the city planning in Vejle and how the city has changed over the years. Super interesting, especially because Vejle used to be a very traditional town but has now grown into a modern city, especially due to the many architectural projects.
Best of all – admission is free. Stop by between 10 am and 4 pm on any day of the week.
Address: Dæmningen 11, 7100 Vejle
Bindeballe Købmandsgård
This old merchant shop is also an interesting place to visit in Vejle.
It opened in 1897, the same year as trains began to reach the city. The shop has continued to thrive over the years, and it still has its traditional vibe with old signs and a classic inventory.
Bindeballe Købmandsgård is still a shop where you can buy foods and items. But part of it has been turned into a museum. It displays products that are over a hundred years old, dating back to the early years of the shop as well as from other old Danish merchants.
Over 100,000 people visit the place each year. There is a small entrance fee of 10 DKK for adults. We also recommend buying something there, maybe as a snack or as a souvenir. The shop is not located in central Vejle, but rather in the middle of nowhere on a road a few kilometers west. It takes about 25 minutes to drive there, but it's worth it. Bindeballe Købmandsgård is open from 10 am to 5 pm every day of the week.
Address: Bindeballevej 100, 7183 Randbøl
Munkebjerg
Munkebjerg is one of the most popular areas of Vejle. It is a hill located east of the city, on the southern side of the Vejle Fjord. It has a forest and a great view of the water.
Since the late 1800s there has been a hotel at Munkebjerg. For over a hundred years, it has been a popular tourist site. The current hotel at the spot is simply called Hotel Munkebjerg and this one dates back to 1967. It is considered to be the best hotel in Vejle – book your stay here.
On top of the beautiful nature at Munkebjerg, there is also a large casino where poker tournaments and other games are regularly held. Munkebjerg also has a great golf course, so there are plenty of opportunities for entertainment.
Address: Munkebjergvej 125, 7100 Vejle
Jelling Mounds & Runic Stones
Near Vejle we find the town of Jelling. It is so close that you can take a local bus there, or you can rent a bicycle and go.
The Jelling Mounds & Runic Stones are listed together as a UNESCO World Heritage Site. It is an ancient site from the early days of Denmark as a nation. The stones detail how King Harald Bluetooth turned Denmark into a Christian nation. Next to the stones there is a church, and around it we find the mounds. In Jelling you will also find some restaurants and an old inn, so it is possible to grab a bite to eat once you have seen the attractions.
Jelling can be considered a day trip from Vejle and you will get to see one of Denmark's greatest attractions (the runic stones).
Address: Thyrasvej 1, 7300 Jelling
Givskud Zoo
Finally, we have Givskud Zoo – one of Denmark's best zoological gardens.
Situated just 20 minutes away from Vejle, it is not a central attraction, but it is super easy to get there. It is a family attraction where you can see several animals, as well as safari and a dinosaur exhibitions. In the safari section, you can drive through it in your own car or get on the safari bus. It then takes you through an area with giraffes, zebras and lions. In another section of the zoo, you can see penguins.
The zoo is open from March to October. Tickets cost 220/120 DKK for adults/children. Visiting a zoo is a great activity for a family with kids, but everyone can enjoy Givskud Zoo. Don't miss that safari section – it is the highlight!
—
These are the main attractions in Vejle and its surrounding towns. However, there are other interesting places in the vicinity that we didn't cover here. For example, check out the old castle in Kolding or the Legoland Resort in Billund if you have more time in the area and wish to explore other parts of Southern Denmark!