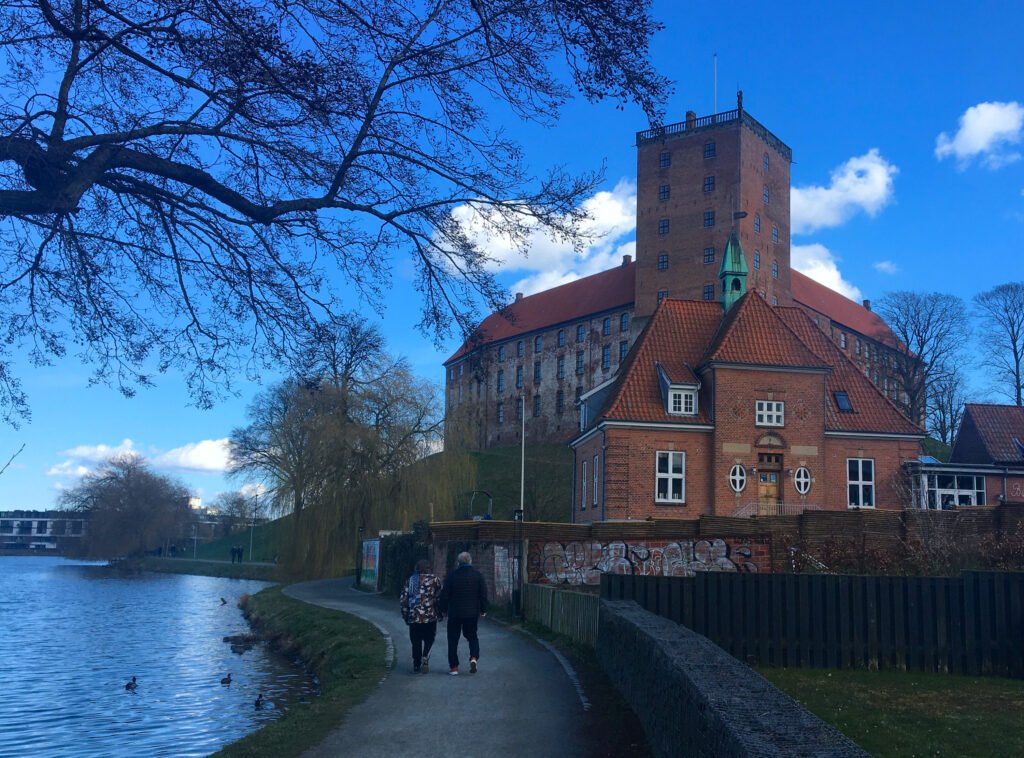 Looking for some recommendations on where to stay in Kolding, Denmark? Kolding is the largest of the three cities in Denmark's Triangle Region, and it receives a lot of business travelers in particular.
Regardless of whether you are visiting for business or pleasure, we will look into the best areas and hotels in Kolding in this article – with the goal of showing you the best places to stay.
Best areas of Kolding, Denmark
Kolding has city-status and is one of the most populated cities in Denmark. But from an international perspective, it would be more fair to consider it a medium-sized town. For this reason, it is hardly necessary to split it into different sections – rather, we will give some general guidelines of where it is best to stay.
The central part of Kolding is certainly the best from a tourist-perspective. Anywhere within 500 meters of Koldinghus (the city castle) and the Slotsø lake would be ideal. In this area of Kolding, we find most of the attractions and it also has the highest amount of nice hotels. Just south of Koldinghus is the main shopping district, and it has a river running through it.
East of the city centre we find the port area. The northern section of the port is very industrial and not too interesting; the southern section of the port is a bit more interesting since it has some cool architecture, some decent shops, and a small marina. Yet, it is still not as good a place to stay as Kolding city centre.
Kolding N, the northern part of the city, is great for entertainment. Here we find Kolding Storcenter which is one of Denmark's largest malls. It has a wide variety of shops, there are frequently some cool events there, and naturally you will also find places to eat. This part of the city also has a golf club, an entertainment centre with bowling and laser-tag, and lastly it has the Jump'it trampoline park.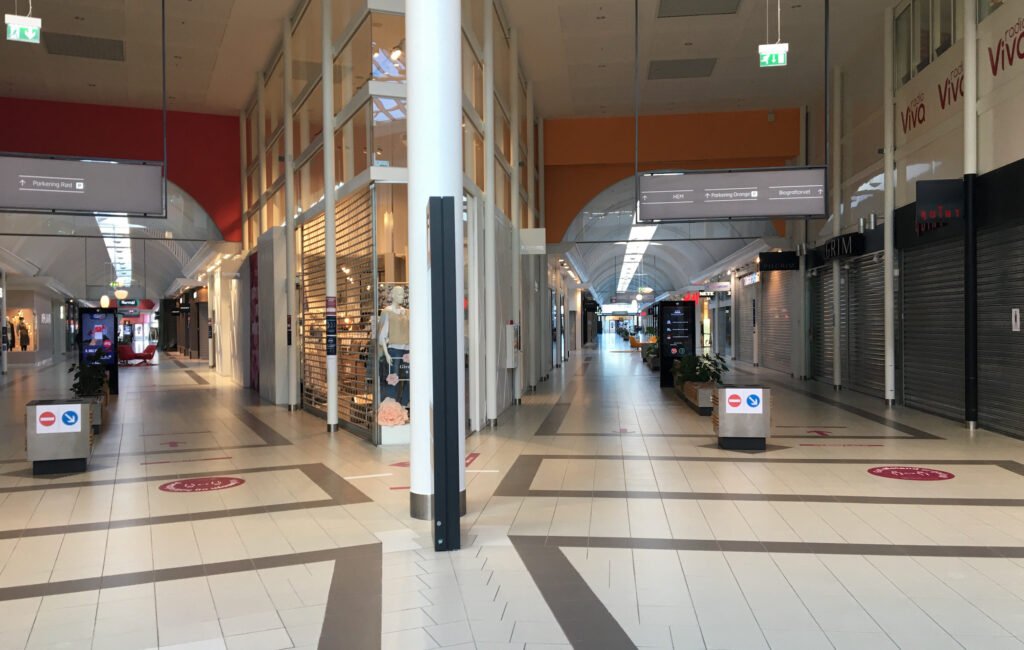 The southern part of Kolding, also known as Kolding S, is a residential area but it has some of the city's best restaurants. Unfortunately you won't find many hotels there, but it would be a good place to stop by during your trip. Some nice attractions in Kolding S are the Miniby (a miniature exhibition of the city) and the Kolding amphitheater.
Staying outside of any of these areas is not recommended since there won't be much. And if we have to recommend just one part of the city, it would easily be the city centre of Kolding near the Koldinghus Castle and the shopping district.
Central hotel in Kolding
Hotel Kolding – Book here
Simply named after the city itself, this is the principal central hotel in Kolding. Located at the eastern end of Slotsø, near the main library and the train station, this hotel allows you to be near the main attractions of the city.
It is a highly modern hotel with a 21st-century exterior and creative decorations inside. The furniture has that modern Scandinavian look, and it also offers a lot of comfort. You can choose between several rooms when you book. For most visitors it will be sufficient to get the regular room with a double bed, but if you want to splurge, you can get the special Posh Room or the Atrium Room. In the end, they are all spacious, so you will get a nice stay regardless.
There is a nice restaurant at the hotel where you can enjoy everything from breakfast and brunch to dinner and drinks. Hotel Kolding has its own library which you are free to enjoy. There's free parking nearby and the staff can help you arrange visits to the attractions in the city.
Hotel Kolding is particularly popular among female travelers, likely due to its modern and posh style. It is a great place for solo travelers, couples, and groups of friends. Prices begin around 1,000 DKK per night which is the normal rate for good hotels in Kolding.
Book your room at Hotel Kolding here!
Affordable hotel in Kolding
Zleep Hotel Kolding – Book here
Looking for a hotel that is slightly more affordable?
Then we recommend the Zleep Hotel Kolding. This hotel is part of the Zleep-chain which has become famous for having nice and central hotels in many cities for a relatively low price.
Staying here will set you back around 650 DKK per night on average, if you pick the cheapest room with a double bed. You can also pick the family room to have some more space – which will cost around 900 DKK per night.
The rooms are basic, but nice. Zleep Hotel Kolding doesn't have the high-class furniture other hotels in the city have, but the rooms are very spacious and so are the bathrooms. There is a nice breakfast area at the hotel. You can either pay a bit more when you make your booking to get breakfast included for the entire stay, or you can simply pay for it in the mornings when you are actually there.
This hotel is particularly great for solo travelers, but ultimately suitable for everyone.
Reserve a room with the hotel right here!
Holiday apartment in Kolding
Kolding Hotel Apartments – Book here
Many travelers value space, and if that includes you, you should consider booking a holiday apartment rather than a hotel. It would make the stay a bit more authentic, and it would give you more space. This is particularly valuable for couples and families.
Kolding Hotel Apartments are located right by the central lake, Slotsø. The location is absolutely beautiful. The apartments are split across several modern buildings located next to each other. The entire operation is run by one company, so booking is easy.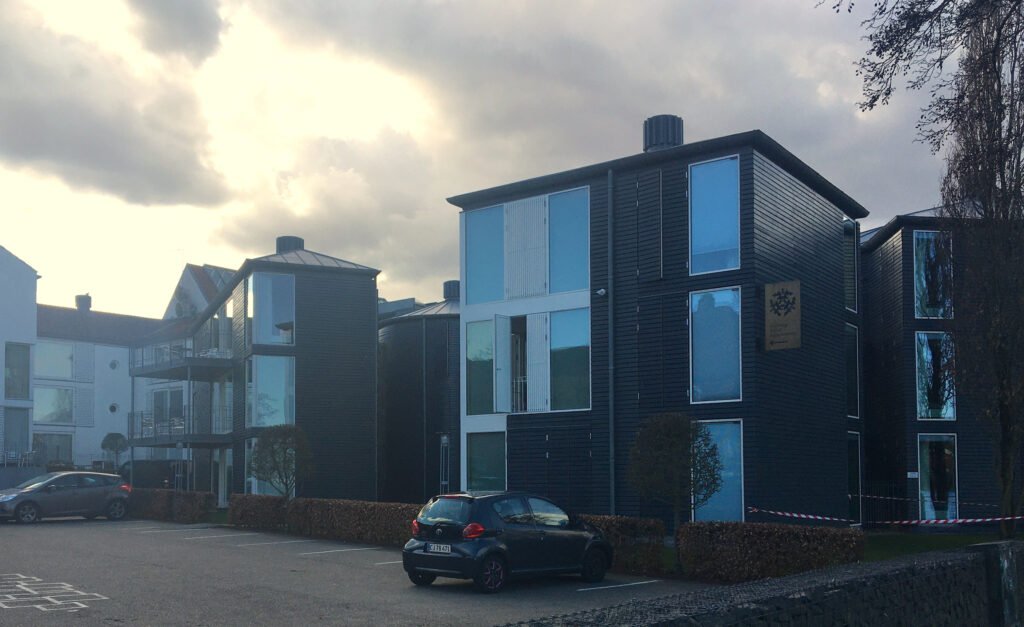 If you want plenty of space, access to a kitchen, a great view, and a location right in central Kolding, we highly recommend booking with Kolding Hotel Apartments. It's not the cheapest solution, but it might very well be the best.
Reserve an apartment for your trip here!
Luxury hotel in Kolding
Hotel Koldingfjord – Book here
There are no luxury hotels in the city centre per se, but we find one at the edge of town. In the far eastern end of Kolding, located right on the northern end of the fjord, we find Hotel Koldingfjord – a large, classic hotel situated in a building that dates back to 1911.
It is surrounded by the fjord and by a forest, so it is an absolutely beautiful area.
If you want a traditional stay in luxurious surroundings, this is the place to pick. Hotel Koldingfjord has a very traditional exterior and the service is top-notch. The interior, however, has been renovated and is somewhat modern. Overall, you get a great experience. Several rooms have mind-blowing views of the fjord. The hotel has a pool, a fitness area, a sauna, and the staff frequently arranges events such as hikes around the area.
This is not the hotel to pick if you love going sightseeing and shopping every single day. It is, however, the best choice in Kolding if you want a luxurious stay and if you want to be at a hotel where you can easily spend the entire day in and still have a great time. We consider it to be the most beautiful place to stay in Kolding.
Proceed to book your room at Koldingfjord here!
Towns and cities near Kolding
Kolding is located right in the middle of a decently populated metropolitan area. The metro area of Kolding, which obviously includes the neighboring towns and the suburbs, would actually rank as the third-largest of Denmark.
Near Kolding you might be particularly interested in Vejle, one of Denmark's most beautiful cities. Like Kolding, Vejle is located at a fjord, and it has a very nice coast where many pieces of ultra-modern architecture have been constructed. Vejle is also home to several big sporting events, including the main stage of the yearly cycling race Danmark Rundt.
Fredericia, the third part of the Triangle Region alongside Kolding and Vejle, is also located nearby, and it also has water access. Fredericia faces the island of Funen and is another important industrial town in this region.
Just a bit south of Kolding, you can visit the historic town Christiansfeld. This town is listed as a UNESCO World Heritage Site due to its religious past and its iconic buildings. Christiansfeld is also famous for its honey cakes. A nice place to visit for a day, but also a place where you can stay for longer.
Billund is located less than 40 kilometers northwest of Kolding. This is where Denmark's second-largest airport is situated, and it is the ideal way to get in if you are visiting Kolding. Furthermore, Billund has the original Legoland amusement park among other cool attractions. You can certainly visit Billund for a day if you are staying in Kolding, but we would recommend finding a hotel in Billund since there are several good ones there.
Conclusion
Kolding is a cool, yet underrated city. It is overshadowed by larger Danish cities such as Copenhagen and Aarhus, as well as more historic cities such as Ribe. But it offers just about everything, from great cultural sights to tasty restaurants and decent shopping districts.
To make the most of your stay, try to find central accommodation in Kolding. We would recommend Kolding Hotel Apartments as the number one option in the city, but you can also consider the other suggestions we made earlier or go to Booking.com and browse for further options by yourself. Enjoy your stay when you get there!