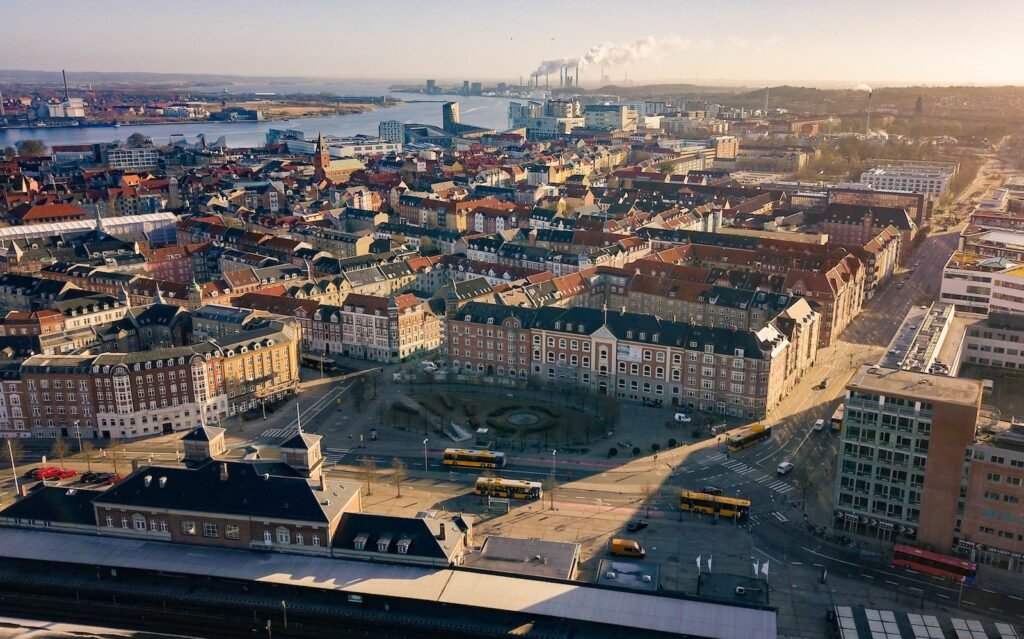 An increasing number of travelers are becoming interested in Northern Denmark. Aalborg is the main city of this region – and it's the only one that has an international airport – so that makes it an obvious destination to visit!
Aside from attracting more and more tourists, Aalborg is also an important business city. If you're going there for work, it's highly important to find the best possible accommodation that suits your needs.
In this article, we are guiding you toward the best places to stay in Aalborg. Learn more about areas, hotels, hostels, facilities and price ranges.
If you're looking for our number one top pick, we suggest that you stay with Scandic Aalborg City. It's central, nice, clean, spacious, and the prices are affordable. To learn more about this hotel – or to get other recommendations – you can continue reading below.
Best areas of Aalborg
Ideally, you want to be in the center of the city to properly enjoy it. That way, you will have most attractions within walking distance. There is no metro in Aalborg and limited light rail, but there is a large network of buses. You can also rent a car, but that's probably only necessary if you are going to different Danish cities as well. Most of Aalborg is easily walkable, so if you're staying somewhere central, you can quickly discover most things on foot.
The true center is considered to be the area between the waterfront in the north, the Vesterbro street in the west, the train station in the south and the park Karolinelund in the east. In the boundaries of this district, you will find the largest crowds, the main shopping district, the main commercial activities and so on. It's the ideal place to stay.
But note that many of Aalborg's most important attractions (such as the Aalborg Tower, Kildeparken, the Zoo and the museum Kunsten) are not located in the true center, but a bit southwest of it. Although the distance is not far: You can easily cover this distance on foot if you're staying in the old, central part of Aalborg. Or simply go there by bus. You can always use the public buses to take you around Aalborg. Bike rental is also an affordable option and it's very normal to ride a bike around the city – that's what many locals do.
Staying outside of Aalborg, in one of the suburbs like Nørresundby, Hasseris, Skalborg, Vejborg, is not really recommended for tourists, nor for business travelers. There's simply not enough going on, and they don't have that many hotels. So just try to find a central place, regardless of budget.
Hotels in Aalborg: Top 3
Let's have a look at the best hotels in Aalborg that match the ideal locations to stay in. You'll find three different suggestions below.
Scandic Aalborg City
Best for: General tourists and business travelers
In many ways, Scandic is just a typical but ideal hotel. It doesn't offer anything fancy, but it is large and cozy, offers breakfast, there is almost always availability due to its large size, and it gets good reviews from previous visitors. Therefore, it's not lacking in anything, and that's the most important thing – it's a practical place to stay, although nothing super fancy.
Location-wise, it's also hard to complain. Scandic Aalborg City is situated near the train station, right on the northern edge of Kildeparken. It's less than 400 meters away from attractions such as the museum Kunsten, the Aalborg Tower and the central shopping areas. That makes it perfect for tourists and cultural travelers.
For business travelers, Scandic also works exceptionally well. The hotel is directly connected to Aalborg's center of congress. You can print documents, book a meeting room, use Wi-Fi, park your car outside, and so on. All very easy.
The average price per night is about €130. It's a four-star hotel.
→ Book your stay with Scandic Aalborg City here!
If you need an alternative to Scandic, you can take a look at Comwell Hvide Hus, another great hotel. However, be aware that Comwell does not allow children to stay there, which can be an issue if you're a family going on vacation. But aside from that, it has a similar location and similar benefits as to what Scandic offers.
Radisson Blu Aalborg
Best for: Tourists, people who want to go out at night
Radisson Blu Aalborg is a slightly more modern hotel, and it appeals to everyone visiting Aalborg for pleasure. It is located right by the water, and it is directly connected to Aalborg Casino. Jomfru Ane Gade, the main street in Aalborg for bars, clubs and restaurants, is just a short walk away. So Radisson Blue is definitely perfect if you're looking to entertain yourself in Aalborg!
Overall, you can expect a great stay, since the rooms are modern and nice. The service is awesome, you can eat breakfast right at the hotel in the morning, and there is also a gym with equipment, showers and a sauna. Members of the staff speak five different languages (English, German, French, Italian and Russian) in addition to Danish.
As something unique, you can bring your pets if you're staying with Radisson Blu, although it costs a small extra fee.
It has an average rating of 8.1 out of 10. However, couples rate it as 8.9 on average, which is slightly higher.
→ Book your stay with Radisson Blu Aalborg here!
Cabinn Aalborg
Best for: Travelers on a budget
If you're looking for something slightly cheaper than the two previous options, you can choose Cabinn Aalborg. It's probably the most affordable hotel in Aalborg, making it one of the best places to stay in the city if you are on a budget.
Cabinn's concept is simple: They provide nice, clean, and simple rooms for affordable prices. It's located right in the middle of Aalborg, making it easy to discover everything while you're visiting.
The hotel gets good reviews and it is significantly cheaper than the other hotels in Aalborg (and Denmark in general). The reception is open 24 hours, and you can expect solid service. If you want to shop, the mall Friis is located right next to the hotel. Cabinn Aalborg might not be the most luxurious hotel in Aalborg, but it is definitely the place where you get the most value for the money.
→ Take a look at Cabinn Aalborg here and book your stay!
Hostels and B&B
Youth Hostel Aalborg is the most popular hostel for young travelers and it is located 3.5 kilometers away from the center, equivalent to around 40 minutes of walking. We recommend you find a hotel instead – not that there's anything wrong with this hostel, but when it comes to location, you might as well pay a bit extra and stay where you're closer to everything.
Alternatively, take a look at Aalborg Vandrehjem, a classic hostel in the northwestern part of the city. While more central than Youth Hostel Aalborg, we still recommend that you find a hotel instead. The price is not much different, so it's better to get a comfy hotel experience instead. If you enjoy the hostel experience, you can choose it though!
There are many private bed and breakfasts around Aalborg; although they are usually located a bit outside of the city center.
Regarding Airbnb apartments, there should be a few good options. You can expect similar prices to hotel rooms, but with a bit more personal freedom, of course. There are some upsides and downsides to using Airbnb, but it's generally a fine solution when you're looking for a place to stay in Aalborg. We are not familiar with any specific Airbnb apartments in Aalborg, but you can take a look at the website and check the options.
Airport accommodation
If you're only staying in Aalborg for a short while and need to fly out early in the morning, it can be a great idea to stay with the Aalborg Airport Hotel.
This hotel is located right in front of the airport, and it takes just 1 minute to walk from the hotel to the check-in area of the airport. Super easy and practical.
→ Book your stay at the Aalborg Airport Hotel here!
Expect to pay around 100 EUR/USD for a night in a regular room. Perhaps more if you travel in the peak of the summer or during the Aalborg Carnival. The hotel is quite nice, and you can also enjoy breakfast there. However, it is a bit impractical if you want to discover the city of Aalborg and all of its attractions since you have to take the bus back and forth. But if you simply need to stay close to the airport for transportation reasons, this is the hotel to select.
And don't miss: Aalborg Airport Guide
Hotels in nearby towns
Many travelers fly into Aalborg since its airport is the unofficial gateway to Northern Denmark.
There are towns in this region that get almost as many visitors as Aalborg itself.
For example, coastal beach towns Løkken, Blokhus and Skagen are wildly popular, as they all have nice hotels, holiday apartments, and rental beach houses. So they can be options too, assuming Aalborg is not your main priority, but you simply want to explore Northern Denmark, a region rich in both culture and nature.
For more information about hotels and apartments outside of Aalborg, but in the same region as Aalborg, take a look at the following articles:
Conclusion
Aalborg has over 30 hotels, along with a couple of hostels, several holiday apartments, and a few other options.
We highly recommend booking a hotel room, since there are so many nice hotels in the center of Aalborg. Besides, it's not as expensive as in other Danish cities like Copenhagen and Aarhus where hotel prices are much higher.
We sincerely hope you will enjoy your trip – find recommendations on what to see in Aalborg, where to shop and where to eat out through the listed links!