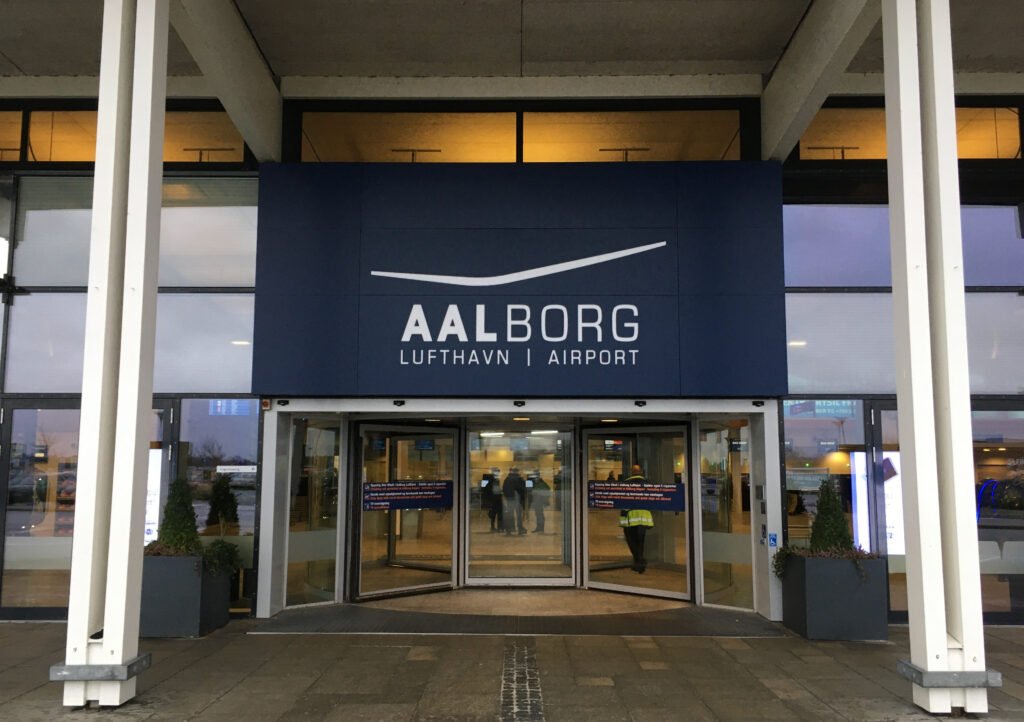 Aalborg Airport is the third largest airport in Denmark. It is the main gateway to the northern part of the country and to the city of Aalborg. The airport offers several domestic routes, along with cheap connections to London and other European destinations.
If you are using Aalborg Airport for the first time, it is nice to know how everything works. In this guide we are covering everything from routes and airlines, to city transportation and nearby accommodation options.
Facts about the airport
Aalborg Airport (official website here) is one of the three main international airports in Denmark (the others are Copenhagen and Billund). It has approximately 1.5 million passengers per year, although the number has been consistently increasing throughout the last decade.
The first domestic flight from Aalborg took place in 1936, and the airport officially opened in 1938. It was an important target for the Germans during World War II and they occupied it in 1940. In the post-WW2 years, the airport enjoyed very modest success, mainly being used for domestic routes and some connections to the other Scandinavian countries.
In 1997, the ownership of the airport was given from the state to the local municipalities in Northern Denmark. However, they were not allowed to earn profits from the airport, and due to constant re-investments of airport profits, it has been in constant growth ever since. With new construction products almost every year, the airport is always moving forward.
Aalborg Airport enjoyed a colossal boom in passengers in 2007. Later, in the 75th anniversary in 2013, they doubled the amount of terminals and built 1,000 additional free parking spots. In 2014, an airport hotel was opened. More additions are expected in the upcoming years, and Aalborg Airport is already considered to be one of the most passenger-friendly airports in Europe.
Transportation: Aalborg Airport to city centre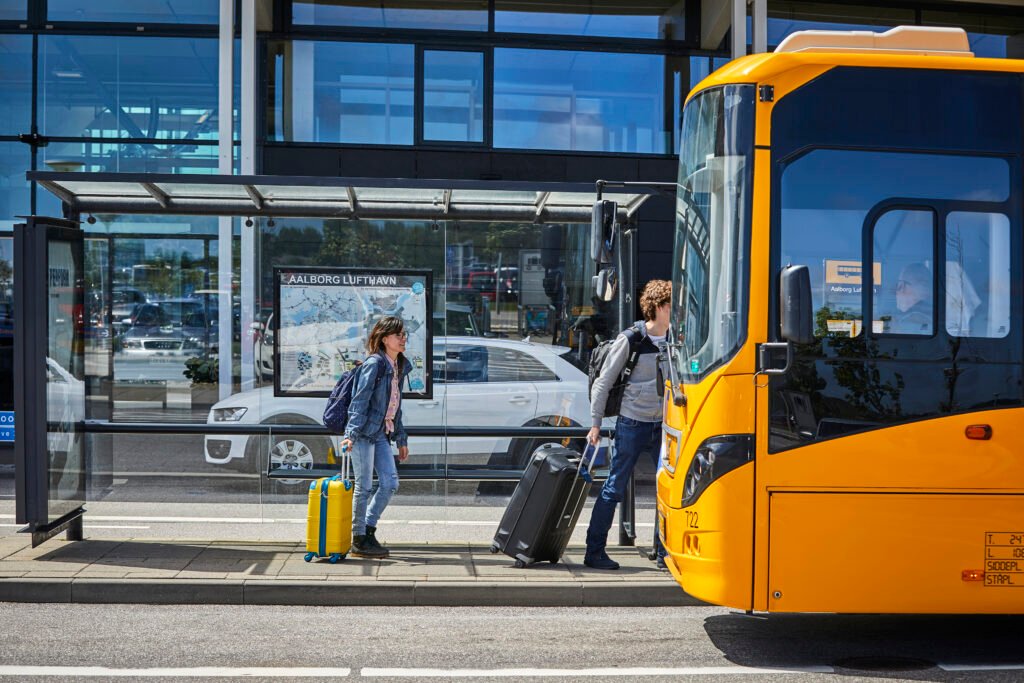 The airport is located just 6 kilometers northwest of Aalborg city. A short distance: But how do you get from the airport to the city center?
Most travelers take a bus into Aalborg after arriving to the airport. Lines 12, 70, 71 and 200 all go from the airport to the city center in the matter of minutes. Be sure to stand in the right side of the bus stop – do not cross the street when leaving the airport, be on the side closest to the airport building.
If you take line 71 or line 200 in the opposite direction, you can go directly to popular resort towns such as Løkken or Blokhus.
From December 2019 and onwards, there will be a direct train connecting Aalborg Airport to Lindholm station in a 3 kilometer stretch. This will connect the airport to the nationwide networks of train, meaning you can switch in Lindholm and go almost anywhere in Denmark from there.
A taxi can also take you from Aalborg Airport to the city center, although it will be fairly expensive. Expect to pay 150 DKK (20 EUR) for the ride.
Car rental is a possibility if you wish to explore Denmark by car. Companies such as Avis, Hertz, Sixt, Europcar, Alamo, Budget and Enterprise all provide services from the airport. You can book in advance, which is the most affordable, or you can take care of it upon arrival. Offices of these car rental companies are located inside the main airport building.
Hotels near Aalborg Airport
Aalborg Airport Hotel is located right in front of the airport, directly next to the parking section. It's an ideal place to stay if you have an early flight from the airport. Expect to pay around 70 USD/EUR for a night in an average room.
The hotel is a bit spartan. Overall the rooms nice and comfortable, although nothing super fancy. Just as you would expect from an airport hotel where most people just stay a single night.
You can book your stay with the Airport Hotel here.
For a longer stay in Aalborg, we recommend that you choose a hotel in the middle of the city so you can be close to the main attractions.
Here is our guide to hotels within Aalborg City.
Quick tip: Scandic Aalborg is the best one for most travelers.
Main airlines and connections
No airlines use Aalborg Airport as their de-facto hub, but many have consistent routes throughout the year.
SAS is always present in Aalborg with routes to Copenhagen, Oslo and Stockholm, along with seasonal charter routes to southern France and Croatia.
Norwegian flies between Aalborg and Copenhagen almost every hour with tickets priced around 500 DKK (~75 USD/EUR). Norwegian also has routes to several Spanish destinations: Málaga, Alicante, Palma de Mallorca and Las Palmas de Gran Canaria.
Aalborg-Copenhagen is the largest domestic flight route in Denmark, with around 30 million passengers throughout the years.
KLM flies between Aalborg and Amsterdam three times every day: Morning, afternoon and evening. Flights are usually very fairly priced. Many Danish travelers take a layover in Amsterdam before continuing their journey out into the world.
RyanAir has a cheap route between Aalborg and London Stansted.
Vueling flies between Aalborg and Barcelona weekly.
Jet Time has an occasional route between Aalborg and Las Palmas.
In the summer, Atlantic Airways lets you fly from Aalborg to the Faroe Island.
If you wish to visit the Danish island of Bornholm, you can fly from Aalborg with Danish Air Transport, a minor local airline.
Depending on the season, you will have many other options. During the summer, there will typically be routes connecting Aalborg to Cyprus, Madeira, Firenze, Sunny Beach, Crete, Rhodos, Santorini and many other popular summer destinations.
During the winter, you will likely find routes from Aalborg to the Virgin Islands, Cancún, Canary Islands, Dominican Republic, Phuket, Egyptian resort cities and Salzburg.
Parking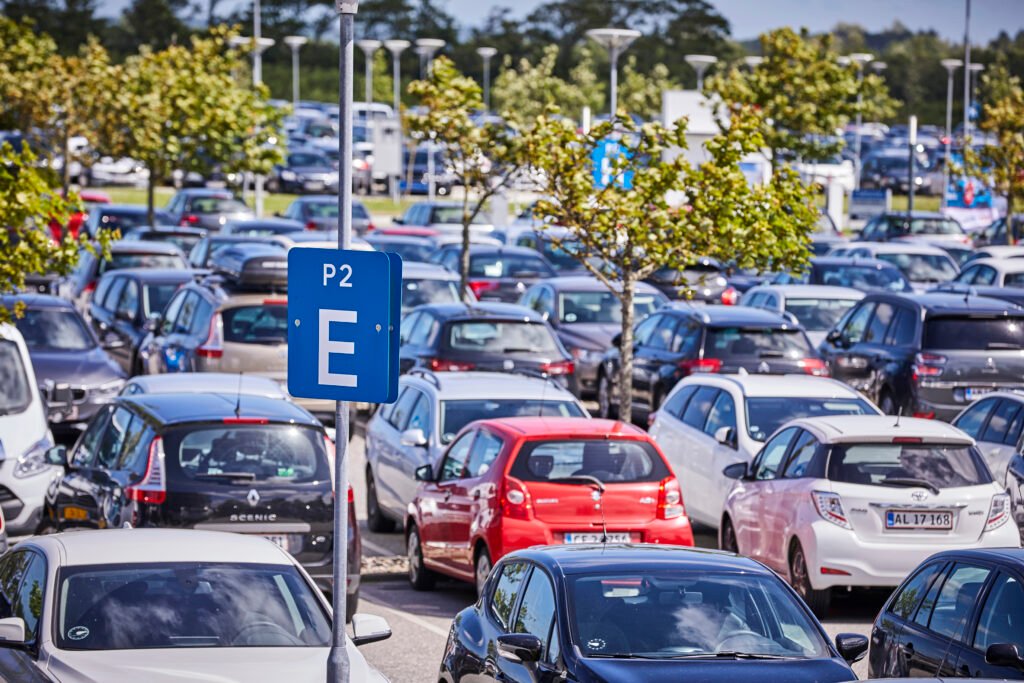 Parking in Aalborg Airport is completely free. However, most spaces close to the airport are almost always occupied, so most likely you have to park your car a couple of minutes away and walk for the rest of the distance. There is around 5,000 parking spots, with more coming up soon.
If you're not parking, but dropping somebody off, you can do so right at the door. But note that your car can only be parked in this area for a few minutes while saying goodbye.
Shopping and dining options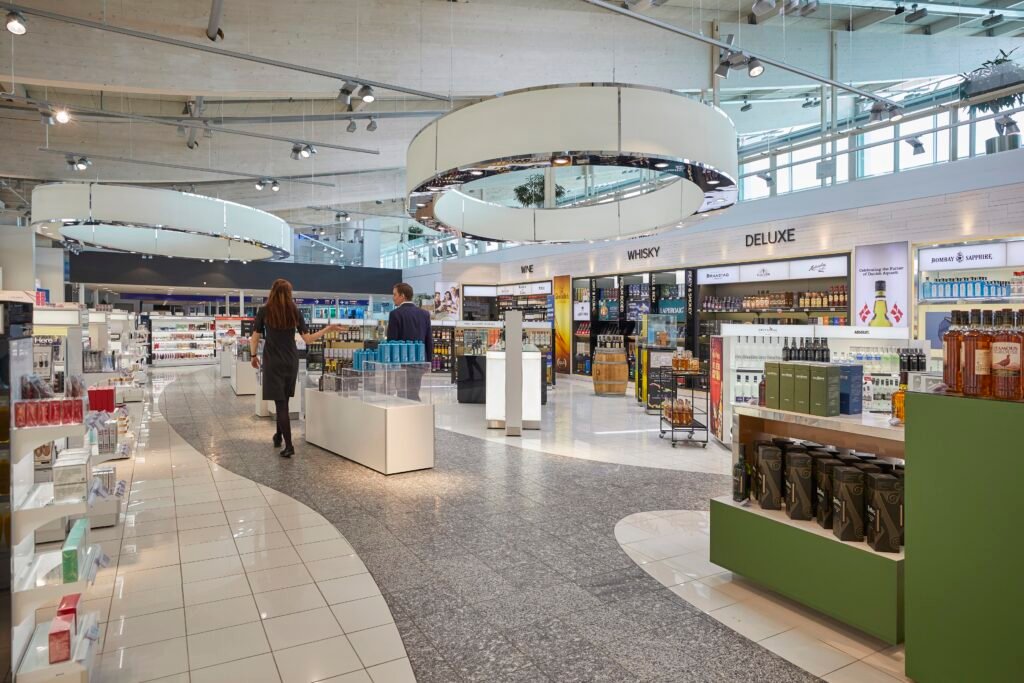 Aalborg Airport is fairly small when comparing to international standards. But you still have a couple of options if you want to shop in the airport, or if you want to grab a bite to eat.
For example, there is a large perfume section, a clothing store, a souvenir section and an area for liquor, cigarettes and snacks.
If you want to eat, there is a café section right after you go through the security. Here, you can buy coffee, tea, drinks, snacks, sandwiches, salads, and so on. This area is called the "Deli". If you continue walking to the gates, you will walk by the "Gastro Pub". Here, they serve food – you can get something light, or you can get a heavy meal if you're really hungry. They also have beer, wine and other drinks. This restaurant/pub opens two hours before the first flight of the day, and it closes when the last scheduled flight takes off.
Unfortunately, all stores and restaurants are located after the security area, meaning that you can't have a beer or a snack with a local friend before leaving for your flight. There are some automatic vending machines for sodas and snacks, but nothing more.
Service in the airport
Aalborg Airport is known for its remarkably good service. It takes just a few minutes to pass through security, and check-in lines at the entry area are usually not that bad. The staff is happy to help with just about anything.
We recommend that you get to the airport an hour before your flight. It is not necessary to show up 2-3 hours before since it is very easy to find your gate (there are not so many). And as mentioned, passing through security is a breeze.
Overall, we highly recommend flying from Aalborg Airport. It is a very convenient airport where the service is top-notch. Most travelers have a great experience when flying to and from Aalborg – and we wish you a great trip as well.