Amsterdam Schiphol is one of the busiest airports in Europe. You will find connections between AMS and most major airports around the world. If you are visiting the Netherlands, this airport is the main entry to the country. Furthermore, many fliers have layovers in Schiphol due to the many connections.
If it is your first time flying to Amsterdam Airport, or if you simply want to be prepared for your journey, this guide might prove useful.
We are looking into general facts about the airport, transportation, the main airlines and destinations, the things you can do inside the airport, and where you can stay if you need a hotel near Amsterdam Airport. Let's get started!
Facts about Amsterdam Schiphol Airport
Foreigners mostly refer to the airport as "Amsterdam Airport" whereas the locals typically call it "Schiphol". The term Schiphol is also used informally among pilots, frequent fliers and writers. When you read about the airport, you will run into both names, Amsterdam and Schiphol, and both are correct – it is simply two names for the same airport.
It is the main airport of the Netherlands, located in the municipality of Haarlemmermeer, just 9 kilometers southwest of Amsterdam.
It was founded in 1916 as an airbase for the military. During WWII, it was destroyed, but it didn't take long to rebuild it, and Amsterdam Schiphol has been growing ever since. It does not only give access to Amsterdam, but also to Rotterdam, The Hague and other cities in the densely populated Holland-region, and it currently ranks as the world's 11th busiest airport.
Most people will pass through Schiphol when they go on vacation – but it is also an important airport for cargo. Many international goods are shipped to and from Europe through Schiphol.
From Amsterdam Airport to Amsterdam city centre
Amsterdam Airport Schiphol is located very close (9 km) to the city centre of Amsterdam. Therefore, it is a very short ride into the city, and you have several options.
One option is to take a taxi. We recommend this option if you want carry a lot of luggage and want a safe and quiet transfer. It usually takes 15 minutes to drive from the airport to the city, but it also depends on traffic, and occasionally it takes a bit longer. The price is typically around €40 which is a bit expensive.
It is much cheaper to take the train. It only costs €5.40 and the travel time is almost the same – around 20 minutes. The trains depart from the railway platforms underneath the arrival hall of the airport. The signs inside the airport will easily show you the way to the trains. The trains typically run every 10 minutes during the day, and every hour during the night. So you can always get to the city centre this way. The train's final destination is Amsterdam Central Station. You can buy your ticket online in advance or at the airport upon arrival.
From Schiphol it is also possible to take a direct train to Rotterdam Central Station.
There is a separate airport shuttle between Schiphol and Amsterdam city centre by Connexxion. It costs a bit more: €18.50 for a one-way ticket or €29,50 for a return ticket. The benefit is that the shuttle goes to some of the most popular hotels in the city, so you might be able to take it all the way to your place of accommodation.
Some hotels in Amsterdam offer private transfers where they come to pick you up at the airport. Check with your hotel if they offer this service.
Airlines and destinations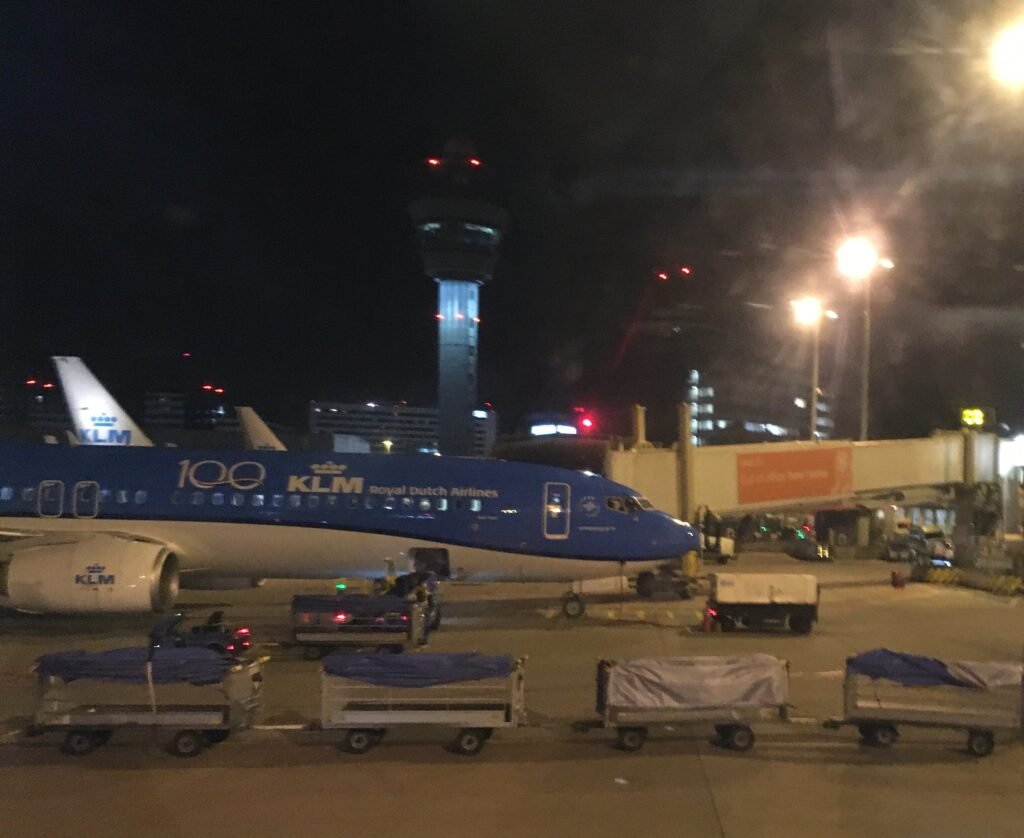 Schiphol is the main hub for KLM. You will see KLM planes everywhere in Amsterdam Airport. It is the national airline of the Netherlands, so naturally a lot of people fly with KLM as they travel to and from Schiphol.
It is also a focus airport for Transavia Airlines.
But generally speaking, you will see almost all international lines in Amsterdam: AirFrance, Delta, Lufthansa, British Airways, American Airlines, Turkish Airlines, SAS, TAP, and many others.
While Transavia is the low-cost airline with the most routes from Schiphol, other low-cost lines such as EasyJet, RyanAir and Vueling are also present and highly popular.
Here are the top ten connections from Amsterdam based on yearly passengers:
London-Heathrow
Paris-Charles de Gaulle
Barcelona
Dublin
Madrid
Copenhagen
Manchester
Lisbon
Dubai-International
Istanbul
The main cargo routes are Shanghai, Doha (Qatar), and Chicago.
Shops and restaurants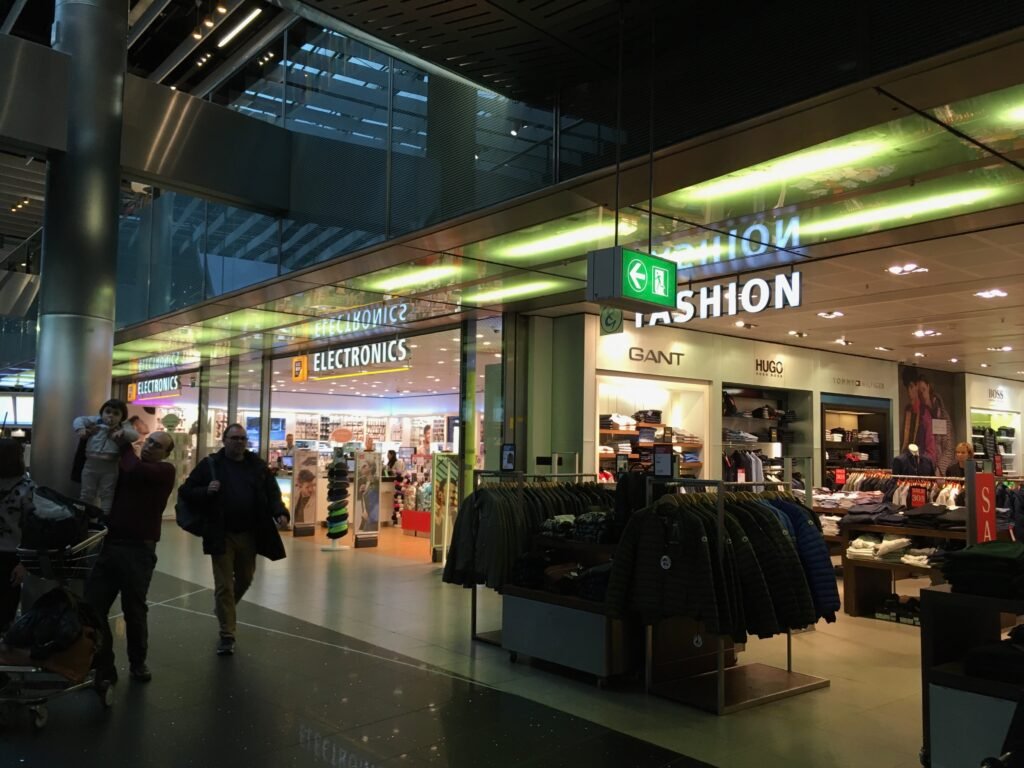 There are some nice shops at Schiphol. Many travelers pass their time looking in stores, and you find a bit of everything. Schiphol has several clothing stores, perfumeries, typical Dutch shops, souvenir shops, an electronic store, a book store, and much more.
If you want to grab a bite to eat, you'll find everything from restaurants and cafés to small kiosks and even a juice stand. Over the last decade, a lot of healthy restaurants and cafés have popped up at Schiphol. You'll find everything from healthy treats to fast food and finer plates.
The Heineken Bar is worth visiting if you want a beer, and Bubbles is a great place to get a glass of wine or even some seafood.
The main shopping area is in the middle of the airport, situated between the main gate sections. If you walk up the stairs, you will get to the main food court.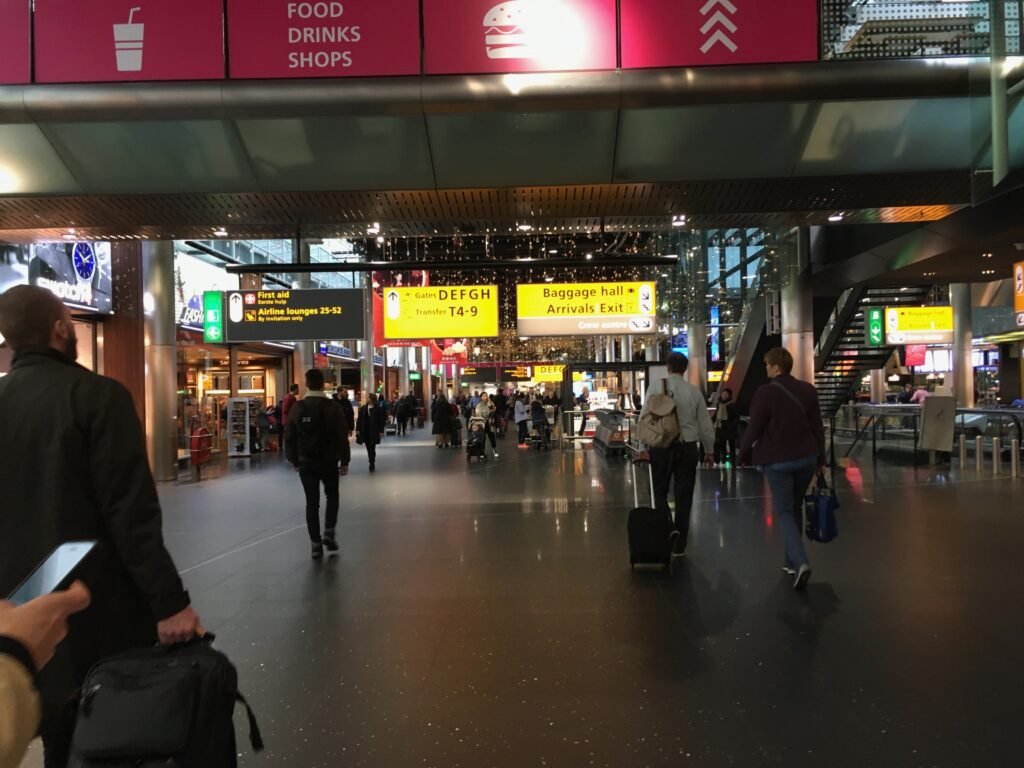 Prices are high, especially for food, so don't expect a cheap meal at the airport! However, if you simply want a snack, there are vending machines all over the airport. There is a machine at almost every gate where you can get a snack before your next flight out.
Hotel near Amsterdam Schiphol Airport
For various purposes, some travelers need to stay near the airport. Maybe you have a very early flight out, maybe you are arriving in the middle of the night, maybe your flight was delayed by a day, or maybe you simply have business to attend to.
In that case, you need to find a hotel near Amsterdam Airport, and you actually have several options. There are many hotels at Schiphol.
The Mercure Hotel Schiphol is the best option for practicality. This hotel is actually located within the airport, in Departures Lounge 3. It is past the security section, so you can only stay there if you have a flight out. It is perfect if you have an overnight layover or if you simply want to be fully ready for a morning flight. Prices are great – it is one of Amsterdam's cheapest hotels – and you get free WiFi. The comfort is mediocre, but nothing beats the price and the location inside the airport itself!
Sheraton Amsterdam Airport is a more comfortable hotel. It is not located inside the airport, but it is just a few meters away from Arrivals and Departures. That means you don't have to think about any public transport, you can simply walk back and forth between the hotel and the airport in a matter of less than two minutes. The Sheraton Hotel is quite nice. It is one of the more comfortable hotels in the area, with its nice furniture and soundproof rooms. There's great service, two restaurants, and a gym. It is more expensive than the Mercure Hotel, but well worth the money if you need to stay just outside the airport and you want good comfort.
Practical tips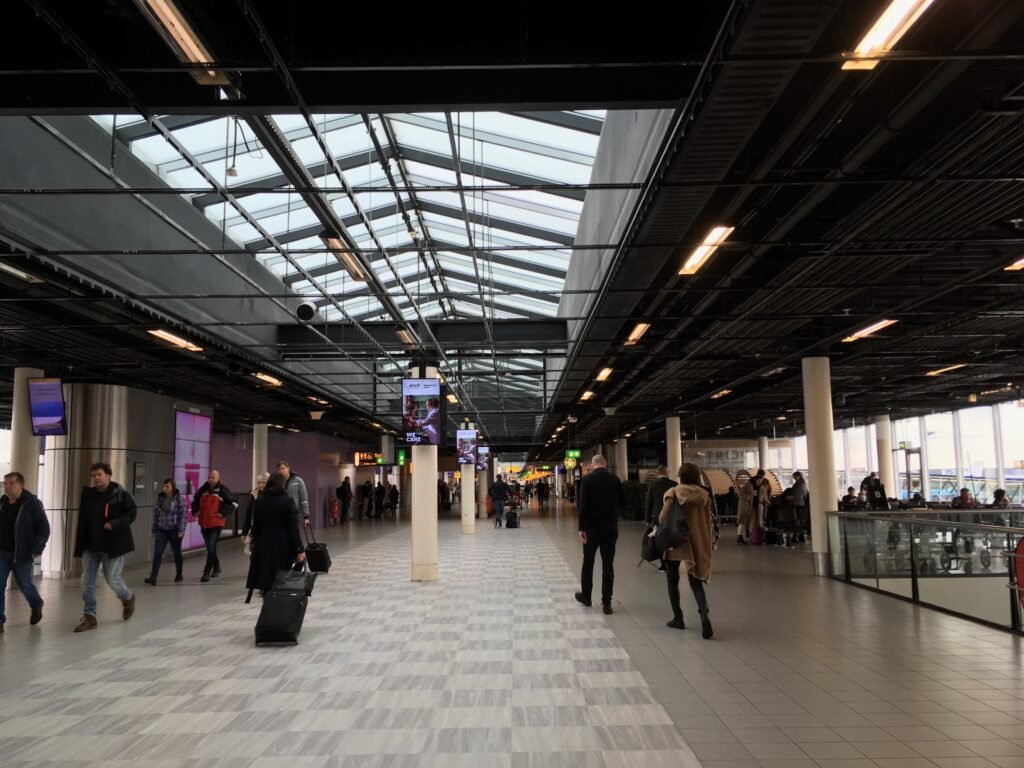 Despite the fact that Schiphol is over a hundred years old, it is a very modern airport with great facilities. New innovations are always being implemented, and the infrastructure is impressive.
The airport is not split into several buildings. It follows a single-terminal concept, so layovers are incredibly easy, and you rarely need a lot of time between your flights. There is no doubt that the airport is big, but you can quickly get around, and navigation is very straightforward.
The security section can be a pain in the ass. It is the only major downside of Schiphol. Some of the security workers are incredibly rude to the passengers. If you get a bad experience in the security section, just shake it off as you get passed the security, and enjoy the rest of the airport before your flight. The non-security staff at the airport are friendly and welcoming, so the security section is the only sketchy part.
If you have an international flight, show up a few hours before. It is always best to check in online in advance.
You can print your ticket in one of the many counters at the airport. The check-in desks can also help you print out your ticket, even if you are already checked in, and this is also where to deliver your luggage. Rules for carry-on luggage mostly depend on the particular airline you are flying with.
All shops and restaurants accept credit cards, but it is still practical to carry some euros around. Especially for souvenirs, snacks and smaller purchases.
It can be difficult to find charging plugs in several parts of the airport, so make sure your phone is fully charged before going to Schiphol, and it's never a bad idea to bring a power bank.
There are plenty of restrooms all over the airport. They are usually very clean.
You should be at your gate around 45 minutes before your flight. When you arrive at Amsterdam Airport, it is a great idea to locate your gate as the first thing, so that you know where it is, and so you know where to go when you are done browsing and shopping.
Conclusion
Amsterdam Airport Schiphol is an airport that most travelers will pass through eventually. Either on a trip to Amsterdam or on a layover. Fortunately, the airport is very easy to navigate, and it has great facilities. While the security section is a bit harsh, the rest of the airport is very enjoyable. We wish you a great trip!