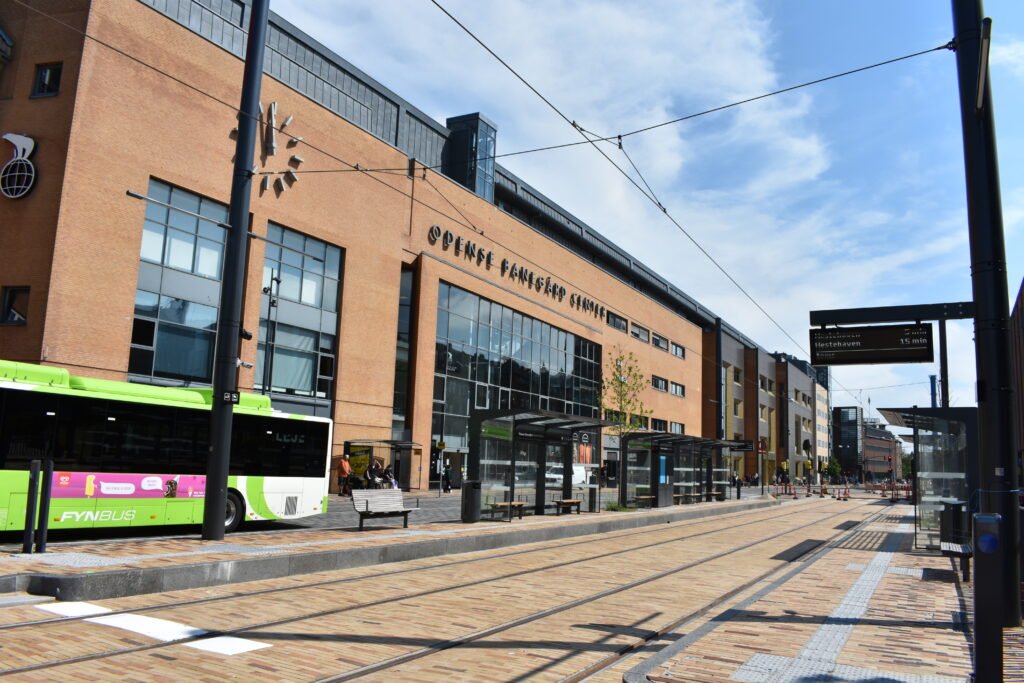 Are you visiting Odense, or perhaps living there for a while? In that case, you are likely having a great time enjoying the city. But there are also some cool places near Denmark's third-largest city, and we highly recommend you to visit those. Here are the best Odense day trips – places that you can reach in a matter of hours if you are staying in Odense!
With a central location on the Funen Island, and connected by Jutland and Zealand by bridges, there are plenty of options. In fact, Odense might be the best Danish city to stay in when you want to explore various places around the country.
We are primarily focusing on smaller, lesser-known places near Odense, but you will also see some of Denmark's most famous destinations on this list.
Nyborg
The market town Nyborg is situated on the eastern end of Funen facing the Great Belt strait. It only takes 15 minutes to take the train from Odense to Nyborg. Driving by car takes around a half hour.
Nyborg is one of the most fascinating towns in Denmark. It is home to Nyborg Castle, one of Denmark's top attractions. This castle is the oldest royal castle in Scandinavia, as it was constructed in 1170. Since it is now a museum, you can easily visit. Another big attraction in Nyborg is the town's church, Vor Frue Kirke. It is also quite old – construction began in the 14th century, although the interior was renovated in the 1970s.
Nyborg is our top pick for a quick and interesting Odense day trip. It is a very pleasant town. If you are planning to drive from Odense to Copenhagen, you will pass through Nyborg on the way, and it makes sense to spend an hour or two checking out the town.
Kerteminde
This small town actually has the largest fishing port on Funen. It is located by the seaside on the northeastern part of the island, just 18 kilometers away from Odense. You can't take the train to Kerteminde, but you can take a bus, and it is also possible to ride a bike there due to the relatively small distance.
Kerteminde is an old town, founded in the 1300s, and it has some interesting churches and public sites. Tornøes Hotel is an old hotel dating back to the 17th century and highly worth seeing. The town museum of Farvegården is also recommended.
Otterup
16 kilometers directly north of Odense we find Otterup, another small town, famous for its Viking sites. A lot of Vikings were buried there, although most of the artifacts and monuments have now been moved to Odense Museum.
Still, Otterup is an interesting town to visit. It's a great example of the typical small town in Denmark. The church is worth seeing as well as the manor Nislevsgård. A trip to Otterup can be very short – you can see everything in about 2 hours – so it makes for a very easy and convenient day trip.
Assens
This town is located southwest of Odense at the Little Belt strait. It has a long history as it was mentioned in the Royal Census Book from the 13th century. At that time, it was a semi-important market town. Several houses in Assens date as far back as 1260 so there are certainly some attractions to see, despite the fact that Assens isn't very large nowadays (it has about 6,000 inhabitants).
It has become somewhat of an industrial town, but it also has cultural institutions such as museums – most notably the Assens Miniby, a miniature version of the town with its most famous buildings. The cultural house Tobaksgården has a concert hall, a cinema and an exhibition area.
To get to Assens from Odense, it is easiest to go by car or to take a bus. Expect between 45 and 60 minutes of travel time.
Faaborg
Faaborg is one of the most tourist-friendly and most visited towns on Funen. Situated on the southern end of the island, it faces many smaller islands and has a beautiful position right near the water.
Near Faaborg there are some hills – therefore, it has become a popular destination among hikers and cyclists. Culturally, it is one of Funens oldest towns. Faaborg has some old houses, a charming town centre, and some cool local museums like Øhavsmuseet and Faaborg Museum for Fynsk Malerkunst.
A day trip from Odense to Faaborg makes a lot of sense, but you might get the urge to stay for a few nights. It takes around 45 minutes to go there by car or train.
Svendborg
Svendborg is the second-largest town on the island – only Odense is larger. Therefore, Svendborg gets a lot of attention, and rightfully so. It is a decent place to visit, especially because it has a rich history as a market town as well as a significant port. With only 50 kilometers separating Odense and Svendborg and hourly trains going the distance, Svendborg should be a top contender if you are considering a day trip.
Like Faaborg, it faces the smaller islands to the south of Funen. For this reason, many domestic tourists come to visit Svendborg all year round. If you decide to visit the town, check out some of the many museums and cultural houses it has. Svendborg is also known for its musical scene – there are countless concerts there, especially in the summer. It also has a solid nightlife for a town its size.
Rudkøbing
Rudkøbing is the main town on the island of Langeland, just south of Funen.
It is a very charming place to visit. You really get that old, small-town vibe in Rudkøbing. Many houses in the town centre are traditional, there are cobblestone streets, and multiple statues out in the open.
Rudkøbing was previously an important market town, but nowadays it is mostly a tourist town. It has about 4,500 permanent inhabitants, so it is small in size, but it gets a lot of domestic tourists all year round so more people are present than what the numbers indicate. Rudkøbing is an amazing place to go on a day trip from Odense if you want to see an old market town!
Triangle Region
The Triangle Region of Denmark consists of three cities/towns: Vejle, Kolding and Fredericia. These three cities are located very close to each other and form one large metropolitan area which actually has more inhabitants than Odense itself.
Vejle is one of Denmark's most beautiful cities, with its hilly landscapes and its modern buildings along the coast. Kolding has some great attractions like the Koldinghus Castle, and Fredericia has a great history as a military town with several monuments portraying Danish soldiers.
It only takes about 45 minutes to go from Odense to one of the Triangle Region cities/towns. There are trains and buses, and of course, you can also drive yourself.
Billund
Billund is famous for its airport and for the Legoland attraction park. Most people come to visit Legoland, and that makes a lot of sense – especially if you are traveling with kids and want them to experience something more entertainment-based rather than the many cultural sights in Odense.
Expect the travel time to be around 1 hour and 20 minutes if you go from Odense to Billund.
Aarhus
Aarhus is farther away from Odense than all the other places we have mentioned so far, but it still takes under 2 hours to get there by train, so it is absolutely do-able!
There are many reasons to visit Aarhus. It is arguably Denmark's coolest city with a very youthful atmosphere, a great nightlife, world-class museums, and plenty of things to explore.
One day might be too little in Aarhus, but it is enough to give you a basic impression of the city. If you are staying in Odense and you have time for it, consider visiting Aarhus!
Copenhagen
With the fastest DSB train, it takes only 1 hour and 15 minutes to go from Odense to Copenhagen. This is certainly not too long for a day trip, so you can easily visit both of these cities on the same trip.
You could argue that Copenhagen is the best city to visit on a day trip from Odense. The Danish capital is full of cultural sights, so if you haven't already been there, it is a must to visit Copenhagen. But then again, one day is probably too little, and you would be better off planning an entire stay in Copenhagen to fully enjoy the city.
Some of the top attractions to see there are the statue of The Little Mermaid, the Rundetårn, the Queen's Castle (Amalienborg), and the historic shopping street Strøget. Read more about Copenhagen's top attractions here and find out where to stay if you are planning a longer trip to CPH!
—
That's it for now – there are plenty of great places to visit, on top of the 11 destinations we have mentioned here, but now you have some basic suggestions on where you can go if you are staying in Odense.