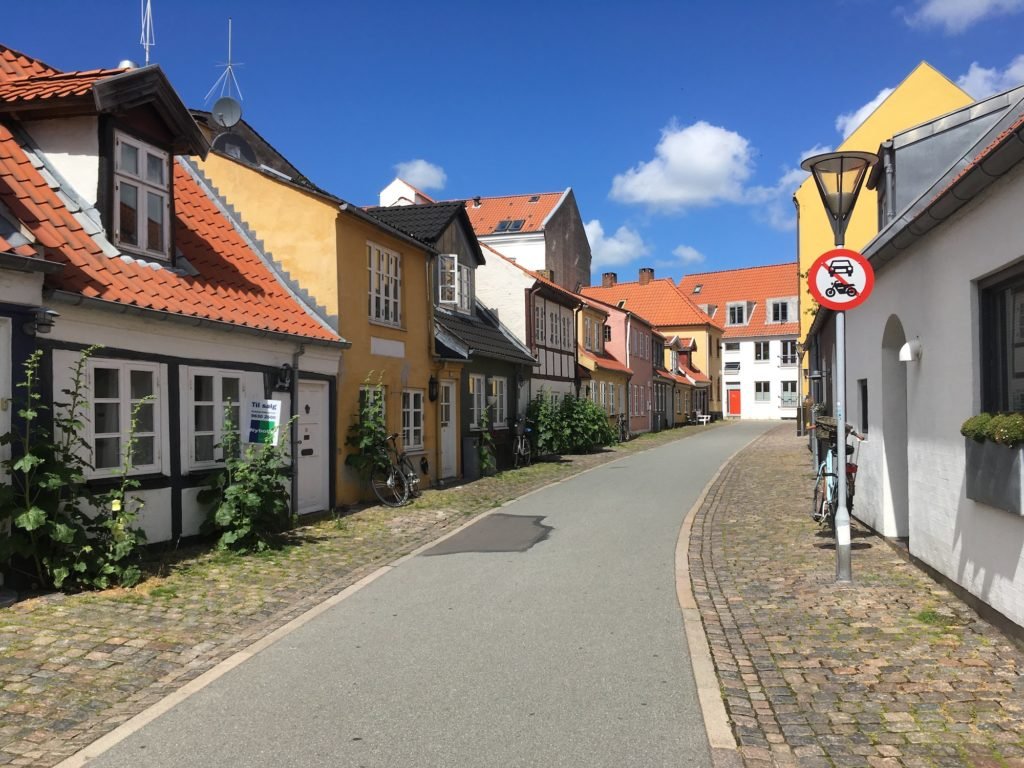 Aalborg is the largest city in Northern Denmark and it has a popular airport. Therefore, many tourists visit Aalborg, and it is also a popular destination among European exchange students. Here's a guide on what to do while you're there – we are taking a look at the best sights and attractions in Aalborg!
Historically, Aalborg has mostly been an industrial city. In recent decades, however, it has renewed itself through art, culture and entertainment. Today it is a vibrant city with many interesting things to do.
It is a city full of contrasts: On one hand, there are the beautiful idyllic houses in narrow, curly streets – and at the same time, there is the rough waterfront full of old container ships.
But all in all, Aalborg is appealing. You can do a bit of everything there. The city is ideal for the quiet, culturally interested museum lover – but also for the unstoppable party animal who wants to go out every night. You certainly won't be bored, no matter what you are into. Aalborg has it all. Let's review the best attractions!
Utzon Center
Utzon Center is an impressive museum located by the waterfront. It was designed by John Utzon – his final work before his death in 2008.
It's a beautiful building with roofs similar to the Sydney Opera House, shaped like ship sails. On the inside, the Utzon Center has exhibitions of art, architecture and various designs. Everything feels very experimental. Utzon Center also works as a center of knowledge, since it has a library on the first floor. Many local university students attend workshops at the Utzon Center, as
If you visit Utzon Center (which is highly recommended!) you should enjoy the architecture of the building, take some photos, look into the exhibitions, and enjoy the look out over Limfjorden. There is also a café and a restaurant in the Utzon Center, so it's a place where you can easy spend a half day here and have a comfortable experience.
You can get in between 11.00 and 17.00 on all days of the week except for Mondays. Entry price for an adult is 80 DKK (around 10.50€).
Address: Utzon Center, Slotspladsen 4, 9000 Aalborg
Nordkraft
Nordkraft is a cultural center – and it is very close to Utzon Center, so you can easily see both of these attractions the same day.
To explain it briefly, Nordkraft is a very entertaining place with several different facilities. Once it was an important power station, providing electricity for the city of Aalborg. These days, it's all about culture. Nordkraft has been completely transformed and now it has a theatre, a cinema, a concert hall, some great restaurants, various exhibitions, some sports facilities, Denmark's highest climbing wall, and much more depending on what is currently popular. Nordkraft is also where the main offices of the local tourist bureau, VisitAalborg, is located.
Overall, it's a must-visit. Nordkraft is an appealing place to go all year around, and it is interesting for people in all age groups.
Address: Nordkraft, Kjellerups Torv, 9000 Aalborg
Kunsten (Museum)
Kunsten is a modern art museum. To visit it, you have to head a bit southwest of the center, but it is still within walking distance if you're staying in one of Aalborg's central hotels.
The building was designed in 1957 by Finnish architect Alvar Aalto. However, the museum didn't open its doors until 1972, and since then it has been wildly popular: It gets around 100,000 visitors per year.
The collection is mostly centered around alternative Danish art. You will find pieces by famous artists, but Kunsten is also aiming to include interesting pieces by unknown artists who are in the early stages of their development. And even though Danish art is a clear focus, you will also find great works by international artists. A trip to Kunsten can be very mind-bending since many of the exhibitions are modern and they often challenge the usual way of thinking.
With new exhibitions every month, Kunsten is always worth a visit, and we highly recommend it – arguably it is one of the best attractions in Aalborg. The museum is closed on Mondays, but you can visit between 10.00 and 17.00 all other days, with extended opening hours on Wednesdays. An adult ticket is 110 DKK (around 15€), with discounts available for students, children and large groups.
Address: Kunsten Museum of Modern Art Aalborg, Kong Christians Allé 50, 9000 Aalborg
Jomfru Ane Gade
Jomfru Ane Gade is the most popular street in Aalborg. Its nickname is simply "Gaden", meaning "The Street". It's the main venue of Aalborg's wild nightlife, and if you are visiting Aalborg with the intention of experiencing the city from every angle, a night out in Jomfru Ane Gade is a must.
Even though it is a narrow pedestrian street, Jomfru Ane Gade is around 150 meters long and it has a solid amount of restaurants, bars and clubs.
There's not much point in visiting Jomfru Ane Gade during the day – unless you're just looking to eat lunch – but be sure to stop by during the evening, and there will surely be something fun to do right until the next morning. You can easily find the street since it is located in the heart of Aalborg, right in the middle of the historical center.
People from Aalborg and all the neighboring towns come to this street to party on the weekends. It's also popular among travelers, so if you're up for it, you should absolutely spend a night out in Jomfru Ane Gade!
Aalborg Zoo
Aalborg has one of the largest zoos in Denmark. It gets over 400,000 visitors per year, so it's not unreasonable to call it one of the most popular tourist attractions in Aalborg.
There are over 120 different species in the zoo, with a bit over 1,500 animals in total. It opened in 1935, but much has happened since the early days.
Aalborg Zoo was the first zoo in the world to get environmentally certified. Over the last couple of decades, there has been a great effort to be a sustainable park with nice conditions for the animals. Aalborg Zoo contributes to the preservation of endangered species, and it regularly donates its profits to environmental and animal-friendly projects throughout the world.
Needless to say, it's a great place to visit, especially when the weather is good. Aalborg Zoo is a nice attraction for everybody – but families with children will probably enjoy it the most. Visit their official website to check up on the latest prices and the current opening hours (since it depends on the season).
Address: Aalborg Zoo, Mølleparkvej 63, 9000 Aalborg
Budolfi Kirke
Budolfi Kirke is Aalborg's cathedral. With a distinct white look and a large majestic tower, there's no way you will miss it if you are walking around the center of Aalborg.
Of course, the cathedral is particularly interesting if you are into architecture. It was built in the 1300s, so throughout most of Aalborg's history, it has been a very characteristic building.
It is free to visit the cathedral, so if you wish to stop by and see it, or to simply say a prayer in beautiful surroundings, it is a great idea. Budolfi Kirke is distinctly different to most other churches in Northern Denmark, so it will be a nice sight to see.
Address: Algade 40, 9000 Aalborg
Aalborghus
Aalborghus is a small castle in Aalborg. It used to be the seat of the king's delegates in Northern Denmark, and it later became a headquarter for the tax collectors in the region.
Nobody knows when the castle was built, but the earliest mention of a castle in Aalborg is from the year 1340. It appears as though the current building wasn't made until 1553, during the reign of King Christian III.
These days, Aalborghus is still being used by the government, where administrative tasks are being handled. As a tourist, you can visit it – one of the highlights is the dungeon where prisoners were kept in the past. However, the whole place is fascinating, and be sure to enjoy the outside view as well.
Address: Slotspladsen 1, 9000 Aalborg
Jens Bangs Stenhus
Aalborg is full of cozy streets with old houses. One of the most famous houses in the city is Jens Bangs Stenhus. It is often considered to be one of the top sights in Aalborg!
It is a Renaissance house and one of the most photographed places in Aalborg. Jens Bang was a rich merchant who arrived in Aalborg when he was 22 years old. He was wildly successful and in 1621 he bought a large amount of space on the corner of Algade and Østerå. The year after, this house was constructed. Made from stone, much bigger than normal houses at the time, and facing the streets with a beautiful exterior, Jens Bangs Stenhus immediately stole the attention of everybody in Aalborg.
After Bang's death, it became an important pharmacy, nicely decorated with a painted ceiling and impressive furniture. Today, the main floor of Jens Bangs Hus houses a jewelry store, while there is a wine shop in the basement. Absolutely worth visiting!
Address: Østerågade 9, 9000 Aalborg
Aalborg Historical Museum
Like most other major cities in Denmark, Aalborg has a historical museum dedicated to the history of the city.
It tells the story of Aalborg since the Stone Age and up until now. The exhibitions of the museums are split into different categories, each representing an era in the city's history. At the same time, Aalborg Historical Museum is one of the oldest museums in the city. It opened in 1863 in various rented buildings. A couple of years later, a large building was donated to the museum and since then, the museum has been located in its current headquarters.
The main sights inside the museum are the Aalborg Living Room, detailing how locals would live in 1602, and the Sønderholm Lady, a grave with a skeleton from around year 400 with the remains of some peals and a piece of jewelry.
While the museum is closed on Sundays and Mondays, it is opened the rest of the week between 11 and 17. The entry price is 40 DKK for adults and free for everyone under the age of 18. Visit the website of the museum for more information.
Address: Aalborg Historiske Museum, Algade 48, 9000 Aalborg
Musikkens Hus
If you are into music, you should visit Musikkens Hus. The name literally means "The House of Music" and it is home to many great events.
Musikkens Hus is a brand new building, completed in 2014 and now the home of most high-class concerts, operas and shows in Aalborg. If you want a fancy night out, this is the place to go. But be sure to book your tickets online in advance if there's an opera or a concert you would like to attend – view the event calendar here.
Aside from housing some great events, Musikkens Hus is also where the local Aalborg Symphony Orchestra is based and where they regularly practice. Music students from Aalborg University also use the facilities, so not only is it a place for entertainment, but also for studying, practicing and composing.
Address: Musikkens Plads 1, 9000 Aalborg
Lindholm Høje
Not exactly in Aalborg, but close enough: If you travel a bit northwest, you can visit Lindholm Høje, located on the northern side of the Limfjord, very close to the airport.
This was an ancient burial ground for the Vikings. When the place was discovered, there was the cemetery, along with a nearby ancient village where homes, equipment, wells and other things were found. It was all covered by sand for a long time until archeologists finally made their way through.
Today it is an outdoor museum, and there is a yearly event in June where locals do an outdoor roleplay at the scene. If you are into history – particularly Viking history – you will absolutely enjoy Lindholm Høje. You can get there by taking a bus, or simply by renting a bike in Aalborg since it is only a couple of kilometers away. There is an entry price of 80 DKK per person.
Aalborg Tower
Let's finish off with one of Aalborg's best attractions – its unique tower, now a symbol of the city.
While the tower is only 50 meters tall, it is placed on a 55-meter hill, making it 105 meters above sea level.
Aalborg Tower is not located in the historical center, but just a bit outside. It was built for an exhibition in 1933 and later scheduled to be taken down again – but that never happened. Instead, the Aalborg Tower is still standing, and you can visit it. From the top, you get a great view of the city. You can spend as much time as you like, and the elevator comes when you ring the bell. After you've enjoyed the view long enough, grab a bite of food in the bistro before heading back to experience other parts of Aalborg.
Address: Søndre Skovvej 30, 9000 Aalborg
---
There are many great sights and attractions in Aalborg. Select a few of them and go explore – when you're done, you can look into some of the many restaurants in Aalborg, its nightlife, or even its many great shopping streets and malls!