The autonomous community of Galicia is situated in the northwestern corner of the Iberian peninsula. It is a part of Spain, but it also shares culture with Portugal, and it has a language of its own. Galicia is full of historic cities and towns, so let's have a look at the best places to visit in Galicia.
Santiago de Compostela
Santiago de Compostela is the capital of the Galician Community, although it isn't the largest city. But it certainly is the most famous and the most visited city in northwestern Spain. Santiago de Compostela is the end destination of the legendary pilgrimage, Camino de Santiago.
Thousands of people walk to Santiago every year from every corner of the Iberian peninsula. The most common route is starting in the Pyrenees and going through northern Spain before reaching Santiago.
It is a great experience to walk the Camino, and we highly recommend it. But you can also just do a normal trip to Santiago de Compostela, which is also very rewarding. The city is rich in cultural attractions. It also has a central location right between A Coruña and Vigo, so you can easily use this city as a base while exploring the rest of Galicia.
Vigo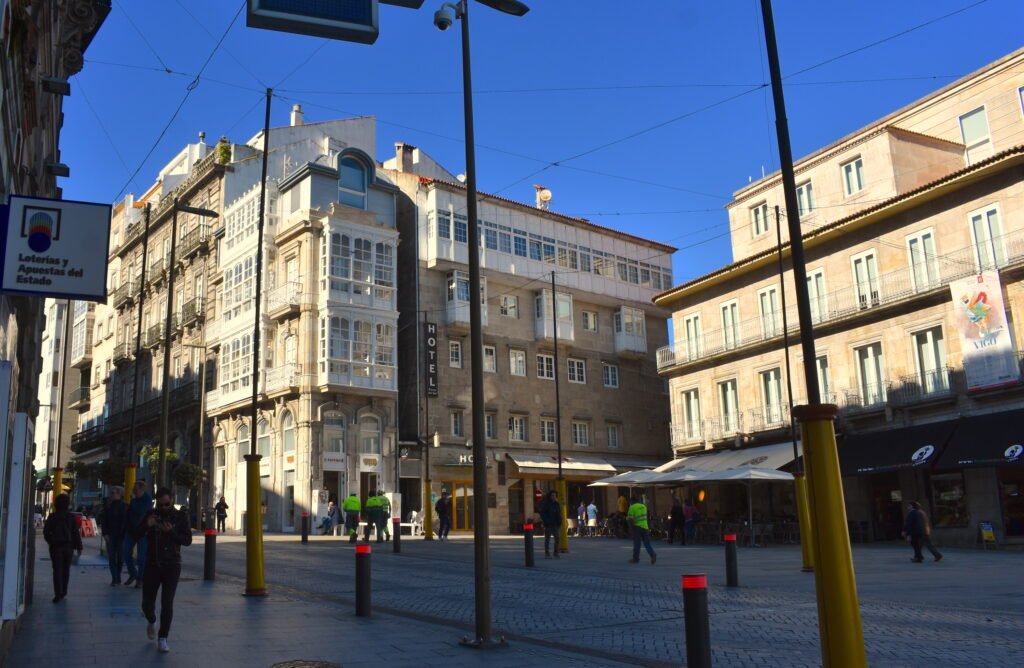 Vigo is the largest and most modern city of Galicia. It is known for its port which is the largest fishing port in the entire world. It is also one of the principal industrial ports of Spain, and one of the busiest ports when it comes to general transportation.
But Vigo has more to offer than just the port. It has a stunning city centre with cultural attractions and great options for shopping. Due to the presence of a university, it is one of the few Galician cities with a large young population. Vigo is also home to a solid football club, Celta Vigo, currently the only Galician club that is playing in La Liga.
If you want modern entertainment, great seafood, and more of a city experience, Vigo is definitely the top destination in Galicia. It has a bit of everything, so it is one of the best cities to visit in Spain.
DON'T MISS: Where to Stay in Vigo
Cíes Islands
Situated just off the coast of Vigo, we find the Cíes Islands. This is an archipelago that has been declared as a Natural Reserve by the Spanish government. That also makes it one of the top Galician destinations for travelers.
These islands are absolutely stunning, and they are great to visit in the summer. You can take a ferry to the Cíes Islands from Vigo. The trip is relatively short. Some people go hiking in the hills of the islands, while others simply enjoy the beaches. It is possible to stay there overnight, but only through camping. And you have to book your slot in advance because only a limited amount of tourists are allowed to go camping in the Cíes Islands. It is, however, an awesome experience. So if you ever get the chance to go there, do it. Camping there is the best experience, but even a brief day trip from Vigo is highly worth it as well.
Pontevedra
Pontevedra is located just north of Vigo. Most tourists combine a trip to Vigo with Pontevedra, as it makes sense to spend time in both of these cities.
Most people agree that Pontevedra is one of the most pleasant cities in Europe. It has tremendous urban planning – cars are not allowed in the city centre, and over the last few decades, efforts have been made to increase the quality of life for the inhabitants, rather than focusing solely on the economy. For this reason, many people from all around Spain have moved to Pontevedra in recent years, and it is one of the most family-friendly cities in Europe.
As a tourist, you can also enjoy Pontevedra. It is a laid-back city where you can walk around and see everything. Pontevedra has a rich history, only surpassed by Santiago if we compare it to other Galician cities. There are several old churches and monasteries to see, as well as museums, and the old neighborhood within Pontevedra has some interesting architecture. Due to the proximity to Vigo and its massive seaport, fresh fish is brought in daily, so you can also enjoy some of the many great restaurants in Pontevedra.
A Coruña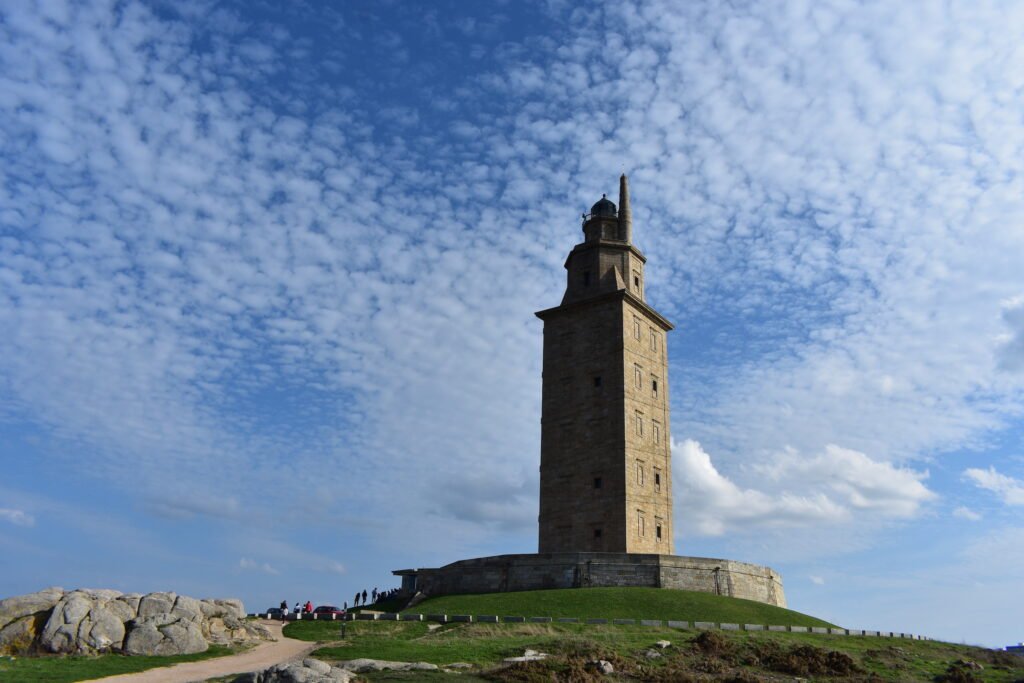 A Coruña is the second-largest city in Galicia after Vigo.
It is a top destination from a cultural viewpoint. A Coruña is one of the oldest cities in the region. The main attraction is the Tower of Hercules, an old Roman lighthouse in the northwestern tip of the city. It is the oldest lighthouse still in existence in the entire world. The Tower of Hercules is obviously a UNESCO World Heritage Site, just as you would expect. Near the lighthouse, you can also see the statue of Bréogan.
A Coruña is also home to a major port, several museums, a historic shopping district, multiple public parks, and the stunning María Pita Square – a famous meeting point and the location of many local events.
DON'T MISS: Where to Stay in A Coruña
Ferrol
Ferrol is the neighboring city of A Coruña, on the other side of the bay. It has one of the best harbours in Europe, and historically Ferrol has been one of the most important maritime cities in Europe.
The city is also famous for being the birthplace of Francisco Franco, the Spanish dictator who reigned for multiple decades. Pablo Iglesias, the founder of the Spanish Socialist Party (PSOE), was also from Ferrol.
Ferrol is a relatively small city, so most tourists decide to stay in A Coruña and take a simple day trip to Ferrol. This makes sense since you can see all the main attractions in Ferrol in one day. Yet, due to the historical significance of the city, Ferrol definitely belongs on this list of the best places to visit in Galicia.
English travelers might recognize Ferrol as the starting point of the English Way which is one of the many ways to walk the Camino. English pilgrims would typically arrive by ship in Ferrol and walk to Santiago de Compostela from there. It is still the preferred starting point for many English pilgrims to this day.
Lugo
Another traditional city in Galicia is Lugo. It is located inland, almost directly east of Santiago de Compostela, and southwest of A Coruña. Lugo is surrounded by walls – these walls date back to the time of Roman settlement, and it is the only city in the world that still has intact Roman walls. That alone makes it an interesting tourist destination.
Lugo is believed to have been founded by the Celtics before it was conquered by the Romans in 13 BC. Some of the attractions in Lugo date back to the Romans, such as the walls and the Roman bridge, while others are slightly newer but just as interesting: For instance, the beautiful Cathedral of Santa Maria.
Lugo is a fairly old-fashioned city with a calm vibe and a safe environment. The locals are very friendly. As a tourist, you can enjoy the classic sights in Lugo, and you can visit some of the bars to socialize with people. About half the population in Lugo speaks Galician as their main language, but Spanish will also be sufficient to communicate with the locals, and many young people in Lugo speak English well.
Ourense
Ourense is mostly famous for its hot springs. Historically, it has been a popular tourist destination for this reason. Ourense has a high amount of geothermal water – around 3 million liters of hot water flow from the springs every day! There is an old Roman bath in the city, many open facilities, and private luxurious baths.
Aside from the hot springs, Ourense also has other solid tourist attractions. The medieval part of the city is very interesting, and the Cathedral is a great site to visit – it is one of the oldest in Spain. Don't miss Ponte Vella, the old bridge. There are many classic attractions to see in Ourense. The city also has several services and more modern attractions. Actually, Ourense is the third-largest city in Galicia. It is easily accessible from Vigo by train. You will pass through Ourense if you ever walk the Portuguese Camino.
Ribeira Sacra
Near Ourense, we find Ribeira Sacra. This is one of the most beautiful areas of Galicia – if you are a nature enthusiast, it is simply a place you must visit.
The landscape at Ribeira Sacra is beautiful. The Sil and Minho rivers flow through the canyons of the area, and there is high vegetation. Near Ribeira Sacra, there are several old monasteries.
Most tourists never make it to Ribeira Sacra due to the location inland in Galicia. But if you are staying in Ourense, a day trip to Ribeira Sacra is an option. You can rent a car and drive there – the distance is around 25 kilometers. You can also ride a bicycle if you have a lot of energy. This will allow you to fully appreciate nature, but it is a 2-hour trip since you have to pass through some hilly sections.
Fisterra
The coastal town Fisterra is one of the prettiest in the region. It only has about 5,000 inhabitants, but many pilgrims and tourists pass by since it is common to go there after finishing the Camino.
Fisterra is situated on Costa da Morte, the rocky coast in the westernmost part of Galicia. It gives off a feeling of being the edge of the earth – similar to Cabo da Roca in Portugal.
It is primarily the rocks, the beaches, the lighthouse, and the small-town vibe that attract people to Fisterra. But it is also a significant fishing port. Fisterra has always been home to many fishermen, and nowadays there are some great restaurants, especially right near the coast.
You should absolutely make the trip to Fisterra if you are visiting Santiago de Compostela. The two places complement each other well. Santiago is rich in culture, Fisterra is rich in nature. Visiting both will give you a full taste of Galicia.
Baiona
Baiona is a really popular tourist destination among Spanish domestic travelers. It is basically a resort town located at the Bay of Vigo.
A significant number of tourists visit Baiona in the summer, typically to go to the beach and enjoy the seafood. Baiona also has a seaport. If you visit the resort during the peak of the summer, you will see many yachts and private boats at the port.
What most people don't know is that Baiona is actually an ancient town. It was founded back in 140 BC by Diomedes of Aetolia. So it has a rich history, and there is a very charming medieval quarter in the town. The Pinta ship arrived in Baiona on the 1st of March, 1493. The Pinta was the fastest of Columbus' ships, and it was the first to arrive back in Europe. That also meant that Baiona was the first town to hear of the discoveries in the Americas. There is a replica of the Pinta ship in Baiona, a very popular attraction. Another major attraction is the Montereal Castle.
Baiona is close to both Vigo and Pontevedra, so if you are staying in one of these cities, you can make a day trip to Baiona. Due to its popularity as a seaside resort, there are also hotels and holiday apartments in Baiona in case you want to stay longer.
Tui
Tui is a small town located on the border between Spain and Portugal. It faces the Portuguese town of Valença and it is the busiest border point between the two countries. Tui is a very underrated destination. There are some awesome restaurants there, and the town is very cute. You can have a great day in Tui, simply by walking around the town centre.
The Tui Cathedral is one of the top attractions in the town. It has a very simple facade, but it is a large Cathedral that is worth seeing. A visually impressive sight is the Eiffel bridge that connects Tui and Valença. The San Telmo Chapel is also beautiful to see. If you have time for it, try exploring some of the natural areas outside of the town. Monte Aloia, a nearby mountain, is great for hiking.
In order to visit Tui, simply take a bus from Vigo. The distance is not too far. You can also take a bus to Tui from Porto. If you decide to visit Tui, check out the neighboring Portuguese town of Valença as well. There is no border control, so you simply pass through.
Conclusion
Galicia is one of the most fascinated regions of Spain. It is very underrated and it doesn't get anywhere near as many tourists as other parts of the country. But perhaps that is a good thing, because it leaves more space for those who do visit, and it makes the beautiful Galician nature a bit less crowded.
The best way to experience Galicia is to stay in one of the major cities – Vigo, Santiago de Compostela, or A Coruña – and do a lot of shorter trips from there. Galicia has a solid network of trains and buses, so you can certainly get around with public transport. If you prefer a more private and flexible way of traveling, try renting a car. It isn't that expensive and it gives you full freedom to see all the best places in Galicia on your own schedule.