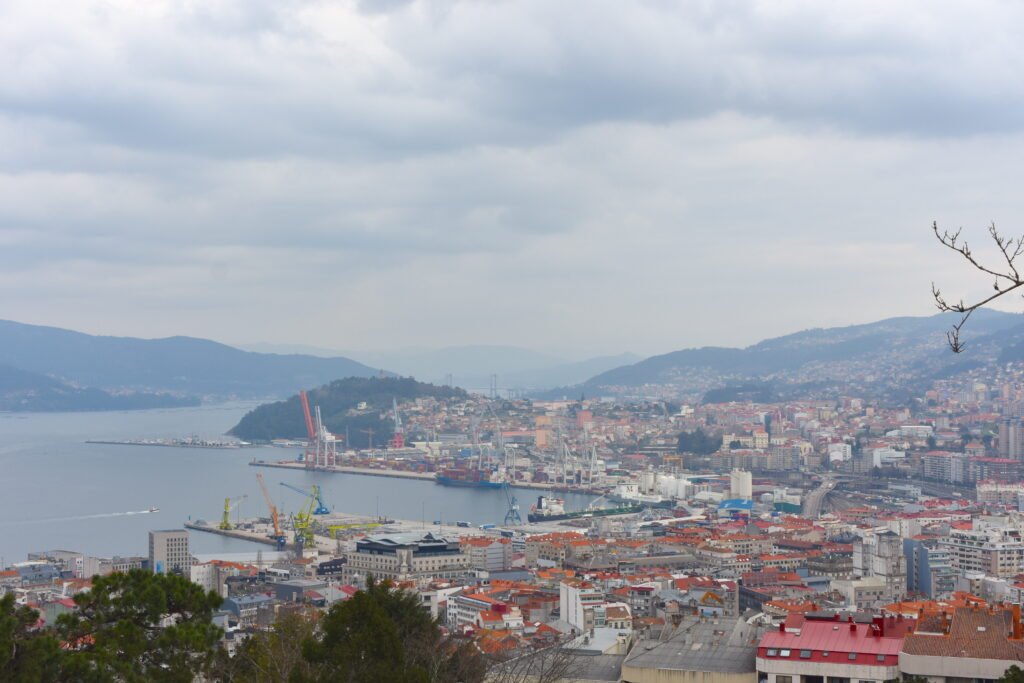 Vigo might not be as old as other towns and cities in Spain, but it certainly offers a lot of cool attractions. Many of them are modern, and some relate to nature – so there are plenty of things to see in Vigo.
A lot of visitors come to Vigo on a day trip while visiting either Porto or Santiago de Compostela. But the city warrants a longer stay for those who have the opportunity.
Depending on how much time you have in Vigo, you can decide which of the following attractions you want to see. We will be going through all the most interesting places in Vigo below.
Casco Vello (Old Town)
Vigo's Old Town is known as Casco Vello. This part of the city is usually considered to be the most charming one. Most buildings in Casco Vello were built with Galician granite, which is common throughout Vigo. The look of the Old Town is a lot different from the old parts of other Spanish cities, such as Barcelona and Seville. That alone makes the area worth seeing. Praza da Constitucíon is one of the squares you will walk by when exploring Casco Vello. There are also many old fishermen's houses which is hardly a surprise since Vigo has always been known for that.
The area is great for sightseeing and for eating out. There are many nice and traditional restaurants in Casco Vello. Naturally, most restaurants focus on seafood, but you will find a large variety of plates, depending on which restaurant you choose to visit. Some of the most famous dining streets in Vigo's Old Town are Rua Pescadería and Calle de las Ostras, but more about them later!
It is very easy to get to Casco Vello since it has a central location in the city. The district borders the port to the south, and it is immediately northwest of the modern commercial area of Vigo. Many tourists decide to stay in hotels in Casco Vello, but regardless of where you are staying in Vigo, you can easily get to the Old Town.
Islas Cíes
A few kilometers off the coast of Vigo we find the Cies Islands – known in Spanish as Islas Cíes.
This archipelago is a natural wonder and it is highly worth visiting. You can sail there from Vigo, with ferries and boats departing multiple times per day. It takes no time. The Cies Islands are very popular among the locals during the summer, and foreign tourists familiar with Vigo also consider the islands a top attraction.
Most visitors just spend a few hours on Islas Cíes. Time can be spent exploring the hills, laying on the beach, enjoying the view, or eating at one of the restaurants. If you want to stay for more than one day, it is possible. There are no hotels on the islands, but there is a camping site. You do have to book your stay in advance, though.
Quiñones de León Museum
The art museum Quiñones de León is one of the most popular museums in Vigo. We consider it to be the best one.
Situated inside a traditional manor from the 17th century, it immediately impresses its visitors. Once you get inside you will see great exhibitions of Galician art. Most of the fine arts pieces are from the 19th and 20th centuries, although there are older pieces as well. There are over 29 permanent exhibitions as well as temporary ones. While the focus is clearly on Galician art, the museum also features paintings from other European artists. There's also more than art – you will see traditional Spanish furniture, old artifacts, and much more.
One of the great things about Quiñones de León is that it is connected to the famous Prado Museum in Madrid, so some artworks from the Prado collection are stored and showed at this museum in Vigo!
On top of the beautiful building and the interesting exhibitions, don't forget to pay attention to the well-decorated gardens. Quiñones de León is surrounded by trees, flowers, and roses. It also has a fountain outside. You can stroll through the gardens after visiting the museum. A fascinating section is the Sensory Garden that has been tailored to people who struggle to see. This garden plays on other sorts of stimuli which is quite unique.
Address: Parque de Castrelos, s/n, 36213 Vigo
Port district of Vigo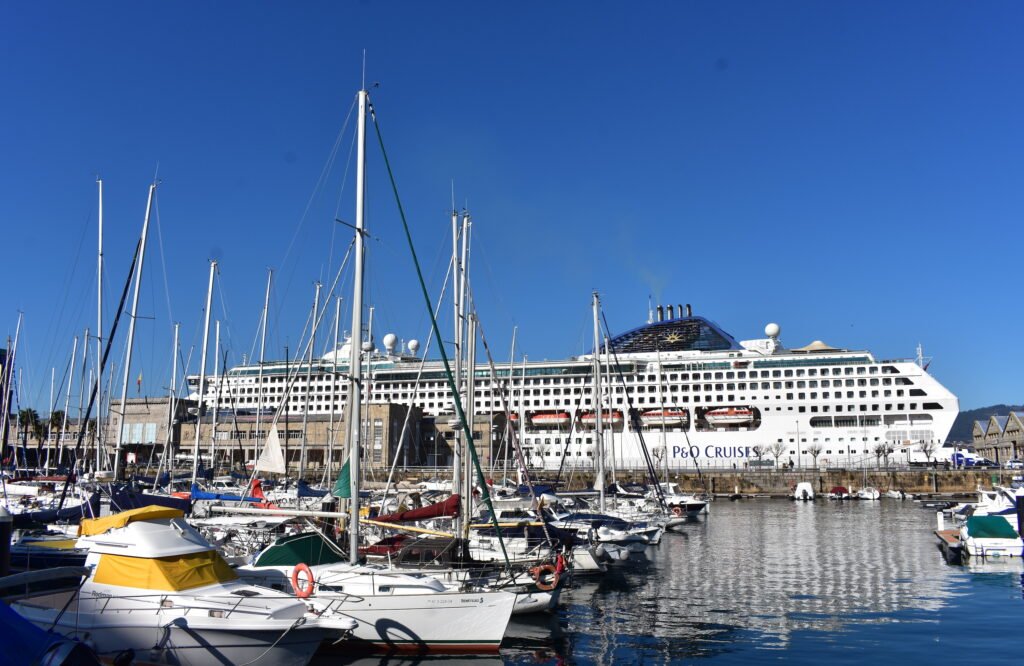 Vigo's port is the heart of the city. For centuries Vigo has been known as the gate to the Atlantic, and that is due to the massive port. It is the center of industrial commerce, and when you visit Vigo you will also see ferries and cruises present at the port. There is a marina with yachts and sport boats as well.
The entire port district of Vigo has a distinct vibe. The coastal area of the city centre is dominated by the port of Vigo, so you absolutely can't miss it. It can be very enjoyable to sit down and enjoy the fresh breeze coming from the sea. There are many benches and seating facilities near the port and obviously, you'll have Casco Vello, El Ensanche, and other cool areas nearby.
Taking a walk by the coast is a must, and there are quite a few attractions in the port districts that you can enjoy.
Monumento a Jules Verne
The most famous monument in Vigo is the sculptor of Jules Verne.
In the book 20,000 Leagues under the Sea, Verne included the Bay of Vigo, and he also came to visit the city.
The statue was raised in 2005. It was made by a local artist (José Molares) and donated to the city. It depicts Jules Verne sitting on the tentacles of a squid, symbolising his connection with Vigo.
Take a stroll down Paseo de As Avenidas by the marina and you will see the monument!
Another famous sculpture in the vicinity of the Jules Verne Monument is El Nadador (The Swimmer). It is a bronze sculpture dedicated to swimmers and it uniquely only shows the head and the arm of the swimmer. Along with the Verne sculpture, El Nadador is one of the most famous monuments in Vigo.
Parque Monte de Castro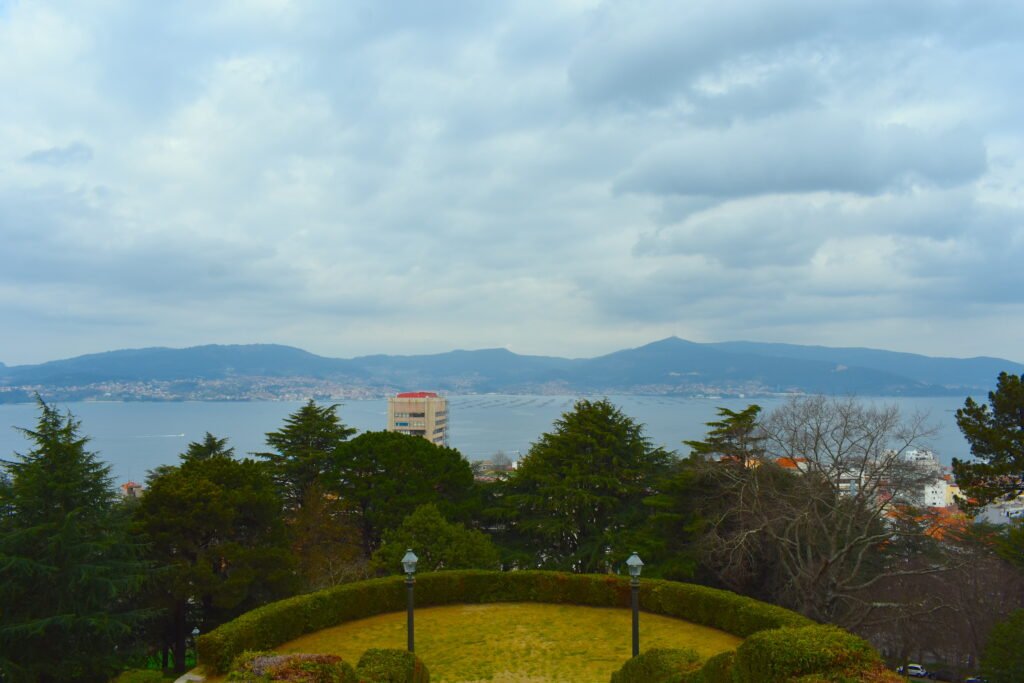 The most interesting park in Vigo is by far the Monte de Castro Park.
Unlike other parks in the city, such as the central Alameda Park, this is hardly an urban garden but rather a hill with decorations and monuments. However, it is categorized as a park, and it is a very popular tourist attraction in Vigo. It is completely free and open to the public. It requires some energy to walk up to the top of Monte de Castro – but with some good shoes, it is doable.
On the way to the top, you have several stairs and benches where you can sit down for a break if needed. Many locals go for picnics on Monte de Castro. You can do the same. There are also playgrounds and sports areas on the hill. But pay attention to the monuments and details along the way. Especially the anchors at the lower part of the mount. These anchors were put there as a commemoration of the Battle of Rande in 1702.
There are well-kept flowers, plants, and fountains at the park, but also some wild plants here and there. The absolute highlight of visiting Parque Monte de Castro is the view you get once you are up high enough. You can look down over most of Vigo, including the port district and the water. This tremendous view is the reason why most tourists decide to walk up to Monte de Castro. And it is quite central in the city, so you can easily get there on foot.
Castro Fortress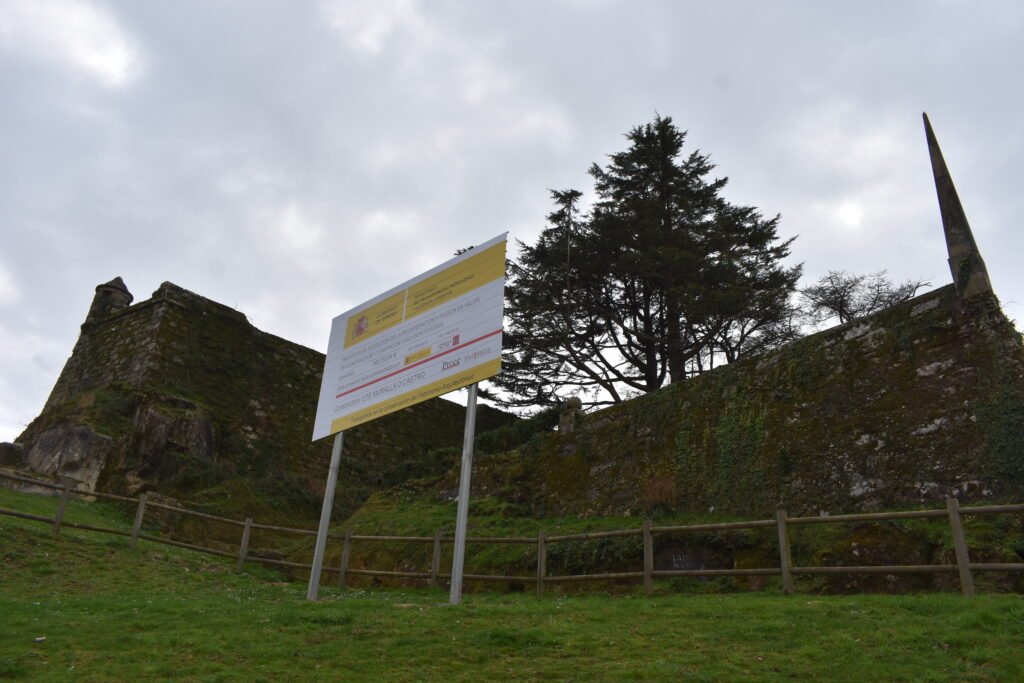 On the very top of Monte de Castro, a huge attraction awaits you. The Castro Fortress is one of the most famous attractions in Vigo. Once you reach the top of the hill, you will see its walls. The fortress was built in the 17th century as a place to command and control the area. At that time, the British Army would frequently attack the coast, so it was the ideal place to set up the artillery and defend the Bay of Vigo.
Since it is one of the most historic sites in the city, we definitely recommend you to walk to the top of the hill and see this attraction for yourself. The Castro fortress is very impressive, and the natural surroundings, as well as the view, should not be underestimated either. It is one of the best things to do in Vigo, so if you have limited time and can only choose a few attractions to see, this would be one of our top recommendations.
Rua Pescadería
Situated in the lower part of Casco Vello right near El Ensanche, we find the famous street Rua Pescadería.
It is one of the best places to go if you want some seafood! Fishermen bring in new supplies to Rua Pescadería every day. You can buy fish to bring home, or you can sit down at one of the seafood restaurants on the street. A great experience for sure.
Calle de las Ostras
In the vicinity of Rua Pescadería we fin Calle de las Ostras. This street might be even more famous than the former, as it focuses specifically on oysters. There are markets where you can buy oysters – and restaurants that serve them. Vigo is a true paradise for seafood lovers, and if that includes you, we can quickly establish that Calle de las Ostras (street of the oysters) will be one of the best places to visit in Vigo.
Church of Santa Maria
Also known as the Cathedral of Vigo and locally referred to as La Colegiata, this neoclassical church is the most important religious buildings in the city.
It is fairly new – construction began in 1811 and it was completed in 1834 – but there was a church at the site long before the current one. The original church was burnt in the 16th century by soldiers under the command of Francis Drake.
The current church is a perfect example of neoclassical Galician architecture. Thanks to the location in Vigo's Casco Vello, it is very easy to find the church. It ranks as one of the most popular attractions in the city centre.
La Colegiata has a relatively simple yet impressive facade. It famously has a sundial on its exterior which is worth paying attention to. Yet, the highlight appears once you get inside. The Santa Maria Church has the most venerated image in Vigo – the Christo de la Victoria, a sculpture granted to the city by a Catalonian industrialist in the 1700s. The sculpture once fell into the sea, but it was rescued near the Cíes Islands, and then placed at the church. It leaves the church once a year on the first Sunday of August. This is during the Festival of Vigo, a traditional celebration where thousands of locals will carry the sculpture as they walk through the streets. It is a historic Catholic procession.
The best time to visit Las Colegiata/Santa Maria Church and see Christo de la Victoria would be in the morning or around noon. After that, you can get lunch at one of the restaurants in Casco Vello and continue sightseeing in the afternoon.
Address: Praza Igrexa, 10, 36202 Vigo
Santiago de Vigo
Another fascinating church in the city is Santiago de Vigo. It has given name to its entire neighborhood, in the eastern part of the city centre. As the name suggests, Santiago de Vigo is named after Saint James the Apostle, just like the cathedral in Santiago de Compostela.
While this church is obviously not as historic as the one in Compostela, it is worth seeing. Santiago de Vigo is a Neo-Gothic church with an impressive interior. It is quite dark on the inside, but it is very quiet and peaceful. If you are into churches and religious landmarks, it should be on your list of things to do in Vigo. The church is popular among the locals, although few international tourists visit. So you can expect an authentic experience at Santiago de Vigo.
Address: Rúa de García Barbón, 20, 36201 Vigo
El Ensanche
During the 19th century, Vigo began to grow a lot, and that led to the development of the Ensanche neighborhood just east of the old town. At first, it was an industrial area, but Catalonian businessmen influenced the development of the area, and El Ensanche now has some of the best architecture in Vigo.
The neighborhood is now a nice cultural district with many great shops, restaurants, bars, and clubs. It also has a nice park, and it is well connected to other parts of the city. Locals typically go to this neighborhood when they want to have fun. El Ensanche offers the widest selection of leisure in Vigo according to Turismo de Vigo.
On top of the nice architecture, the shops, and the nightlife, Ensanche also has the nice Alameda Park which is one of the coziest areas in the city!
Casino de Vigo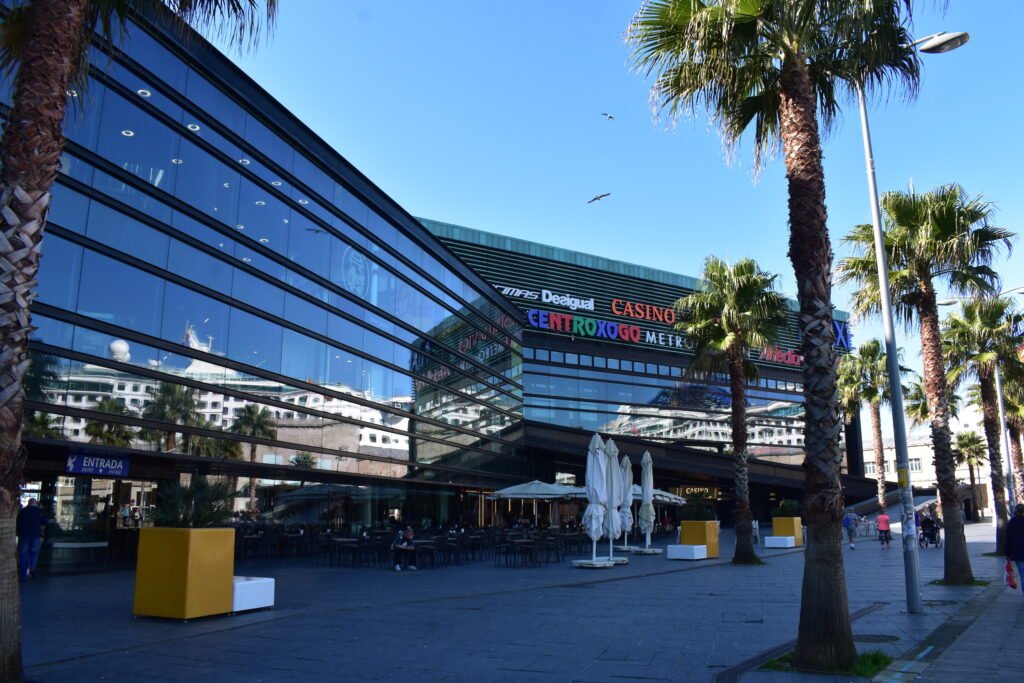 Just like many other cities in Spain, Vigo has a casino. It is known under several names – Casino de Vigo, Gran Casino Vigo, and Luckia Casino Vigo – but all these names cover the same venue.
It is situated inside the shopping centre A Laxe near the port. You can't miss it if you walk by. It costs 8€ to get into the casino, and once you're inside you can enjoy a wide variety of slot machines, table games such as roulette and blackjack, not to forget poker which is very popular in Vigo. The casino hosts cash games as well as tournaments.
The casino has a cocktail bar, a restaurant, and some special events every now and then. It is one of the best places to visit in Vigo if you want to have some fun. It is open every day of the week, typically from 10 in the morning to 23 at night, but opening hours can vary, and sometimes the casino will stay open longer. Casino de Vigo is very modern, and they will typically show football matches on the televisions in the lobby if any Spanish clubs are playing.
Address: Centro Comercial A Laxe, Rúa Cánovas del Castillo, 1, 36202 Vigo
Museum of the Sea
As mentioned countless times already, Vigo's history is deeply related to the sea. Therefore it comes as no surprise that it also has a museum dedicated to it – Museo do Mar de Galicia, or the Galician Museum of the Sea in English.
This museum has some impressive exhibitions. Most of them are permanent, and they show a bit of everything: Ships, fishing equipment, aquaculture, conservation, and seafood. You can browse the items related to the sea and the Galician coast. You can also learn from some of the many interactive screens at the museum.
One section specifically focuses on the ecosystem and teaches its visitors how we can assure that the oceans of the world remain healthy.
Museo do Mar de Galicia also has an aquarium with several different species of fish, so it is more than just regular material exhibitions. The place is highly modern, and visiting the museum is one of the best experiences you can get in Vigo.
Address: Av. da Atlántida, 160, 36208 Vigo
Naturnova Museum
Naturnova is a museum and a cultural centre. Mostly visited by locals who come to learn, it is one of the top cultural venues in Vigo.
The museum is split into three different sections: One that focuses on the universe, one on the biosphere, and one on the environment. All three are equally interesting, and you will pass through all of them when you join the free tour on Saturday afternoons.
Naturnova is open from 1st October to 30th June – so it is basically closed in the summer months of July, August, and September. Just something to be aware of. It is located inside the Afundación Social Centre which is a major exhibition centre with other attractions as well.
While Naturnova is particularly interesting to kids, teenagers, and all types of students, everyone can visit the place, and we recommend doing so if you have enough time for it!
Address: Rúa Velázquez Moreno, 18, 20, 36202 Vigo
MARCO Museum
Vigo has quite a few museums. Here is yet another one: The MARCO Museum.
MARCO is an abbreviation for Museum of Contemporary Art. It was founded in 2002 which makes it one of the newest museums in the region. The exhibitions are centered around modern art, and it can be everything from paintings and sculptures to special arrangements and alternative art.
Many come to visit MARCO to see the exhibitions, but there are also other reasons to visit. The museum sometimes hosts workshops, events, and shows. The exhibitions regularly change, so even if you have previously visited the MARCO Museum, a new visit should never be ruled out. Their website has a list of current exhibitions and you can also see the current list of activities.
Address: Rúa do Príncipe, 54, 36202 Vigo
Vigozoo
How about a visit to the zoo?
Vigozoo is Galicia's only zoo, and it is an incredibly popular place for families. It covers more than 35 square miles and has species from all around the world. At Vigozoo you can see exotic animals such as lions and tigers, but also unique species of insects, reptiles, and birds.
Lots of Galicians visit Vigozoo, but it has not yet become super popular among foreigners. If you are interested in animals, nature, and ecosystems, Vigozoo definitely ranks as one of the top attractions in Vigo. Families and groups can get a discount on the admission fee, but tickets are pretty cheap in general. An adult ticket is only 6.25€ so it is an affordable place to visit.
Vigozoo is open every day of the week except Mondays. You can expect it to be open from 10 in the morning to 19 in the evening, and in the summer opening hours are extended even further. To plan your visit, find more information at the Vigozoo website.
Address: Plaza de Los Leones, s/n, 36316 Vigo
Estadio de Balaídos
Vigo is home to the popular football club RC Celta Vigo – often just called Celta.
The club plays at Estadio de Balaídos, located in the neighborhood of Balaídos a bit south of the city centre. It can accommodate 29,000 spectators and tickets aren't too expensive.
In recent years, Celta Vigo has been one of the most fun clubs to follow in Spain. Celta has become a regular in La Liga and typically finishes mid-table in the league. Its best-ever result was fourth in the 2002/03 season. Celta reached the semifinals of the Europa League in 2017, so it is certainly a team that is competitive. Some of the most famous players to sport the light blue Celta jersey are Iago Aspas, Manolo, Hugo Mallo, Hermedita, Claude Makélélé, and Daniel Wass. While Celta always has a few foreigners on the squad, the vast majority of the players are Spanish and specifically Galician.
For as long as Celta Vigo remains in La Liga, there will be at least one match per year at a Balaídos against major clubs such as Real Madrid and Barcelona. If you can score tickets for a big match like that, you are in for a great experience. But watching any Celta Vigo match is quite cool, and even just seeing the stadium can be a solid experience for a football fan. Many shops around Vigo also sell Celta shirts and equipment. The main rival of Celta Vigo is Deportivo La Coruña. Their matches are known as the "Galician derby". Historically, these two teams have been very even – Celta has won more matches in the derby, but Deportivo has won the Spanish title, which Celta has not accomplished yet.
Address: Av. de Balaídos, s/n, 36210 Vigo
Rande Bridge
This is the cable-stayed bridge that allows motor vehicles to cross the Bay of Vigo. It is an impressive sight and relatively recent. Designed by Italian architect Fabrizio de Miranda, it has a length of 1.6 kilometers and the pillars have a height of 148 meters. The Rande Bridge is very trafficked with over 50,000 cars passing every day, so authorities are looking into a widening of the bridge.
If you are going on a day trip from Vigo to Pontevedra, you might be crossing the bridge, so enjoy the view. It is one of those attractions that people rarely prepare for, but it is actually quite impressive when you actually see it.
Monte do Galiñeiro
One of the most interesting mountains near Vigo is Monte do Galiñeiro. It is a beautiful area, and you get a perfect view of Vigo and of many Galician villages. It has a height of over 700 meters and it is a popular place for locals to go hiking.
Beaches
We will round off this article by looking at the best beaches near Vigo. While it is a coastal city, the central part of Vigo is dominated by the port, so you will have to go a few kilometers further down the coast before you find some nice beaches.
The most popular beach of Vigo is Praia de Samil. It is located in the western part of the city, over 1,700 meters long, in the districts of Alcabra and Navia. Several buses go from the city centre to Samil beach. On top of the sand and the water, there are some good restaurants nearby and several sports facilities.
Another option is Praia del Vao. It is just south of Samil, not quite as crowded, but every bit as nice.
There are 10 beaches near Vigo that are classified with a blue flag (which basically means they are sustainable). They are: Argazada, Canido, Carril, Fontaíña, Muíños de Fortiñón, Punta, Rodas, Samil, Tombo do Gato and Vao. In the entire municipality of Vigo, there are over 40 beaches, so you do have plenty of options. We should again mention the Cíes Islands – it was one of the attractions listed earlier in this article, and the islands have great beaches.
Galicia's beaches are best in the summer – for the rest of the year, the water will be cold.
While you can take a bus from the city centre to a beach, it is often easier and more comfortable to rent a car or get a taxi.
Conclusion
There are many cool things to do in Vigo, and certainly many cultural attractions to see. This article presented you with 21 suggestions, so that is a solid starting point. But Vigo has even more to offer, so don't forget to casually explore the city on your own, because you might find some hidden gems.
Other cities near Vigo can also be recommended. Porto is within a reasonable distance and has some incredible attractions.
A Coruña and Santiago de Compostela are some famous Galician tourist destinations, and you can also consider checking out Pontevedra – one of Spain's most pleasant cities, less than a half-hour away from Vigo!