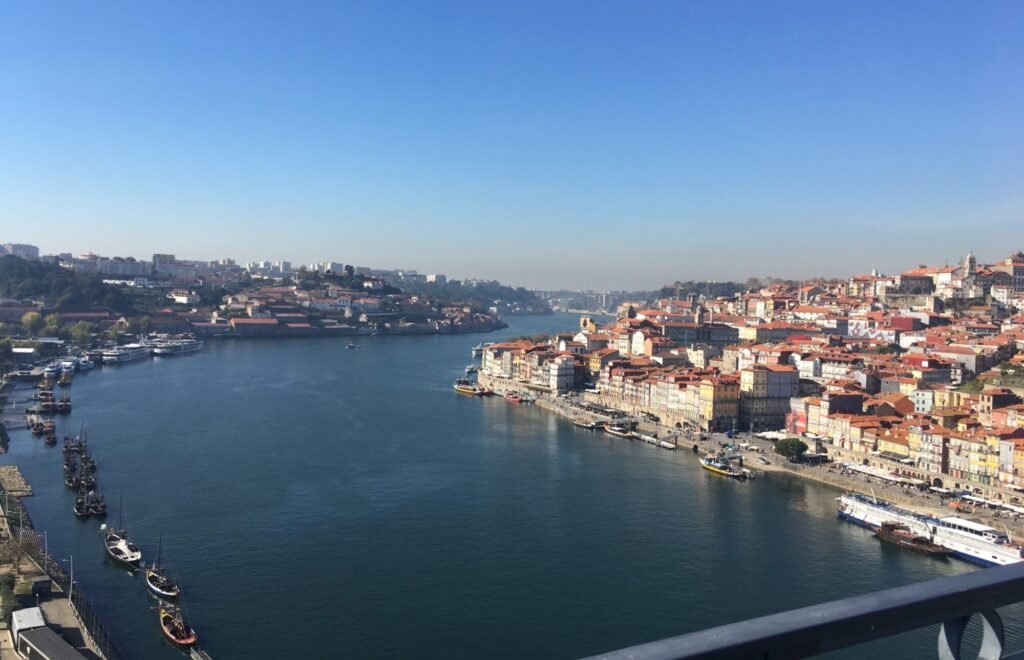 Planning a trip to Porto? This magical city in Northern Portugal has a lot to offer. It is rich in classic attractions, but it also has many modern things to do. That means the city is ideal for practically all travelers. In this article, we will show you 101 things to do in Porto – nothing more, nothing less!
Situated at the estuary of the Douro River, Porto is the second-largest city in Portugal. The historic city centre has been pronounced by UNESCO as a World Heritage Site. Porto is famous for its wines, its architecture, its cultural institutions, and its football club that ranks as one of the best in Europe.
After several visits to the city, we have made a list of the very best attractions. The list contains 101 suggestions on things to do and see in Porto, spread across several different categories, which will allow you to pick and choose based on your personal interests.
You can download the checklist with 101 things to do in Porto here! (It's a PDF-document)
Below, we will describe the top attractions in Porto in more detail. You will also find the raw 101-suggestion list again at the bottom of the article. Let's have a look at it…
Livraria Lello
You could easily make the argument that Livraria Lello is the most charming bookshop in the world.
It is one of the oldest extant bookstores in Portugal, as it opened back in 1881. Due to its history, architecture and interior, it has become a major tourist attraction as well. It used to be a bookstore you would enter just like any other, but because of the popularity, it now costs an entry fee to get in.
The interior of Livraria Lello looks like something from a Harry Potter movie. J.K. Rowling has even visited it, and rumors float around that the bookstore was part of her inspiration for the Harry Potter universe.
You have to pay 5€ to enter Livraria Lello. You can buy it near the bookstore upon arrival, or online in advance. However, this is not just an entry fee. It also works as a voucher, so if you decide to buy a book once you get inside, you can use that 5€ to pay with. In that way, it actually becomes free to visit Livraria Lello, as long as you buy a book. The selection is huge. You'll find all types of books within many different genres. Most are in Portuguese, but there are also books in English and other languages.
Because of its unique charm and history, we believe that Livraria Lello is the best attraction in Porto. A visit is highly recommended! With a super central location near Avenida dos Aliados, you should have no problem finding the bookshop.
Address: Rua das Carmelitas 144, 4050-161 Porto
Cais da Ribeira
One of the best tourist spots in Porto has to be Cais da Ribeira. It's a charming promenade right by the Duoro River in the historical part of the city. If you want to see the classic Porto, with its traditional buildings, this is the place to go.
Cais da Ribeira is an area where you can simply take a walk and just enjoy the view. Look at the river, the boats, the bustle of the people as they stroll by (this is a central and trafficked spot), or look to the other side where you find the neighboring city of Vila Nova de Gaia.
In other words, it is a great place to go exploring and to soak in the spirit of the city.
Of course, you can also sit down for a drink or a meal.
On the northern side of Cais da Ribeira, there are some decent restaurants. Try, for instance, Restaurante Terra Nova or O Muro Antigo Restaurante. Both are located right at the Ribeira.
Just make sure to stop by Cais de Ribeira at some point during your trip to Porto. And take some photos. You won't regret it!
Ponte de Dom Luís I
Immediately east of Cais de Ribeira, you'll see the most famous bridge in Porto – Ponte de Dom Luís I, or the Dom Luís I Bridge as we would say in English.
This bridge connects Porto and Vila Nova de Gaia. While it is highly practical for the locals, it has also become a massive tourist attraction and a must-see sight in Porto.
Constructed between 1881 and 1886, Ponte de Dom Luís I has a style that is very reminiscent of the Eiffel Tower. It was designed by German architect Théophile Seyrig who was very close with Eiffel and frequently worked with him. Seyrig actually won the rights to build this bridge, and the outcome is amazing. It's a metal arch bridge, and it has served as inspiration for many bridges since.
Ponte de Dom Luís I has two decks. The top deck is used for the city's metro trains and by pedestrians. The lower deck is used for cars but can also be used by pedestrians. If you go to the top deck, you can get a perfect view of Porto, and it's a great spot for some photos.
Naturally, the bridge is completely free to visit. You simply walk over it any time you please. It is particularly beautiful at night. Of course, be aware of the traffic and the surroundings! The metro trains can come quite close to the pedestrians so be aware of where you walk.
There are many bridges that cross the Douro River, but this is definitely the most famous one, and no trip to Porto is complete before you have crossed Dom Luís I!
Porto Cathedral
Porto Cathedral, known as Sé do Porto to the locals, is undoubtedly another great place of interest. The Cathedral is one of the oldest monuments in the city, as the ground was formed back in the 12th century. The current building, however, was completed around 1737 making it a bit newer.
The architectural style is Romanesque, and Porto Cathedral is considered to be one of the most important Romanesque pieces in Portugal. But it does have hints of Baroque and Gothic styles as well.
On the outside, you will identify the Cathedral from its two large towers and its grey and white façade. It can look a bit pale from the outside, since the Cathedral lacks exterior decorations.
This changes massively when you get inside. The chapels are very nicely decorated, mostly by Portuguese artists who did it during the 17th and 18th centuries. The altar section is particularly impressive, so be sure to see it. We would also recommend seeing the cloister, which is part of the Cathedral and dates back to the 14th century. The tiles of the cloister are painted and depicts scenes from the Bible, as well as from Ovid's Metamorphoses.
There's mass every day at 11 am. The Cathedral is open for visits between 9 am and 5.30 pm, with an additional opening hour during the summer months. You can access the Cathedral for free, no matter what time you come, but if you also want to see the cloister, you will have to pay a small fee of 3€.
It's fairly easy to reach Sé do Porto – it is located near the São Bento Station, and also fairly near to the river. There are other interesting churches in the area (Santa Clara, São Francisco), so if you are interested in history and architecture, you might want to spend more time in this particular area of Porto.
Address: Terreiro da Sé, 4050-573 Porto
Clérigos Tower & Church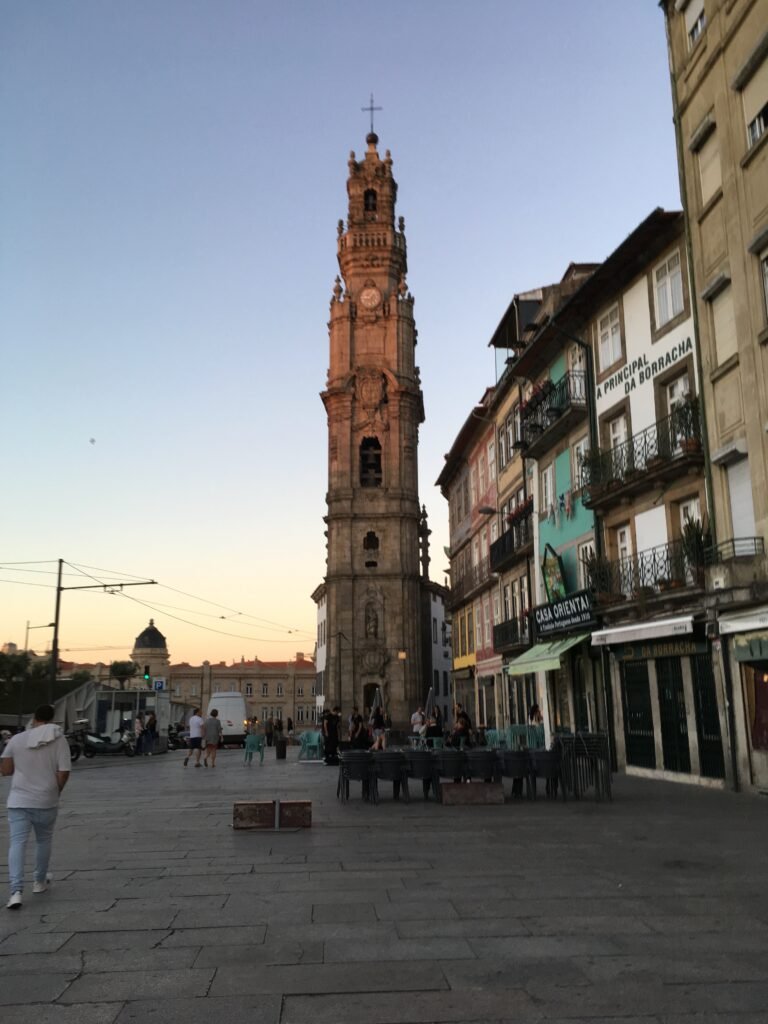 One of the most recognizable structures in Porto must be the Clérigos Tower.
Situated in the neighborhood of Clérigos, which also has the University of Porto and Livraria Lello, we find this important landmark. The Clérigos Tower is what you will notice first, but the tower is actually part of a church. It was built by Nasoni, an Italian architect who mainly worked in Northern Portugal. Completed in the mid 18th century, like so many other important places in Porto, it's a site you just can't miss!
The bell tower is tall and thin. There are 240 steps to the top, so it is quite the hike, but absolutely a great experience. With a height around 75 meters, it is one of the tallest buildings in central Porto. In front of the tower, there is a traditional stairway, and this is where you enter. The exterior has a façade full of Baroque motifs. The interior of the church is almost as impressive as the tower – which is why we advise you to see both.
A day pass to the tower and the Clérigos Museum (combined) will cost 6 euros. However, we recommend that you book a guided tour which only costs 50 cents extra! The church itself is free to visit. There are special tours at night – during this time, you will find that the place really comes to life. A night pass is priced at just 5€, so if you want to save a buck while also getting a special experience, you should visit the Clérigos Tower at night!
Address: R. de São Filipe de Nery, 4050-546 Porto
Estádio do Dragão
Portugal is a nation that loves futebol and the passion is arguably strongest in the north. While Porto and its suburbs have several interesting clubs, the biggest one is FC Porto.
FC Porto plays its matches at Estádio do Dragão – the massive stadium that was constructed for the 2004 Euros tournament. This all-seater stadium with a capacity for 50,000 spectators is a prime attraction in the city. It is a UEFA Category Four stadium, and that means you will regularly find top-notch football matches here.
We highly recommend you to try and get tickets for an FC Porto match. Porto plays over 20 home matches per year, so if you time your trip correctly, or if you are lucky, you might be in town for a match.
The highlights of the year are the matches between Porto and other Portuguese top teams such as Benfica, Sporting, and Braga. Don't underestimate the local derby against Boavista FC. Boavista is another Porto-based club, and a trip to its stadium Estádio do Bessa can also be recommended for football fans. The two clubs usually face off on two occasions each season, in highly anticipated matches.
Prices for a Dragão-ticket will depend on the seating area and on the opponent. If you're not going to Porto while a match is scheduled, you can still go to the stadium and enjoy some football history. It is possible to get a tour of the stadium, and FC Porto also has a museum and a shop there. Prices start at 12€ for a stadium tour – it can be booked online in advance or at location.
Estádio do Dragão is located in the east of Porto. There are several metro lines headed directly there. You can also take a taxi – every driver will know the way.
Address: Via Futebol Clube do Porto, 4350-451 Porto
Casa da Música
Porto's concert hall is famous for its architecture as well as for its events.
Casa da Música was inaugurated in 2005 which makes it one of the more modern attractions in the city. Located in the neighborhood of Boavista, it is a massive structure made of Jordian marble. Casa da Música is used almost exclusively for musical performances, so if you want to attend an indoor concert while in Porto, this is the place to visit.
On the official website, you can check the calendar and see all the upcoming concerts. It is also possible to buy tickets through the website.
Aside from attending concerts, you can also visit Casa da Música when events aren't taking place. The building is fascinating due to its architecture, but also due to its impressive interior that is made to accentuate the experience when attending a concert. There are guided tours every day, in Portuguese, English, French and Spanish, so even on non-performance days, there is reason to visit. Usually it costs 10€ per person to attend one of these guided tours where you will be part of a group. There are discounts for student groups.
Casa da Música also has a restaurant and a café. Local talents use the venue to practice their art, so aside from the major performances taking place in Porto's concert hall, the facilities are also put into constructive use on the regular when the upcoming stars are working on their craft.
Definitely a place worth visiting if you want a cultural experience in Porto!
Address: Avenida da Boavista, 604-610, 4149-071 Porto
São Bento Station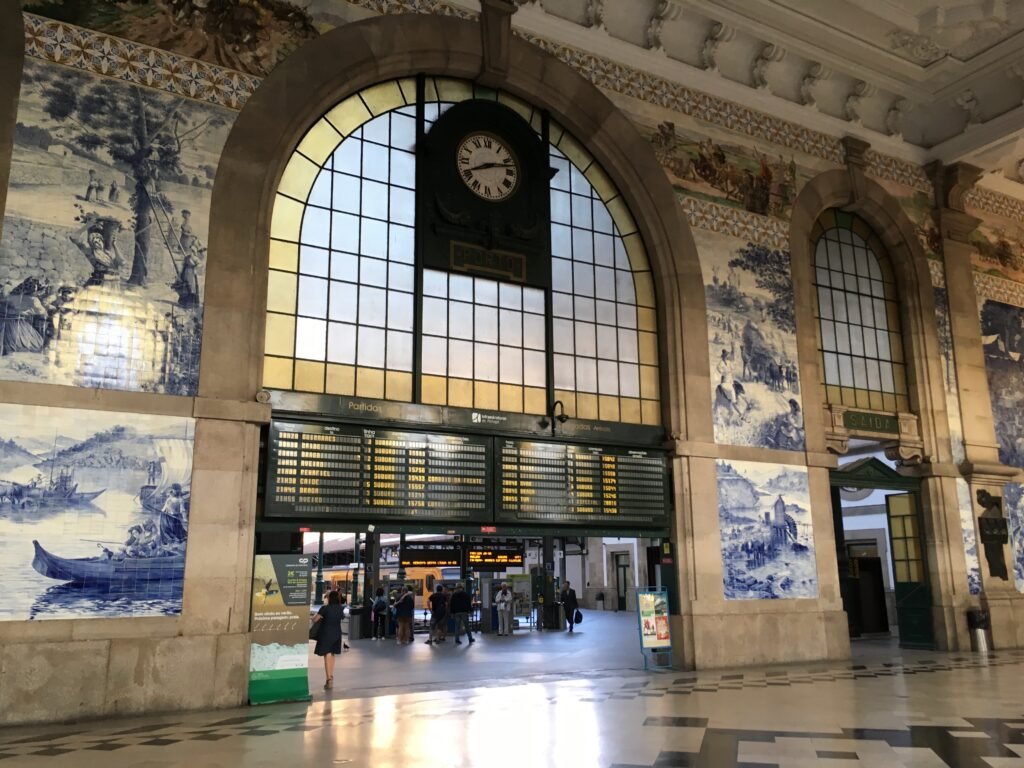 How often does a train station appear on a list of attractions? Not often – but that is actually the case in Porto!
Because one of the absolute best things to see in Porto is its central train station, São Bento. Located right in the centre of the city (the UNESCO World Heritage area), this station is just a little over a hundred years old. As soon as you step into the vestibule, you will see its beautiful decorations. São Bento has large Azulejo tile panels – over 20,000 in total – and visually, they show historic images.
It has to be one of the most beautiful train stations in the world. Upon entering, you will also see many tourists coming in to take photos. Some locals love to tell people about the imagery on those walls, filling you in on Portuguese history.
Aside from being an impressive attraction in Porto, São Bento also has its practical purposes. It is a highly important station: São Bento connects Porto with other cities in the north. From here, you can go to cities such as Braga, Guimarães and Aveiro. The price is often very low, and you can buy tickets on the self-service machines on the station. You can also take a train to Porto's larger station, Campanhã, located in the outskirts of the city, but just one stop away from any line departing from São Bento.
São Bento should be experienced for its beauty, but it might also be the gateway to all of your day trips while in Porto. We highly recommend taking a train to one of those other historic cities in Northern Portugal!
Address: Praça de Almeida Garrett, 4000-069 Porto
Avenida dos Aliados
Avenida dos Aliados is considered to be Porto's ultimate city-centre.
This avenue is flanked with beautiful architecture on all sides, and it also has countless monuments. Many of the city's best hotels are located on Avenida dos Aliados, and it truly is an awesome place to stay. But even if you're not staying there, make sure you walk past it once or twice.
The head of the avenue is home to the town hall. It has a 70 meter high tower, almost as high as Clérigos. When walking down Aliados, you will quickly notice that it is a financial centre, too – there are countless banks, among them the Bank of Portugal. Insurance companies are also present, and while none of these places are of much use to tourists, you might be fascinated by the beautiful architecture of the buildings.
Once upon a time, the famous Café Imperial was located on the avenue. It is now a McDonald's, which may sound like a negative development, but not so fast – this McDonald's has actually kept much of the original style of Café Imperial, and it is considered by most people to be the most unique and stylish McDonald's in the world. In front, you are greeted with a massive eagle over the Mac logo. The interior still has Art Deco glass and chandeliers, there's plenty of space, and many people do in fact treat this McDonald's like it's just a café.
Of course, there are other restaurants and cafés on and around the avenue, so you have several options if you need a quick bite or a drink. The square of Praça da Liberdade is situated in the lower end of Avenida dos Aliados, another important place of interest.
Aliados is visually impressive, it is right in the centre, and if you're meeting any other travelers or locals, this is always a great place to arrange your meeting.
Porto City Park
Not everything has to be cultural – and not everything has to be central.
In the western area of Porto, we find the highly popular City Park. In Portuguese, it is known as "Parque da Cidade do Porto", but frequently just referred to as "Parque da Cidade".
Being the largest city park in the entire country, Porto City Park has many different species of trees and plants. There are also open areas, lakes, park benches, so it's a wonderful place to go for a picnic. You will also see lots of people meeting here, groups of friends as well as families. There are frequent activities. Sometimes, concerts are held in the park during the warmer months.
If you want a calm day in natural settings, this is the place to go. You can also go here to exercise, to attend a meetup, or simply to get a different impression of Porto. Most travel guides rate the City Park as one of the best things to do in Porto. We are completely on board with that, and if you have the time for it, you should definitely visit it.
To reach the park by car or bike, simply follow Avenida da Boavista to the west. Buses 205, 500 and 502 also go there. Metro Line A will also take you pretty close to the park.
Address: Avenida da Boavista, 4781 – 4100 121 Porto
Exploring Porto
A list of attractions is good to have. It will help you find the top spots, and we certainly hope that our recommendations are useful for that.
But part of the charm is also to explore the city on your own. There are always attractions and activities that aren't publicized anywhere. Sometimes you just have to go around and see what you find. You never know if there is an awesome restaurant around the corner, a cool shop, a small museum, or a historic monument. It feels great to be taken by surprise. So when you go to Porto, make sure you see the most important things, but also make sure to set aside some hours for more casual exploring without any specific plan. It pays off!
Getting around the city
Porto is a relatively easy city to get around in. The city centre is compact, so if you want to walk around, that will be possible for the most part – except if you want to go to the beach or somewhere far.
The metro is useful for short as well as medium distances. Porto has a nice light-rail system with 5 different lines. Trindade is the main metro station (all lines are connected to this station) and you can easily go to Porto's main areas with the metro. It even takes you to neighboring cities and towns, such as Vila Nova de Gaia, Matosinhos and Póvoa de Varzim. When you take the metro for the first time, you get a paper metro card. Don't throw this out, you can recharge it. If you only intend to use the metro now and then, just buy single tickets whenever needed. If you know that you will use the metro a lot, you can buy multiple tickets or day passes from the beginning. You "beep" in your card before entering the metro.
Porto also has a lot of buses and they are very affordable, just like the metro.
Taxis are available but a bit more expensive. Still, if you like flexible transportation, it's an option you can take advantage of.
Is Porto worth visiting?
Yes! Porto is highly worth visiting. There are many great tourist attractions in Porto, and there is a wide variety of things to do.
If you love history and architecture, Porto is a great city to visit. It is also great for modern culture and entertainment. In fact, Porto has a bit of everything, so it appeals to almost all travelers.
A lot of tourists visit Porto in the summer months, so if you want the best prices and the most authentic experience, try to go in the winter, in the early spring, or in the late autumn. It will be colder and perhaps very rainy, but you can explore all the culture and get a true taste of Porto. If you want to mix a cultural vacation with a beach vacation, the summer is a great time to go, but you will also notice way more tourists around in June, July and August.
101 activities in Porto (list)
After scoping in on the top attractions in Porto, it is time for the list of 101 activities in the city as promised in the beginning. This will ensure that you always have stuff to do while visiting Porto. We are not saying you should do everything on the list – that would be impossible unless you are staying for a month or more – but you can use it as inspiration.
We have categorized the suggested activities across different groups so that you can find the exact things that interest you. Let's have a look at it.
Classic attractions in Porto:
Livraria Lello
Cais da Ribeira
Douro River
Ponte de Dom Luís I
Ponte de Arrábida
Vila Nova de Gaia wine cellars
São Bento Station
Café Imperial (now McD on Aliados)
Bolsa Palace
Churches:
Porto Cathedral (Sé do Porto)
Clérigos Church
Church of St. Francis (São Francisco)
Church of Santa Clara
Carmelitas Church
Carmo Church
Santo Ildefonso
Mosteiro da Serra do Pilar (Monastery)
Serra do Pilar (Monastery)
Lapa Church
Misericórdia Church
Museums:
Clérigos Museum
Serralves Museum

National Museum Soares dos Reis

World of Discoveries
Casa do Infante
Portuguese Centre of Photography
Museu Romântico da Quinta da Macieirinha
Museu Militar do Porto
Tram Museum
MASA Museum (Sacret Art and Archaeology)
Museum of Natural History and Science of University of Porto
Museu da Quinta de Santiago
Casa da Arquitectura
Press Museum
FC Porto Museum
Architecture and landmarks:
Chapel of Souls

Casa de Serralves
Episcopal Palace
Avenida dos Aliados
Liberdade Square
Dom Pedro IV Statue
Rua das Flores
Fort of Saint Francis Xavier
Muralha Fernandina
Parks:
City Park (Parque da Cidade do Porto)
Parque de Serralves
Jardim do Palácio de Cristal
Jardim do Passeio Alegre
Garden of Morro
Parque de São Roque
Biological Park in Gaia
Entertainment:
Casa da Música
SEA LIFE Aquarium
Maia Zoo
Teatro Nacional São João
Teatro Municipal Rivoli
Coliseu do Porto
Maus Hábitos
Graham's Port Lodge
Shopping:
Rua Santa Catarina (major shopping street)
Via Catarina Shopping
La Vie Porto Baixa
Mercado do Bolhão
Norteshopping
Alameda Shopping
Mercado Bom Sucesso
Mercado de Matosinhos
El Corte Inglés in Gaia
Sports:
Estádio do Dragão (FC Porto)
Estádio do Bessa (Boavista)
Estádio da Mata Real (Paços de Ferreira)
Estádio do Arcos (Rio Ave)
North Surf Circuit
Oporto Golf Club
Beaches:
Slightly outside of Porto, there are some nice beaches… here are some that are within a half hour of driving.
Foz
Gondarém (in Foz)
Matosinhos
Leça da Palmeira (in Matosinhos)
Homem do Leme
Praia dos Ingleses
Aguda Beach (Gaia)
Canide Sul (Gaia)
Moreiró (Vila do Conde)
Special restaurants and cafés:
Pedro Lemos
Bufete Fase (for Francesinha)
Restaurante Cafeina
ODE Porto Winehouse
Casa de Chá da Boa Nova
Restaurante Bacalhau
O Paparico
Esquina do Avesso
Day trips:
Braga
Guimarães
Povoa de Varzim
Vigo
Tui
Espinho
Vila Real
Aveiro
Coimbra
Figueira da Foz
And of course… exploring the city itself, the atmosphere and the mood of Porto! We have chosen that as the 101st attraction, on top of the 100 in the list above.
Conclusion
To conclude, we really hope you will enjoy your trip to Porto.
It truly is one of the most magical cities in the world. Equipped with this list of attractions, you now know exactly where to go!