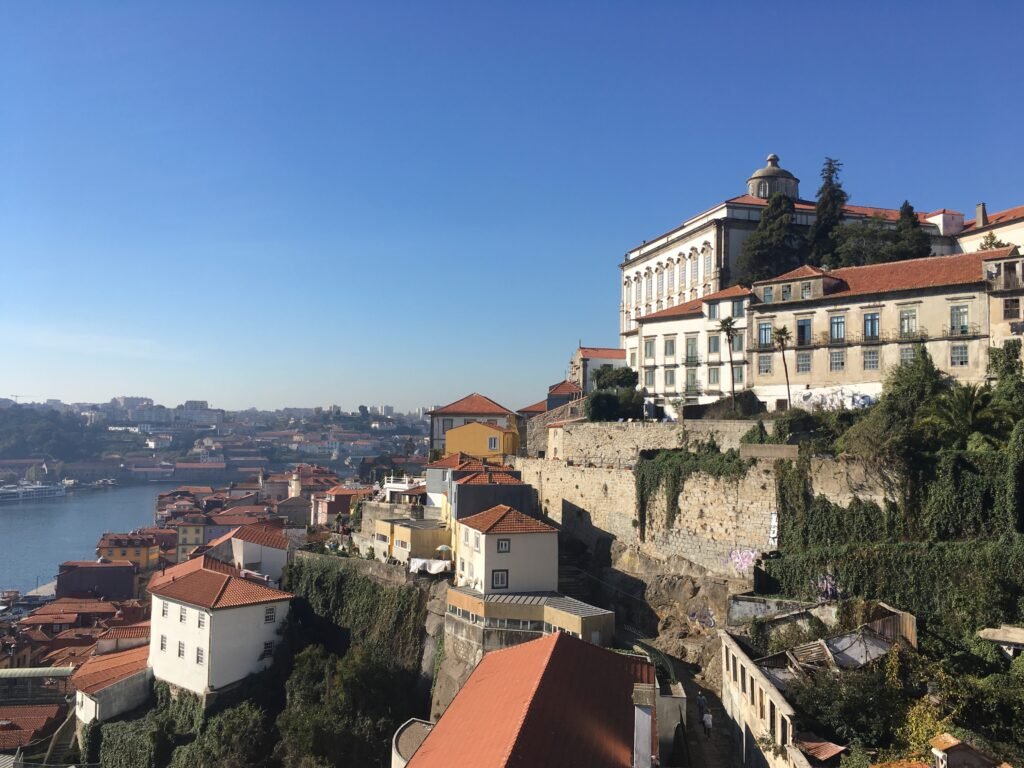 It's important to find a nice place to stay while visiting a cultural city like Porto. Ideally, you want to be in a central and safe neighborhood – and the hotel should have all the amenities you need. The good news is that Porto has a lot of cool areas and countless intriguing hotels. The only question is which one to pick, and we are here to help you make that decision.
We've found that most web articles on where to stay in Porto are overly complicated. They present you with too many options, without actually mentioning what is unique about each place.
We recommend Hotel Infante Sagres if you want a beautiful stay in the centre and enjoy all the attractions in the city.
For a luxury stay in Porto, you should pick Vila Foz near the beach.
And if you want a cheap stay in the centre, while still enjoying your trip, pick Pao de Acucar!
Those are our general recommendations. But as you might have expected, Porto is such an interesting city that it can be worth it to dig deeper into the options. We will do that below by taking a look at each of the best Porto neighborhoods – and we will recommend the best Porto hotels for families, couples, singles, friend groups, and every other type of traveler if you are looking for something special.
Baixa
Baixa is also known as Sé. Most people just call it Baixa, though. Many tourists refer to it as Downtown Porto since it is the deep centre of the city.
This is an awesome area to stay in – simply because Baixa/Sé has an incredible amount of attractions, restaurants, and nice hotels. You will have everything you need if you stay in Baixa. And it has the charm and passion of the city. It's very authentic and it gives you a proper impression of Porto.
Baixa is basically located right above the Ribeira. It's in the Baixa area that Avenida dos Aliados, the most important avenue, is located. It's also where you'll find the São Bento station, the Lello bookstore, the Clérigos tower and church, the Bolhão market, and some of the best shopping streets like Rua da Santa Catarina. The architecture is mostly traditional, there's a great number of restaurants, and Baixa/Sé is also home to Porto's best nightlife venues.
Overall, it has everything you are looking for as a traveler. You will never be bored in the Baixa area because of all the surrounding attractions. There are multiple metro stations in the area, and the São Bento station even gives you access to other cities.
The downsides will be that the area can sometimes be a bit crowded/loud. It can also be more expensive than other areas, because this is obviously where most tourists want to be.
Who should stay in this part of Porto?
Anyone coming to Porto for sightseeing. Anyone who wants to stay central.
What is the best hotel in Baixa/Sé?
We have two suggestions: One pricy luxury hotel, and one very affordable hotel in the Baixa area.
Hotel Infante Sagres is a 5-star luxury hotel in the heart of the city, near Aliados. The hotel is actually situated in a traditional and historic building. It was renovated recently so the facilities are in order. Rooms are spacious, beautiful and well-furnished. If you want a sophisticated, central and luxurious stay in Porto, this is the hotel to book. However, the number of rooms is rather limited, so you should book early. Prices start at 250€ per night and go up – depending on which room you pick.
Book your stay with Hotel Infante Sagres here!
If you want a more affordable hotel in central Porto, take a look at Pao de Acucar Hotel. Like the luxury hotel above, it has an extremely good location just 100 meters away from Aliados. Most of the city's top attraction are within few minutes of walking. The hotel has a distinct Art Deco style with vintage furniture inside, a terrace, and some nice extra facilities for those who need it. The hotel even has a library which is fun to visit.
There are many rooms to choose from and prices start at just 45€ – but be prepared to pay more than that for larger rooms and especially during the peak season. Even so, you can find rooms for less than 100€ per night, which is a great deal in central Porto. This is a really nice hotel that gets great reviews. The location is perfect, and you can also enjoy choose to a breakfast buffet in the morning before starting the sightseeing.
Book your room with Pao de Acucar here!
Ribeira
You could make the argument that Ribeira is the best neighborhood rather than Baixa. Some people certainly prefer the Ribeira area due to its history and authenticity. It's the most famous neighborhood and it is located right by the Douro River which makes it very picturesque.
It has some great attractions, it arguably has the most charming architecture, and it has a lot of history. There are lots of restaurants in the area and they are mostly really good. You also have easy access to Vila Nova de Gaia – the city on the other side of the river – where most of the winehouses are located.
BUT! Ribeira is also the most touristy area of Porto. Everyone comes here to take photos, also the tourists who are staying in other areas. It can be crowded – especially during the daytime. There can also be some tourist traps, like overcharging restaurants and multiple souvenir shops. Ribeira is the southernmost neighborhood in the city centre of Porto. If you want to walk up to Baixa or another area of the city, you have to walk up a hill which can be a bit annoying.
There's no doubt that this area is absolutely beautiful and charming. That is enough to attract people, especially as there are also many great things to see in and near the Ribeira. If you don't mind that the area is crowded and touristic, and if you don't mind paying a bit more for the experience, then you should definitely stay here. If you need a bit more space, just pick another area to stay in and walk to the Ribeira during one of the days on your trip.
Who should stay in this part of Porto?
Culturally interested travelers. Photographers. Everyone who wants to be right by the river.
What is the best hotel in Ribeira?
We recommend the Porto River Hotel. Actually, it's an apartment-hotel, meaning that you get a spacious apartment rather than just a little room. Each apartment has a small kitchen. There's also great furniture, and it is clear that a lot of effort has been put into the interior design. Despite the fact that this is an apartment-hotel rather than a normal hotel, the service is great, and you get great service when you need it.
Porto River Hotel is located in the heart of the Ribeira neighborhood. On average, previous visitors have rated the location as 9.8 out of 10 on Booking.com! You might also like to know that the Porto River Hotel has 4 stars.
For an authentic stay in Porto, you won't find anything better. It's an amazing hotel. But you should know that only some of the apartments have a full view of the river. So we urge you to book one of the apartments that has a river view. That will cost a slight bit extra, but it's worth it. You should also book early because this is a wildly popular hotel! Prices start around 150€ per night and go up from there, but expect higher prices than normal during the summer.
Book your apartment with the Porto River Hotel here!
Cedofeita
Cedofeita is a relatively large area that connects the old Porto with the new. That makes it a cool, hip, and intriguing neighborhood that appeals to travelers who want the best of everything.
Cedofeita is located in between Baixa (historical centre) and Boavista (fancy, business district). When staying in this neighborhood, you will be in a very comfortable position. You can easily stroll down to Baixa to see the classic attractions. And the area of Cedofeita has a lot to offer itself: There are many museums, restaurants, cafés, theatres, and outdoor attractions.
It's a great location for couples who want a romantic trip. Families will also enjoy Cedofeita. With several metro stations, you can easily get around to other parts of the city. You can also just walk. There's a more local vibe, since the local-to-tourist ratio will be much higher in Cedofeita than in Baixa and Ribeira.
While there are several great hotels to choose from, Cedofeita also boasts some of the best holiday apartments in Porto – just check Airbnb!
Some sections can get loud in the weekends, but aside from that it is a quiet and safe area. Solo travelers and groups of friends might want to skip this area – simply because the deep centre of Baixa is better suited for fast-paced activities and nightlife – but couples, families, shoppers and museum lovers will feel right at home in Cedofeita.
What is the best hotel in Cedofeita?
We actually recommend picking an Airbnb if you want to stay in Cedofeita. This will give an authentic experience of the neighborhood. There are way more holiday apartments in this area than there are hotels.
However, if you do want to stay in a hotel in Porto's Cedofeita neighborhood, you can consider Mira D'Aire. It has a great location, and it is a simple, charming and affordable hotel. There are several different rooms, and they vary in size. You can expect to pay between 50 and 100€ per night in this Porto hotel, depending on how much space you need. It's not the highest rated hotel in the city by any means, but for a cozy stay in a great location, you can definitely decide to stay here.
Book your room at Mira D'Aire here!
Boavista
Boavista is considered to be the main business district of Porto, as well as the home neighborhood to the wealthy. In contrast to several other neighborhoods, Boavista is mostly inhabited by white-collar workers and business is the main reason to stay here.
You'll see a lot of modern architecture in this part of Porto, which can obviously be a plus. Boavista is considered to be central, although it's not the historic centre. From the historic centre, it takes about 10 minutes with car or metro to reach Boavista. Walking takes about a half hour.
The main benefits of staying in the Boavista neighborhood of Porto are that it is less touristic, less crowded, and more upscale than most areas of the city. It's relatively easy to find hotels and holiday apartments here. There are a lot of corporate hotels. Also, you won't be too far away from everything else in Porto, so staying here can be practical.
There are a few nice attractions in the neighborhood. Casa da Música is probably the top venue, but don't forget about the Serralves Museum. The football club Boavista is also from this part of the city – the club plays at Estádio do Bessa. So there are definitely things to see. You will also have several nice dining options. The only major downside is that Boavista isn't particularly charming or traditional like some other neighborhoods are.
Who should stay in this part of Porto?
Business travelers, posh tourists, and families who don't want to stay in the crowded historic centre.
What is the best hotel in the Boavista area?
In the eastern part of Boavista, near many business facilities and near the Boavista football stadium, we have the super large Crowne Plaza Porto. You can expect top-notch service here because it is one of the few 5-star hotels in Porto! It was previously called Tiana Park Atlantic, but it changed after Crowne Plaza took over. The quality is still unequivocal and it is rated as one of the best hotels in the region. It is well-suited for business travelers, but also suitable for tourists who want a luxury stay in different settings than the crazy city centre. There are great transportation options nearby, so you can still get around, and it only takes a bit over 10 minutes to reach the centre quickly when you want to go sightseeing. Shops and restaurants are already plentiful in the area around the hotel.
Reserve your room at Crowne Plaza Porto here!
Hotel da Música is a nice alternative if you want to be in the eastern part of the neighborhood closer to the centre, and in a more cultural setting than the many business hotels in Boavista. It is located right next to Casa da Música, Porto's famous concert hall. Prices are also very reasonable so Hotel da Música makes sense from multiple angles.
Book your stay with Hotel da Música here!
Foz
In the western side of Porto, we find the neighborhood of Foz. Previously a village for fishermen, it has grown into being a part of Porto, and it is now a very upscale area.
The official name is actually "Foz do Douro" but all locals just call it Foz – so you can do the same. The appeal of Foz is the coastline. If you want to go to the beach while in Porto, and still somewhat close to the city centre with frequent transport connections, Foz is a great area.
It does have some attractions on its own, too. Foz has Castelo de São João, a lighthouse, some pretty architecture, and several nice places for eating out.
Foz is mostly inhabited by citizens with plenty of money. As mentioned before, it is a very upscale neighborhood. In some ways, especially with reputation and attitude, Foz is to Porto as Cascais is to Lisbon – the area is highly popular but expensive. The beach area is great. Foz is also home to the prestigious Catholic university.
Despite being such a nice area, Foz has significantly fewer foreign tourists than the central areas of Porto. That can be considered an advantage.
Who should stay in Foz?
Beach travelers and tourists who are looking for a luxury trip.
What is the best hotel in Foz do Douro?
Vila Foz Hotel & Spa is the best option. It's a 5-star luxury hotel located right by the beach, in the area of Foz do Douro. You basically get top-notch service, and if you're looking for the full VIP-experience in Porto, this is where to go. The hotel is situated in beautiful conditions, it is very stylish, all the rooms are spacious, and you get access to pool, spa, wellness, sauna and much more.
The hotel is not central in the city – we should make that clear – there's roughly 6 kilometers to the city centre. But you will absolutely love it if you want to stay in calm and classy surroundings. There's not much noise in the Foz area, and everything is also cleaner and more organized than in the centre. Of course, you still need a way to get around. The hotel can take care of your airport transfer for an extra fee. When getting around Porto, you can book a taxi, or get on the bus (there are stops on the same street as the hotel is located on). If you want to explore the Foz area, which includes the beautiful City Park, you can either walk or take advantage of the hotel's free bicycle service!
It's one of the more pricy hotels in the city, so be prepared to pay more than the average. Usually, the cheapest rooms at the hotel (which are still luxury rooms) start at 300€.
Book your stay with Vila Foz Hotel & Spa here!
Best hotels in Porto
As mentioned several times, there are many great hotels in Porto.
You can pick one of our recommendations above if you want to stay in a certain area.
If you want a full overview of all the hotels in Porto and read more about each single one, you can go to the Booking.com Porto page where there is a nice overview.
Other accommodation options
We recommend most travelers to stay in one of the hotels in Porto since it's generally easier to arrange and most enjoyable.
But you do have other options as well.
There are many holiday apartments in Porto. The price is usually similar to a hotel. If you want to have more freedom and space, but less service, a holiday apartment could be the way to go. They are spread all over the city so you can basically find a holiday apartment in any area. We would recommend finding one in Baixa, Ribeira or Cedofeita since they are the best and most historic areas!
Hostels are also an option. You can save a bit of money by staying in hostels, and it is often easier to socialize in those settings. So if you want a cheap stay in Porto, or if you want to meet up with other travelers on your trip, pick a hostel in the city centre. Hostels are mostly suited for younger people (15-30 years old) but they are open to everyone, and you will also notice that many hostels also offer private rooms at fair rates.
The centre of Porto is very walkable, so if you're staying in an area like Baixa, Cedofeita, Ribeira or Bonfim, even Boavista, you can walk to most places in the city within a half hour or so. There is a steep hill from the Ribeira up to Baixa/Sé, but most tourists should be fine walking. When walking you also get to see more of the things that Porto has to offer. It's a great way to do sightseeing, so don't be afraid to walk from point to point when you want to see a certain attraction in the city. Of course, that is easiest when you are staying at a central location which is what we recommend.
But there can also be reasons for using public transportation when navigating the city. Maybe you're tired by the end of the day, maybe you just don't want to walk, or maybe you're going a longer distance.
In that case, take the metro. It is cheap and efficient. Porto has a really good metro system with 6 different lines, and they cover most of the city. The main station, where all metro trains meet, is Trindade in central Porto. Staying near Trindade will allow you to take all the metros, in any direction. Many stations do have multiple lines passing by, so that makes it easy to get around. One of the lines E (the purple one) goes to the airport. Some metros cover very long distances and even go to other towns, like Povoa de Varzim and Matosinhos.
To use the metro, you first need a metro card, which you can get in one of the vending machines. Upon getting your card, it can be refilled each time you need to take a ride. It is possible to buy multiple rides from the start if you anticipate a lot of metro use.
You can also take buses to get around, it is often a little cheaper than the metro and with more connections to lesser-visited areas.
There is a central train station in Porto (São Bento) where you can take trains to other cities in Northern Portugal. For the long distance trains that go all the way to Lisbon and Algarve, you have to go to the Campanhã station in the eastern part of the city.
Find the best place in Porto for you
What is the best place to stay in Porto for a family?
There are many family friendly hotels in Porto. If you are traveling with kids, consider staying at PortoBay Flores. It's a beautiful central hotel situated on arguably the most charming streets in the city (Rua das Flores). This will give the entire family an adventurous stay, and the hotel is spacious enough to have room for everybody.
What is the best place to stay in Porto for a couple?
Couples should choose Pao de Acucar for an affordable, central stay where you are close to everything – there are many romantic restaurants nearby.
Vila Foz can be considered as an alternative. It is located a bit west, right at the beach, but 6 kilometers away from the city centre. Vila Foz has a spa, and it is located in quiet conditions, so that is another great option for a couple traveling to Porto!
Where to stay in Porto as a solo traveler?
Pao de Acucar and Hotel Infante Sagres are some central hotels that are near all the great attractions in Porto. If you want to go sightseeing, go shopping, experience the nightlife, or simply go out to meet people, it's a great base. Solo travelers could, however, also consider Airbnbs or hostels depending on their needs.
Best place to stay in Porto for a group of friends?
A group of friends might enjoy staying at a hostel – that gives a more open environment where there's room to be loud, with planned activities, and so on.
Where to stay in Porto for a luxury experience?
Vila Foz near the beach, if you want nature, calm and quiet.
Porto River Hotel at the Ribeira if you want culture and style.
Where should business travelers stay in Porto?
Crowne Plaza in the Boavista neighborhood is popular among business travelers and it has all necessary facilities.
What is the best cheap hotel in Porto?
There are several affordable hotels in Porto that you can consider. We like Pao de Acucar, Catalonia Porto, and Mira D'Aire. With these hotels, you can typically stay for under 120€ per night, sometimes even less.
—
To conclude, Porto is a great city with several nice options. We hope that you are no longer wondering where to stay in Porto. Pick one of the recommended hotels if you want to get the reservation done, or browse Booking.com for more options in the top neighborhoods that we mentioned earlier. Have a great trip!