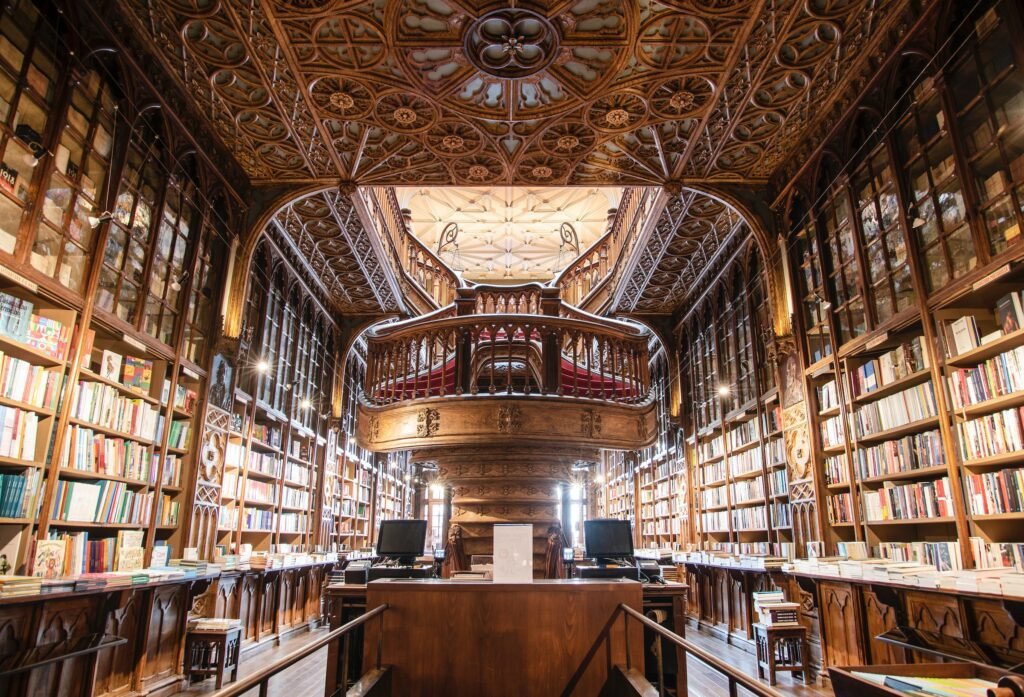 Porto is a city with great shopping options. There are several beautiful streets that are loaded with shops, and the suburbs of Porto have some great malls. Here is a full guide to shopping in Porto!
Unique shops in Porto
Naturally, it is great to visit shops that are unlike the mainstream stores you find everywhere else.
Or – at the very least – shops that sell unique items and give a unique impression.
There are several of those in Porto. While it is amazing to casually find them when you are exploring the city on your own, some of them are so fascinating that you should put them on a list of places to visit.
Livraria Lello is the famous bookstore that we consider the best attraction in Porto. It is one of the most famous bookshops in the world, so it is a great place to visit. It costs 5€ to enter – because otherwise, this beautiful place would be completely full of tourists who just come to see it – but the good news is that your entry ticket also works as a 5€ voucher if you decide to buy something. So if you end up buying a book or two, it won't cost you anything to visit Livraria Lello, the price of the ticket simply gets discounted on your purchase. This bookshop inspired JK Rowling when imagining Hogwarts in the Harry Potter franchise, so that says a little bit about how magical it is.
A Vida Portuguesa is a concept shop with products made exclusively in Portugal. It has high-quality souvenirs, but also products that are actually useful. You will find everything from toys to books and many artisan items. Even some foods, too. Update: A Vida Portuguesa in Porto has closed, but they still have 3 shops in Lisbon and might open up in Porto again. Find information at their site here.
Ó Galeria is an art shop, mostly focused on illustrations and smaller pieces of art. The quality is very high and there are many unique items for sale. If you want a different type of souvenir – a piece of art – this is a good place to go and buy it. Most art pieces at this gallery are from local artists, but there are also international works present. Located on Rua Miguel Bombarda, a great place for shopping, but more about this street later!
Loja da Burel is a clothing store where everything is made of wool. That equals some amazing-looking, warm and comfortable pieces of clothing. Much of the clothes are traditional but with an innovative touch. It doesn't make sense until you see it, so be sure to visit. Despite being such a typical Portuguese shop, there are often many tourists visiting. It is located near São Bento, so you can easily get there if you are staying in the city centre.
Fashion Clinic is a high-end clothing shop in Porto with a clear focus on sophistication and exclusiveness. It is not cheap to shop there, but you will find the best fashion. Most of the top designer companies in the world have their fashion sold at this location.
Mercearia das Flores is located on the famous street, Rua das Flores, and it is a full market where you can find Portuguese foods as well as artisan products. Very popular among locals, but tourists can also enjoy it.
These are the shops that are most interesting to see if you are visiting Porto as a tourist. If you are living in Porto as an expat, there will be countless other stores of interest – the city is rich in home furnishing stores – but for tourists, we recommend focusing on the ones above.
Best shopping streets in Porto
Aside from recommending specific stores, we also want to focus on areas that are great for shopping in Porto. The city has some streets that are well known for shopping, and the ones below are definitely the best ones:
Rua de Santa Catarina is the busiest shopping street in Porto. It has a lot of mainstream brand stores, but also some fine local options. Everyone considers Santa Catarina to be the main shopping street of the city. On top of the many stores located on this promenade, there are some good cafés too (Café Majestic is the most famous one).
You will also see street vendors selling products there. Santa Catarina is a very long street with many options. You will easily be able to locate it because once there, you will notice big crowds and shops all around you. It is immediately north of Bolhão, in the heart of the city, and even if you are not particularly interested in shopping, you should still visit Rua de Santa Catarina because it is so full of life. Definitely one of the best locations in Porto. Santa Catarina is also a pedestrian street which makes the experience a lot better. You can calmly stroll up and down the street as you window shop and visit the stores you like!
Rua da Cedofeita is another major shopping street. It has a bit of everything, many big brand names, as well as local Portuguese stores. The mall of Cedofeita is located on this street. You'll see clothing shops of all kinds, but also bookshops, souvenir shops, and much more. Rua da Cedofeita has multiple restaurants which include pizzerias, so you can easily grab a bite of food while shopping here. Arguably the best alternative to Rua de Santa Catarina, because Rua da Cedofeita is also very central, just a bit west.
Avenida da Boavista is a massive avenue that you will likely visit anyway while sightseeing. Casa da Música is located in the eastern end, but the avenue stretches several kilometers west. Avenida da Boavista has everything from watchmakers and clothing stores, to hotels, supermarkets, and banks. That means you can go there for practical shopping as well as for fun shopping. It can be a bit loud to all the cars, but you find a bit of everything and that is the main benefit.
Rua de Miguel Bombarda is known as the alternative shopping street in Porto. It has the mall CC Bombarda, the artist shop Ó Galeria, the CRU creative hub, and several other fascinating shops that are unlike what you find on the main streets elsewhere. Located near Clérigos, this street is easy to find and it is perfect to visit if you want a more authentic experience as you search for potential purposes. Rua de Miguel Bombarda is a street that inspires – because it has a distinctly creative vibe, and you can also tell that by talking to the people who frequent the stores on this street.
Malls and shopping centres in Porto
What about malls and shopping centres? It can be cozy to walk inside when shopping. Especially in a city like Porto where it often rains and where the weather can quickly change. There are many great malls in Porto, some are located right in the city centre, while some (often the bigger ones) are located in the suburbs a bit outside of the typical tourist zones. We list some of the best shopping centres in Porto below:
CC Bombarda
Located on the street of Miguel Bombarda, we find this unique mall which is a favorite among the locals. Centro Comercial Bombarda is an awesome place to go shopping because it is so much different than the other malls in the city.
You will find concept shops, high-end clothing stores, second-hand clothing stores, a sunglasses shop, a jewelry shop, and great food as well. Pimenta Rosa and Sabores & Açores are some great places to eat. At this mall, you can find vintage items as well as modern items. Get a full overview of all the shops and dining options on the CCBombarda website.
Norteshopping
The most popular shopping centre in Porto among the locals when it comes to everyday shopping, when shopping with friends, and when you just want to look at a million different shops on the same day.
Norteshopping is located in the northwestern part of the city. It's too far to walk if you are staying in the centre, but if you take the metro to the station Sete Bicas, you will be right there. This mall has mainstream stores such as Fnac, Disney, Zara, Worten, Douglas, SportZone, Pandora, Benetton, and many others. It has every type of store imaginable. Norteshopping also has a food court where you can get anything from fast food to Francesinhas, and from Argentinean steaks to sushi. It has long opening hours – the mall itself opens at 9.00 and closes at 22.30, while most stores will close their doors at 22.00.
The majority of people you see in Norteshopping are locals. Some tourists go, but due to the location outside of the city centre, most don't take the trouble to go there. You should – at least if you want to do a lot of shopping in popular, well-known stores. Norteshopping has a website in English where you can find all the information you need.
Via Catarina Shopping
This central shopping mall is located south of Rua de Santa Catarina. It is relatively small compared to the malls in the outskirts of the city, but it has some good stores and it is very stylish. You can expect it to be crowded since both locals and tourists love to visit it. There is a bit over 50 shops and restaurants in total. So you can spend an hour or two at Via Catarina Shopping easily. There are affordable clothing stores like H&M and NewYorker, but also more high-end shops. Prices are generally okay on average. The mall is very well designed and has a beautiful interior, so it makes sense to sit down, get some food and enjoy the surroundings. It can be loud at the busiest times of the day, but that is part of the experience.
El Corte Inglés
The Spanish department store El Corte Inglés is also present in the Porto district. It is situated in Gaia, on the other side of the Douro River.
You will find a lot of Spanish products in Corte Inglés. They have all sorts of products where each floor usually has a specific focus. You can easily buy clothes and home accessories here. You can also buy games, books, music, and much more. Just like the Corte Inglés department stores in Spain, the one in Porto has a supermarket as well. They sell a lot of Spanish and international products, so the selection is different than what you find in Portuguese chains like Continente and Pingo Doce.
Arrábida Shopping Centre
If you are in Gaia to visit Corte Inglés or perhaps the wine cellars, consider going to Arrábida as well. It's a massive mall with many stores and a popular multiplex.
Mar Shopping
Located in Matosinhos northwest of Porto. It is a large mall that has an IKEA. That makes it a favorite among locals. In total, there are over 200 shops in Mar Shopping, making it a great alternative to Norteshopping if you want to shop in a big mall.
Alameda Shopping
A well-designed, ultra-modern shopping centre right next to Estádio do Dragão. If you're coming to Porto to watch football, or if you just happen to be in the area, try to stop by this mall. You can shop at one of the many stores, or you can get some food. There is also a massive Continente supermarket inside and a movie theater. Some people like Alameda Shopping for its futuristic interior look, while others just go there to get what they need.
Parque Nascente Shopping
In the northeastern suburbs of Porto, we find Parque Nascente Shopping. It has sporting stores such as FC Porto Store and SportZone, it has electronic stores such as Media Markt, there are clothing shops for both men and women, as well as hardware/DIY store Leroy Merlin, along with restaurants, fitness, and cinema. There are hardly any tourists going to Parque Nascente Shopping, so if you want to be in a more local atmosphere it can be a solid choice. You can take the metro there – get off at the station Levada.
Vila do Conde Style Outlets
In the suburb Vila do Conde, there is an outlet that is highly worth visiting. They have a lot of prestigious and famous brands from the world of fashion. So if you're looking for high-end clothes and accessories at a discount, try going to Vila do Conde Style Outlets. It does require a bit more transportation than most of the other shopping locations, but it is worth it if you are sure that you're going to buy something.
Practical information
Opening hours are typically long in Porto, so you can shop for several hours of the day.
While each shop can have its own opening hours, you can generally expect street shops to open around 10 in the morning and close around 19 in the evening (7 pm). That excludes Sundays and major holidays where most shops are closed. On Fridays, opening hours might be extended at some places.
Malls/shopping centres will be open for longer than shops on regular streets. Most shops in malls open at 10 in the morning as well, but they often stay open much longer. Many will still be open around 21 in the evening (9 pm) and some even remain open until midnight. There are also some stores in malls that are open on Sundays when the street shops are closed. It is very normal for shopping centres in Portugal to have multiple restaurants and food courts, so you can even have dinner while shopping there.
We recommend you to get around on foot when exploring the unique shops in central Porto, but you should probably take the metro or a bus if you want to visit a shopping centre.
Generally speaking, the outdoor shops on the streets will be much more interesting than malls, so if you want a unique shopping experience in Porto, that is what you should focus on. But malls can still be nice if you want to shop for general items and well-known brands, so we also recommend you to visit one of Porto's shopping centres, even if it is just one time during your trip.
To make the most of your trip, it is best to stay in the city centre. There are several good areas in the centre – Baixa, Ribeira and Cedofeita are usually considered to be the best ones. Read about all the best areas and hotels in Porto before you go!
Prices in Porto
Compared to other noteworthy cities in Western Europe, Porto is a very affordable city. Accommodation, apartments and hotel prices have been rising in recent years, but prices in stores are very good.
You can buy high-quality clothes and shoes for less money than it would cost in the UK, France or Italy. Prices are slightly lower than in Spain on average.
Of course, if you want to buy clothes or items from big international brands, the prices will generally be the same as elsewhere. You might save 5-10% on some things, but nothing major. When it comes to local brands, you can really find some great quality items at very fair prices. So that is actually something to focus on. Things that are great to purchase in Porto are especially shoes, clothes, accessories, books, local art, and wine.
Eating out in Porto is also very affordable, although it depends on where you go. You can easily get a great meal with a drink for 20€ or less at several restaurants. Try to find out where locals go to eat rather than picking obvious tourist traps (of which there are many at the Ribeira and downtown). Porto also has fine dining options though, and you can also visit gourmet restaurants with high prices if you want to splurge. There is a bit of everything.
Conclusion
Porto is a wonderful city for shopping. On streets like Rua de Santa Catarina and Rua da Cedofeita, you find a large number of stores. Throughout the city, there are unique artisan and vintage Portuguese shops, and you will find everything from amazing fashion to magical bookshops.
If you want a more modern shopping experience, try visiting one of the major malls. Norteshopping is very popular among locals, and thanks to the big metro system in Porto, you can easily get around to any location of your choosing.
We wish you a great trip to Porto, and if you are traveling with friends or family, feel free to share this article with them so that they are also prepared for some fun shopping in Porto!