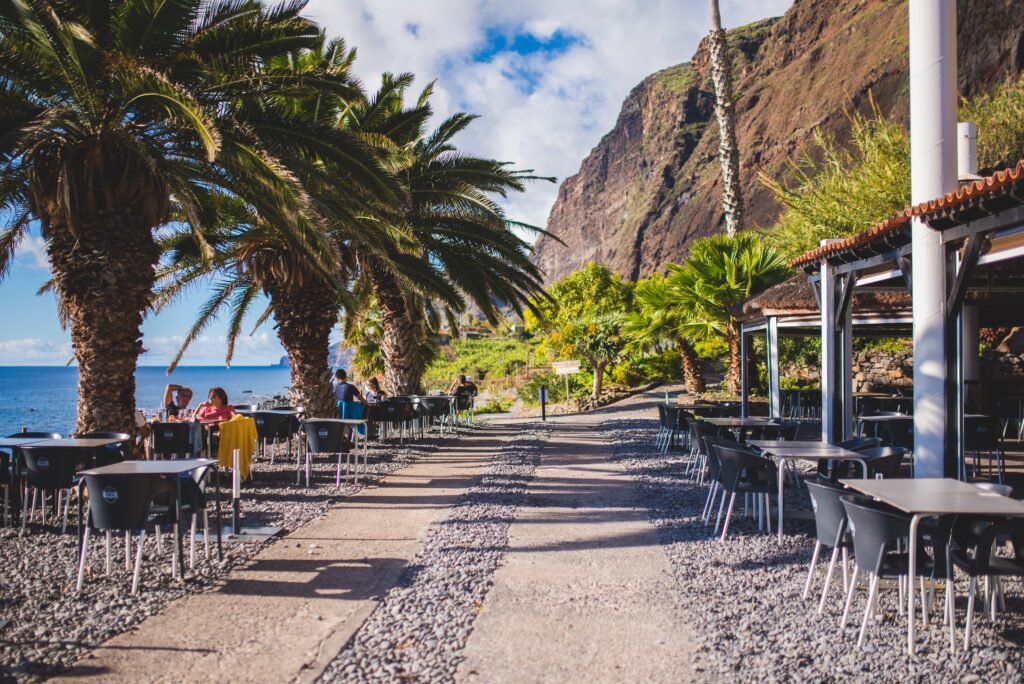 The island of Madeira is situated in the Atlantic Ocean and has some of the most beautiful nature in the world. With comfortable weather all year round (averaging 25ºC in the summer and 17ºC in the winter), it is the perfect getaway any time you feel the urge to travel.
But a common question is where to stay in Madeira – the island has so many fascinating destinations, so it is not always an easy choice. In this article, you will get a basic overview of the best cities and resorts in Madeira with at least one hotel recommendation in each place.
For more general information on things to see and dishes to eat in Madeira, read our full Madeira travel guide here. Otherwise, stay on this page and scroll down to see the best places to stay on the island!
Funchal
Funchal is the largest city on the island. Situated on the southern coast, it is the cultural centre of Madeira. Almost half of the island's population lives in Funchal which actually makes it Portugal's sixth-largest city!
You will find plenty of cultural and historical attractions when staying in Funchal. There is old Portuguese colonial architecture, historic churches, fascinating museums, wine lodges, as well as traditional Madeiran restaurants and bakeries.
Funchal also has modern attractions. It is Cristiano Ronaldo's home city, so a visit to the CR7 Museum absolutely makes sense. Furthermore, Funchal has great shopping options and a vibrant nightlife. In the vicinity of the city, there are golf courses, hiking routes and beaches.
Since Funchal has a bit of everything, including the mix of culture and nature, it is a great place to stay in Madeira for all travelers. The Lido Promenade is the most popular place in the city. It has one of the highest concentrations of hotels, many of which are luxury hotels, and by staying there you can easily access the Formosa Beach, the Forum Madeira mall, and the countless amazing restaurants in the area.
You should know that Funchal is a bit hillier than other cities around the world, so put aside a small budget for buses and taxis to get around the city if you decide to stay there.
Who should stay in Funchal? It's a city everyone can enjoy. If you want to experience Madeira's culture, it is definitely the place to be. Most tourists stay in Funchal on their first trip to Madeira.
Luxury hotel in Funchal → Belmond Reid's Palace
The finest hotel in Funchal is the Belmond Reid's Palace. It has large, gorgeous rooms with high-end furniture and a really luxurious vibe. Belmond Reid's Palace is located on a small cliff and overlooks the sea. You have access to countless facilities at the hotel, and you will be near the top attractions and the main restaurant district of Funchal. We consider it to be the best hotel in all of Madeira.
Central hotel in Funchal → Pestana Casino Park
The Pestana Casino Park Hotel is another luxurious hotel in Funchal. It is located a bit closer to the city centre than the Belmond Reid's, and prices are slightly more accommodating. But this is still a very impressive hotel with large rooms, designer furniture, and a location by the Santa Catarina Park. The Pestana has huge common areas, and there is a casino and a nightclub on site. Perfect for those who want a city-experience on Madeira.
Affordable hotel in Funchal → Hotel Catedral
Then we have Hotel Catedral – a traditional hotel in the heart of Funchal's historical centre. It is a simple, yet highly comfortable hotel. Prices are generally low, starting at just €60 per night. A breakfast buffet is served in the morning, and the hotel bar has authentic local drinks on the card. It only takes a minute to walk to the Cathedral, while the marina is about five minutes away on foot. A great, affordable hotel in the old centre.
Ponta do Sol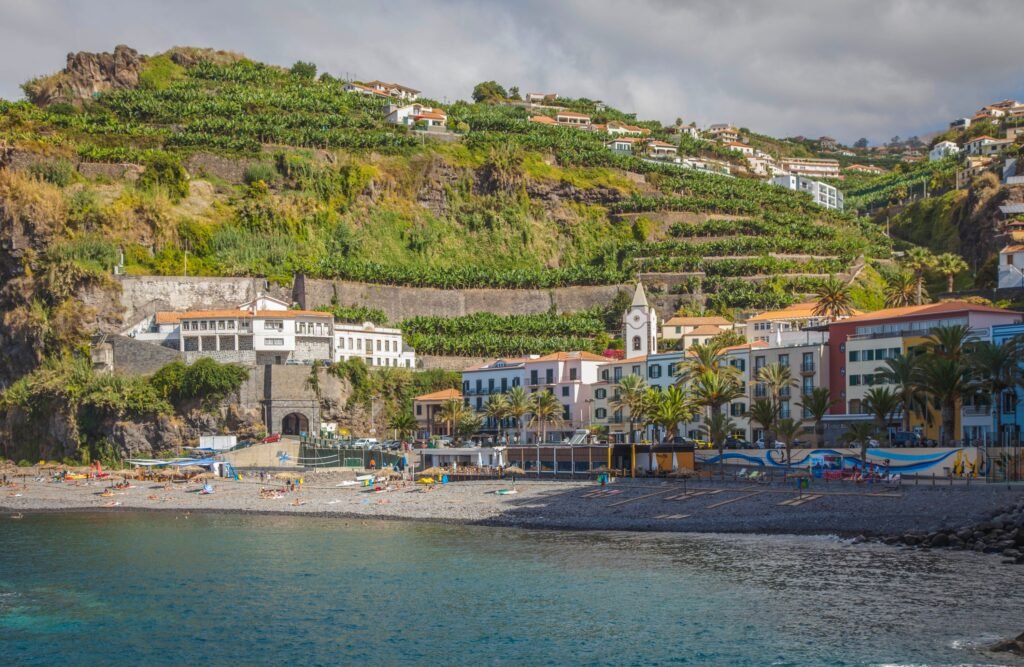 Ponta do Sol is a charming seaside village a few kilometers west of Funchal, still located on the southern coast of the island.
This village was founded way back in 1425 and it is very picturesque. It is also the place in Madeira that gets the most sunshine! So if you want a beautiful and romantic trip to the island, we highly recommend staying in Ponta do Sol.
There are four beaches in the vicinity of the village, the main one being the Ponta do Sol Beach. Mountains and waterfalls are also situated nearby, and if you really want to explore the area, go to Paul da Serra – the highest plateau on the island where there is a rich plant and wildlife.
In general, Ponta do Sol is a perfect place for those who want a good base to explore the island. It also has much more of a local vibe than a city like Funchal – and remember, if you need to go to Funchal, the city is not that far away!
We should also mention the cultural attractions of Ponta do Sol. There is a yearly film festival, typically held in the spring. The architecture is colorful and impressive. One of the parishes of the village, Canhas, has some historic monuments that were dedicated to the saints. The Nossa Senhora da Luz church should also be experienced.
There are plenty of hotels and holiday apartments to choose from in Ponta do Sol. Prices are very reasonable – they are not cheap, but you can stay cheaper in Ponta do Sol than in the fancy areas of Funchal. And since the village is so idyllic, many choose to do just that, especially on their second visits to Madeira.
Who should stay in Ponta do Sol? It's a great place for those who want an authentic experience, lots of sun, and a good base for exploring the nature of Madeira. It is where to stay in Madeira for those who want an alternative to the big city Funchal.
Best hotel in Ponta do Sol → 1905 Zino's Palace
Staying in this beautiful building will give you an unforgettable experience in Ponta do Sol. It has a great location with a view of the Atlantic Ocean, traditional rooms with large beds, and well-decorated common areas. The hotel is comfortable, and the area is very quiet. When the weather is good – which is almost every day – you can sit outside and eat. Top-notch service as well!
Santa Cruz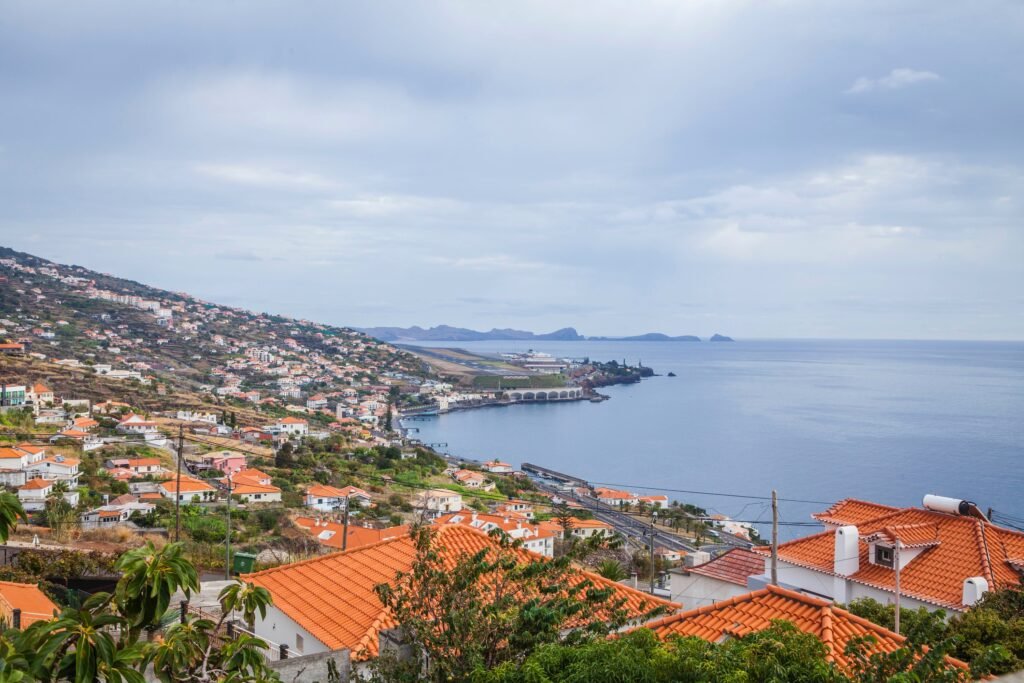 The municipality of Santa Cruz is the second-most populous on Madeira, only surpassed by Funchal. Almost all tourists will go through Santa Cruz since this is where the airport is located.
Originally founded as a fishing village on the southeastern coast, Santa Cruz has grown a lot since. Fishing is still an important industry, but perhaps the port is more famous now for the cruises passing by.
However, don't see Santa Cruz as a place that is only useful for transportation: Because it actually has a lot to offer! Santa Cruz is famous for its architecture with trademark white houses and terracotta tiled roofs. The Palm Beach is a bit rocky, but very beautiful. There are some monuments that date back to the founding in the 15th century, and it is fair to say that the narrow streets of Santa Cruz are quite romantic.
There are several entertainment facilities in Santa Cruz. Namely the Aquaparque Madeira, the indoor karting centre, the yacht club, the airport spotting site, and the golf clubs of which Santo da Serra is the nearest one. Also, keep in mind that capital Funchal is just a 20-30 minute drive away.
Who should stay in Santa Cruz? Families – because Santa Cruz is arguably the best place to stay in Madeira with kids. There are cool attraction parks and you will be near the airport which means minimal transportation after arriving on the island. At the very least, it can be a good place to stay for your first night in Madeira.
Best hotel → Santa Cruz Village Hotel
This 4-star hotel is surprisingly affordable with prices starting around €50. It is family friendly, rooms are very spacious, and there is a cozy restaurant on site. The Santa Cruz Village Hotel has its own pool and the staff can help you arrange activities around the city. The airport is located nearby so you can reach the hotel almost immediately after landing. They serve a buffet for breakfast but also take specific orders. Overall, it is a very comfortable hotel with a practical location.
Machico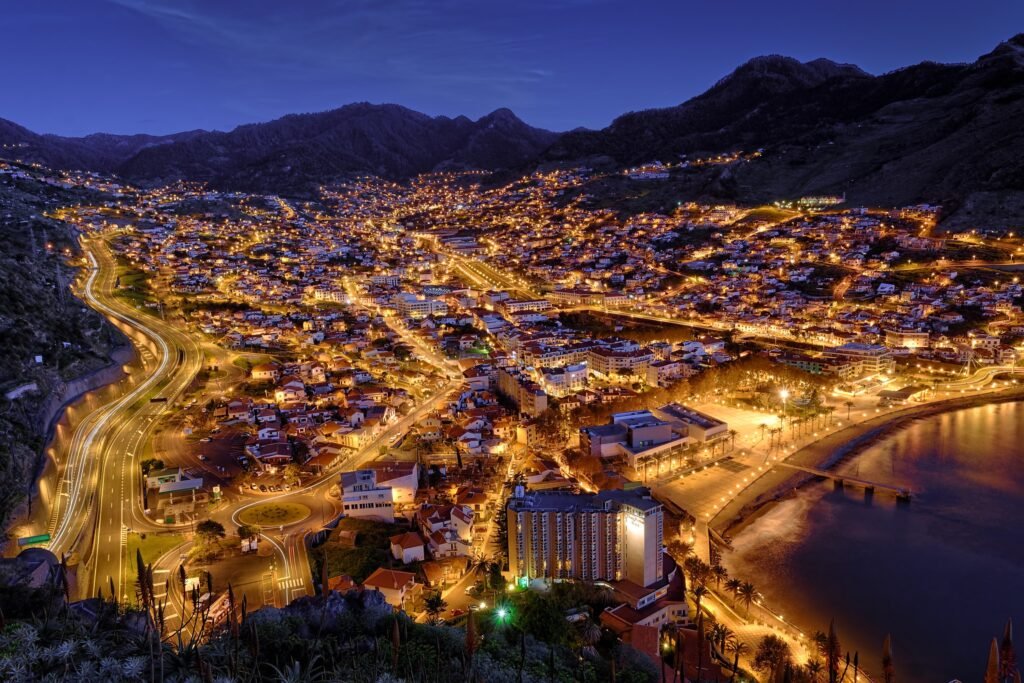 A very popular tourist resort in Madeira is Machico. It has grown to be one of the main venues of the island, mainly because of the beach area, but also because of the beautiful surroundings as the Machico River runs through the city. Machico is basically situated in a valley, with houses and commercial buildings stretching several miles inland.
The Madeira Airport is located just south of Machico and is even visible from the beach. So transportation in and out is certainly not an issue if you stay there!
Some tourists also pick Machico as the main destination due to the history. It is the oldest settlement on the island, founded in the early 15th century. There is a commemorative sign that makes the place of where the Portuguese explorers first disembarked. Some buildings date back to the earliest times of colonization. The Nossa Senhora da Conceição was built after Machico received town status in the later half of the 15th century. Igreja Matriz de Machico is another fascinating church, this one in Gothic style.
Machico is an absolutely wonderful place to stay in Madeira if you enjoy being near a great beach and a beautiful valley. The airport is located nearby, so Machico is a practical place to stay upon arrival, although it isn't necessarily the best base for exploring the island. However, it is becoming an increasingly popular destination, and it works very well for a second trip to Madeira if you have already tried staying in Funchal.
Best hotel in Machico → Dom Pedro Madeira
The highest quality hotel in Machico is the Dom Pedro Madeira. It is located right by the beach at the bay of Machico – but it also has its own private pool. The common areas are very well designed and decorated, while the rooms are spacious and have extraordinarily nice views. With prices being very reasonable all year round, there is no reason not to pick this hotel if you want to stay in Machico!
São Vicente
São Vicente, located centrally on the northern coast, share a feature with Machico in the sense that it is very lush and green, as a river runs directly through the valley of the municipality. However, the similarities end there. São Vicente is a somewhat isolated municipality due to the geography that surrounds it, but it is absolutely gorgeous. There is a dramatic ocean view with steep cliffs bordering the sea.
It is a very popular place for tourists – mainly due to the São Vicente Caves, considered to be one of the top attractions on the entire island. These caves were formed following a volcanic eruption in Paul da Serra and were discovered in 1885. They didn't open the caves to the public until 1996, but now you can visit them. There is only one entrance, and the caves have a length of about a kilometer.
Aside from the caves, you can enjoy the beautiful architecture – especially in the town centre near the parochial church where all buildings share the same style. There are some nice trails for hiking near São Vicente, and the sunsets are absolutely beautiful.
São Vicente is the type of destination where most tourists stay for one night. It is popular among hikers, photographers, and all travelers who want to get away from it all and be in calm natural settings. You can stay there for longer if you'd like – but we believe São Vicente is best suited for a shorter stay, since you can experience most things in a day or two.
One major benefit of staying in São Vicente is that prices are cheap. There are many local guest houses and traditional hotels.
Best hotel in São Vicente → Estalagem do Vale
You could go for a hotel by the coast, but in São Vicente we first and foremost recommend Estalagem do Vale, a hotel located a bit inland. It has an absolutely amazing setting in the valley with green beauty all around it. The hotel is located within an old manor that was recently restored. There is a classic restaurant and wellness facilities on site. The staff offers great service, and you get tremendous value for the money since this hotel is surprisingly affordable to stay with.
Calheta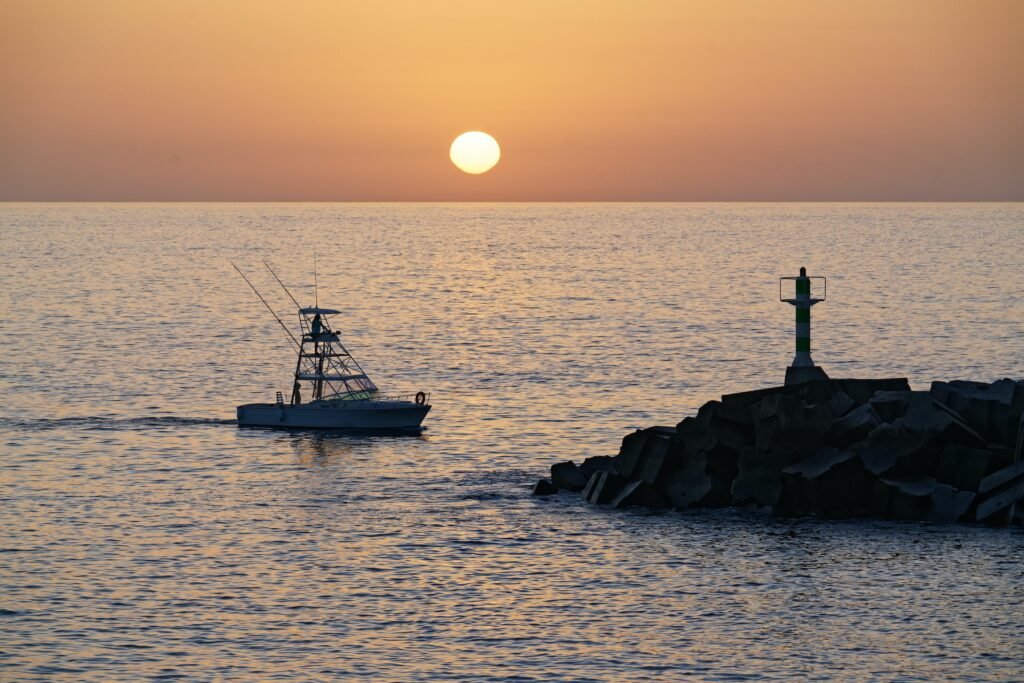 On the western edge of Madeira we find Calheta, another popular destination. It was founded in 1430 and is actually one of the oldest parishes in Madeira. The name Calheta basically means small bay, and it was once of the first places that the settlers explored. It received town status 72 years after its founding – it has since developed into a municipality with 8 parishes. Fishing was always the main industry in Calheta, but banana and sugar cultivation have also been important.
So Calheta has quite a bit of history, and you can experience this by visiting sites such as the old parish church and the sugar mill. Many tourists also visit for the geography: There are some dramatic cliffs and waterfalls nearby, so Calheta is a great base if you want to be on the western coast of the island.
Originally, there was a very rocky beach at Calheta, but this has now been replaced by a manufactured beach that is very comfortable. It is located right next to the marina, and there are two beach sections which face each other. Sand had to be brought in, but it is very well constructed, and the water is clear and blue.
Calheta is a great destination for tourists who have already explored the principal parts of the island and want to try something different. There is a major spa hotel in town, some typical beach hotels, as well as guest houses further inland. You can also visit Calheta on a day trip while staying in Ponta do Sol (the place we recommended earlier on).
Best hotel in Calheta → Calheta Beach Savoy Signature
This hotel is located right by the beach and you can experience great levels of comfort. Not only is it a well-designed hotel with huge rooms and countless extra facilities – it is also an all-inclusive hotel where drinks and two daily restaurant meals are included in the price! So if you want the most comfortable stay possible, this is the place to be. It is one of the best beach hotels in Madeira and absolutely ideal for a relaxing trip to Calheta.
Jardim do Mar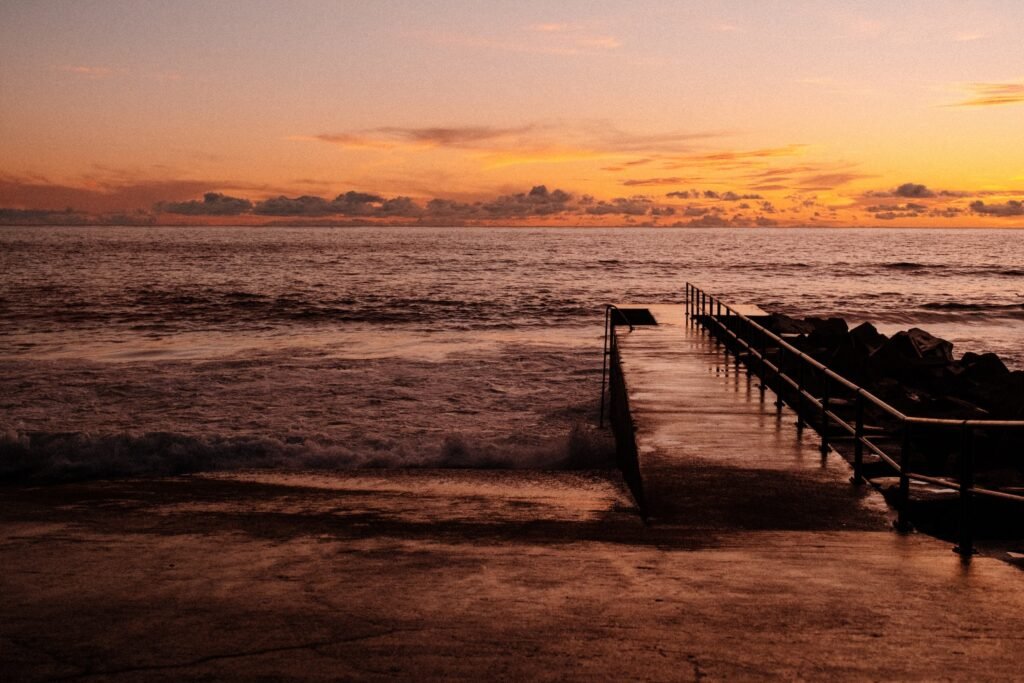 Jardim do Mar is one of the parishes of Calheta but it deserves to be mentioned on its own.
It is a very popular spot for surfers – the waves become large in the winter, so surfers from all around the world go to Jardim do Mar. We should add that it is mostly a place for experienced surfers and it requires some skill to surf there. At several occasions, Jardim do Mar has hosted international competitions and events within the world of surfing.
There are also some beaches where you can relax, the main one being Praia do Jardim do Mar. This beach also has a nice promenade. So it can also be a place to visit if you want a nice holiday by the sea – there are plenty of hotels and restaurants in Jardim do Mar as well. However, it is most known as a place for surfers, so it makes particularly good sense to stay in this part of Madeira if you want to ride the waves!
Best hotel in Jardim do Mar → Tarmar Place
Tarmar Place is a simple, but super comfortable hotel near the coast in Jardim do Mar. Many surfers stay there since it is so close to the sea. But anyone can enjoy a stay there – the surroundings are peaceful, the rooms are great, and you can choose between an ocean view or a mountain view when you book. Even the regular double rooms are quite large.
The restaurant serves well-tasting seafood dishes and has an outdoor terrace where you can eat your meal. This hotel is more expensive than the guest rooms and holiday apartments in the area, but it is fully worth the price with the level fo service you get.
Porto Moniz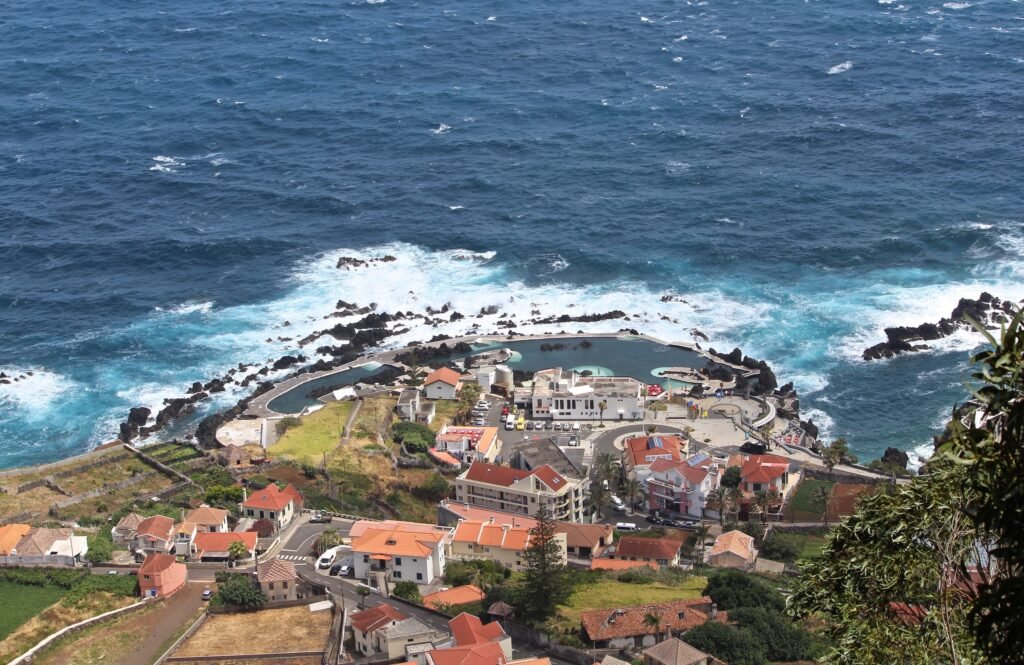 Porto Moniz is located on the northwestern side of the island. For a long time it was isolated from the rest of the island, but that is no longer the case, and for this reason Porto Moniz has also become a tourist spot.
The most unique attraction in Porto Moniz is the complex where you can bathe in lava pools of sea water. It is extremely comfortable and you will find just as many locals as tourists – since people from all over Madeira occasionally go to Porto Moniz to enjoy the lava pools.
It is also a nice base for hikers. There are cool trails near Porto Moniz, and some of them are difficult. Near the town centre, there are some short trails for everybody, but if you go south to either Levada da Ribeira da Janela or Levada dos Muinhos, you can anticipate a more unique experience.
For all these reasons mentioned, we recommend nature enthusiasts to stay here the most. Porto Moniz is a special place with plenty of opportunities for bathing, swimming and hiking. You can go there on a day trip from one of the other cities in Madeira, or you can spend your entire trip staying in Porto Moniz and go hiking every day. A good thing to know is that there isn't much culture to experience there, except for Aquário da Madeira, and this is one of the reasons why many tourists simply prefer to do day trips. But there are plenty of hotels available if you decide to stay in Porto Moniz!
Best hotel in Porto Moniz → Aqua Natura Madeira
The Aqua Natura Madeira is both the highest-rated and most popular hotel in Porto Moniz. Located by the sea in the northern part of town, you can easily go for a swim any time you want to. All rooms come with a nice view, and the on-site restaurant is open 24/7. There are some nice sights in the vicinity, and it is a very comfortable place to stay after getting back from a long Levada hike.
---
It is time to conclude the article – after looking into the eight most interesting places on the island, we hope that you have a solid idea of where to stay in Madeira.
The capital city Funchal is probably the best place to stay for all first-time visitors, and it works extremely well as a base for exploring the island.
But if you want to try something different, we highly recommend Ponta do Sol, Machico, Calheta and all the other mentioned destinations as well. It all depends on your preferences – so remember to book accommodation in a place that suits you, and try to do it as early as you can. Last minute bookings can be expensive in Madeira, but you will find the island to be quite affordable when things are planned well in advance.