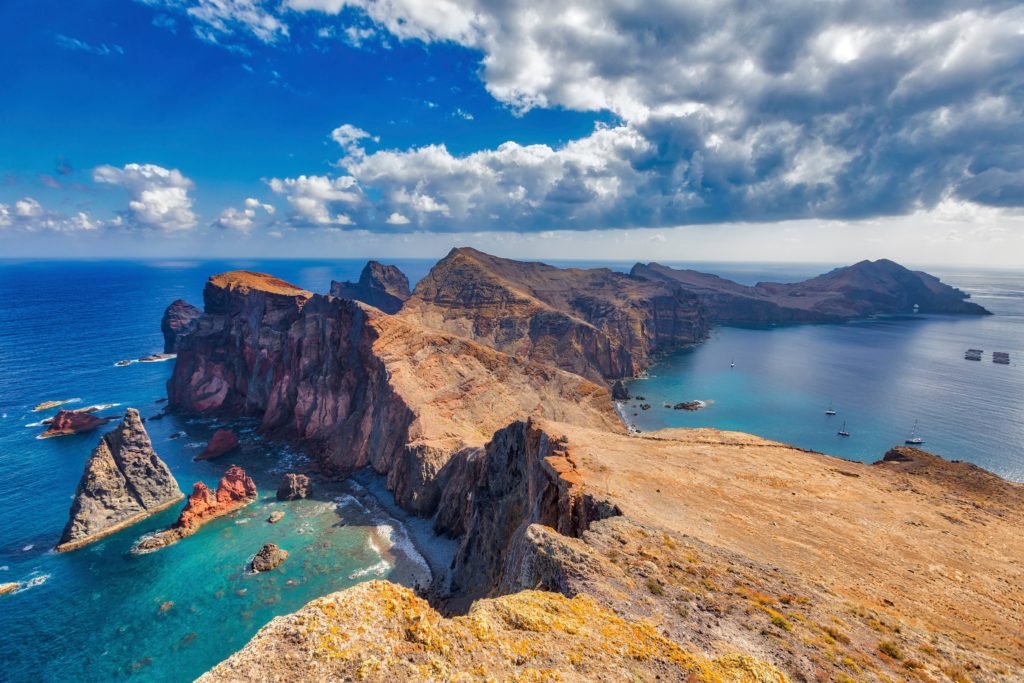 Home to a unique Laurissilva forest (which is a UNESCO World Heritage Site), mountainous peaks and an untamed landscape, Madeira enraptures visitors from all corners of the world. But if you're going to Madeira, it's better to plan ahead – in this guide, we will let you know when is the best time to go to Madeira, what to do in Madeira and where to eat with the locals. Stay with us!
When is the best time to go to Madeira?
If you're the type of traveller who likes the outdoors and has heard about Madeira's levadas, then you'll want to travel in the Spring-Summer season, from ​April to September​. This is when there is less chance of rain – which will allow you to explore the island without the risk of mud and rockslides.
But if you're not one to climb and hike, Madeira is a year-long destination (thermometers usually fluctuate between 19 – 25C during the day). The temperatures rarely drop to less than 13C, with a median daily temperature of 16.6 in the coldest months.
Another popular time of the year to visit is ​New Year's Eve​, when boats with fireworks circle the bay of Funchal, the capital city, is an amazing spectacle of pyrotechnics.
What to Do in Madeira
Below you will find some suggestions on which places to visit on Madeira Island and what to do in these places.
Funchal
Funchal is the largest city in Madeira and its capital. The historical center is an example of early Portuguese settlements outside of the mainland, which then intertwines with contemporary buildings from architects such as Oscar Niemeyer on the seafront. It's clearly a historical European city, but with a definite tropical touch by way of Brazil and Venezuela.
Funchal is well-known for its parks, namely St. Catarina Park, the Botanical Garden and Monte Palace; some of which are reachable by cable car.
When in Funchal, you must visit the Farmer's Market (Portuguese: ​Mercado dos Lavradores​) to taste local produce – mostly exotic fruits such as a local variety of bananas, passion fruit, tamarillo, star fruit, sweet granadilla, swiss cheese plant and custard apples. Near the market, there are several typical restaurants and two streets popular for their street art, which are an excellent way to end your visit to Funchal.
It's also a great city to use as a base for exploring the island, so you can consider finding your hotel in Funchal. But more about that later.
Cabo Girão
Europe's highest promontory at Cabo Girão is one of the island's most popular viewpoints. The skywalk is made of glass to give visitors stunning views, though some people might be afraid to look down!
Pico do Arieiro
Standing at 1818 meters, Pico do Arieiro is not even Madeira's highest peak (it's the third-highest), but it's one of the island's greatest viewpoints to its mountainous core. On a clear day, you can even take a sneak peek at its sister island, Porto Santo! Just remember to use a hat and proper clothing to protect yourself and your skin, both in Summer and Winter. Bring comfortable shoes as well.
Levadas
Despite being a relatively small island, Madeira is extremely rocky. This creates different climates along the island: the North shore is rainy and windy, while the South is dry and sunny.
So when people first tried to live on the island back in the 15th century, they had to figure out a way to bring water from one side to another. The system they invented lasts to this day – the levadas. Because the water canals crisscross the island, they will take you to unspoiled places at the heart of Madeira, where the Laurissilva forest thrives and waterfalls are always a part of the menu.
Some of the most popular levadas are Paúl da Serra to Fanal, also known as the Vereda do Fanal trail, Levada do Caldeirão Verde, and Levada do Rei. There are countless guides to the ​Madeira Levadas and it's highly recommended that you look up the details for each levada beforehand, because some have dark tunnels, others have significant heights, and others are day-long walks. Some of them have all of that!
Natural Pools of Porto Moniz
The Natural Pools of Porto Moniz are one of the things you definitely shouldn't miss when you travel to Madeira. Located in Porto Moniz, these are unbelievably beautiful pools, with lukewarm water, that are shaped naturally by rocks at the shore.
Ponta de São Lourenço
Madeira's Easternmost point, it's worth a visit because it's so dramatically different from the otherwise very green island. Ponta de São Lourenço displays an intricate geological landscape with different layers of rocks and a terracotta-colored soil, both of which result in a somewhat desert-like exclave. There's a trekking path about 8 km long and on clear days you can see several islets and the Desertas Islands.
Best Outdoor Activities in Madeira
Madeira is a great destination for anyone interested in the outdoors. There are many activities related to nature, and here are some of them.
Trekking & Hiking
Madeira is world-famous for its Levada walks, which attract visitors from all over the world. But apart from trekking the Levadas, you can also do trekking at Ponta de São Lourenço, the Island's Easternmost point. There are several places where you can safely walk and trek throughout the island all year long. Hiking to the highest peaks is safest in the summer months.
Paragliding
Madeira's steep cliffs make it a great place to paraglide all the way between the mountain tops to the beaches beneath you. One of the most well-known places around the island to paraglide is Madalena do Mar (Ponta do Sol), where you'll land at Madalena do Mar beach. It's an experience filled with adrenaline that you'll never forget.
Diving and Snorkeling
There are several places where you can dive and snorkel directly from the beach, including in the "Galo", "Reis Magos" or "Caniçal" beaches. But the highlight is definitely the Garajau Nature Reserve, which is inhabited by families of barracudas, ​morays, amberjacks, cutlassfish, mackerels, salemas, giant anemones and rays.
Whale, Dolphin and Turtle Watching
Granted, whale watching is something most people expect to do in the Azores, Portugal's other archipelago in the Atlantic. But there are now several companies in Madeira that take you by boat from Funchal into the middle of the Ocean to watch whales, cetaceans and turtles in their natural habitat (from a safe distance, of course!).
What to eat in Madeira
Portuguese cuisine is famous – and arguably among the best in the world. However, aside from classic Portuguese food, Madeira also offers a great selection of local dishes and snacks. Here is an overview of the best things to eat in Madeira!
Bolo do Caco
Bolo do Caco (literally, ​Caco Cake)​ is actually a flatbread made with an admixture of wheat flour and sweet potatoes. Originally it was served with garlic butter, but nowadays there are all kinds of quick meals with Caco Bread. You can find it all over the island but, if you can, get a freshly baked Caco Bread from the typical stalls in Monte, Funchal.
Espetada Madeirense
This is probably the most famous dish on the island – skewers of laurel marinated beef cooked over charcoal, served with cornmeal and salad. Locals will barbecue it using a laurel stick, but this is no longer permitted at restaurants.
Peixe Espada (Swordfish)
Portuguese cuisine is big on fish, but the highlight is usually dried, salted cod. Well, not in Madeira – swordfish gives cod a run for its money with several local dishes, including swordfish with sweet potatoes or swordfish with passion fruit sauce and banana.
Lapas (Limpets)
Grilled limpets, a type of shellfish, are a staple of Madeiran cuisine. Limpets are usually served with fresh lemon to enhance their flavor and some bolo do caco on the side.
Picado
This is a Madeiran dish that's meant to be shared. It's found in most local restaurants, and it consists of a large plate of small pieces of beef with sauce and french fries. Usually, people will be sharing and eating along, picking their pieces with a fork or toothpick.
Queijadas Madeirenses (Cheesecakes)
Traditional Madeiran "queijadas" are typically made with a cookie-like pastry and a layer of sweet cottage cheese. You'll find these at unpretentious local cafés and bakeries.
Bolo de Mel (Honey Cake)
Perhaps Madeira's most famous sweet, it's a thick cake made with sugar cane honey, nuts and spices. Fortunately, it has a long shelf life, so you can take some with you back home!
Beverages
To enjoy the Madeiran food properly, you need something nice to drink as well. Below are some popular local choices.
Brisa Maracujá
Brisa is Madeira's popular soda juice. Its iconic Passion Fruit soda is branded as the first "sparkling passion fruit soda" in the world, produced exclusively with Madeiran fruit. Order it along with your Picado and earn your street cred with the locals.
Poncha
Poncha is a typical alcoholic beverage made with aguardiente (sugar cane rum), lemon juice and sugar. Other versions use passion fruit or orange juice. If you travel inland, make sure to make a pit stop at Serra de Água to give it a try.
Madeira Wine
Madeira wine is a fortified wine usually served as either an aperitif or a dessert. Typical Madeiran restaurants sometimes offer a glass of local wine at the end of the meal, so there will be plenty of opportunities to enjoy it.
Where to stay in Madeira
When visiting Madeira, you definitely need a nice place to stay. In this section, we are recommending the best cities to stay in, and you can find a couple of specific hotel recommendations.
Funchal
Being Madeira's largest city, Funchal is also the place where you'll find more accommodation for all price ranges. The Lido promenade is well-known for having one of the highest concentration of luxury hotels in Europe – of which we'll recommend Belmond Reid's Palace, Savoy Resort & Spa and Pestana Casino Park.
But if you're looking for adventure in the outdoors rather than 5 or 4-star luxury hotel, there are several smaller B&Bs and AirBnBs where you can find good value for money. The only thing you need to be aware of is that Funchal is quite hilly: something that looks close to the center on a map might not be so central after all. Check the reviews carefully!
Ponta do Sol
If you don't want to stay in Funchal and are looking for a local experience, as well as a base to explore the whole island, Ponta do Sol is a quaint little village by the seaside that you should consider.
There are several hotels (Estalagem da Ponta do Sol, Enotel Baía and Hotel da Vila), serviced apartments and AirBnBs at Ponta do Sol, so this is one of your best bets to stay away from the tourist-packed Funchal. Ponta do Sol also holds an ​annual film festival that will take place between March 27th and April 1st in 2020.
Other cities
There are good hotels all over the island, including Santa Cruz, Machico and S. Vicente. However, these locations might not be as convenient if you're planning to move around a lot. All and all, the best location will depend on the activities you're looking most forward to.
How to Get Around the Island
Renting a car is the best way to get around the island. There are regular shuttles from the airport to Funchal and most hotels can help you sort out transfers.
Funchal has a local bus system and there are also organized trips to the most interesting places inland. However, it's easier to rent a car and explore the island according to your own plans and schedule – plus, sometimes it comes out cheaper to rent a car for a few days than paying for several group visits.
Starting in November 2019, Uber is also available.
A word about Porto Santo
The archipelago has two inhabited islands – Madeira and its smaller sister island, Porto Santo. Unlike Madeira, which is rocky and full of steep cliffs, Porto Santo is a resort island with sandy dunes and golden beaches.
You can take the ​ferry boat from Madeira to Porto Santo for 60€ and back again when you book a round trip.