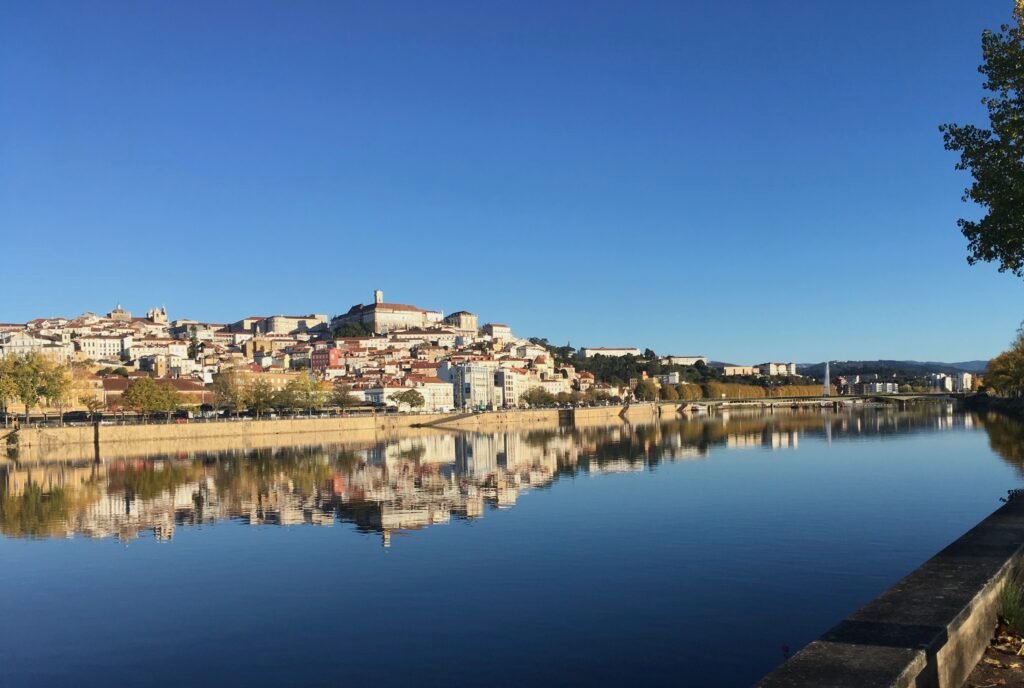 Coimbra is known as the city of students – it has one of the oldest universities in the world – but it is also a great tourist destination. Situated just a small train ride away from both Lisbon and Porto, the city of Coimbra is relatively easy to reach.
If you are planning a trip there, the main question is where to stay in Coimbra. There are multiple interesting neighborhoods and areas, and many hotels to choose from. To properly enjoy the city, and properly see all the attractions, you should probably stay in Coimbra for 3 days – or perhaps a bit longer if you also want to explore other towns in the Coimbra region. Good accommodation is required if you want to have the best possible trip.
Below we will recommend some of the best hotels in Coimbra, followed by descriptions of the most significant areas of the city. That should allow you to pick a nice place to stay in Coimbra with full confidence.
Best hotels in Coimbra
After staying in Coimbra and researching the city properly, we ultimately end up with four hotel recommendations. Three central hotels – of which one is modern, one is traditional, and one is very affordable – along with a luxury hotel on the other side of the river.
Vila Galé Coimbra
Modern, central hotel in Coimbra – book here
Vila Galé has been one of the most popular hotels in Coimbra for a long time. Unlike many other hotels in the city centre, this hotel is a modern building with great comfort and a large variety of extra facilities.
You'll find every room type from single beds to superiors and family suites. What all the rooms have in common is the comfort – Vila Galé Coimbra has made sure that all rooms are spacious and that the furniture is comfortable. This is one of the main reasons why the hotel gets such good reviews.
Another major reason for the popularity of this hotel is the location. Vila Gale is located in the northern part of Baixa (downtown). That means you are close to all the main attractions – the main shopping area is less than 10 minutes away on foot, while the university is about 20 minutes away if walking. However, Vila Galé is set in quiet surroundings, so there won't be too much noise coming from outside. This can be a problem when staying in other parts of the city, but not here.
Aside from quality rooms and a solid location, Vila Galé offers a breakfast buffet, it has a great restaurant and a bar, there is a swimming pool, and you can also enjoy a massage at the spa or hit the gym. If you intend to use Coimbra as a base while exploring other parts of Portugal, Vila Galé can arrange a car rental for you. Parking at the hotel costs only 7.50€ per 24 hours.
As a 4-star hotel, it is one of the more expensive places of accommodation in Coimbra, but prices are still fairly reasonable, and you can typically stay for just around 100€ per night. This price can be higher if you want a suite or if you are coming in the peak of the summer, but it can also be lower in the winter season.
Book your stay with Vila Galé Coimbra here!
Tivoli Coimbra
Central hotel – see pictures & book here
Tivoli Coimbra is another 4-star hotel in the Baixa area of Coimbra. It is the most booked hotel in the city, and it is extremely popular among tourists. For this reason, it is important to book early.
While Tivoli is classified as a modern hotel, it does have a classic Portuguese touch as well, and it is located in a very good location near the famous street, Rua Sofia. You are basically within walking distance of all important places in Coimbra if you decide to stay with Tivoli.
The rooms are large and comfortable. The hotel is generally very quiet at night, so there shouldn't be any trouble sleeping. Tivoli does lack extra facilities compared to some hotels, but as long as the room is comfy and the location is on point, those are the most important thing. There is a restaurant though, and it is quite good. Portuguese, as well as international dishes, are served there. All rooms have air conditioning, and the staff provides great service in four different languages (Portuguese, English, Spanish, and French).
The average price for a night in a standard room is around 90€ so that is a great deal. But you should book early, just to be sure, because this is a hotel that gets a lot of bookings.
You can reserve your room with Tivoli Coimbra here!
Hotel Jardim
Cheap hotel in Coimbra – see photos & book here
Do you want a cheap, simple, and traditional stay in Coimbra? Then you should make a reservation with the affordable Hotel Jardim.
It has a really good location, right by the city park and the Mondego River. You can easily walk a bit north to the São Bartolomeu neighborhood for shopping and eating, or northwest to the Alta district where the university is situated. It takes about 5 minutes to walk to the university from Hotel Jardim, and there are other great attractions that are also just within 5 minutes of walking.
So you definitely won't get a better location for the money since this is absolutely ideal – but what about the rooms? While not luxurious, they are nice and they do actually have some class. Most rooms are small and the bed will take up most of the space, but the interior can be really charming – in most rooms, the walls have classic Portuguese decorations, large windows, and the common areas are also very cute. The entrance to the hotel is very Portuguese, which gives a nice feeling of authenticity.
There are some reasons why Hotel Jardim is so affordable though: It is located near a large avenue with frequent traffic, so there can be a bit of noise. The Wi-Fi isn't the fastest, and it is really only a hotel for staying – not for entertaining yourself – since there is a lack of extra facilities. You won't find a pool, a spa, or a gym here, so Hotel Jardim is primarily for people who are going sightseeing all day and simply want an affordable place to stay in Coimbra. But that in itself is very appealing because it is exactly what a lot of tourists have in mind. And that also explains why Hotel Jardim is actually one of the most booked hotels in the city.
You can make your reservation with Hotel Jardim here!
Quinta das Lagrimas
Luxury hotel in Coimbra – see the hotel & book here
Hotel Quinta das Lagrimas is known as the best hotel in Coimbra. It has 5 stars, it gets amazing reviews from previous guests, and it is a really unique place.
The first thing you should know about Quinta das Lagrimas is that the hotel is actually a palace that dates back to the Middle Ages. However, it was recently renovated, so while retaining the traditional vibe, it has extremely well-designed rooms, and you can expect a very comfortable stay.
It's a classy hotel and you will notice that immediately as you step inside. There is an impressive stairway leading up to the entrance, and when you get inside, you will be greeted with amazing service. This is the hotel to choose in Coimbra if you want to be treated like a VIP. There is a wonderful spa, an impressive library, two restaurants that serve dishes made from locally sourced foods. Quinta das Lagrimas has its own wine cellar. You will also find a golf course nearby. And if you are arriving by car, parking is free.
As you would expect, it is a bit pricey to stay here. Expect to pay at least 175€ per night although prices depend on room, season, and availability. It is generally best to book early if you intend to stay here. Do it a few weeks in advance, if possible.
There are three different types of rooms: Spa rooms, garden rooms, and palace rooms. Since the gardens look amazing, we would recommend a garden room the most, since you will have a great view – and it is very romantic if you are traveling with a partner. But of course, all rooms are great at this hotel, so you are in for a quality experience no matter which room you decide to stay in.
Quinta das Lagrimas is located in the neighborhood of Santa Clara. This is on the other side of the river, so you will have a great view of the old town when walking around the area, but there is a bit of extra distance to some of the main attractions like the university and the cathedrals. The Santa Clara area does have its own attractions though, we highly recommend seeing the park Portugal dos Pequenitos and the Santa Clara monastery.
Book your stay with Hotel Quinta das Lagrimas here!
Other options of accommodation
The best accommodation is by staying with one of the top hotels in the city.
But if they are overbooked, if that is too expensive, or if you are simply looking for something else, you can have a look at some other options, too.
When trying to figure out where to stay in Coimbra, you can also consider a holiday apartment. There are some apartment hotels that are fairly comfortable so that can be considered. Airbnb is also worth checking since a lot of locals are renting out apartments and rooms to tourists.
If you book an Airbnb in Coimbra, you will have more freedom and you will feel more like a local. But you should know that many of the central apartment buildings in Coimbra are very old, so you will rarely get the same luxury as in a hotel. It can be a bit louder and the bed will typically be less comfortable because Airbnb owners in Portugal usually buy their furniture for the lowest prices in IKEA while the most popular hotels have higher standards in this regard. The good news is that prices are relatively low for holiday apartments in Coimbra, so you can probably find central places to stay for well under 100€ per night.
Coimbra has a few hostels. You can consider staying in a hostel if you want a more social experience, mingling with other travelers who are also visiting Coimbra and if you want to minimize your spending.
Popular neighborhoods in Coimbra
When trying to find out where to stay in Coimbra, you should also be aware of the best areas and neighborhoods in the city. Coimbra is relatively small compared to many other European cities. Yet, there can still be a bit of distance between the bairros – and each neighborhood has its own attractions.
Let's have a look at the most popular neighborhoods in Coimbra:
Baixa & São Bartolomeu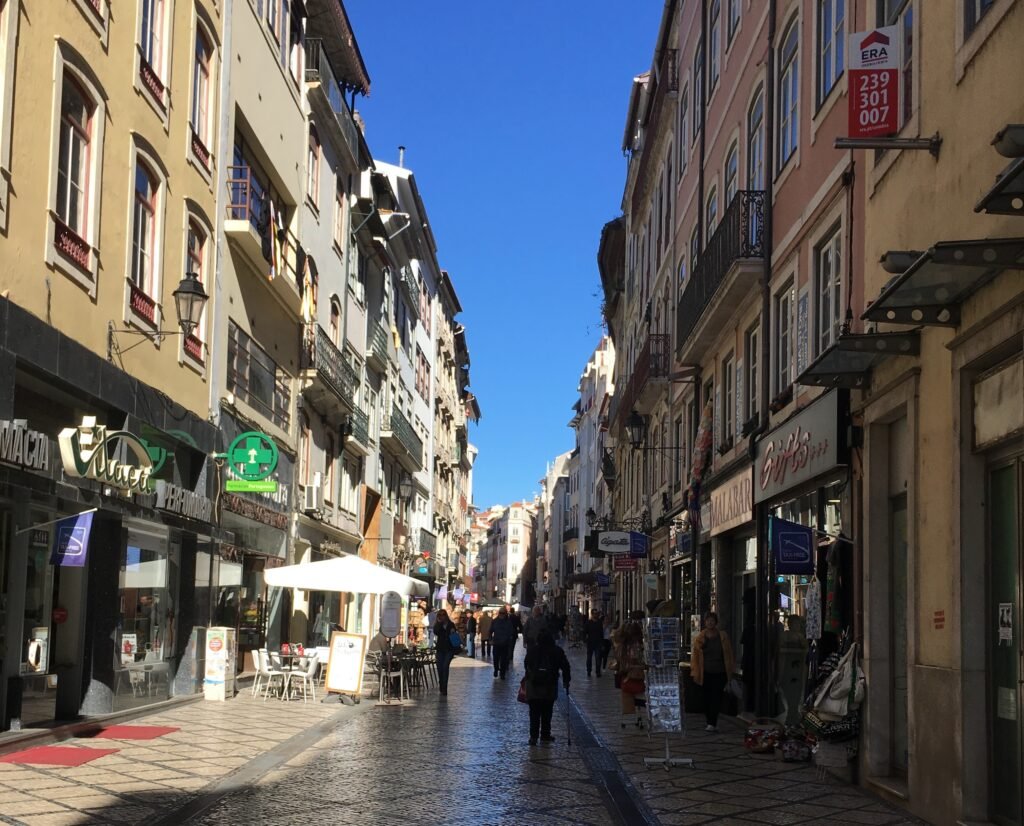 Baixa basically means "downtown". This is the central part of Coimbra, and this is where you find the charming old town with classic shops, restaurants, narrow streets, busy squares, and famous monuments.
The neighborhood of Baixa, along with the adjacent neighborhood of São Bartolomeu, is considered to be the city centre. You'll find most of Coimbra's hotels in these two neighborhoods, and they both have that classic Portuguese charm, which makes the whole central area very interesting to stay in.
There are plenty of restaurants in Baixa and São Bartolomeu, and there are also many great attractions. Arco de Almedina is an arch leading to the oldest part of the city, the famous Rua Sofia, the city hall, the Coimbra Museum, several churches, and many traditional shops of which many are shoe stores.
We recommend most tourists to stay in this part of Coimbra. Since Coimbra's most central train station, Coimbra-A, is located in São Bartolomeu, it is also easy to get to and from this particular area. Baixa and São Bartolomeu are also the areas where most of the popular hotels in Coimbra are located, so that makes the choice pretty easy for most travelers.
Vila Gale Coimbra and Tivoli Coimbra are some nice hotels located in Baixa.
Alta de Coimbra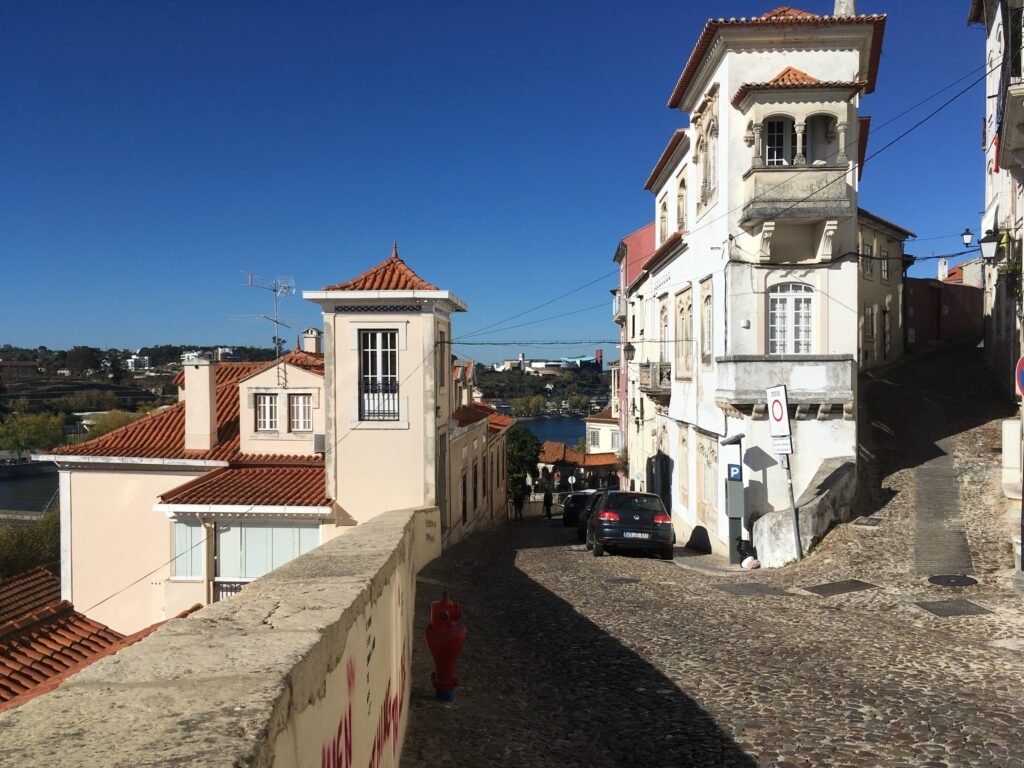 Alta means "high", so the neighborhood of Alta de Coimbra is on the hill. Just like Baixa, it is an old and charming area. Alta de Coimbra is home to the famous university, to the new cathedral, along with other churches such as São Salvador, as well as the Botanical Gardens and the museum of Machado de Castro.
Overall, there is a lot to see and do in the Alta neighborhood, so it is also a great place to stay. Even if you stay in another area, such as Baixa or Santa Clara, you should definitely stop by to see Alta de Coimbra since it has all these great attractions. There are some fine hotels in the area, very authentic and nice – you'll also find guest houses and holiday apartments in Alta.
Hotel Jardim is located at the southwestern end of Alta, and from this affordable hotel, it only takes about 5 minutes to walk up to the university.
Santa Clara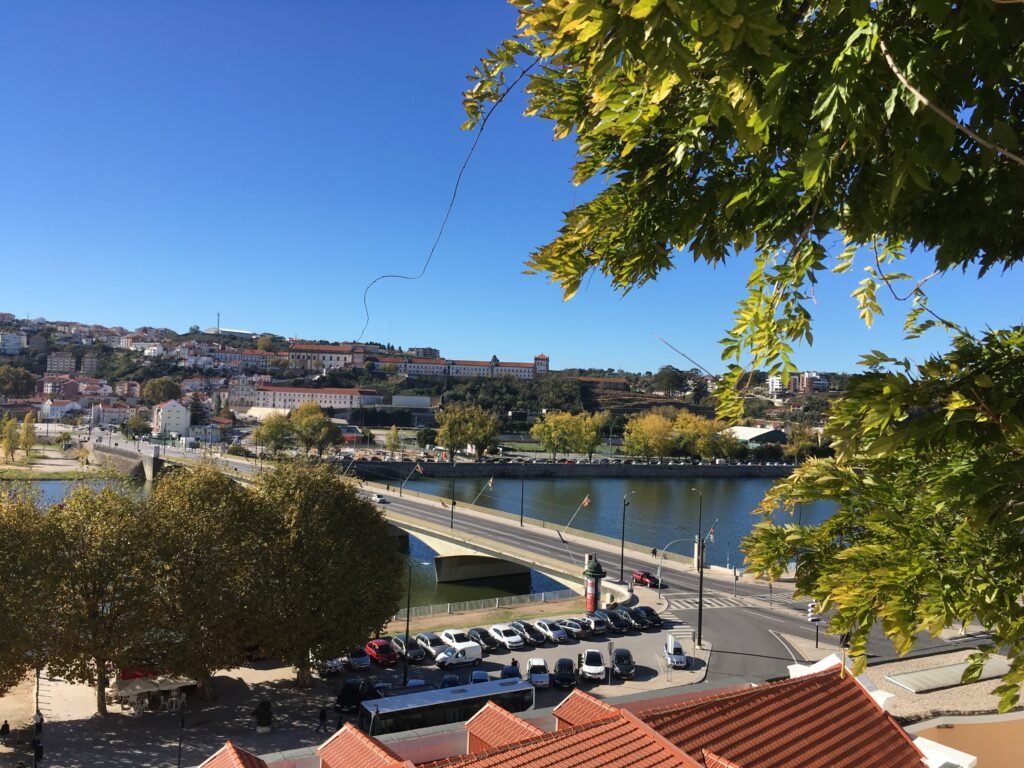 If you don't want to stay right in the middle of Coimbra, where it is often crowded with people, you can consider staying on the other side of the Mondego River. This would be in the western part of town, and this area is known as Santa Clara.
Santa Clara generally has a more modern feel. There are some old attractions, like the monastery of Santa Clara-a-Velha which has basically given the area its name, and the Convent of São Francisco.
But aside from that, this area also has a cultural center, an exploratory of science, a golfing area, some alternative museums, and in the northern end, the large Forum Coimbra mall. So there are plenty of things to do. And we haven't even mentioned the best attraction yet – Portugal dos Pequenitos, a park dedicated to Portuguese culture that has famous small-scale constructions that represent important areas of Portugal. It's a great attraction for children, so many families decide to stay in this area.
Santa Clara does not have as many accommodation options as the Baixa/Alta areas of Coimbra, but there are still a handful of nice hotels you can choose from.
The absolute best hotel in Santa Clara (and the best hotel in all of Coimbra) is the 5-star Quinta das Lagrimas. Highly recommended!
Estádio
Another area of Coimbra is west of the university, around the football stadium. It is just north of the major street, Rua do Brasil. There are many restaurants and educational facilities in the area. Obviously, it's a good place to watch football as well, since Academica de Coimbra plays at the stadium, but you can also go shopping in the mall Alma Shopping.
There aren't really any hotels in this area, but you will find holiday apartments and inns – they are often quite affordable, and it is a decent area to stay in.
Alto de São João
Another big area, very industrial and not very touristy – but it has the CoimbraShopping mall, many hypermarkets, some cafés, and in the southeastern end, a camping area. Again, you won't find any hotels, but there are apartments and camping facilities nearby.
—
Aside from our descriptions of Coimbra's neighborhoods, this map might give you further insights.
How to get to the city
The easiest way to get to Coimbra is by flying to Lisbon or Porto – and from there, you either drive or take a train for the rest of the way.
If you want to rent a car in Portugal, which is easy and affordable, you simply take the A1 motorway. The A1 connects Porto in the north to Lisbon in the south and passes through Coimbra along the way. It's a privately owned highway so you have to pay to use it (it will be around 15€ for the whole trip).
You can also take the train. The largest station is called Coimbra-B, located a bit outside of the city centre. The high-speed Alfa Pendular trains pass by several times per day, as do other trains. From Coimbra-B you can easily get to other Portuguese cities such as Lisbon, Porto, Braga, Faro, etc. There is also a night train between Coimbra and Madrid. It's called the Trenhotel Lusitania, and it also passes through Coimbra-B.
From Coimbra-B there are local trains going into Coimbra-A which is the most central station.
Coimbra does not have a metro or a tram (it used to have the latter but not anymore). Instead, it has a pretty good bus network that will take you to most places around the city. SMTUC is the name of the network and you will notice buses all over the city. Timetables are on the company's website.
Best time of year to visit
Wondering what time is best to come and stay in Coimbra?
It's a beautiful city for all parts of the year, but some seasons are still better than others.
If you visit in the summer, the weather will be hot, and you can enjoy the local celebrations on July 4th which is a local holiday in Coimbra. The summer is also the time when most tourists are present in the city.
However, if you want to experience the youthful student life in Coimbra and meet young people, the summer is not ideal. Most students do not actually live in Coimbra permanently, they simply stay there during their semesters. That means they go home in the summer and in holiday weeks. For that reason, Coimbra can seem a bit quieter during national Portuguese holidays such as Christmas and Easter, along with the entire summer where students typically are out of the city.
So if you want to visit Coimbra while it is full of life, go in the spring or in the autumn. May is a great time since it has the Queima das Fitas, one of the biggest student celebrations in Europe. October and November are great as well, since there are some events in the city, and the weather is still reasonable at that time of the year in Portugal.
We should also mention that Coimbra is located right in the centre of Portugal, so it is a great base for exploring other parts of the country. You can go north to Porto and the Minho region; you can go south to Lisbon, or even further to the Algarve; you can go west to visit the beaches at the Atlantic coast; or you can go east and visit the inland mountains, particularly Serra da Estrela which is within a close distance. So if you intend to explore many parts of Portugal, Coimbra might be one of the very best places to stay during your trip.
Learn more about Coimbra
If you want to learn more about Coimbra ahead of your trip, feel free to read our other articles about the city.
We mainly recommend reading about the best attractions in Coimbra. That will give you a nice overview of the best things to do there upon arrival.
You can also read articles about other Portuguese destinations. The majority of people visiting Coimbra usually go to either Lisbon or Porto as well. Read about the best places to stay in Lisbon, and the best places to stay in Porto if you are visiting one of those cities. That way, you can plan the entire trip in advance and travel with no worries.
Enjoy your trip to Coimbra!