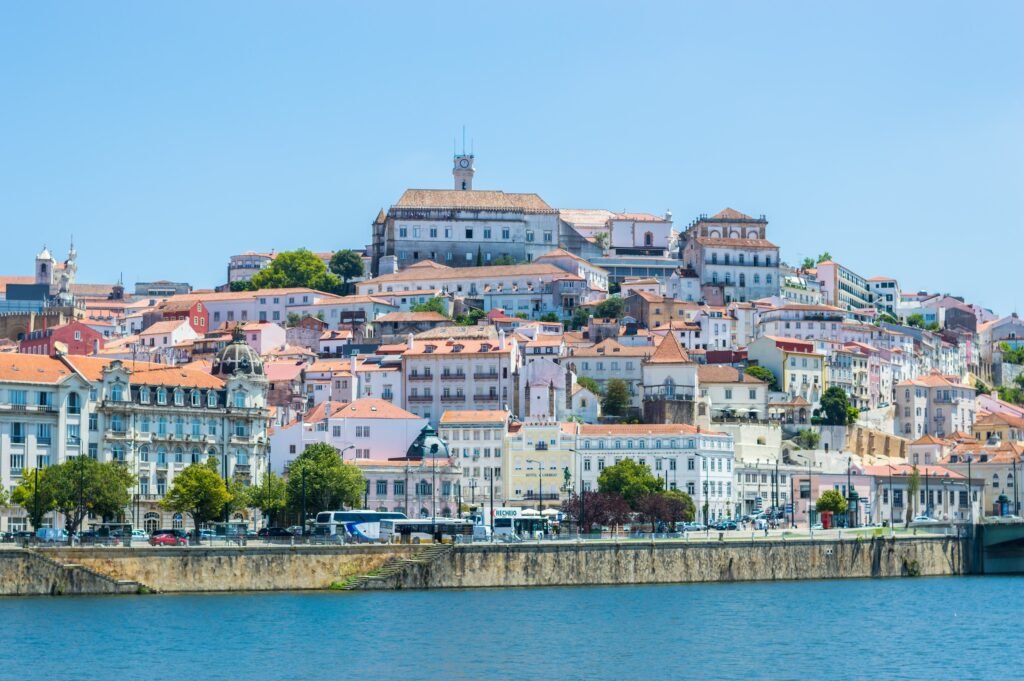 Coimbra has a great location in central Portugal. If you use the city as your base, you can go almost anywhere in the country. Most people already combine their trip to Coimbra with either Lisbon or Porto. But what are some lesser-known day trips you can make from Coimbra?
We will give you a handful of suggestions here. These are the best places near Coimbra and perfect for a day trip if you have some extra time for exploring the country.
Train tickets to and from Coimbra can be reserved with CP.
Conímbriga
The old Roman settlement Conímbriga is located just 15 kilometers away from Coimbra. It is a very short day trip that many tourists decide to take.
Conímbriga is the best-preserved Roman town in Portugal. It has been a National Monument since 1910 and over the years, more fascinating structures have been excavated.
DON'T MISS: Best attractions in Coimbra
This used to be a town full of life as evidenced by the many houses and villas, the forum, the temple, the aqueduct, and other findings at Conímbriga. Casa das Fontes is the most famous site in the town. This complex is famous for its mosaics on the floor, not to forget the well-structured gardens outside.
The Romans arrived in the area in 139 BC and if you wish to see the remains of an old Roman town in Portugal, Conímbriga is the best place to go. The best of all – it only takes minutes to get there from Coimbra! There are local services offering guided tours to tourists where transport is included.
Aveiro
Known as the Venice of Portugal. Aveiro has a system of canals, and it is common to sail around in boats and gondolas.
The architecture is beautiful, as many buildings have the characteristic Art Nouveau style, and you can really get a magical experience by visiting Aveiro.
It is one of the top tourist destinations in Portugal. Even though Aveiro is not really known by most foreigners, lots of Portuguese people go there on weekend trips and longer holidays, so Aveiro gets its fair share of domestic tourists.
The town itself is relatively small with just shy of 80,000 inhabitants. Yet it has some great attractions, a comfortable climate, and a really nice vibe. We highly recommend you to spend a few days in Aveiro.
You can easily go there from Coimbra – if you take the high-speed train (Alfa Pendular) it is a direct connection and it only takes a half-hour to get there. If you take the InterCity train, the trip takes around an hour. By car, it will take you around 50 minutes through the A1 motorway.
Figueira da Foz
Figueira da Foz is directly west of Coimbra and is the main coastal city of the region. Located at the mouth of the Mondego River which also runs through Coimbra, there is a distance of approximately 40 kilometers between the two cities. That makes it a fairly quick day trip – and a trip that is highly worth making.
If you want to go to the beach, Figueira da Foz is great. It is one of those typical Iberian coastal cities. There are several beaches in and around the city, it has the longest urban beach in Europe, and it has a great infrastructure for tourism. Figueira da Foz is one of the top destinations for domestic travelers in Portugal, and international visitors are also starting to pay attention to the city.
On top of the beaches in Figueira da Foz, there is a massive casino. There are some decent sights such as the Castelo das Conchas and the Palace Tower. While most of the architecture isn't as pretty as other Portuguese cities, you will notice that Figueira da Foz is a city where most buildings are white and that gives it a special look overall.
It takes about an hour to take the train from Coimbra to Figueira da Foz. The price is just 2.85€ so it is a very affordable day trip from Coimbra. Many tourists decide to stay for longer than a day since Figueira da Foz has such great attractions. You can also drive by car which is simply west through the A14. There are also local buses, but the easiest way to get to Figueira da Foz is to take the train.
Nazaré
Nazaré is another important coastal town in Portugal. It is among the most popular resorts on Costa del Prata, the Atlantic coastline in central Portugal. The reason for this is that Nazaré has a nice climate, very sandy beaches, several hotels, and it is a very beautiful and picturesque town.
A lot of travelers go to Nazaré to surf since it has some high waves at certain times of the year. Surfers have gone to Nazaré to set records due to the presence of these high waves.
The best time to visit Nazaré is in September when it has the 10-day festival Our Lady of Nazaré. It is a traditional festival with many processions, including special dances, bullfights, and fireworks. The festival is frequented by locals, pilgrims, domestic travelers, and international travelers.
Location-wise, Nazaré is southwest of Coimbra. By car it takes a little over an hour to drive – you have to go through the A1 and A8 motorways. It is not viable to take a train to Nazaré since you will have to take the train to Valado, a few kilometers outside of Nazaré. There are buses going from Coimbra to Nazaré though, so that can be an option if you don't want to rent a car.
Fátima
Fátima is almost directly south of Coimbra, so it makes for another great day trip opportunity.
Known for the Sanctuary of Our Lady of Fátima, this is a town that receives a lot of pilgrims and religious tourists. Fátima was the place where the Marian apparitions happened in 1917. This was recognized by the Catholic Church. At first, a small chapel was built in Fátima, and later the massive Sanctuary was constructed. It is one of the top tourist attractions in Portugal, so if you're staying in Coimbra and have time for a day trip, it is a destination that can be highly recommended. Fátima gets between 6-8 million tourists every year, making it one of the most visited places in Portugal.
To get there from Coimbra, you can take a regional train which has a travel time of an hour and a half and a ticket costs 7.75€. You can also take the faster InterCity train and save a half-hour, although the ticket will cost approximately five euros extra. Another option is driving yourself – you go south through the A1, and the trip takes about an hour. There are also buses going to Fátima from Coimbra.
Serra da Estrela
Serra da Estrela is the highest mountain range in mainland Portugal. Coimbra is actually the closest main city to the mountain range, so if you want to experience some nature while in Portugal, you can plan a day trip.
It is one of the places in Portugal where you can see snow for parts of the year. The mountain range is considered to be a natural park, it obviously has multiple mountains, but also three rivers and most importantly a unique culture with several myths and legends. The region of Serra da Estrela has its own cuisine in which most ingredients are locally sourced.
Serra da Estrela is a pretty large area and it is situated between multiple municipalities. So you have to plan your trip well and find the best option for you. Some of the towns in this mountainous area are Seia, Guarda, Covilhã, Manteigas and Gouveia. It takes almost two hours to go from Coimbra and into the central part of Serra da Estrela's natural park, but again – you have many options. The most flexible way to travel is to drive yourself or get in a cab. But you can also take a bus. There are some trains that connect Coimbra to towns in the vicinity of Serra da Estrela.
Viseu
Viseu is an important city in central Portugal and it isn't too far from Coimbra. Located around 100 kilometers northeast, it is a viable day trip from Coimbra, and it is a city that is mostly unknown among international tourists.
However, Viseu is a super interesting place. It is famous for its local wine (Dão Wine). It also has a history dating back to the Celts. During the time of the Visigoths, it was an important city in the Iberian peninsula and there were roads to Lisbon and Mérida. The architecture in the centre is quite fascinating, and Viseu has several interesting attractions that you can explore upon arrival.
You can't take the train to Viseu, but it has a solid bus network. It usually costs around 10€ to take the day trip from Coimbra to Viseu and it takes about an hour and 20 minutes. RedeExpressos has an hourly connection. Alternatives are Rodonorte, Citi Express, and Flixbus – they all have buses covering the route as well. Driving by car is slightly faster as it takes around an hour and 10 minutes through IP3.
Pombal
Pombal is perfect for a day trip since it has a few interesting attractions, and at the same time, it doesn't warrant a longer stay.
The top site in Pombal is the medieval castle. It was built in the 12th century and has a massive presence overlooking the town. Once a year, the celebration of Festa do Bodo is held in Pombal, which dates back to the Middle Ages. Pombal is also the place where the title of Marquis of Pombal came from. So it is a historic place – and it is actually not a place where you find a lot of international tourists.
The town itself is mid-sized and has a little over 50,000 inhabitants. So there is a bit of life there, too. There are some local affordable places to eat, so you can do that after seeing the castle, the main square, and perhaps some of the museums and churches.
It takes less than a half-hour to take the train from Coimbra to Pombal (and vice versa). There are connections every hour. Driving takes a half-hour, but it is often easier and cheaper to take the train.
—
What are the best Coimbra day trips? Well, this article showed you several of the best options. If you want a very quick day trip, we would recommend going to Conímbriga, the old Roman settlement. If you have more time, Aveiro and Fátima are some of the top options from a cultural point of view, and Figueira da Foz is within a fair distance if you want to go to the beach. Have a nice trip to Coimbra and the central Portugal region!
DON'T MISS: Best places to stay in Coimbra