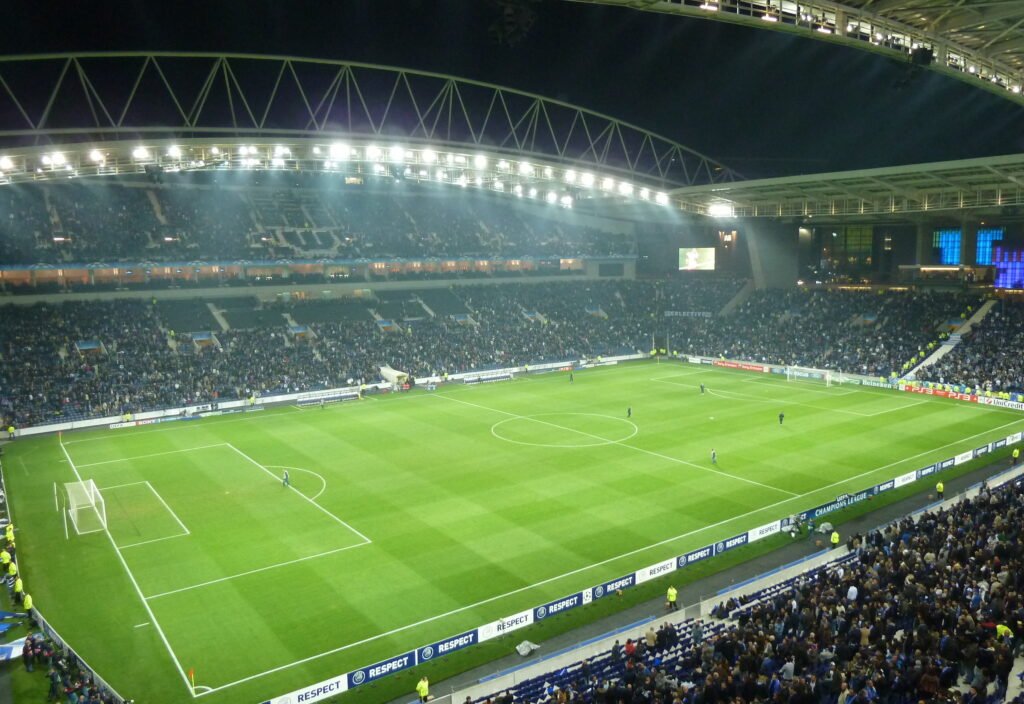 Football is very popular in Porto, and the city happens to have one of the most successful teams in Western Europe. FC Porto plays in the Champions League almost every year, and the club has dominated the Primera Liga as of late. But FC Porto isn't the only club in Porto, and if you're a sports fan, it definitely makes sense to take a football trip to Porto.
Here's a full guide to football in Porto. We will run through the different teams, their stadiums, and the ways that you can experience their matches and their history.
Football clubs in Porto
The city of Porto has two major clubs: FC Porto and Boavista. These two clubs are also fierce rivals. While FC Porto is the only top team from Porto, Boavista was once a very good team, and going to Boavista matches can be a lot easier and more affordable.
The metropolitan area includes two other clubs that are playing or have played in the top Portuguese flight within the last two seasons: Paços de Ferreira and Rio Ave. These are sub-top teams, usually finishing right below the big four in Portugal. Just a few seasons ago, Paços de Ferreira played European football.
We obviously recommend watching an FC Porto match if you get the opportunity. FC Porto is the main team in the city. But the others are not too shabby either, and if you want a football experience in Portugal, you can consider watching Boavista, Paços de Ferreira or Rio Ave as well. If a team like Benfica is visiting Boavista, that is not a bad match to attend!
Below we will try to supply you with useful information if you want to experience any of the Porto football clubs live.
FC Porto tours & tickets
FC Porto is the main club of the city. It has the most fans, and it is the most successful club in Porto.
In fact, FC Porto is one of the most successful clubs in Europe. 'The Dragons' won the UEFA Cup in 2003 and the UEFA Champions League in 2004. FC Porto has countless Portuguese titles, and it impressed on the big stage again in the 20/21 Champions League when the club knocked out Juventus and reached the quarterfinals.
You have two options if you want to experience FC Porto:
Match tickets so you can attend a game
Museum and stadium tour which is possible any day
If you want to buy tickets for a match, we suggest that you use FC Porto's official website. On the linked page, you can check out the tickets that are for sale. You can also go to one of the many FC Porto shops while you're in the city.
Availability and prices depend on the particular matchup. The top matches are obviously the seasonal bouts with Benfica, Sporting, Braga and Boavista, as well as the European matches. It might be difficult to get tickets for the top matches, but it is possible. Tickets for matches against lower-ranked Portuguese opponents are a lot easier to get, you basically just book your ticket and go to the stadium. You can use Football Ticket Club to compare prices from different sellers, in case you haven't already booked at the official Porto website.
As mentioned, FC Porto also offers a museum and stadium tour. This allows you to see Estádio do Dragão where Porto plays its home matches. The museum has interesting exhibitions and you can re-experience the moments where Porto won its major titles.
Prices for a Porto tour start at 12 euros. It takes around two hours to see the stadium and the museum, and it is a nice experience. The main ticket does not include a guided tour, so you will have to navigate around by yourself once you're inside – which is easy enough, actually. You can rent an audio guide in various languages if you want to learn along the way.
You can book tickets for the FC Porto stadium and museum tour online in advance. Book it here. After that, you simply have to show up – there's no waiting in line if you're pre-booked.
Visiting Estádio do Dragão
Estádio do Dragão is the home ground of FC Porto. With a capacity for 50,000 spectators, it is one of the largest stadiums in Portugal. Dragão is an all-seater stadium. It was designed for the Euro 2004 tournament and then used by FC Porto ever since. The design is modern and has a roof over the seats.
To experience FC Porto, whether you're attending a live match or getting the stadium/museum tour, you obviously have to go to Dragão.
The stadium is located in the northeastern part of the city, in the neighborhood of Lameira, a bit north of the Campanhã train station.
We can assure you that it is very easy and cheap to reach the stadium. To go to Estádio do Dragão, simply take the metro. Lines A, B and F all go to the stadium – in fact, the station name is Estádio do Dragão, just like the football stadium, so you will know exactly when to get off. It is very cheap to take the metro.
On matchdays, the metro can be full, so it also makes sense to take a taxi. It will cost between 5 and 10 euros to get to Dragão from the city centre by taxi, depending on traffic and starting point. So still fairly cheap. The main cost is the initial charge since the trip isn't very long itself.
Boavista tours & tickets
Boavista is Porto's second team, famous for its checkered shirts.
It was founded by Brits in 1903 and plays in Portugal's Primeira Liga. The club has spent most of its history in the top Portuguese flight, where it has won one championship and five cups.
Boavista used to be much better than it is now – the last Champions League appearance was in 2002 – but it is still a fascinating club. If you ever get the chance to watch O Derby da Invicta, as the rivalry between Boavista and FC Porto is called, seize the opportunity!
It is generally much more affordable to attend a Boavista match than an FC Porto match. The stadium is almost never sold out, and you can buy tickets on location. You can also check this site. Prices usually start around 45€. If you're a fan, you can become a member of Boavista and get free access to 12 home games in a season (basically all home matches except versus Porto, Benfica, Sporting, Braga, and Vitória SC).
Aside from the matches, you can make a regular visit to the stadium. Boavista has a museum and it is open to the public. BUT! You have to make an appointment in advance. All visits must be scheduled. You can write to secretaria@boavistafc.pt or call +351 226 071 024. By the way, that will also work for acquiring match tickets. There's more information on the club's website.
In the Boavista Museum, you can learn more about the club and see some exciting exhibitions. It's a great opportunity to see the legacy of Boavista's greatest athletes – and the museum is not only centered around football but also around other sports.
Visiting Estádio do Bessa
Estádio do Bessa, Boavista's home stadium, is situated in the western part of the city. It is fairly central. Boavista FC has taken its name from the neighborhood which is also called Boavista.
To give you an idea of where Bessa is located, it is very near Casa da Música, just a bit more west. You can follow Avenida da Boavista to get there. Metro stations Casa da Música and Francos are the two nearest. Any taxi driver will also be able to get you there.
Bessa is an impressive stadium with a capacity of 28,000. It held 3 matches during the 2004 Euros. Aside from being Boavista's home field, it is also used for entertainment.
Paços de Ferreira
Paços de Ferreira is a separate city, but a city within the Porto district. It's not too far from Porto, so if you want to catch a match live, it is definitely possible.
Despite never having won the Portuguese league, Paços de Ferreira FC is a team that often impresses. The club finished third back in 2012-13 and qualified for Champions League play-offs. Paços de Ferreira has also won the Segunda Liga 4 times and has spent over 20 seasons in the Primeira Liga.
In recent years, the club has gotten better and better, so if Paços de Ferreira plays one of the top clubs in Portugal, it might actually be a great match to watch.
The club stadium is Estádio da Mata Real.
Rio Ave
Rio Ave FC is a club from Vila do Conde, a separate municipality, but within the Porto Metropolitan Area. Vila do Conde is actually an awesome town, one old the oldest settlements in Portugal. The club is named after the river that flows through the town and into the Atlantic – Rio Ave.
In the past, Rio Ave was a team that usually played in the bottom of the Primeira or in the lower ranks. But in recent years, Rio Ave has become a lot better. The club has produced some significant talents – among them are Fábio Coentrão, Rui Jorge and Jan Oblak – and Rio Ave has made several nice transfers, such as Mehdi Taremi brought in from Iran who became the league's top scorer in 2019/20.
The best league finish for Rio Ave has been fifth. The club has participated in the Europa League a few times. In other words, it is a club that is going forward, and it is an exciting club to follow. Unfortunately, after just one bad season in 2021, Rio Ave was relegated to the Segunda, but surely it is only a matter of time before this team moves back up again.
If you're taking a trip to Vila do Conde, why not see the Rio Ave Stadium as well? You might even be able to attend a match if you're visiting on the right day. Rio Ave is a fun team to watch, and it should not be dismissed if you are taking a football trip to Porto.
Why you should take a football trip to Porto
Porto is a great football city, so from that angle, it definitely makes sense to visit it.
Most people plan football trips to cities such as Manchester, Munich and Madrid. But if you want a slightly different experience, go to Porto. There's no doubt that FC Porto is one of the most successful clubs in Europe, with several local titles in the bag, as well as Champions League and Europa League titles. And Porto is a fun team. It has passionate fans, a major stadium, and it is incredibly easy to go there and get a tour.
If you're not a fan of FC Porto, or if you simply want to experience more football, there are also the clubs of Boavista, Paços de Ferreira and Rio Ave. The local derby in Porto between FCP and Boavista is an experience worth having. But any match will certainly be fun to watch in person!
Besides, Porto is a magical city full of historic and attractions – check our list of 101 things to do in Porto to get some inspiration!