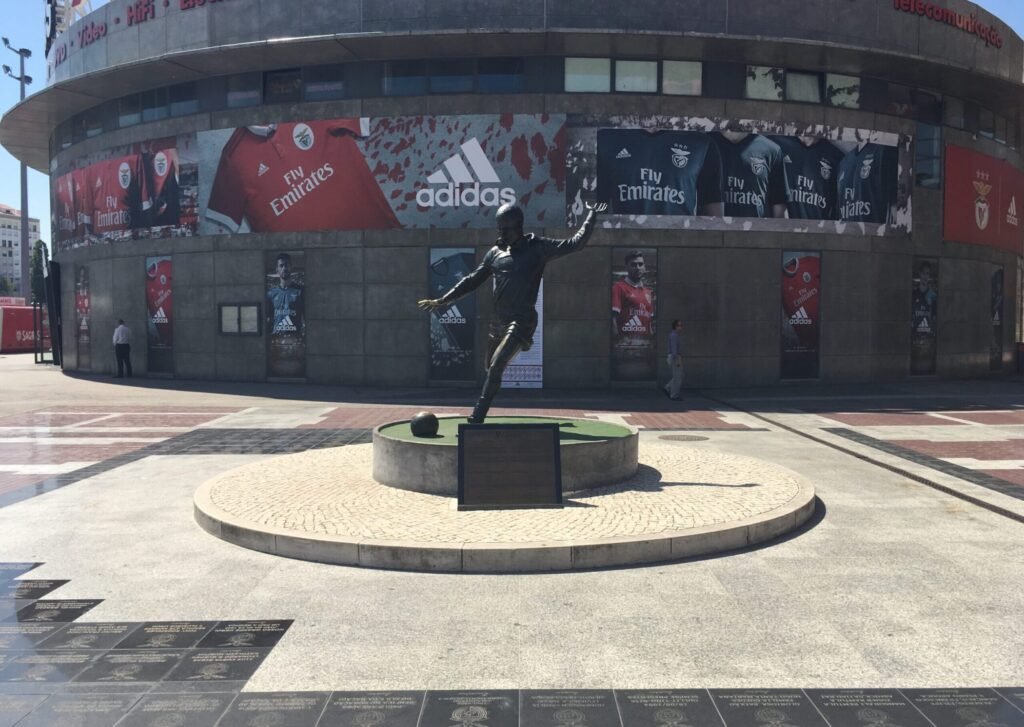 Lisbon has two major football clubs – SL Benfica and Sporting CP. Both clubs play in huge venues and have giant fanbases in Portugal and abroad. If you've ever dreamt of watching one of these teams live, or if you simply want a stadium tour and some souvenirs, then read this guide. We are giving you all the practical details if you want to take a football trip to Lisbon!
Football is something cultural and football trips have become more and more common. Lisbon should be one of the prime destinations for football fans since Benfica has a rich history and since Sporting is currently excelling in finding exciting talents. And just so you know, Lisbon also has smaller clubs that might be of interest. But let's take a look at the big ones first.
Benfica tours & tickets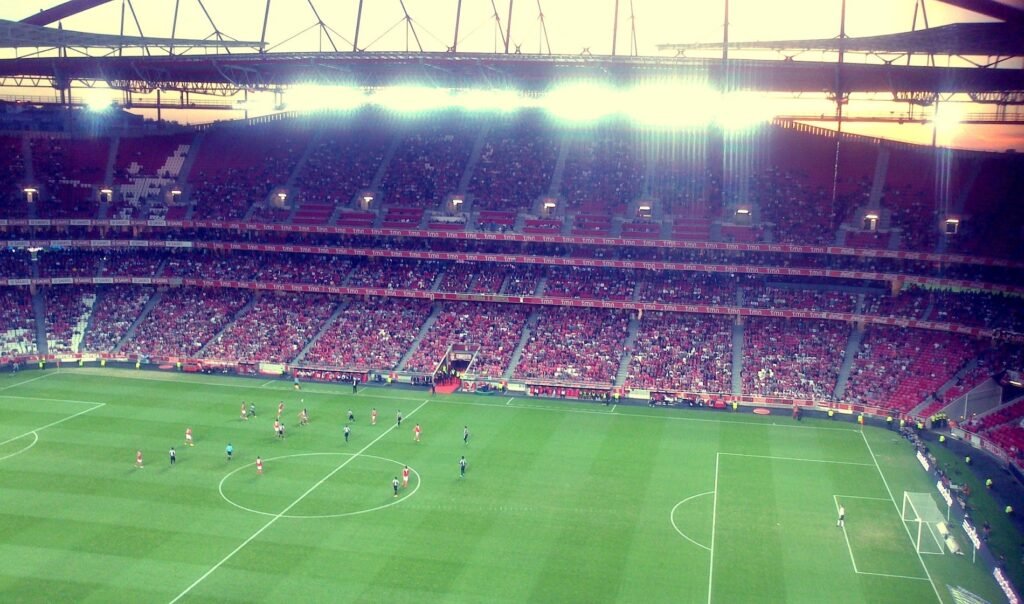 Benfica is Lisbon's most historic team. It dominated European football back in the 1960s when it had the legendary striker Eusébio in the squad. While Benfica is currently a bit away from its international heights, the Eagles (as they are called) still compete in the Champions League almost every season. It also triumphed in the Primeira Liga as recently as in the 2018/19 season.
The club has been named after the neighborhood of Benfica in northwestern Lisbon, near the suburb of Amadora.
Watching a Benfica match live is a great experience. Not only do you get to see top-notch football – you also get to feel the intense atmosphere of Estádio da Luz, one of Europe's biggest stadiums.
Benfica plays at least 17 home matches per year, and often the number exceeds 20. That gives fans and tourists a rich opportunity to catch a game.
You can find information about games and tickets on Benfica's official site. You can buy tickets there and print them out.
Usually, there are very few tickets available for the top matches. With top matches, we are referring to the Lisbon derby against Sporting, as well as games against FC Porto and Braga. Tickets for European matches can also be hard to come by. It is possible, but it will be more expensive, and you'll have to book early. However, it is quite easy to get tickets for all other matches. Prices usually start around 50€, but for great seats, you can expect to pay a bit more.
You can also go on a Benfica Museum and Stadium tour. The stadium is open to visitors every day between 10 am and 6 pm, while the museum is open every day except Mondays. The normal price for a full Benfica tour is 17.50€ but there are often reduced rates. We urge you to book your stadium and museum ticket online in advance – do it here – because that will allow you to skip the line. It is however possible to buy at the ticket office at Estádio da Luz as well.
Visiting Estádio da Luz
The massive Estádio da Luz stadium is Benfica's home ground. The stadium has a capacity of over 64,000. It has previously hosted the Euro 2004 final along with several UEFA Champions League finals.
If you're a football fan and taking a trip to Lisbon, it's a must to visit Luz. It's the biggest stadium in Portugal and also one of the biggest in Europe. As mentioned before, you can go on a tour most days of the week, and if you're going to a Benfica home match, this is obviously the venue.
Estádio da Luz is situated in the northwestern part of Lisbon, near the Colombo shopping mall. The easiest and cheapest way to get there is by metro. Take the blue line and get off at Colégio Militar – Luz station. Buses also drive there though, and a taxi is always an option if you prefer private travel. The stadium is too far on foot, so we recommend taking either the metro or a taxi to get there.
On top of the stadium, there is a massive Benfica shop at Estádio da Luz.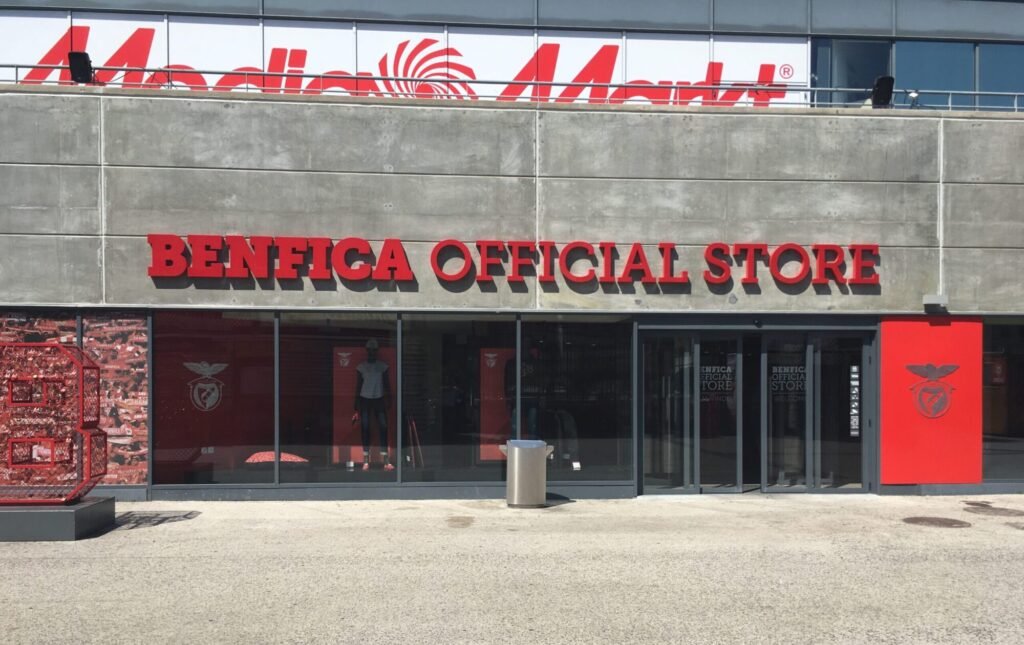 Here you can buy all the Benfica merchandise you need. You can also go shopping at the beautiful Colombo mall when you're finished at the stadium, it's an awesome mall with several restaurants as well.
But of course, the highlight is getting into the stadium, and whether you do it for a match or a tour, you will certainly have a great experience.
Sporting Lisbon tours & tickets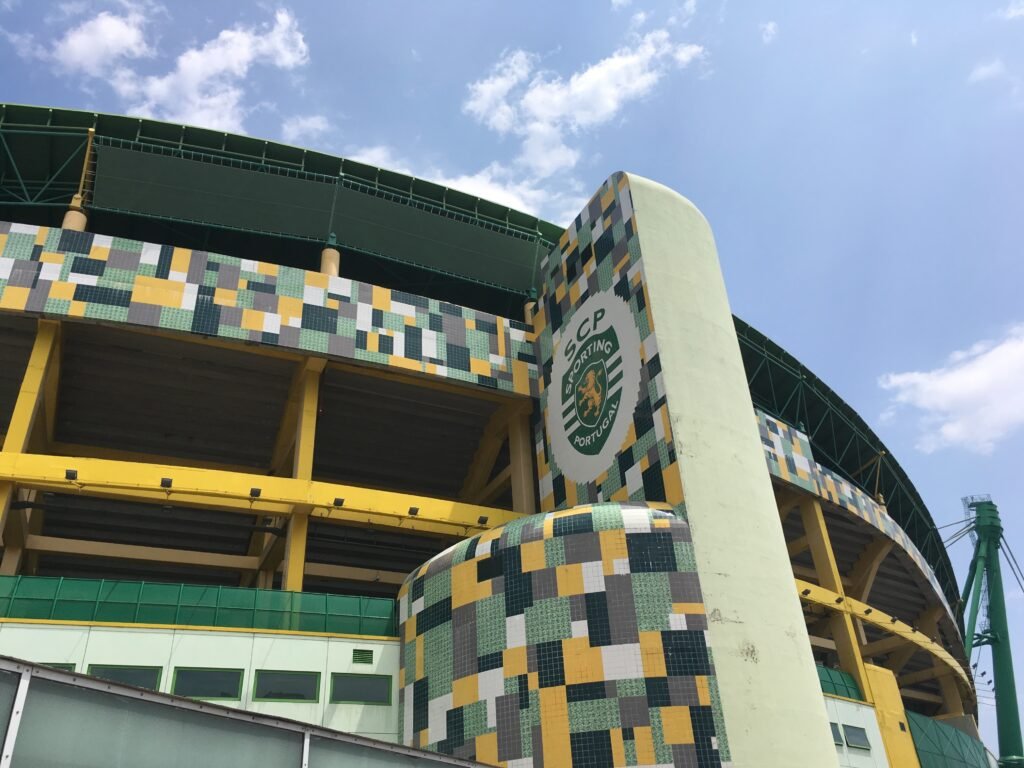 Sporting Clube de Portugal – known to the Portuguese as Sporting CP, and to the rest of the world as Sporting Lisbon – is another major Lisbon club that has achieved great success over the years.
The Lions are always fun to watch. With 18 league titles and 17 cup wins, there's no doubt that Sporting has had its fair share of success. Unlike Benfica and FC Porto though, Sporting does not have a huge collection of European titles, but perhaps the best is yet to come. The green club from northern Lisbon had issues with its administration during the 2010s but these problems now seem to be solved. In the last few years, Sporting has been great at spotting talents (just look at Pedro Gonçalves, Nuno Mendes and Gonzalo Plata) and the club has returned to the level of its main competitors in Portugal.
Sporting plays at Estádio José Alvalade north of the city centre, near the popular Lumiar neighborhood.
It is a very popular club among the Portuguese people, but also one of the most hated clubs by its rival fans. Our point is that Sporting matches are intense, and top matches are great to watch.
You should go to Sporting's official website to buy your tickets. It's usually best to go straight to the source when it comes to booking. And Sporting makes booking relatively easy.
Just like Benfica, Sporting also has a museum. You can go on a Sporting tour where you experience the Alvalade stadium as well as the museum. Adult tickets cost 14€ each, while kids can get in at half price. It is possible to buy a family pack where the whole family gets in for 30€. The museum is open every day except Monday, while the stadium is open every day but with limited hours on matchday. You have to book your tour by contacting Sporting in advance or by showing up at the local ticket office at the stadium. If you prefer doing it in advance, click here.
Visiting Estádio José Alvalade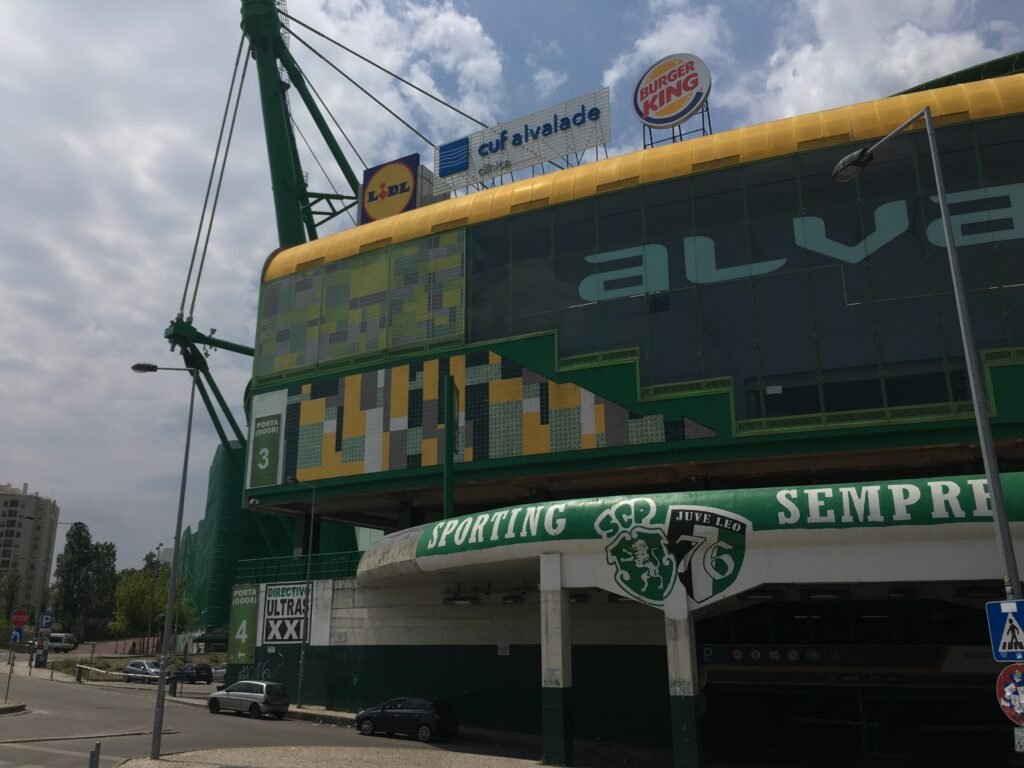 Estádio José Alvalade is named after the man who founded the club. It's actually not too far from Benfica's stadium, so the two clubs are located quite near each other.
Sporting's home stadium has room for about 50,000 people. It is sold out for top matches, but not for matches against lower-ranked Portuguese teams. The stadium was completed in 2003, making it the seventh stadium of the club, and it is quite modern. Aside from the football field and the seats, Estádio José Alvalade is actually a mall too, with several shops such as souvenirs, clinics, a supermarket, and a few places to eat.
When going to the stadium, we urge you to take the metro. That is always the easiest. Don't get fooled by the Alvalade station – this is not where to get off. You should get off at Campo Grande, which is the closest metro station. The green and yellow lines both go there, so it is fairly easy. It's also cheap. Of course, if you don't like taking the metro, you also have some other options – a taxi would probably be preferable if you want something private.
Belenenses
Lisbon has more clubs than just Benfica and Sporting. Of course, those are the most successful ones, but there are other opportunities to watch some ball when visiting the Portuguese capital.
Belenenses is another historic club. Unfortunately, it is a sad story now – the club itself "Os Belenenses" split from the company "Belenenses SAD" in 2018. The traditional club, Os Belenenses, is now playing in an amateur division, but still has access to the famous Restelo stadium. Many fans still support Os Belenenses, despite the fact that the club plays so far down in the system. If you want to support this team, see if you can get tickets.
Then we have the modern Belenenses team, the B-SAD, which is the offshoot of the historic club. Belenenses SAD actually plays in the Primeira Liga and faces top opponents quite often. Matches take place at Estádio Nacional, Portugal's national stadium. It's never sold out for Belenenses SAD matches, so you can easily get tickets for any matchup, as long as fans are allowed in.
Os Belenenses (historic team) is from Belém, a Lisbon suburb to the west that has many great tourist attractions as well. Belenenses SAD (modern offshoot) plays a bit further west.
Estoril
Estoril Praia is another team in the area. While not in Lisbon itself, Estoril is just a few kilometers away. It's a resort town with a beach, casino, and great restaurants. And of course, Estoril has its football club. This team has played several seasons in the Primeira Liga in the past. Now it finds itself in the Segunda Liga, but it is one of the better teams in this division, so surely it is only a matter of time before Estoril returns to top Portuguese football again.
Practical tips for your trip
First of all, find a nice place to stay in Lisbon. We recommend you stay in the city centre so that you can feel the vibe of Lisbon and be near all the normal tourist attractions.
Benfica and Sporting are both minutes away by taking the metro, so you can easily go back and forth to the stadiums while staying in the centre and enjoying your city trip.
Aside from that, you should try to book match tickets a few weeks in advance. Try getting the tickets when sales open. When it comes to stadium tours, it is completely up to you if you want to pre-book in advance, or if you want to get them at the stadium. We generally urge people to pre-book since it's easier, but both strategies work fine.
In central Lisbon, it is no problem to support one of the two teams openly by wearing a club shirt or a cap. But when going to the stadiums, be a bit more careful. For instance, don't walk around Benfica's Estádio da Luz stadium in a Sporting shirt, or around Alvalade in a Benfica shirt. That would seem a bit wrong and disrespectful. Common sense is advised when wearing team merchandise. While most Portuguese football fans are down-to-earth, super nice and peaceful, there are some ultras too.
Try to eat a big meal before going to the stadium, since the food options at the stadiums are limited to fast food. If you visit Benfica, you could go to the Colombo mall and grab a bite – there are several fine options here.
Ultimately, use common sense, try to book in advance, and enjoy your trip! If you're going on a Lisbon football trip, it makes sense that things are centered around football, but don't forget to enjoy all the other things that the city has to offer. If you have enough time, you can explore all the classic attractions in Lisbon as well as its cool bar scene and its many tasty restaurants.
Why you should take a football trip to Lisbon
So, why should you take a football trip to Lisbon? Because obviously there are many nice cities to visit in Europe if you love the sport.
Lisbon is a bit of an alternative choice, but it is super rich in football history. Benfica was the best club in the world back in the early 60s, and both Benfica and Sporting are still solid squads that often compete on the big stage in international tournaments.
If you're a fan of any of Lisbon's teams, that is reason enough to visit. If you're a general football fan, Lisbon should have enough football history to make it interesting for you.
And, as said several times before, Lisbon is just an awesome city. It has so much to offer and football is just one of these things. A Lisbon holiday almost always turns out to be magical.
Conclusion
Benfica and Sporting are some great teams with huge stadiums. You can visit Lisbon to watch a football match, or you can take a calm trip and simply go see the stadiums and the football museums.
Alternatively, you can take a football trip to Porto, and you can see what else Portugal has to offer.
We hope that this article will prove itself useful so that your preparation is nice and simple. If you have decided to make the trip to Lisbon, we wish you a great trip!