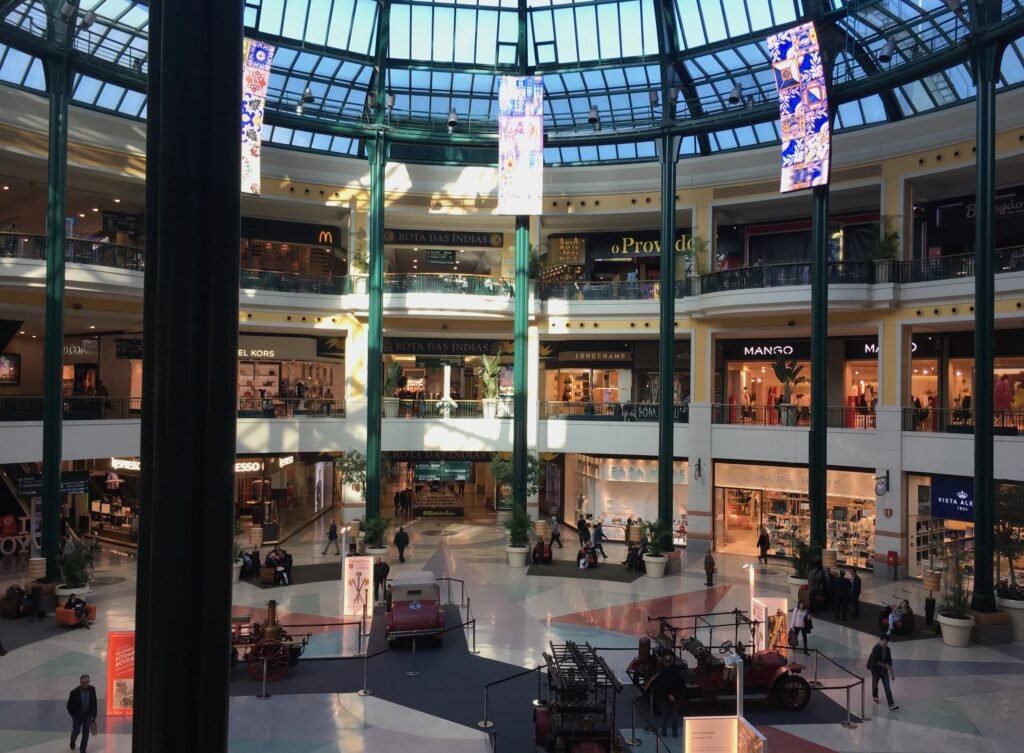 If you fancy a comfortable city trip in Europe, Lisbon is a prime destination. It has many cultural attractions, good weather, affordable prices, and amazing places to shop. In this article, we will focus on that last part – shopping!
We will go through Lisbon's best areas for shopping, the most unique stores, and the best malls to visit if you're coming to Lisbon to shop.
Best shopping areas in Lisbon
Avenida da Liberdade is a major avenue in the centre. On both sides, there are many high-end stores, usually centered around fashion. Since Avenida da Liberdade is an easily accessible location (either by walking if you are staying in central Lisbon), or by taking the metro, it's a location that many tourists visit to go shopping. So do the locals.
In the downtown part of Lisbon, you may want to visit Rua Garrett and Rua do Carmo. These are two of the most central and most loved shopping streets in Lisbon.
Rua Garrett is located near the Baixa-Chiado metro station, and it has several beautiful stores – most of them related to fashion and jewelry. Livraria Bertrand is arguably the most interesting store on Rua Garrett. It's an old bookstore, the oldest extant of its kind in Portugal. On the eastern end of Rua Garrett, you'll find the mall Armazéns do Chiado.
Rua do Carmo is north of Rua Garrett and has this mall on its southern end. There are also many stores on this street, many are again related to fashion and cosmetics, but there is a bit of everything.
If you are going shopping in Lisbon, then we would say that these three locations are the most important to visit: Avenida da Liberdade, Rua Garrett, and Rua do Carmo.
There are additional streets that are also worth visiting if you are in the mood for more. Rua Augusta is also very central – and typically very crowded. It is the street that leads down to Praça do Comercio. You will see clothing stores such as Zara and Pull & Bear, along with Benfica and Sporting shops, plus much more. But this particular street is more famous for its restaurants and its street performers than it is for shopping.
The area of Príncipe Real is great if you are looking for unique stores, more in the Portuguese style than the big chains you typically see downtown. There are several antique shops in the Príncipe Real district.
The Alfama area can also be recommended. It is arguably the most authentic area in Lisbon since it has such a traditional vibe. Alfama mostly has independently-owned stores, souvenir shops, and local oddities. There are some great cafés in Alfama as well. It's not the kind of place you go to for shopping specifically – it's an area you wander around in, and casually you just happen to find a lot of nice shops.
These are the main outdoor districts for shopping in Lisbon. But the truth is that there are shops (both mainstream chains and locally owned stores) all over central Lisbon, so regardless of where you are staying, you should have options nearby.
Read our guide on where to stay in Lisbon if you want to make sure you find a hotel at a central location.
Top stores and markets to visit
There are many general stores you can visit in Lisbon. But some stores are so great that they can almost be considered attractions – and they are awesome to visit, even if you don't intend on buying anything.
Livraria Bertrand on Rua Garrett is a must. It's an old bookstore that is very fascinating to visit.
LxFactory, located in the western district of Alcantara, is a highlight as well. It is known as the creative hub of Lisbon. It was once an industrial area but now it has turned into a facility with independent shops. This is the place to go for artisan shopping in Lisbon, and if you wish to find really unique, artistic items. There is a farmer's market at this location every Sunday, also highly worth visiting.
El Corte Inglés is a massive department store in central Lisbon. Just north of Parque Eduardo VII, you'll find this awesome place. El Corte Inglés is known for high prices (at least compared to local purchasing power) so it's most wealthy people shopping there. But you'll find a bit of everything – clothing, electronics, merchandising, even a supermarket. If you've been to Spain, you know how great Corte Inglés is for all things shopping, and the Spanish-owned brand is just as appealing in its Lisbon department. The nearest metro stop is São Sebastião, when you get off there, you're basically right at the front door of Corte Inglés.
Feida da Ladra is Lisbon's top flea market. It's also the oldest. If you are looking for gems that you won't find elsewhere, this is the place to go. Feida da Ladra is open on Tuesday and Saturday mornings, so be sure to write that in your calendar! Feira da Ladra is in Alfama, yet another reason to visit that idyllic area of the city.
Praça da Figueira, near Rossio, is a square that has a market on the last weekend of the month. It is centered around food, so if you fancy trying some classic Portuguese treats, and if you're lucky enough to be in town while it's open, we would recommend going here as well.
The Time Out Market is another great place, although again centered around food – it's a massive food market near Cais do Sodré in the southern part of the city. It's a great place to go with friends, and it also works for a date if you don't mind some noise around you! All types of food can be found at the Time Out Market. It's a relatively new market, and it is a permanent facility open almost every day, unlike the temporal markets in Lisbon.
Best malls in Lisbon
Lisbon has several malls – some of them are in the city centre, others are in the suburbs within a fair distance if you take the metro.
The best one is Colombo. It's the biggest shopping centre on the Iberian Peninsula and it is a place that anyone can love – with over 300 stores, you will certainly find a place that suits your interests. Colombo also has a wide variety of restaurants, cafés and movie theatres, so you can also go to meet up with friends and have a good experience. The mall is also amazingly designed on the interior – inspired by Christopher Columbus as the name Colombo suggests – so be sure to enjoy the surroundings when you get inside.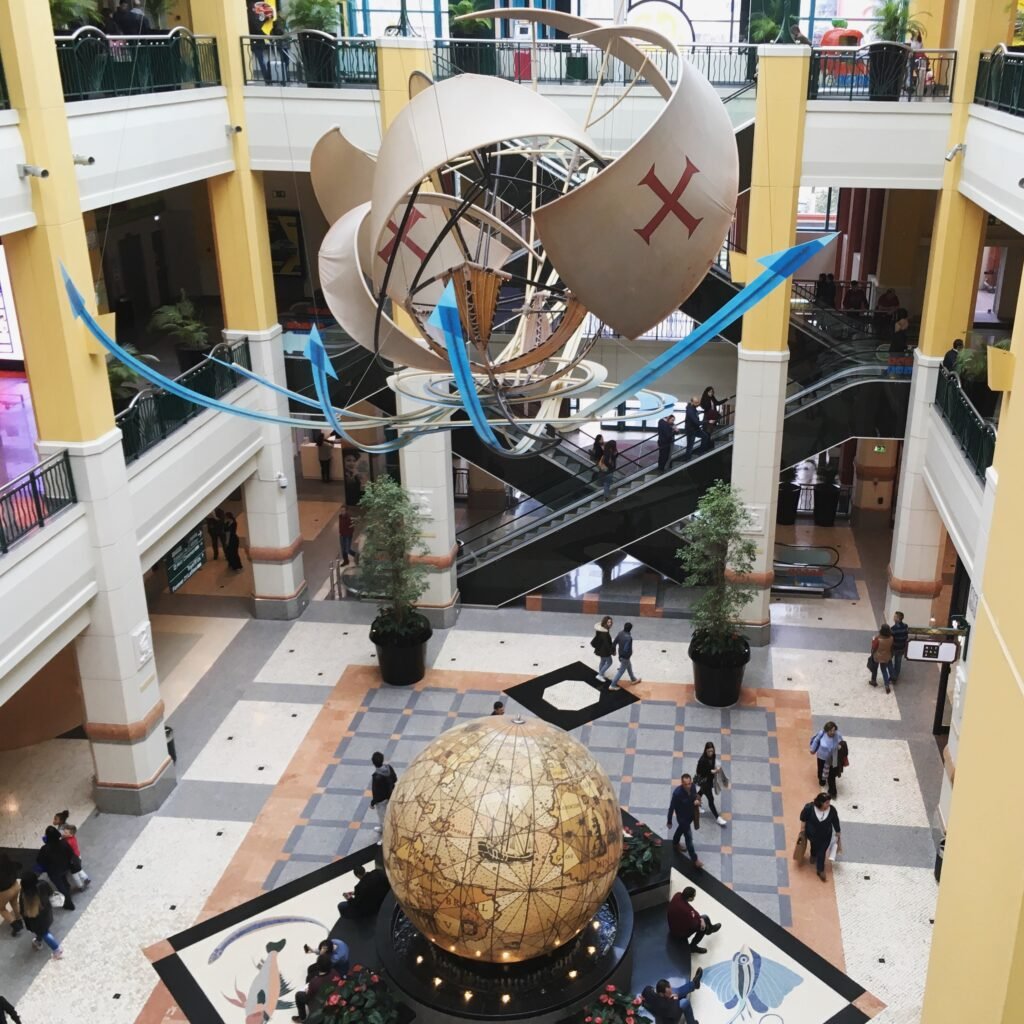 The Colombo mall is located right next to Estádio da Luz (Benfica's football stadium) so combining these two activities can be a great idea for one of the days of your trip. You get to the Colombo mall by taking the blue metro line and getting off at the Colégio Militar/Luz station. There is an exit of this station that leads directly into the mall.
Vasco da Gama is another popular mall in Lisbon, possibly the one that the highest amount of tourists visit due to its location. As part of Parque das Nações, it is located right near the Oceanarium and the Oriente train station. That makes it easily accessible – take the red metro line – and you will get there fast if you're coming from central Lisbon. It's also a great place to go shopping. It doesn't have as many stores as Colombo, but there are over 150, and there are also several restaurants. Being one of the more accessible places to tourists, we highly recommend checking the Vasco da Gama mall.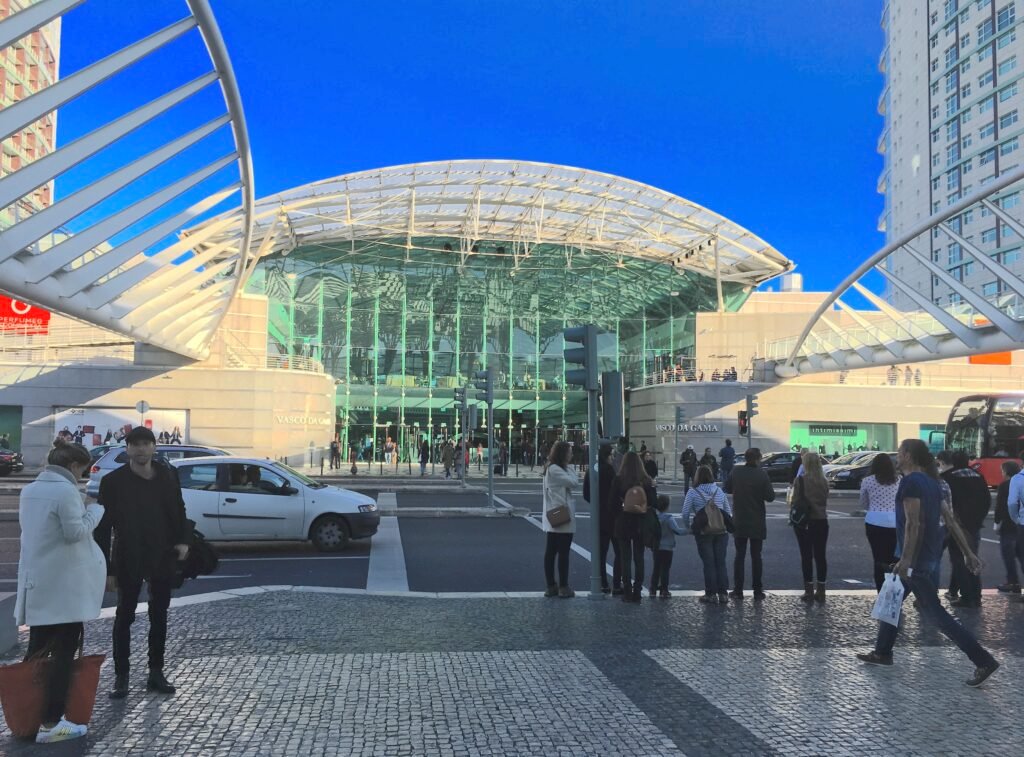 Amoreiras Shopping Mall was the first modern shopping centre built in Lisbon. It has a central location, just west of Marques de Pombal. You can probably walk there if you're feeling energetic. Otherwise, just take the metro or the tram. Tram 24 goes there, and it's a good experience to take the tram. If it is overcrowded, take the metro instead. The nearest stops are Rato and Marques de Pombal. Amoreiras Shopping Mall has a wide variety of stores – many of them are high-end stores. There are also some really nice cafés and a cinema.
If you like high-end shopping, go to El Corte Inglés, the famous Spanish chain that we mentioned earlier as one of the top shops in Lisbon. It's a department store, so it is reminiscent of a mall and you get a similar experience.
If you could only visit one mall in Lisbon… pick Colombo.
Prices in Lisbon
When you're going shopping in Lisbon, it might be good to have an idea of the prices first. In general, most items are very reasonably priced. Compared to other countries in Western Europe, the stores in Lisbon are affordable, but it depends on what you are buying.
High-end products and famous brands will typically cost the same as elsewhere. Sometimes it can be cheaper, but prices will rarely differentiate by more than 10%. So if you're going to buy a Versace dress, a TAG Heuer watch, a MacBook, or a pair of Vans shoes, it will likely cost around the same as in your home country.
Clothing from local brands can be very affordable though, and the quality is high. This applies to more than clothes: Portugal is also famous for its shoes, so this is a good place to buy new boots or dress shoes. You can find amazing shoes for under 100€ and above-average quality shoes for under 50€.
Books can be cheap or expensive, depending on where you go. Go to an authentic bookstore for the best prices and the best service. Even some very traditional Portuguese bookstores often have a small selection of books in English.
You can find cheap food, so eating out in Lisbon is a true pleasure. As mentioned in the mall section, all of the main shopping centres have food courts where you can choose between several options. It is no problem to find a full meal for less than 10€. If you go to an actual restaurant (not a chain but a locally owned restaurant), prices might be a bit higher, but so is the quality, and prices are still great. You can eat out at nice places in Lisbon for 20-30€ per head and get a quality experience.
Overall, Lisbon is more expensive than the rest of Portugal but cheaper than other Southern European cities such as Madrid, Barcelona, Milan, and Rome.
VAT refunds for non-EU residents
You pay VAT when you buy a product in Portugal. This happens automatically since stores charge it on all purchases. The general VAT rate in Portugal is 23%, but it is lower on some goods (13%) and only 6% on essential items like food, medicines, and books.
If you are not an EU resident, you might be eligible for a VAT refund. This is worth taking if you are going shopping in Lisbon and then returning to your home country because it means you can save some money.
Look for stores that advertise "Tax Free Shopping" and when you buy something, tell them you want to sign up for a VAT refund. Only purchases over 50€ are eligible for this. They will then ask to see your passport to verify you're not from the EU, and you will get a regular receipt and a tax form with a code. You still pay the full amount incl. VAT at the store, but you can get the tax back again later.
When you leave Portugal, you apply for this. In the airport, there are counters with personnel who can give you a refund. Be sure to keep your receipts from your purchases, as well as the tax forms that you also receive when shopping.
Remember that getting a VAT refund is your own responsibility, and you will only get it if you ask for tax-free shopping at the store, while also keeping the receipts, and while remembering to apply at the airport. The refund will either be transferred to your credit card or your bank account, although it is also possible to get a cheque sent to your address.
Conclusion
Shopping in Lisbon can be a great experience. Not only are the prices great – there are also many unique stores, malls and special places for shopping. Some travelers make shopping their prime priority, while others do it casually after having seen all the main attractions. No matter which group you belong too, we simply wish you a great trip and a positive shopping experience when you get to Lisbon!