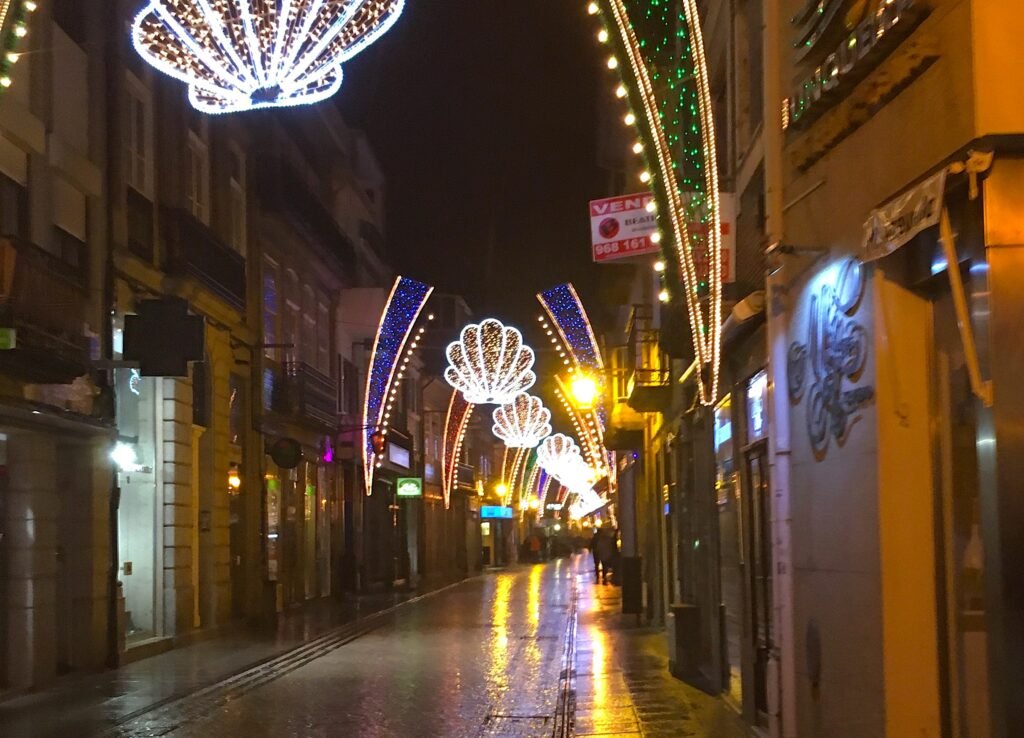 Wondering where to stay in Póvoa de Varzim? This popular resort has many great hotels, and we will recommend the best of them here. It is important to be near the beaches and near the main attractions!
If you are going to Póvoa de Varzim, you can expect a great trip. Most visitors are domestic Portuguese travelers, but international tourists are also starting to notice Póvoa de Varzim too. The city has one of the best casinos in Portugal, it has the fascinating Ethnography & History Museum, and it certainly has many great beaches – including the central Praia da Salgueira, Praia do Carvalhido, and Praia Redonda.
There are over a hundred different options if you are looking for hotels and holiday apartments, so it can be a bit hard to choose.
To make your choice easier, we are recommending three of the best hotels in Póvoa de Varzim below – one central hotel near the beach, one affordable place, and one luxury hotel in a neighboring parish.
Central hotel in Póvoa de Varzim
Grande Hotel da Povoa – Book here
This hotel is very centrally located, in the southern end of the promenade Avenida dos Banhos – with attractions such as the casino and the fortress just meters away.
It is also the highest-ranked hotel in Póvoa de Varzim City Centre as it is a 4-star hotel with a great reputation.
Grande Hotel da Povoa is also very comfortable once you get in. The building was recently renovated so rooms are in top condition. You get all the necessary features such as free internet, air-conditioning, tv channels, a private bathroom, and breakfast at the hotel. The rooms are nicely decorated and spacious. You can choose between different types of rooms when you make your booking – one of the key features is that Grande Hotel da Póvoa has a special romantic package which is great for couples. The hotel is also ideal for families and solo travelers.
Prices start around 80€ per night. Deluxe rooms and suites are more expensive, and prices can also vary depending on the season, but overall you get a lot for the money here. It is our favorite hotel in Póvoa de Varzim.
Go to Booking.com and reserve your room!
Affordable hotel in Póvoa de Varzim
Hotel Costa Verde – Book here
Portugal is an affordable country to visit when comparing with other Western European nations, and Póvoa de Varzim has a few nice hotels that aren't too expensive.
The best affordable hotel in the resort city is Hotel Costa Verde. It's only a 2-star hotel, but previous guests rate it 9.1 out of 10 on average, so that is really impressive.
It has a perfect location on Avenida Vasco da Gama, just steps away from the northern end of Av. dos Banhos. The beach is about 100 meters away, so it is a very quick walk. The historic city centre is about a kilometer away from the hotel which is also reasonable – and you do have shops and restaurants right in the vicinity as well.
The rooms are fairly simple – Hotel Costa Verde has not put a huge effort into decorations, but the furniture is comfortable, and the rooms are relatively large. Some bathrooms can be a bit small, but it depends on the type of room you select. A double room is best for most travelers, but if you travel solo, just get a single room. Prices start at just 50€ per night for double rooms, so you can stay in the centre of Póvoa de Varzim for a very affordable price!
Despite the fact that Hotel Costa Verde has low prices, it does give you access to some luxury as well. They have a suite on the top floor where you get a great view of the sea, and it has an extra-large bed. If you want to pay a bit extra, it makes sense to get the suite!
There is a breakfast buffet at the hotel. You can even get breakfast served in your room. It doesn't have a huge amount of extra facilities, but it has what you need, and you can get a cheap and comfortable stay in the centre.
Book your room at Hotel Costa Verde here!
Luxury hotel in Póvoa de Varzim
São Felix Hotel Hilllside & Nature – Book here
There are no 5-star hotels in Póvoa de Varzim so the closest we get to a luxury hotel will be the São Felix Hotel. It is not actually located in the centre of Póvoa de Varzim, but in the parish of Laundos where the famous hill São Felix is situated. The hill is one of the top attractions of the region – many pilgrims go there – and this hotel happens to be located on the hill. That alone makes it a wonderful opportunity to have a special stay.
You will be farther away from the beach if you decide to stay at the São Felix Hotel, but the good news is that the hotel has a great swimming pool and a nice terrace. The rooms are super clean and very spacious, more so than at the hotels in central Póvoa. From inside most of the rooms, you have an awesome view of the Portuguese country landscape, and when you step outside, you can see the sea and the city from the top of the hill.
The hotel has a restaurant where you can get local and international dishes. We recommend trying some Portuguese dishes since many ingredients are locally sourced.
You will be 6 kilometers away from the coast if you decide to stay at the São Felix Hotel. To get into Póvoa de Varzim, you can rent a bike or a car. Bike rental is popular among many visitors.
If you want to stay in a beautiful area with many great facilities and top-notch service, the São Felix Hotel is the way to go. You will be close to nature and you can fully charge your batteries while getting some amazing experiences. The hotel is more expensive than other hotels in the area, but it is well worth the money.
Book your stay with the hotel here!
Best areas
As long as we are discussing where to stay in Póvoa de Varzim, we should look at more than just hotels – perhaps you would like to learn more about the areas too.
The most historic area would be the old city centre. That is basically a hundred meters northwest of the metro station. In this section of Póvoa, you'll find all the old streets where there are plenty of restaurants. This is also where the casino and the fortress are situated. The first hotel we recommended, Hotel Grande da Póvoa, is just on the edge of the old city, and it is a perfect place to stay.
If you want the best possible view, and if you want to be right near the beach, try to stay on or near Avenida dos Banhos. This is the major promenade of Póvoa de Varzim and there are several hotels in the vicinity. Hotel Costa Verde, our second hotel recommendation, is basically at the northern end of Banhos. You'll find other options too. Staying near this avenue is an awesome location since you can walk directly to the beach, and the attractions are very close as well.
The modern city centre, which is basically the area north, east and south of the old city off the coast, is decent to stay in as well. You will find lots of services and shops there. But it is more residential, and most people do choose to be as near to the coast and the old city as possible.
If you continue to the south, you find areas such as Poça da Barca and Caxinas. They have slightly more rugged coastlines, but there are some cool modern monuments and plenty of restaurants. If you go about 5 kilometers south, you will reach Vila do Conde, an interesting municipality in its own right. It is one of the oldest settlements in Portugal, right by the mouth of the Ave River. It can be interesting to stay there for a day.
North of central Póvoa de Varzim, you will find some beautiful beaches. But they are rockier and less suited for bathing than the ones in the centre. The districts to the north have many beach houses along the coast. If you go far north, you will eventually get to Parque Natural do Literal Norte. A great natural park that you should visit during your trip. There are some hotels in the vicinity of the park, for instance in the nearby town of Esposende, but our recommendation is to stay in central Póvoa and simply stop by the area on one of the days of your trip.
If you go inland to the northeast, there are two major sites – São Felix and Rates. The hill of São Felix is one of the major attractions of the area, and it is much frequented by travelers and pilgrims. It has a very nice hotel (The São Felix Hotel) where you can consider staying. It is roughly 7.5 kilometers away from Póvoa de Varzim. But you get the view of the city, and you get the view of the sea. A very charming area. As for Rates, it is an inland village within the municipality of Póvoa de Varzim. It is famous for its church and monastery which has been declared as a National Monument. Everything in Rates is centered around the monastery. It is possible to stay in Rates, but it is better to stay in the Póvoa centre or on the São Felix Hill since it is a very quick trip into Rates.
Of course, Póvoa de Varzim is also located near Porto, and the city is even connected to the Porto metro system. So you can also consider staying in Porto and simply going back and forth between the two cities as you please.
Things to do
There are many things to do in Póvoa de Varzim.
We would recommend you to check the following places:
The central beaches (Salgueira, Carvalhido, Redonda)
Avenida dos Banhos
Casino da Póvoa
Painéis de Azulejos
Ethnography and History Museum
Praça do Almada
Câmara Municipal
Farol da Lapa
Castelo da Póvoa
São Felix Hill
São Pedro de Rates Church and Monastery
Parque Natural del Litoral Norte
To learn more about these places, read our other article about the best attractions in Póvoa de Varzim.
Conclusion
It can be a great experience to visit Póvoa de Varzim – as long as you also find a nice hotel.
If you can, try to book at least a week in advance, and preferably earlier. It is a very popular destination among Portuguese domestic travelers, and foreign tourists are also beginning to pay attention to Póvoa, so at certain times of the year, the top hotels are fully booked. This is why you should book early!
We hope that this Póvoa de Varzim accommodation guide has been useful. Check our other Portugal articles if you want to visit more destinations in the region!