Coimbra is a must-visit destination if you're already in Portugal. It is located near Lisbon, so you can either do a day trip and see the main things, or you can do a longer trip and really immerse yourself in the culture of the city.
In any case, you must somehow get to Coimbra, and this guide will show you how.
It is not viable to fly to Coimbra, so you must take the train or drive. With a distance of approximately 200 kilometers, it is a fair ride – not too far to make it uncomfortable, yet long enough to make it feel like a proper trip. Let's go through the best ways of traveling between Lisbon and Coimbra below.
By train
The easiest way to go from Lisbon to Coimbra is by train. The journey only takes around an hour and a half if you take the fast train – Alfa Pendular. There are several connections each day. If you take the slower InterCity train, the journey will take around an hour and 50 minutes.
Trains depart from Lisbon's Santa Apolonia and Oriente stations. It is generally best to go from Oriente since there are more connections and since it is easier, but as long as you have your tickets booked in advance, it doesn't matter too much.
You have to get off at the Coimbra-B station. It is located a bit outside of the city centre, around 30 minutes walking. All the AP/InterCity northbound trains from Lisbon pass through Coimbra-B. From Coimbra-B, you can take a local city train into Coimbra-A which is the central station in the city.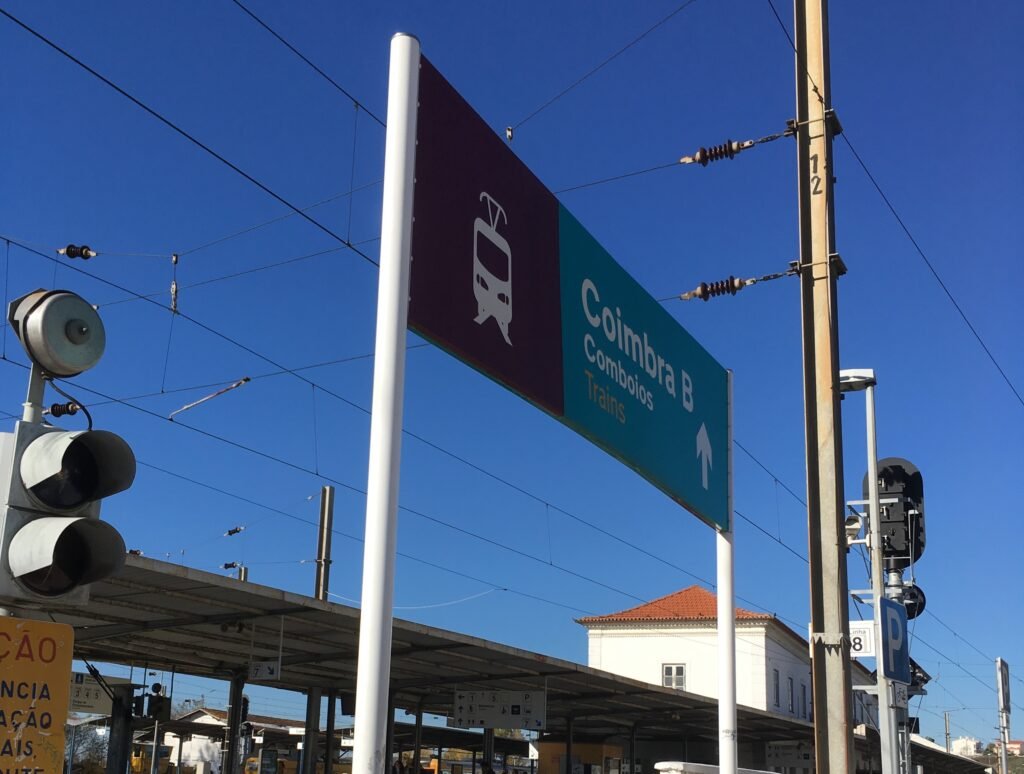 It usually costs 24€ to take the train from Lisbon to Coimbra. You can book it online in advance – which we highly recommend doing. It is also possible to buy it at the station, but it's always better to be prepared. CP (the Portuguese rail company) has a functional app where you can show the ticket, so it is not necessary to print anything out if you book it online.
Going to Coimbra by train is almost always the easiest and fastest way.
If you're going back to Lisbon again later, you follow the exact same procedure but obviously in the other direction!
By bus
There are also buses going from Lisbon to Coimbra and vice versa. Traveling by bus is cheaper, but it also takes a bit longer.
A bus ticket to Coimbra costs about 15€ on average. The travel time is roughly two and a half hours, sometimes a bit less.
There are multiple connections every day between the Sete Rios station in Lisbon and the Rodoviario Terminal in Coimbra. If you're taking the bus, it is fine to just buy the ticket at the station.
By car
It takes around two hours to drive from Lisbon to Coimbra. You simply have to get on the A1 Motorway which connects the two cities. This is a private highway, and you will probably pay around 15€ in toll fees. For that reason, it is often more expensive to drive than it is to take the train – at least when you factor in all the costs, such as fuel and possibly car rental.
Yet, driving is the most comfortable way of traveling since you have privacy. Having a car also allows you to do day trips when you are settled in Coimbra – you will be able to drive to nearby towns in the region. So for some travelers, it does make sense but be aware that the trip from Lisbon to Coimbra will be more expensive.
Moving on from Coimbra
When you are in Coimbra, you can enjoy the city for a day or two. It is a small but very interesting place. There are many great attractions in Coimbra, so time flies when you're there.
While most people just do a day trip to Coimbra, we recommend taking at least 3 days there. It can also make sense to stay even longer since Coimbra has a nice, central location in the country. That makes travel easy if you want to go to the coast, if you want to go to the mountain ranges inland, or if you want to go further north to Porto and the Minho region. See our guide on where to stay in Coimbra for more information.
If you have access to a car, it will be very easy to get around. But taking trains will also work just fine. The Coimbra-B station is connected to all the main cities in Portugal through the north-to-south Alfa Pendular line. There are also connections to smaller nearby towns from both Coimbra-A and Coimbra-B.
So you can get around easily and affordably when you're staying in Coimbra. And that makes a lot of sense – central Portugal is an awesome region to explore!