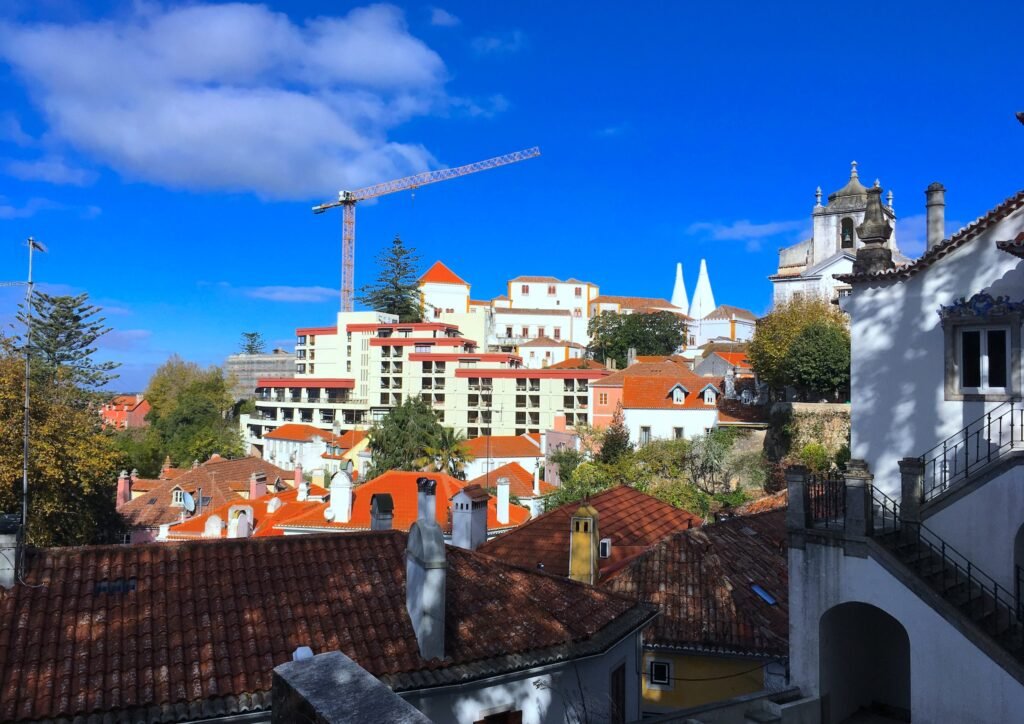 Sintra might only be a midsized town, but it does have more cultural attractions than most metropolises around the world. Located just 30 kilometers west of Lisbon, it is home to some of Portugal's best tourist attractions. Most travelers visit Sintra on a day trip while staying in Lisbon, but it is also an option to book accommodation in Sintra and experience the sites at a slower pace.
It is possible to see the most important things in Sintra in one day, but then you will ideally have to book a guided tour so that everything goes smoothly. A longer stay in a local hotel lets you experience everything in your own tempo which can obviously be beneficial. But even in one day, you can see a lot.
We recommend this guided tour if you are staying in Lisbon and want the full Sintra experience. You will be part of a small group, and you will be taken from Lisbon to Sintra where you get to see the top sites, and then it goes to Cascais and back to Lisbon again. The full tour is 7 hours.
If you want to explore Sintra on your own, you can walk around some parts of the town, while others are too far to reach on foot – so the best option is to book a 24-hour ticket for the hop on, hop off bus which will take you to all the main attractions.
Regardless of how long you intend to be in town, you should check out the best tourist attractions in Sintra. We will give you an introduction to each of them below.
Palacio da Pena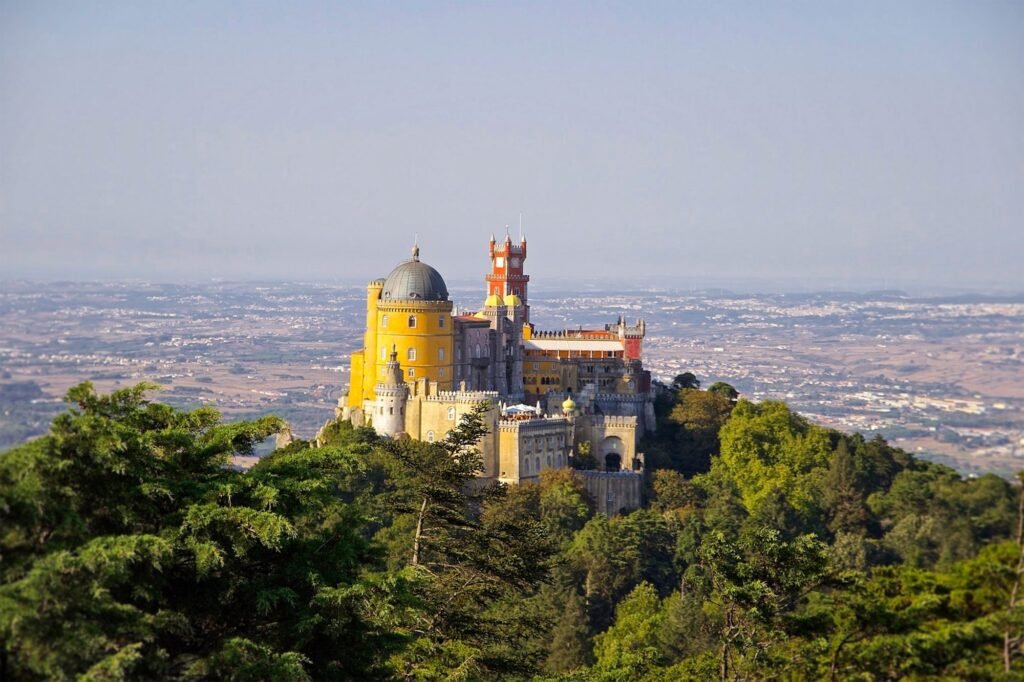 Known as the Pena Palace in English, and often referred to as the jewel of Sintra, this Romanticist castle is a UNESCO World Heritage Site and is generally considered to be the best attraction in Sintra.
It is also listed as one of the Seven Wonders of Portugal which stresses the cultural importance of the palace.
The history of the Pena Palace dates back to the Middle Ages. Once there was only a chapel on this site – and it was dedicated to Our Lady of Pena. Then, the Portuguese king decided to build a monastery on the hill and for centuries it was a sanctuary for local monks. Unfortunately, natural events destroyed the monastery, although the chapel mostly remained intact.
It wasn't until 1838 that Ferdinand II of Portugal decided to build a palace in the Romantic architectural style – intended as a summer residence for the Portuguese royals at the time. Ferdinand II had married Elise Hensler, an opera singer, which at the time was considered very controversial. They lived a quiet life in Sintra until the death of Ferdinand, then Elise inherited the palace, but it wasn't long until Palacio da Pena was in the hands of the Portuguese state.
Known for its colorful and romantic look, Palacio da Pena eventually turned grey, but it was repainted with its original red and yellow colors. It grew as a tourist attraction over the course of the 20th century and received its UNESCO listing in 1995. The architecture is stunning and visiting the Pena feels like being in a fairytale. You can see it visually from many parts of Sintra, as well as from Lisbon when the sky is clear. We recommend taking a guided tour to Sintra and get up close – despite it being a bit expensive to get in, you should see the interior and the park, too. Full entry to all things costs 14€ per person.
Address: Estrada da Pena, 2710-609 Sintra, Portugal
Pena Park
As long as you are visiting the Pena Palace, you should also pay attention to the park.
It has a size of 200 hectares. On the surface, the Pena Park might seem like nothing more than an old forest, but everything is carefully arranged. King Ferdinand II was an avid lover of botany. He naturally wanted the grounds of his palace to be rich in trees and plants, and he also wanted to make romantic paths through the park in order to impress visitors.
Already from the early years, the Pena Park included species of plants and trees that weren't native to mainland Portugal. Many species were brought in from colonies and allies. Many of the trees are from South America and New Zealand, giving the park a very unique look.
When visiting Pena Park, be sure to enjoy the trees and the paths as the king had originally intended. But you should also pay attention to the large statue of Ferdinand II, as well as other monuments that have been set up in later years. The park has the highest point of Serra de Sintra – Sintra's mountain range. And you have a great view from there, too.
As mentioned before, you can pay 14€ and get full access to the interior of the palace as well as the park. If you only want to visit the park, it costs 7.50€ for an adult ticket.
Castelo dos Mouros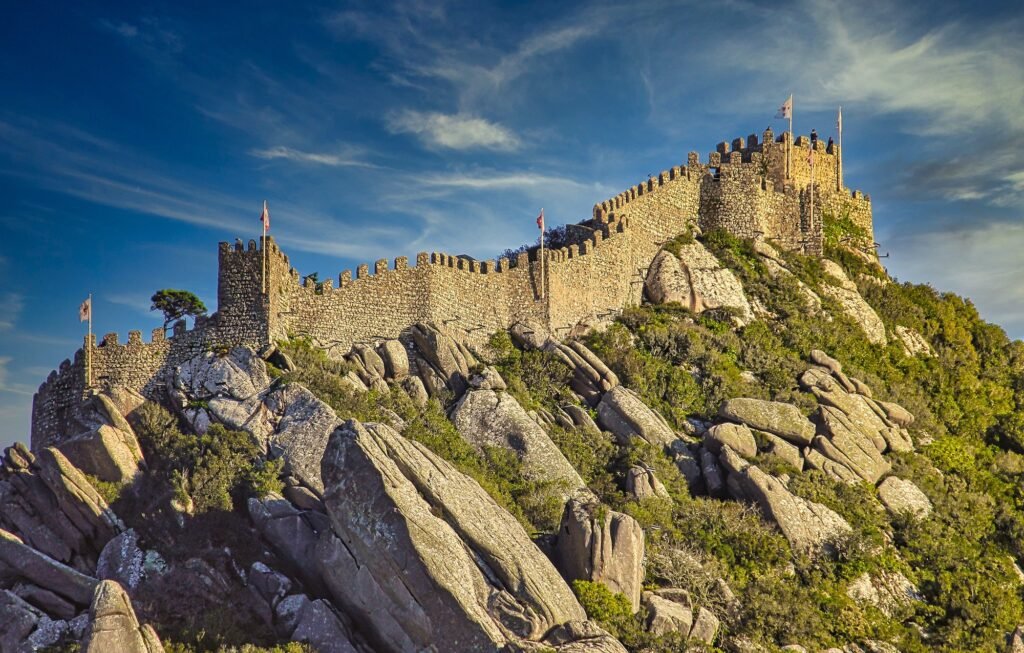 The Moorish Castle is another great attraction in Sintra. It was built back when the Moors inhabited parts of the Iberian peninsula. From the 8th to the 12th century, this particular castle was built with the purpose of defending the entire Sintra/Lisbon region. It worked as a watchtower, and to this day you can still look out over the region when visiting.
This massive fortification still exists in a very good condition. Once it was just ruins, it wasn't really used for military purposes after the Moors left, but King Ferdinand II restored it extensively in the 19th century – mostly to show it off, as he himself was living in Sintra.
Castelo dos Mouros is a really big fortification. You can explore a lot as you walk along the walls of the settlement.
It is open between 9 am and 6.30 pm every day. Adult tickets are priced at 8€. We recommend booking tickets online since it allows you to skip the line.
Try to visit on a day where the weather is nice. Wear some solid shoes too, as you will do a lot of walking when visiting this castle in the mountains – it is over 200 meters above the old town itself.
Address: Castelo dos Mouros, 2710-405 Sintra, Portugal
Palacio Nacional de Sintra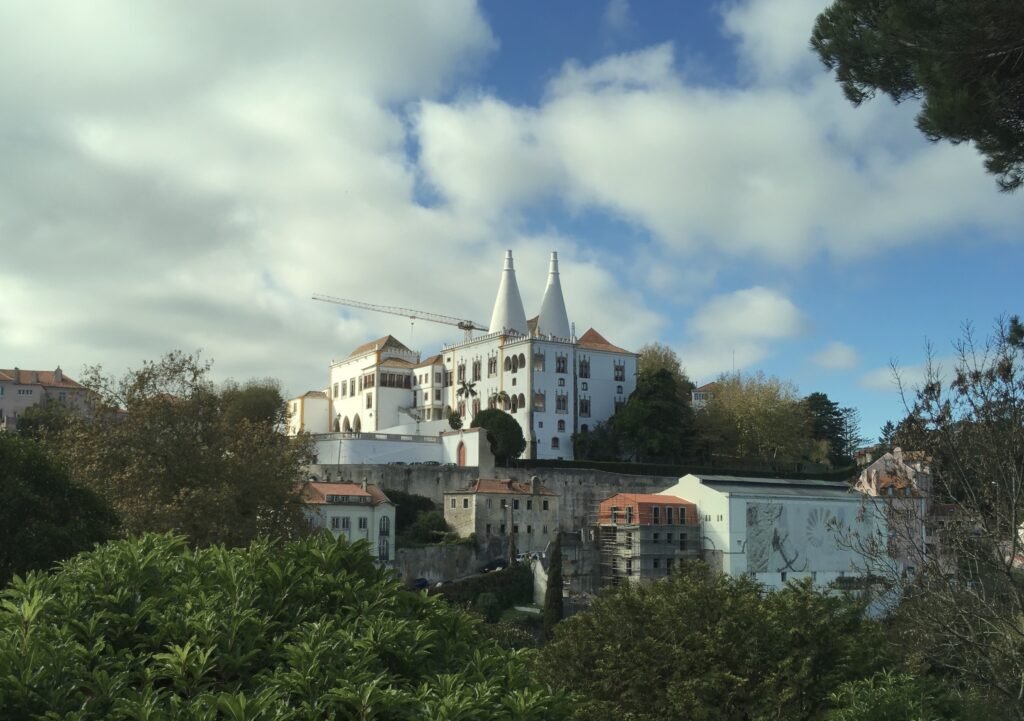 When visiting Sintra, you should definitely visit Palacio Nacional – known as the National Palace in English.
It was a royal residence back in Medieval times and one of the most famous pieces of architecture in Portugal. Today, it is a museum located in the very heart of old Sintra. That means you can easily go in to visit.
The nobility of Portugal decided in Palacio Nacional from the 15th to the 19th century. As you can imagine, it has a very impressive interior, be sure to take a look at the chapel as well as the rooms with traditional Portuguese azulejos. It is incredibly well preserved on the exterior as well. Actually, you can see Palacio Nacional from many points of Sintra, thanks to its unique look with two large chimneys poking up.
Opening hours are flexible since the palace is open from 9.30 in the morning to 19.00 in the evening. Most tourists spend about an hour inside. An adult ticket is 10€ with discounts possible for some age groups. We advise booking tickets before arriving since that will allow you to skip the queue. This might give you 10-20 more minutes to explore Sintra, so it is highly worth it.
Along with Pena and Castelo dos Mouros, this is an attraction that no visitor should miss!
Address: Largo Rainha Dona Amélia, 2710-616 Sintra, Portugal
Quinta da Regaleira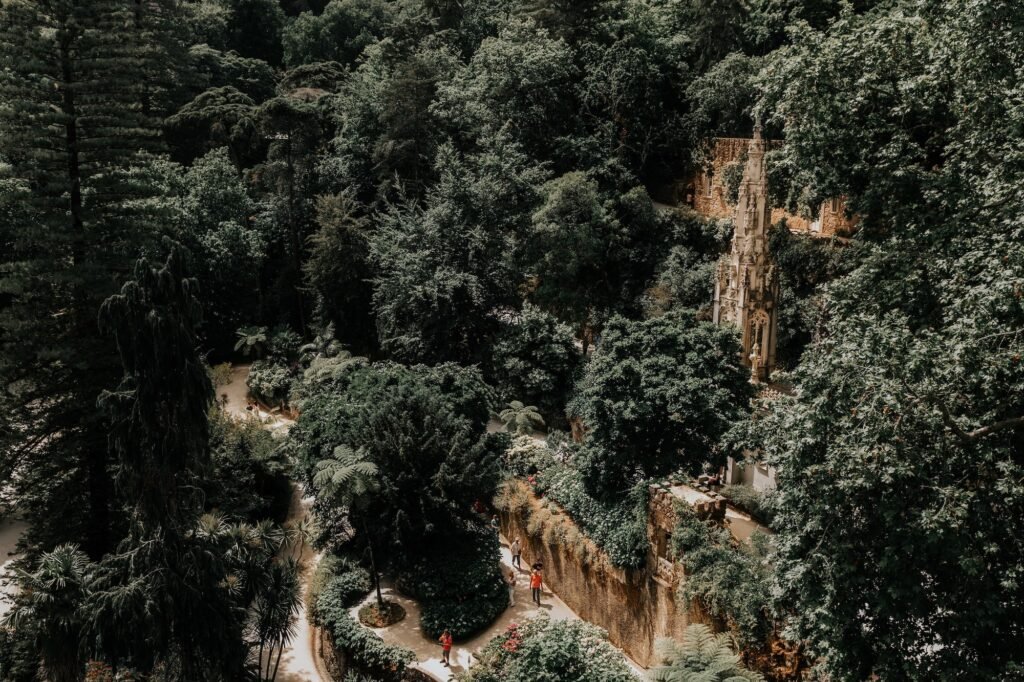 The massive estate Quinta da Regaleira is also considered to be one of the top tourist attractions in Sintra. And it is easy to see why.
Despite not being as old as other sites in Sintra, it is a very interesting place. Quinta da Regaleira is a full property consisting of a chapel, a palace, gardens, lakes, fountains, and much more. It is particularly famous for its initiation well, so make sure to see that.
Over the years, Quinta da Regaleira has had many different owners. The original owner – a rich Brazilian-Portuguese mine owner – had connections to the Knights Templar and to masonry. That's one of the reasons why Regaleira is seen as such an odd, yet interesting place. He constructed it based on his own fantasies.
Quinta da Regaleira for visits between 10 and 18.30 every day of the week – with the exception of some holidays. Tickets can be bought online or on location. You can either get a regular ticket, you can buy with an audioguide, or you can hire a tour guide which costs more, but you also get to learn more.
Address: R. Barbosa du Bocage 5, 2710-567 Sintra, Portugal
Palacio de Seteais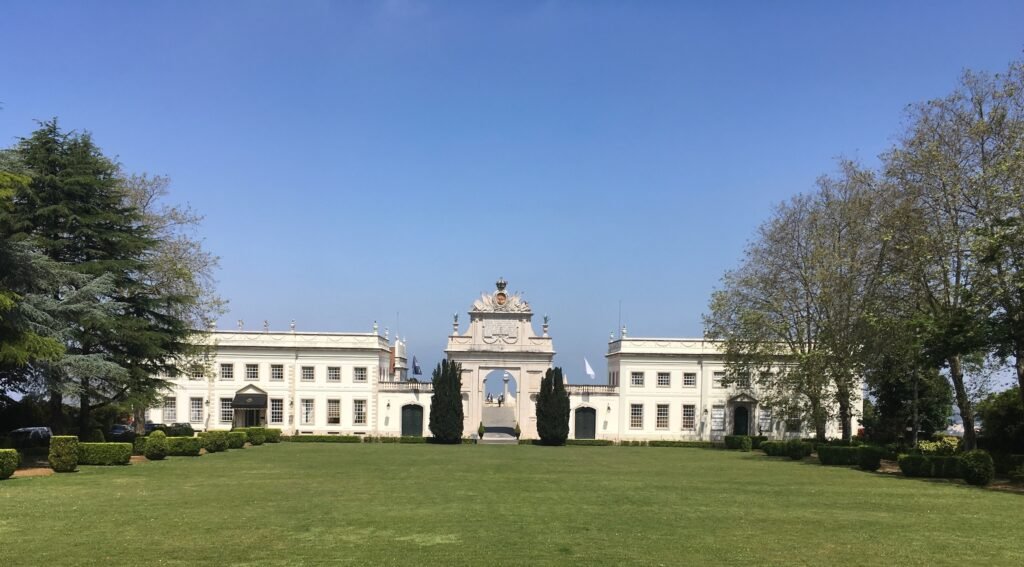 When exploring Sintra, you shouldn't miss this magnificent palace either. Palacio de Seteais is an important landmark. It was built between 1783 and 1787 so it has quite a bit of history. The famous arch in the middle of the two buildings was constructed in 1802, giving the palace its current look.
It has had many owners throughout its existence, but like many other attractions in Sintra, it was eventually bought by the government in 1946. However, it returned to private hands just a few years later, and since then it has been a luxury hotel.
The best way to enjoy this specific attraction in Sintra? By staying there! Palacio de Seteais is registered under the name "Tivoli Palacio de Seteais" as a hotel, and it naturally have 5 stars. It is one of the most famous hotels in the world. Many celebrities have stayed there over the years, including Johnny Depp.
If you are interested in staying in this historic palace while visiting Sintra, you can make your booking here. It is a bit expensive but highly worth it for the experience. Even if it is just for one night!
Address: R. Barbosa du Bocage 8, 2710-517 Sintra, Portugal
Palacio de Monserrate
Sintra is full of beautiful palaces – here is yet another one. Palacio de Monserrate is definitely worth visiting if you are into architecture and history. This palatial villa is not located inside the town of Sintra, but a few kilometers west. A guided tour can take you there.
The palace itself was intended as a resort of the Portuguese royals. They typically lived at Monserrate in the summer. It was later bought by English merchants. One of the most famous owners of Monserrate was the British industrialist and art collector, Francis Cook. He basically transformed the palace into its current look, highly influenced by Romanticism. It is a bit exotic though, and Monserrate also has elements from the Moorish Revival architectural style. The Main Hall and the Secret Art Room are the top places to see inside the palace. The gardens, as well as the entrance, are also highly impressive.
Nowadays, Palacio de Monserrate is owned by the Portuguese state and open to visitors. Adult tickets cost 8€, opening hours are from 9 in the morning to 19 in the evening.
Address: Palacio de Monserrate, 2710-405 Sintra, Portugal
Convento de Capuchos
If you are going west of Sintra to visit the Monserrate Palace, you should include Convento de Capuchos since it is also a bit west of the town.
Founded in 1560, this historic convent is split into several interesting parts – there are multiple chapels, fountains, trails, and much more. It's a great area to explore. The Portuguese movie, Deste Lado da Ressurreição, was filmed at this location.
The buildings of the convent are very old and fascinating. It is also a very green area, rich in nature. We recommend that you go during a somewhat quiet time of the day so that there aren't too many other tourists around – if possible! And the best way to explore Convento de Capuchos is with the presence of a guided tour who can fill you in on the history of the convent. That way, you get to see all the essential parts, and you get to learn some fascinating facts.
Address: Convento de Capuchos, Colares, Portugal
Cabo da Roca
Near Sintra we find Cabo da Roca. This is the westernmost point in Europe, facing the Atlantic Ocean. It is a great place to visit for several reasons – firstly, you can say that you have been there (!) and secondly, to enjoy the views and the history.
Cabo da Roca is one of the world's most famous capes. It was described as early as in Roman times. The lighthouse is also famous, as it dates back to the 1700s.
You can take a bus out to Cabo da Roca from Cascais. But there are also tour guides offering to take you to Cabo da Roca from Sintra – and you should take advantage of that. It is a beautiful drive, and it is fully worth the money to go there.
Sintra's modern town
Most people come to visit Sintra's old attractions – which definitely makes sense since they are the highlights.
But it can also be fascinating to visit Sintra's modern town to the northeast of the old town.
It's easy to miss when the old town is so interesting, but if you have time for it, check out modern Sintra as well. There are decent opportunities for shopping, nice restaurants, some churches, and cultural centres, and you can get an impression of how life is in Sintra today. Even walking for a half-hour and eating at a restaurant in the centre of modern Sintra can be a decent experience. It also gives some contrast to the classic attractions in the mountains.
Conclusion
As you probably see, there are many amazing attractions in Sintra. If you are in Lisbon for more than 3 full days, it is well worth it to visit Sintra for one of your days there. Some people even love Sintra so much that they decide to stay exclusively in the mountainous town for the entire duration of their trip. What you do is up to you – but Sintra ranks as one of the most impressive places to visit in the entire world, so if you ever have the chance to go, seize the opportunity!