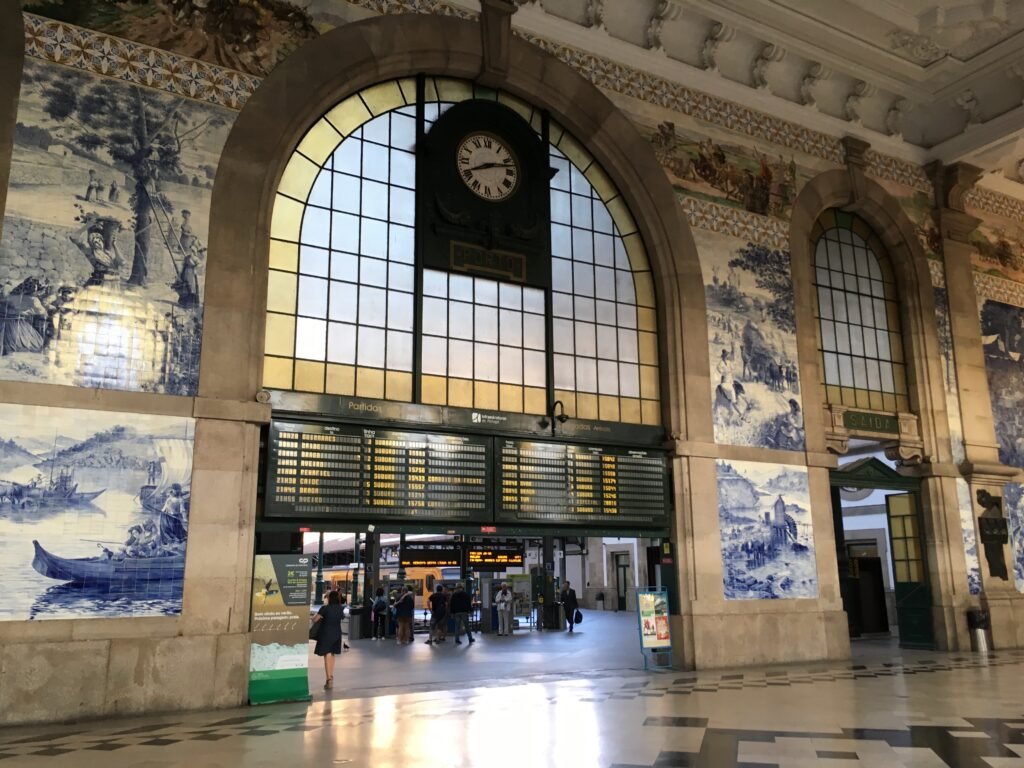 Porto is an increasingly popular tourist destination and it's easy to see why. The city is rich in culture and history. But don't underestimate some of the other towns and cities in Northern Portugal. We recommend you explore the region by including a few day trips while you are staying in Porto.
Matosinhos
Matosinhos is so near that it is sometimes considered a part of Porto. In fact, you can take the metro to reach it. This is the place where the locals in Porto go when they want to relax – it has one of the best beaches in the region, and Matosinhos is also rich in good restaurants and cafés.
In the summer, there are parties and festivals in Matosinhos. But it is charming all year round, and there are also some great cultural sights, such as Igreja do Bom Jesus de Matosinhos. It also has Northern Portugal's largest aquarium, Sea Life Porto, which is an impressive attraction!
Again, it's super easy to travel between Porto and Matosinhos, as you can take the metro.
Povoa de Varzim
You can also take the metro to Povoa de Varzim, although the trip is a bit longer.
Povoa de Varzim is a cute town with many opportunities to have fun. It has beautiful streets, often decorated well, and a popular casino. In the summer you can attend outdoor concerts in Povoa de Varzim. The nightlife is very active in the summer.
It has a nice beach and it's a nice resort town when you need a break from the hustle and bustle in central Porto. Going here at night is probably best unless you simply want to bathe at the beach during the daytime.
You will mostly meet Portuguese travelers in Povoa de Varzim – foreigner's usually stick to other places. Still, there are many nice hotels in Povoa de Varzim, and the prices are reasonable. Aside from the beaches and the nightlife, there are also some great cultural attractions to see in Povoa de Varzim.
Aveiro
The city of Aveiro is incredibly charming. It's known as the Venice of Portugal, and it isn't far from Porto. A quick train ride and you're there.
As you can imagine, many locals from Porto take frequent trips to Aveiro. But it's also amazing as a day trip if you are on a trip to Porto. Sailing on a gondola on the canals is a must – as long as the weather is good! But be sure to notice the architecture in the central part of the city, as it is really amazing. Lastly, Aveiro has quite a few churches and museums. Many consider the Arte Nova Museum to be the highlight – it's a museum focused on modern architectural designs and much more.
Aveiro is absolutely perfect as a day trip from Porto. It's fast and easy, and you will have an exciting time upon arrival!
Braga
Braga is known as Portugal's religious center, and if you are into culture, there will be a lot to see here.
First of all, it is one of Portugal's largest cities, so one day might not be enough in Braga. But you can get a snapshot of everything, and that is great in itself.
Bom Jesus do Monte is the most famous attraction in Braga. It has other churches too. The cathedral is also worth a visit. Art lovers will enjoy Museu de Arte Sacra – it is full of beautiful religious artworks. The best time to visit Braga is in Easter, but it's a good destination at any given time. You can always catch a football game there, as Braga is home to one of the best and most exciting Portuguese clubs.
To reach Braga, you can take a direct train from either of Porto's train stations – São Bento or Campanhã. It takes less than an hour to make the trip, and tickets are quite affordable. You can buy them on your phone in advance (use the CP app) or buy them in a machine at the station.
Guimarães
The birthplace of Portugal, Guimarães, is located near Braga. Once again we are talking about a destination that is culturally interesting.
The center of Guimarães is a UNESCO World Heritage site. When you are visiting the city, you should be sure to see the Guimarães Castle. But we generally recommend you to walk around the city and explore everything casually. One day in Guimarães should be enough, but some may want to stay longer. The locals are very proud of their heritage, and Guimarães truly gives you a taste of the true and classical Portugal. The city does get tourists, but it is not anywhere near as crowded as Lisbon or Porto.
Coimbra
The famous student city Coimbra is as good a day trip as any. With the fastest train, or by car, the journey only takes slightly over an hour.
Coimbra is famous for its university as well as for its old city. While walking around in the center, you can enjoy shopping – Coimbra has many nice shops, especially when it comes to clothing and footwear. Coimbra is fairly picturesque and in many ways a beautiful city, even though it can feel more polluted than the other major cities in Portugal.
Ideal for a day trip, but also fine for a longer holiday. One day is enough to see the main sights, but a longer trip is ideal if you want to experience the local culture. Coimbra has a very central location in Portugal and a vibe that is different than Porto's. If you wish to stay for multiple days in Coimbra, check out our Coimbra hotel guide.
Vigo
Why stick to Portugal only? The Spanish city Vigo is just two and a half hours away, and depending on your preference you can either take a train or a bus. It is fairly cheap, with ticket prices between 12 and 15 euros on most days.
Vigo is a surprisingly great destination. Famous for its port, Vigo is charming and offers a great selection of seafood restaurants. Similar to Coimbra, it is a great place to go shopping since there are several long shopping streets as well as malls and department stores (check out the large Corte Inglés). There is a university in Vigo, so the population is younger than most other cities in Northern Spain, and Vigo is by far the city with the youngest vibe in Galicia – especially when comparing to Santiago de Compostela and A Coruña further north.
We have compiled a list of 21 things to do in Vigo. Select a handful of them and check them out yourself when you reach Vigo.
Tui
If you have decided to take the trip from Porto to Vigo, you can consider a stop on the way.
The border town Tui is very charming, and it is located right when you pass the border into Spain. It is hilly and has a nice cozy vibe with traditional architecture. Tui has several great restaurants. You don't need more than a few hours to see everything in Tui, so ideally you can stop by for lunch on the day you are traveling between Porto and Vigo. But if you want a calm, longer vacation, that is also a possibility in this town, since there are a few good lodging options at decent prices.
---
To conclude, Porto has a very nice location in Northern Portugal, and you can do several day trips while staying there. Porto has so many attractions on its own that day trips are not really a necessity – but for the serious travelers who want to see as much as possible, we do recommend checking out some of these mentioned places. The northern region in Portugal, as well as the Galician community in Spain, are both incredibly interesting, so taking small trips around the area is well worth the effort – as long as you have time for it!