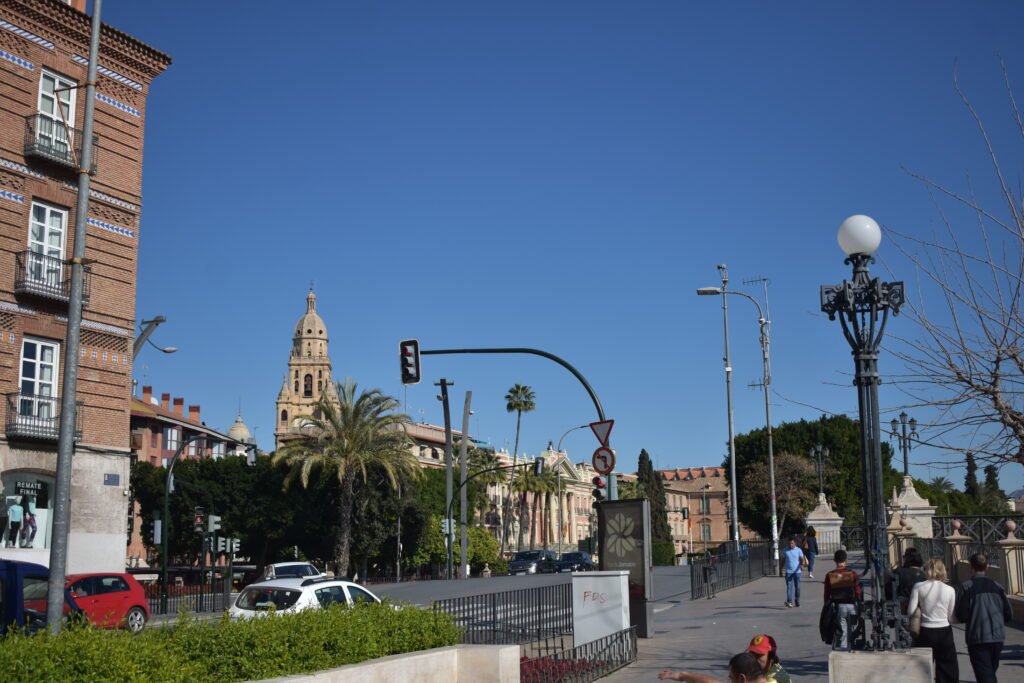 If you're staying in Murcia for more than a few days, you should consider some excursions. The city has a great location on the warm southeastern corner of Spain, so there are many interesting places nearby. Here is an overview of the best Murcia day trips.
All the places that are listed can be reached within three hours from Murcia (and some a lot quicker). The most obvious day trips from Murcia would be journeys to Cartagena, Alicante, and the nearby beaches – but there are many options, and we will describe each one in detail so that you can find the one that speaks to you the most.
Cartagena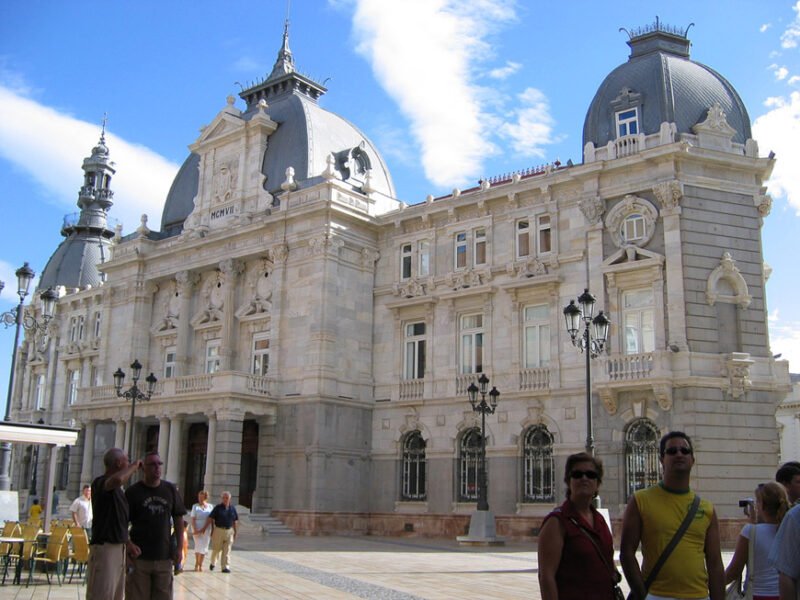 Founded in 227 BC, Cartagena is one of Spain's oldest cities. It was traditionally known as "Carthago Nova" until the name developed into Cartagena. It is located in the Murcia Region, approximately 50 kilometers south of Murcia City.
Since Cartagena has been inhabited for over 2200 years, it is one of the top cultural destinations in Spain. The best attractions are the Roman Theatre, the Art Nouveau architecture, and the Cartagena City Hall (pictured).
Cartagena is a coastal city so there are several beaches. 10 of them are ranked as quality beaches according to the Spanish Tourist Institute. But the port usually takes the main focus, as many ships and even cruises come to Cartagena on the regular.
If you are staying in Murcia, you can easily do a day trip to Cartagena. However, you could also do a longer trip since the city fully warrants a longer stay. If you are going to stay in Cartagena overnight, we highly recommend the beautiful Gran Hotel – one of the most notable buildings in the entire Murcia Region, architecturally speaking.
Murcia to Cartagena
You can take the regional train from Murcia to Cartagena and vice versa. The trip takes a bit less than an hour and the ticket price is €4.50.
If you are going by car, the A-30 highway connects the two cities and the journey takes just 35 minutes.
Bus, rideshare or taxi are some alternative options.
Costa Calida
Costa Cálida means Warm Coast. It basically covers the Mediterranean coastline of the Murcia region. Based on most definition, Costa Cálida stretches from El Mojón to Águilas. The area is known for its warm temperatures and low precipitation. Therefore, a trip to Costa Cálida makes sense any time you want to go to the beach!
The city Cartagena (our first day trip recommendation) is one of the places located on this coast. Other cool places on Costa Cálida would be the towns of Mazarrón, Lorca, and most importantly Mar Menor – the northeastern stretch of the coast. Mar Menor is Europe's largest saltwater lagoon and separated from the Mediterranean Sea by the stretch of land known as La Manga. It is a beautiful area, and one of the more touristic areas of the Murcia Region.
Costa Cálida can easily be reached if you are staying in Murcia. Another option is simply staying at one of the Costa Cálida resorts for the entire duration on your trip.
Murcia to Costa Cálida
Costa Cálida is a long stretch, so you can go in multiple directions if you are headed there from Murcia. You could take the train to Cartagena, as described earlier. Or you could take one of the local buses out to Mar Menor. Going by car or taxi, from Murcia city centre to the most popular places on the coast, will usually take approximately 35-45 minutes. Traffic isn't bad in this part of Spain.
Alicante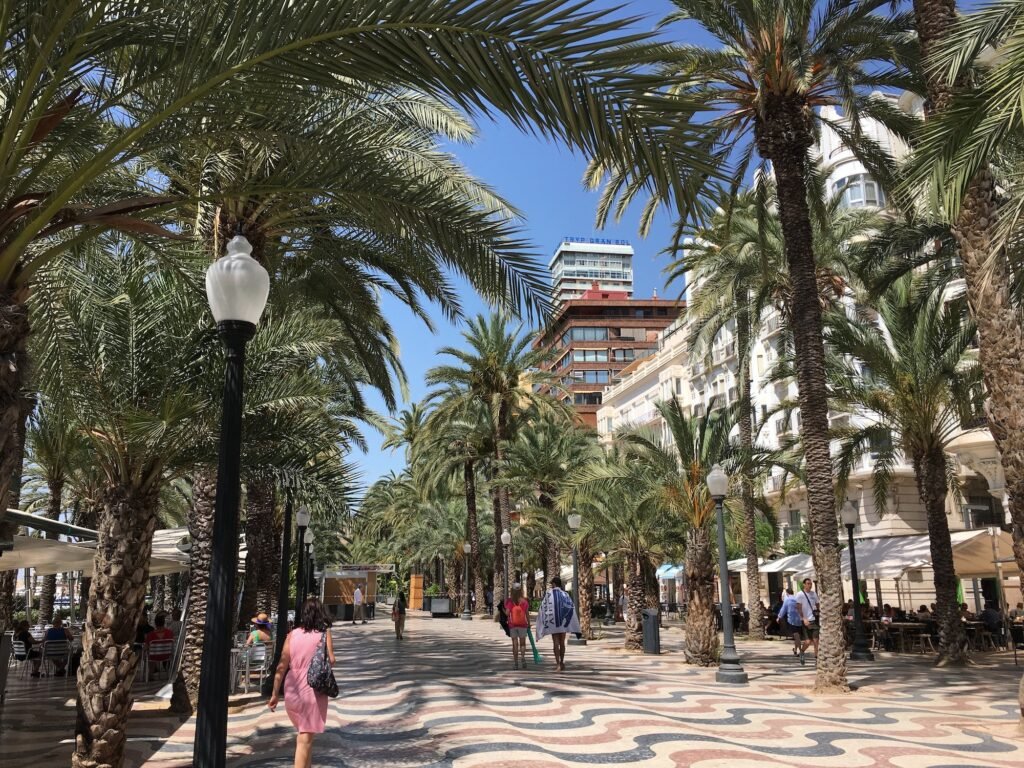 Alicante ranks as one of the most visited cities in Spain. Murcia and Alicante are connected in many ways. For instance, many people live in Murcia but works in Alicante, and vice versa. Additionally, the Alicante Airport typically serves as the entry to the Murcia Region.
But the city of Alicante is actually not located in the Murcia Region – it is located in the southern end of the Valencian Community. Only 80 kilometers separate Murcia and Alicante though, so traveling between the two cities is easy. If you are staying in Alicante, you can quickly do a day trip to Murcia, and if you are staying in Murcia, you can easily take a trip to Alicante.
The main things to experience in Alicante are the beaches, the Explanada de España boardwalk, the port area, the churches of Santa María and Saint Nicholas, and of course the old defense towers. Most people come to Alicante for the beaches and the nice weather, but as you can see, there are some nice cultural attractions as well.
Alicante is both suitable for a day trip from Murcia but also for a longer stay.
Murcia to Alicante
It takes about an hour and 15 minutes to reach Alicante from Murcia. Train tickets cost €7.90 and bus tickets are slightly cheaper. You can also drive yourself – that way, it will only take about 50 minutes. Rideshare services should be available (and cheap) because so many locals travel between Murcia and Alicante every single day. Check out BlaBlaCar to see if you can join a ride.
Elche
Elche is located near Alicante. It is a bit overlooked, despite being near the coast, having a decent population size, plus some old sights and attractions.
Barrio del Raval is the old part of Elche. It is an extremely traditional area – when you imagine what life in Spain would look like in the Middle Ages, this is what Elche's oldest parts look like.
A day trip from Murcia to Elche is absolutely perfect since the city is interesting enough to visit, but not active enough to warrant a longer stay. The main attractions are the Palmeral, the Cathedral, and the Arabic Baths.
Murcia to Elche
Elche is a stop on the way to Alicante. So if you are taking a train or a bus between Murcia and Alicante, simply get off at the station in Elche. Otherwise, the journey is the same – simply a bit shorter and cheaper.
Benidorm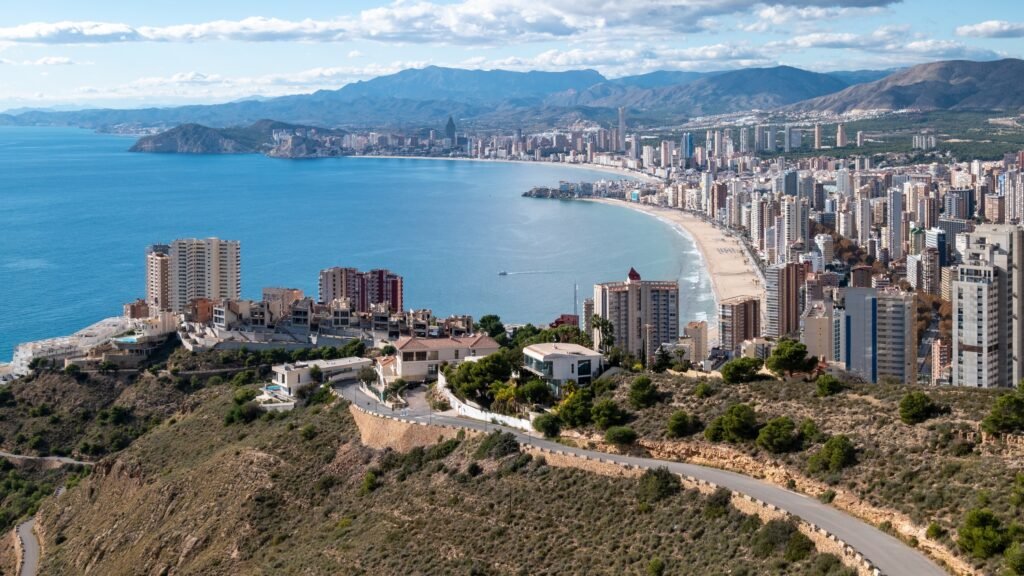 Benidorm is a famous tourist resort on the Mediterranean coast. Heavily visited by the English, Germans and Scandinavians, the town features high-rise buildings near the sandy coasts of Costa Blanca.
Most people visit Benidorm as their primary destination. But if you simply want to see what a typical Spanish holiday resort looks like, you can make the day trip from Benidorm. The beaches are quite nice (but can be crowded) and the nightlife is top-notch. You should know that Benidorm is dedicated to entertainment, rather than culture. There are always a lot of tourists present.
Murcia to Benidorm
Benidorm is located even further northeast than Alicante, so it will take around 1 hour and 20 minutes to drive there from Murcia. Renting a car is ideal. You can also take a bus which can take anywhere between 1h45m and 3 hours, depending on which bus you take and how many stops it has on the way.
Costa Blanca
Costa Blanca is the white Mediterranean coast in the province of Alicante. We have already mentioned Alicante, Elche and Benidorm, the main places on this coast. Torrevieja is another popular location. Costa Blanca is a great place to go if you want a beach trip while staying in Murcia.
The most accessible place on the coast is probably Alicante, where you have beach as well as culture. So we would recommend Alicante as the main destination if you want to do a day trip from Murcia to the white coast. But you could also visit one of the lesser known towns or resorts along Costa Blanca.
Going to the beach is the main priority for most Costa Blanca visitors, but climbing is also a great activity in this area.
Murcia to Costa Blanca
Take the train or the bus to Alicante. Or rent a car and drive to your preferred spot on the coastline.
Valencia
Valencia is one of the largest cities on the entire Mediterranean coast. It is an ultra cool city with an abundance of tourist attractions. Valencia also offers a great nightlife and many impressive restaurants – the dish paella originally comes from Valencia!
The city is located approximately 200 kilometers north of Murcia. That makes it a relatively long day trip but it is absolutely possible to go back and forth the same day. We would, however, advice you to stay for more than just a day in Valencia. Simply because there are so many things to do.
Valencia's main attractions are the Cathedral, the Serrano Towers, the Mercado Central, and the ultra-fascinating City of Arts and Sciences – a unique, modernistic district of the city full of museums and exhibitions. Valencia also has a beach district, although it is a small ride away from the city centre. There are countless hotels and holiday apartments in Valencia, so finding a place to stay is never any issue.
Murcia to Valencia
Driving by car is the best way to go. You can rent a car while you are in Spain – it is not too expensive, and it will give you a lot of freedom as you explore the area. The drive from Murcia to Valencia takes two and a half hours. Taking the train, however, will take over three hours, so it is not the best option in this case.
Rideshare can be considered as an alternative to car rental. Look up BlaBlaCar and see if you can join a ride between these two cities. There are usually several of them per day. Taking a bus will be slightly slower, but it is also a good option if you can't find a rideshare, or if you don't want to drive yourself.
Albacete
Going to the coast is the first thing on most people's mind, but what about a trip to the interior?
Albacete is a beautiful city located almost halfway between Murcia and Madrid. It is well known for its architecture, particularly the Lodares Passage, the Gran Hotel, and the entry to the bullfighting arena.
We consider Albacete to be one of the most underrated cities in Spain. It doesn't get a lot of tourism, partly because it isn't a coastal city, and partly because so few internationals know about it. But if you are into museums, architecture, theatre and general history, Albacete will be a suitable destination for you. It is part of the historic La Mancha region. With a population of 173,000, Albacete is not a huge city, but it is large enough to have some activities. It has large industrial areas, as well as a university, and you really feel the Spanish authenticity in a city like Albacete.
Murcia to Albacete
The Madrid-Murcia connection usually stops in Albacete. So if you are starting from Murcia, get on the train to Madrid, but get off at the station Albacete-Los Llanos. Driving is also an option. There will frequently be rideshares between Murcia and Albacete.
You can expect just shy of two hours of travel time if you take the train. Driving by car will take an hour and a half.
El Valle y Carrascoy
This natural park is situated just outside of Murcia – and it is one of the easiest excursions to make if you are staying in the city.
El Valle y Carrascoy has great diversity. It is part of a mountain range and features cliffs, valleys, rocks, soft soils, and river basins. It is a great place to go hiking. You should follow the authorized footpaths while you are there. Camping at El Valle y Carrascoy is not allowed, so it basically has to be a day trip. You can spend a few hours there before heading back to Murcia.
Check the brochure to learn more about the place!
Murcia to El Valle y Carrascoy
It is possible to take one of the local buses, but we advice taking a taxi instead. Taking a taxi to the vicinity of the park will not be too expensive, and the ride will only take 15 minutes. There are also tours you can join if you want to go with a group from Murcia to El Valle y Carrascoy.
Lorca
Lorca is a medium-sized city in the southwestern part of the Murcia Region. It is located inland and not by the coast – for this reason, it doesn't get as many tourists as the resorts by the sea.
But Lorca is a fascinating place to visit and it is very suitable for a day trip. The city is situated close to Murcia and it has several landmarks.
If you decide to visit Lorca, you should pay attention to sights such as the Lorca Castle, the San Patrick Church, the Archeological Museum, and the old architecture in the city centre. Lorca has many local shops that are worth visiting. Easter is well celebrated in Lorca, but there are also festivities in the late summer.
Murcia to Lorca
Located 70 kilometers to the southwest of Murcia, it takes around an hour to get there, regardless of the transportation method. Taking the bus is probably easiest for most people, but you can also take the train directly from Murcia's El Carmen station. Driving on the A7 highway should be easy enough, so if you have access to a car, it would be a nice day trip to make.
Conclusion
If you are staying in Murcia, you can expect a great trip. The city is cool and has a lot to offer. But one of the best things about Murcia is that there are so many interesting places in the vicinity. So it definitely makes sense to do some Murcia day trips while you are staying there. Some destinations are better than others, and your personal taste also plays a big role, but day trips to cities such as Cartagena and Alicante are interesting for almost everyone.
Additionally, to visit the beach while staying in Murcia, you will have to travel out to the coast. Costa Cálida (where Cartagena is located) and Costa Blanca (where Alicante is situated) are the top two choices, and they aren't that far from Murcia! If you have an entire week in Murcia, you could easily take a day on each coast. If you have even longer, you can consider some of the lesser known day trips destinations that we have covered. Enjoy your journey!