The underrated city of Huelva is one of the best travel destinations in Andalusia. It doesn't attract anywhere near the same number of tourists as Seville, Cádiz or the Algarve region in Portugal – but it is undoubtedly a charming and authentic city.
If you're stopping by Huelva, there's a high chance you will be pleasantly surprised. Here are some tips on what to do and see in Huelva and its nearby towns.
Explore the historic center
Huelva is the city of Christopher Columbus – or Cristóbal Colón, as they call him in Spain. While he wasn't born there, Columbus did live in the Huelva area for years, most notably in 1490 when he was planning his trip to the New World.
For that reason, you'll find several places dedicated to Columbus – both inside the city center and a bit outside of Huelva, namely in the town of Palos, just a few kilometers southeast.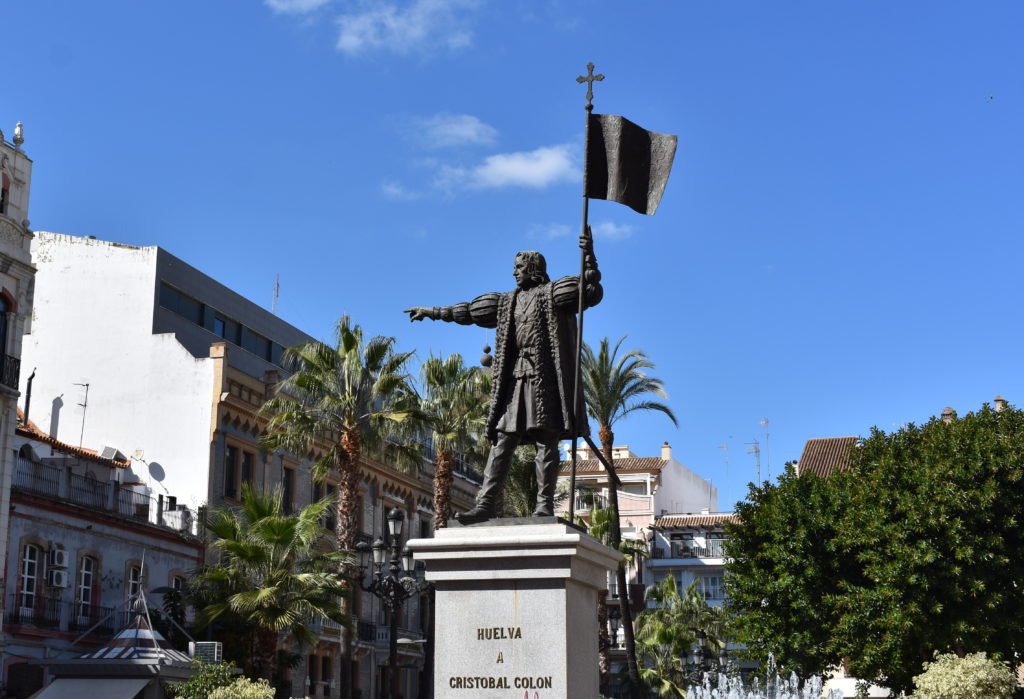 First and foremost, check out the famous statue of Columbus in the center of Huelva, on the eastern side of Plaza de las Monjas. Nearby you also have Casa Colón, the house of Columbus, primarily used for cultural meetings, exhibitions, and so on.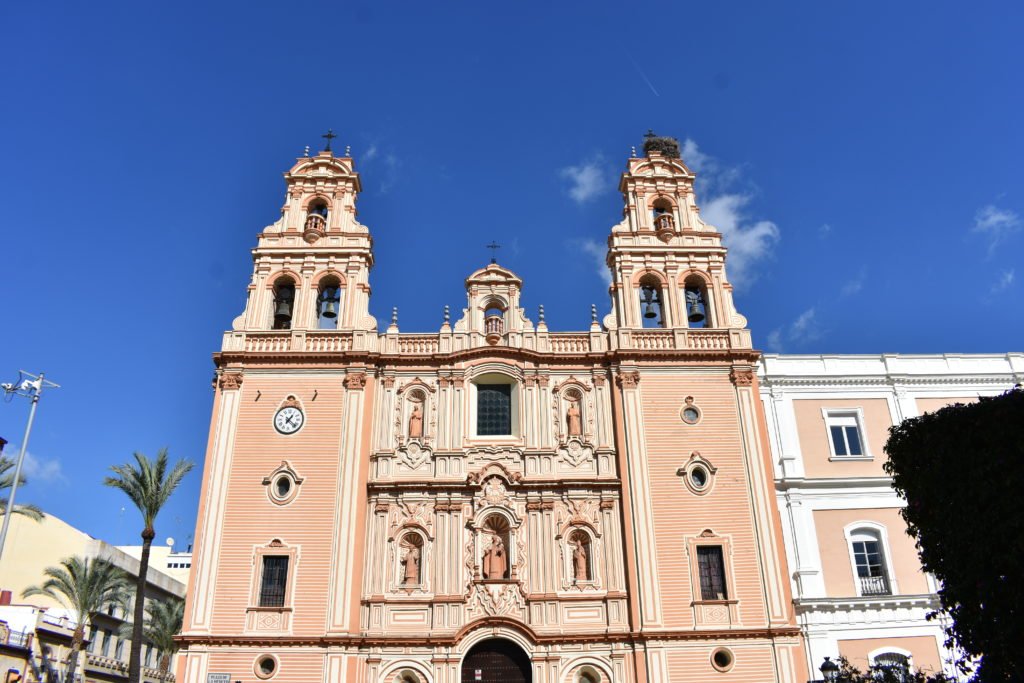 In the northern part of the historic center, just about 10 minutes walking away from Plaza de las Monjas, you can see Catedral de la Merced, the beautiful cathedral of Huelva. Right next to it, there is a university building, so it's a lively area, and there is a nice plaza in front of the cathedral as well.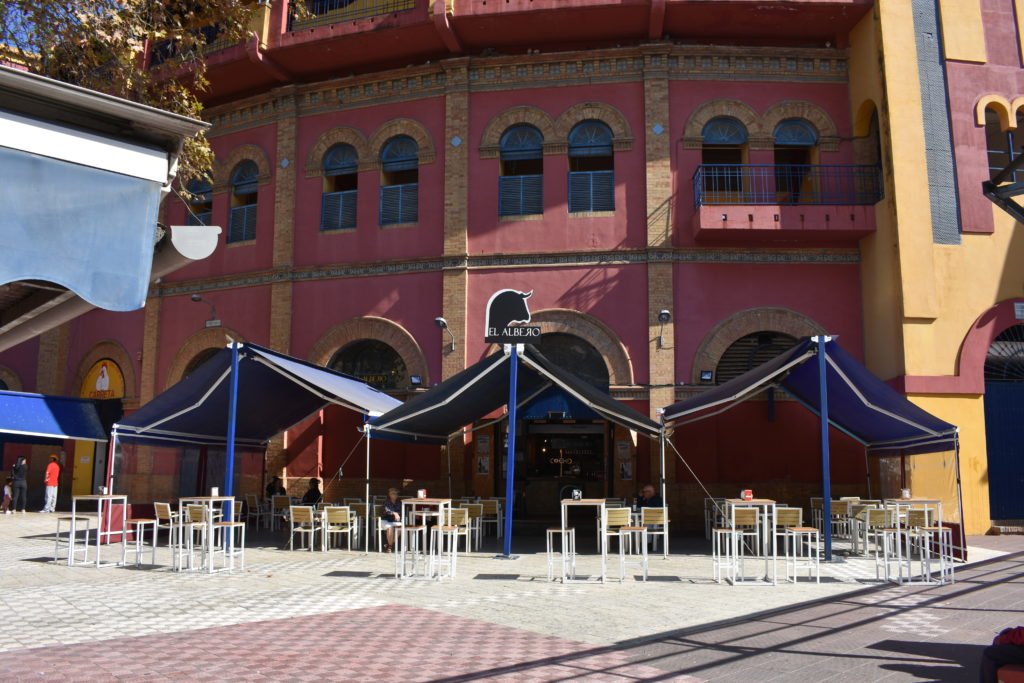 When going here, you will also be close to the magnificent bullfighting arena, Plaza del Toros La Merced. A noticeable, tall red arena surrounded by typical Spanish restaurants and bars. From here, you can either head northeast to the huge Parque Moret, a nice public park – or to the Roman Ruins, just a few steps east of the cathedral.
Going to the southeastern side of the center, we have the train station, and the huge mall Centro Comercial Costa Luz – on the inside, you find a large El Corte Inglés (Spain's largest chain of department stores).
There's also the Museum of Huelva, worth a visit if you are into art or archaeology (the museum has both). It's free for all EU citizens to enter. Everyone else has to pay a small fee of just 1.50€ for an entry ticket.
Walk along the shore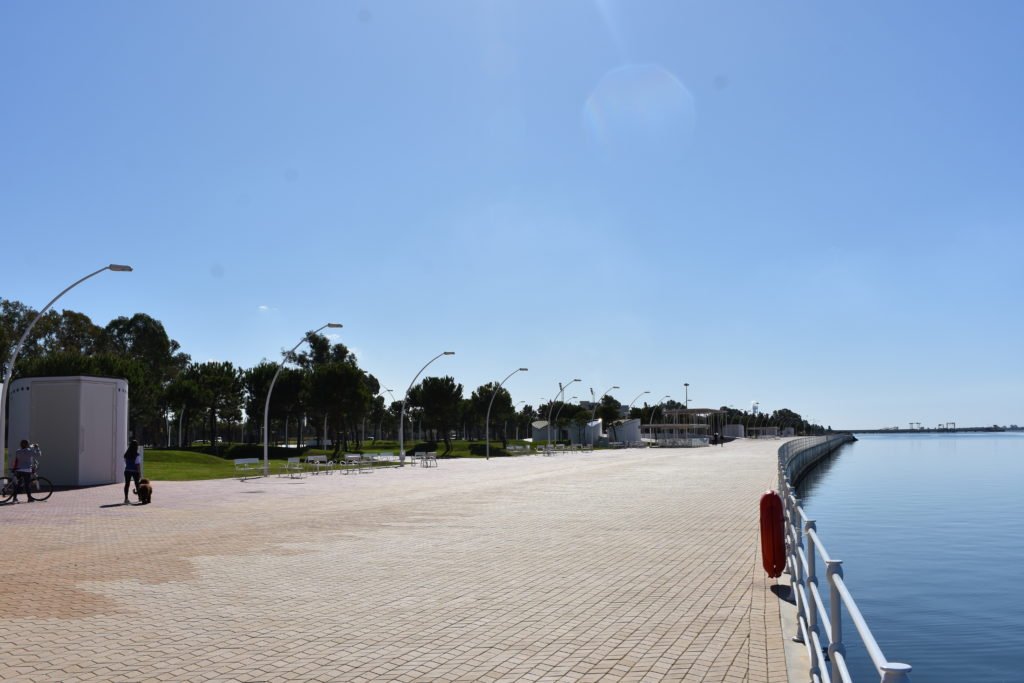 Directly west of Huelva's historical center you find the Parque Zafra, and if you continue a little further, you will face the Odiel river. There is a beautiful boulevard here where you can walk far down south and easily enjoy a sunny day right by the water. There are many benches and public bathrooms. Palm trees are everywhere, adding to the good mood: You will also pass by some restaurants and small bars while walking by. A lot of people walk their dogs or take a run for themselves by the western shore. It's a beautiful area, so be sure to enjoy it!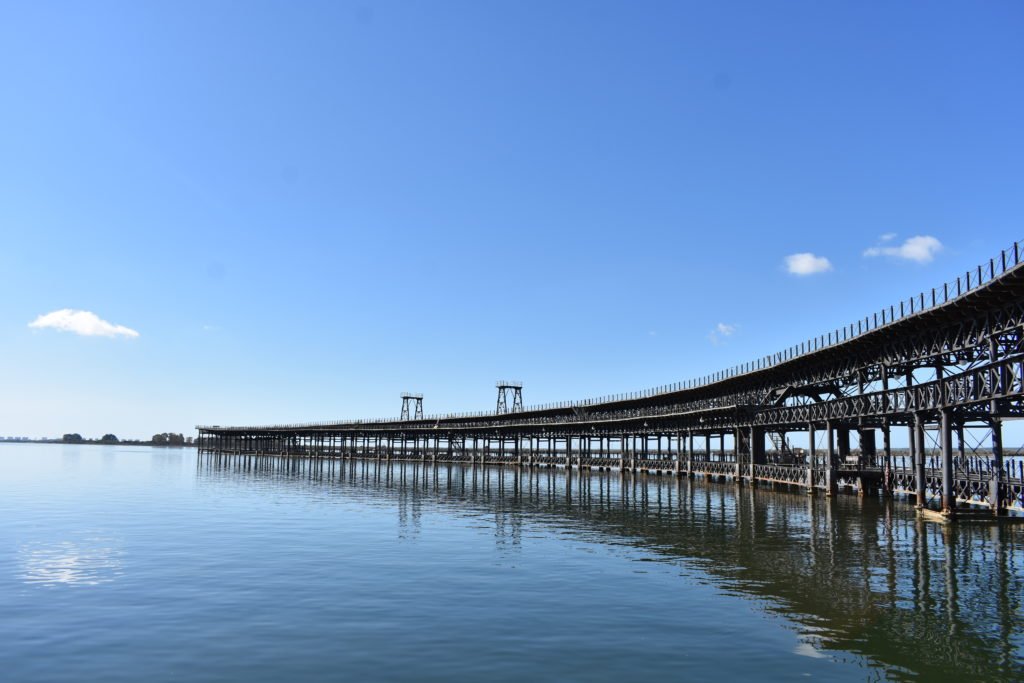 One of the highlights of the area is the Rio Tinto Pier, also known as the Eiffel Pier. Visually, it has the same style as the Eiffel Tower in Paris! It was built in 1874 and used for commercial practices for around a century. Mining was a major business along the Odiel river, and trading took place at the pier. Nowadays, it is simply a tourist site, as well as a nice place for the locals to fish.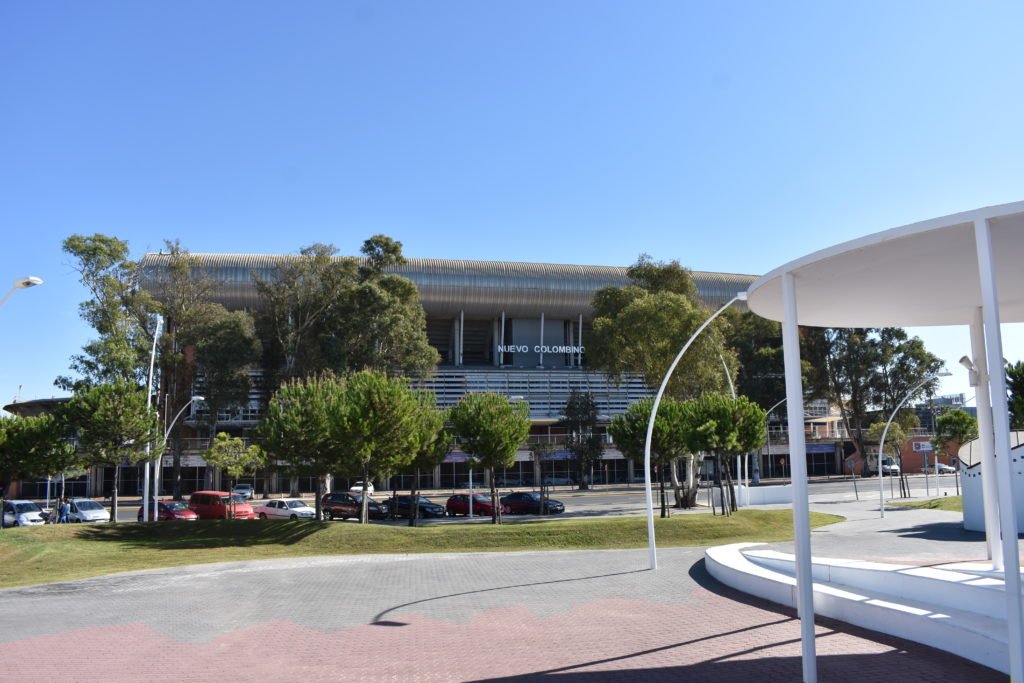 If you continue in this direction for around 15-20 minutes, you will pass Nuevo Columbino. It is the home stadium of Recreativo Huelva, Spain's oldest football club. You might be lucky enough to go to Huelva on one of the weekends where Recreativo plays at home – in that case, watch the match! They currently play in La Liga 2, the second-best football league in Spain. However, they did previously participate in La Liga, hosting the sides of Real Madrid and Barcelona, and who knows if that opportunity comes around again in the future.
But even if you're not in town for a game, the stadium is still worth visiting. You can easily get up close, and just like many other football stadiums in the Iberian peninsula, there are also bars, restaurants, shops and other facilities inside the stadium, and they are open every day, not just on matchday.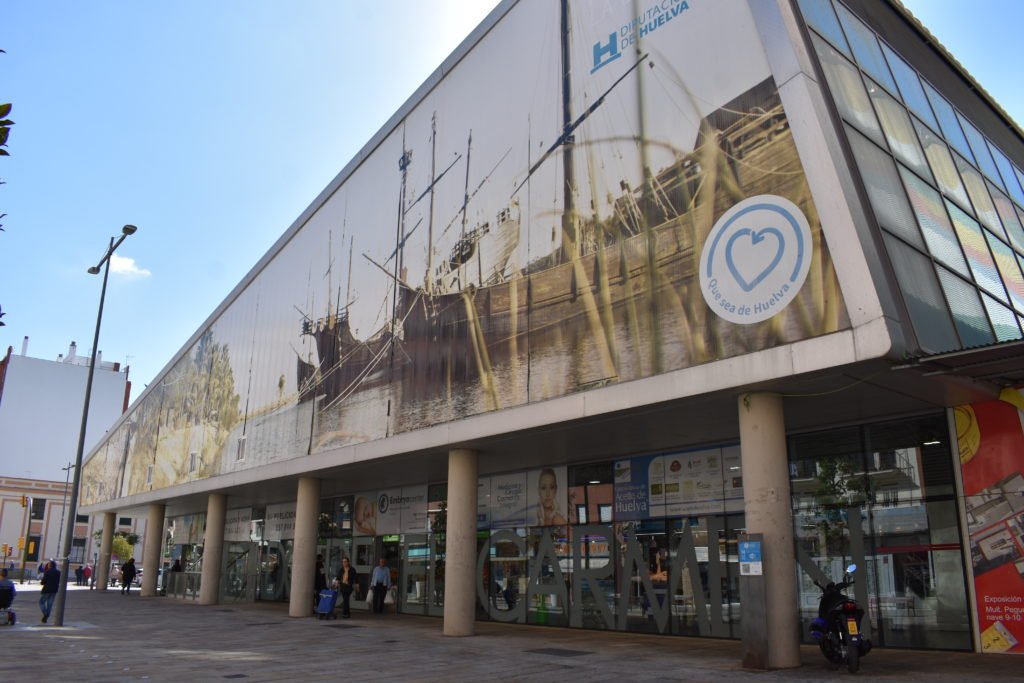 If you decide to turn back to the center, you can stop by the large Mercado del Carmen and get something to eat – or just buy something nice for later consumption.
Take a trip to La Rábida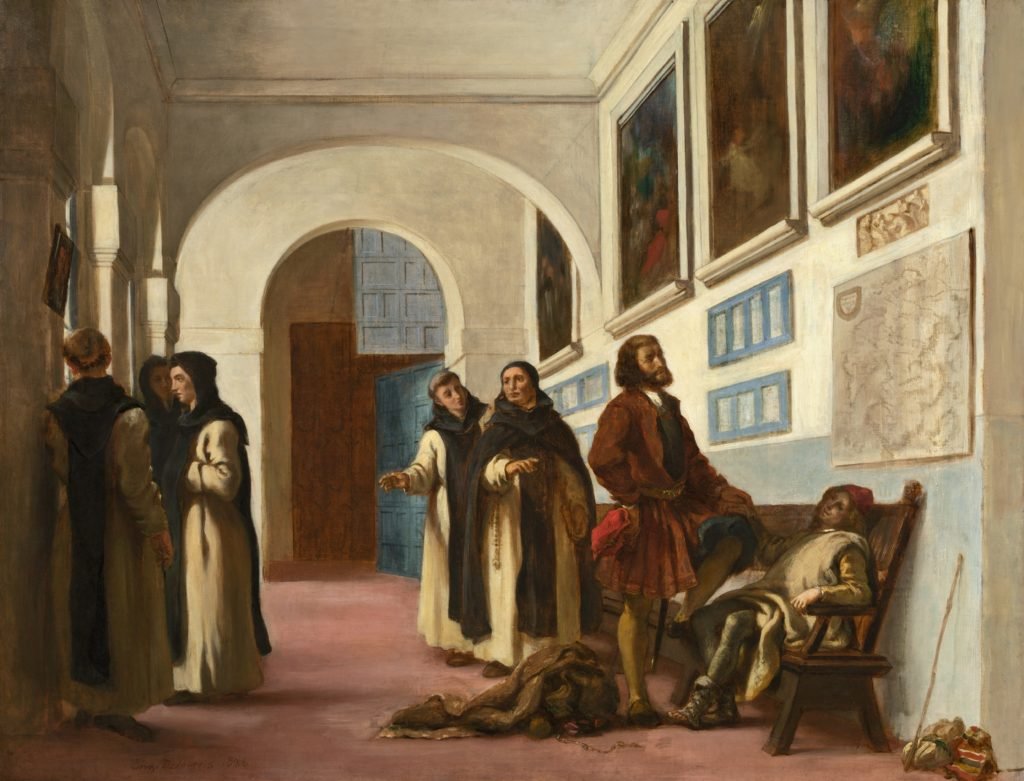 If you cross the Rio Tinto, you can visit La Rábida, the monastery where Columbus once resided – a notable place to visit in Huelva, even if we don't take the history of Columbus into account. It's a beautiful monastery with a rich past. Arguably one of the most important religious sites in Spain, so it is highly worth visiting.
Close to La Rábida, just a few minutes north, you can see Muelle de las Carabelas. This is an outdoor exhibition with replicas of Columbus' ships. It was at this location, near La Rábida, where Columbus and his fellow navigators departed for their first journey to the Americas!
Muelle de las Carabelas is open every day except Mondays. The entry price is 3.50€ for an adult, with discounts for students, pensioners, and large groups. It's a nice place to see if you are into history and if you want some nice and memorable photos. Included is also an opportunity to watch a documentary detailing how the navigators worked in the 1400s. Just outside the museum, there is a representation of an Andalusian village of the era – very interesting to see.
We advise you to walk around the area since you can re-live the historic town where Columbus once resided! It's one of the best experiences in Huelva.
Relax at the nearby beaches
The city of Huelva does not have its own beach, but there are many amazing beaches very close to the city. The Huelva province is full of beautiful, long, uncrowded beaches. In fact, it is known among the locals to be the secret coast of Spain – in opposition to the famous, overly crowded coasts of Costa del Sol, Costa Blanca, and even the northern Costa Verde.
Arguably, the Huelva province is the best place to go in the summer if you are looking for gorgeous Spanish beaches that are not too crowded, and where you can easily find affordable hotels and restaurants. It's popular among the local Spaniards, but not so much among foreigners. Foreign tourists are very predictable, and the ones that go to Andalusia usually stay in other areas – Málaga, Marbella, the historic center of Seville, in Cádiz, and so on. They rarely go to the province of Huelva and the 'hidden coast'.
It's also worth noticing that most of the popular Spanish beaches are facing the Mediterranean Sea, while Huelva's beaches are facing the Atlantic Ocean. So there is a bit of a difference here. That means the water can be a little colder on the beaches of the Huelva province, although the overall weather is usually warmer. That makes it very refreshing to go into the water in the summer. If you have been to the Portuguese region of Algarve, you can expect the exact same experience here. In fact, Huelva and Algarve are neighboring provinces, and Huelva isn't far from the Portuguese border, so a drive into Portugal is encouraged.
And while the Algarve in Portugal also gets millions of visitors, Huelva is the quiet and cheaper alternative.
Practical information
Here are some practical things you might want to know about Huelva before you go:
Is Huelva worth visiting?
Since Huelva isn't getting the same hype as other cities in the Andalusian region, such as Málaga, Cádiz or Seville, many potential travelers are left wondering – is Huelva actually a good place to visit, and is it worth it to spend a whole vacation there?
The answer is an absolute yes: Huelva is a great city. It is very underrated, but that can be a nice thing. It keeps the prices down, and it keeps the number of tourists down. If you are also getting a bit annoyed with overcrowded beaches, waiting in line for hours at the main attractions, and sitting next to loud and drunk tourists at every restaurant, then Huelva is the escape from all of this. It really doesn't get that many tourists from abroad, and for the same reason, the locals are much friendlier to the travelers who do stop by. They don't get annoyed with their visitors like they do in Seville or in so many other areas of Spain.
How to get to Huelva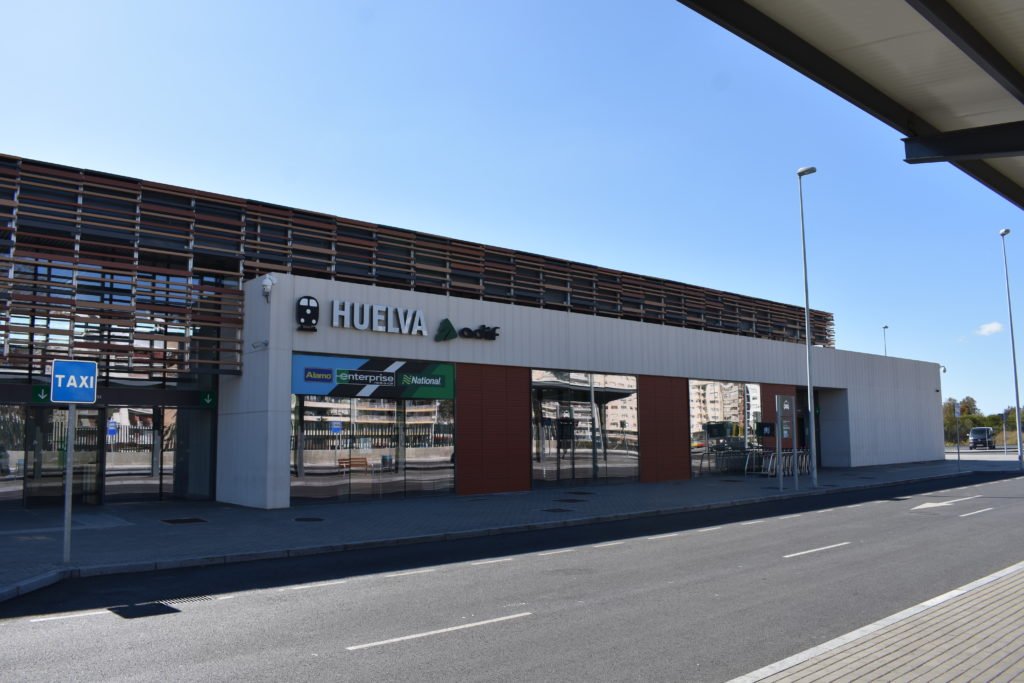 Huelva does not have an international airport – and this is most likely the reason for the low number of tourists in the city. That also means Huelva is not likely to develop into a mainstream destination any time soon.
However, you can still get there quite easily. Fly to Seville (Spain) or Faro (Portugal). They both have international airports with many connections, so it should be easy to find tickets to either airport. Choose whichever of these airports where you can find the best or cheapest tickets.
If you fly to Seville, then you first need to go from the airport to the main station: Sevilla-Santa Justa. Here you can take a train directly to Huelva. It takes around an hour and a half, and the price is 11 euros. You can buy your ticket online with Renfe, you can buy it at the station, or you can even buy it inside the train – although we recommend booking in advance. For most of the year, there are three daily trains to Seville from Huelva. One in the morning, one in the afternoon, and one in the evening. Choose whichever one you prefer. Alternatively, rent a car at Seville airport and drive to Huelva yourself. It is nice to have a car available while in Huelva city, because the entire province is beautiful, and you may want to explore more than just the city – something that will be much easier with a car!
From Faro, there is no train to Huelva, but there are several buses. ALSA departs directly from the airport a couple of times per day. You can once again book your ticket in advance, or you can simply buy it at the terminal. Like at the Seville Airport, you can also rent a car in Faro Airport, and simply drive to Huelva from there. It is usually a bit faster, but also slightly more expensive.
If you're staying in Madrid, you can take a long-distance ALVIA train directly to Huelva. But be prepared for a long trip as it takes around 5-6 hours.
Best time to visit Huelva
October is the best month to visit Huelva. They have their most important festival in the middle of the month, and the weather is quite good for all of October. It will not be too hot, and not too cold either – you can expect temperatures around 20 degrees Celsius / 70 degrees Fahrenheit on most days.
However, Huelva is a great destination during the entire year. It gets very hot in the middle of the summer, just like anywhere else in Andalusia, although not as extreme as in Seville or Córdoba. It helps that there are several nice beaches nearby where you can cool off.
Still, a visit in May, June, September or October is arguably better than in July or August. Generally speaking, Huelva is very nice in the spring and in the autumn. In December, it is also nice, there is a wonderful mood in the city. However, you will not find as many Christmas markets as you would in, say, Madrid.
But to conclude – Huelva can be visited for the entire year. Going there is always an enjoyable experience, so we highly recommend it. If you have any questions or any information to add about Huelva, feel free to write in the comment section below.