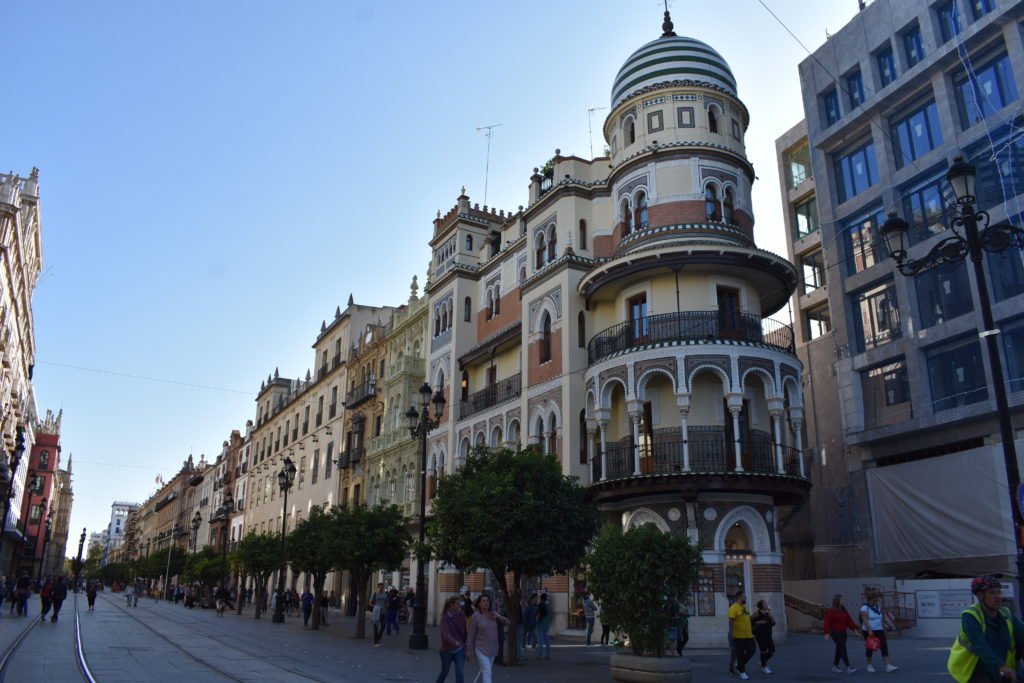 If you're planning a trip to Spain, you have many nice cities to choose from. One of them is Seville – an incredibly popular tourist destination due to its history, culture and bar scene.
But is Seville a good place to visit when taking all Spanish cities into consideration? Here are some pros and cons of taking a trip to Seville.
Seville: An introduction
Seville is one of Spain's most important cities. It used to have a huge role back in the Age of Discoveries – Columbus lived here, and he is even buried in the city's cathedral.
But even in modern-day Spain, Seville is an important city. It's the fourth largest in the country, and it is the capital of Andalusia – the largest autonomous community in Spain.
For several years, Seville has attracted worldwide attention. It had a world fair in 1992, a major airport was built, and since then tourism has skyrocketed. Seville now receives several million visitors per year, both foreigners and domestic travelers. It is among the most visited cities in Spain.
The main attractions in Seville are its cathedral, the art museum, Plaza de España, the Gold Tower, Las Setas, and its nice parks.
Reasons to visit Seville
If you love to go sightseeing, Seville will be one of the best destinations in the entire world. There is a lot to see, and the city is really rich in cultural attractions: New ones as well as the classics.
The people are friendlier than in other areas of Spain. That's not saying much, but it is a plus in the book. The prices are affordable – Seville is much cheaper to visit than most other cities in Western Europe. It is also cheaper than its Spanish counterparts, Madrid and Barcelona.
You can experience a Flamengo show, eat tapas, drink tinto de verano, or participate in one of the other typical customs of Seville.
Also, it's easy to do day trips, as you have several other great cities nearby. Take a look at these places, all less than 2 hours away by car and less than 3 hours away by train:
For more information on where to do day trips if you're staying in Sevilla, read this article.
If you love hot weather, Seville is also a perfect destination. In fact, it gets overly hot in the summer. Temperatures above 40 degrees Celcius are not uncommon. In the winter it can be cold, especially at night. But the spring and autumn usually bring great weather, the perfect in-between where it's warm but not too hot. So just avoid the extreme seasons (mid summer and mid winter; then you'll experience great weather in Seville).
To sum everything up: There are many benefits of going to Seville. Let's look at the downsides:
Seville downsides
Seville has very small and narrow streets in the central parts of the city. Sidewalks are literally 30 centimeters long in several places. Therefore, it can easily seem dangerous to walk around when a car is coming by, and there are several people walking taking up space on the sidewalk meanwhile.
And talk about traffic – just forget about driving in central Seville. It's stressful and just not worth it. If you're coming to Seville by car, try to park your car outside of the center and walk around to the attractions. On the positive side, it is a very walkable city where you can see most things fairly quickly. So a car is definitely not needed in the center anyway.
Seville has fewer supermarkets than most other cities in Spain, such as Madrid and Valencia. And they generally have fewer items too, so if you're the type of person who likes to cook in your holiday apartment, it can be a bit frustrating. If you like to eat out, Seville does have an extraordinary amount of nice restaurants, so that is absolutely a plus.
But the biggest downside is this: Seville is overcrowded with tourists. This seems like a strange and ironic point to make on a site that is dedicated to tourism – yet it must be mentioned. When you walk around in Seville, even outside of the peak travel season, 50% of the people you see in the center will usually be tourists. That drives the prices up, it ensures long lines at the main attractions, and it can be a general annoyance when trying to discover the local Andalusian culture.
The locals in Seville also seem to be a bit tired of all the tourists, and you get treated by the locals like you're just a source of money – don't expect to make too many close Spanish friends. Most Spaniards who live in the tourist areas of the country don't even like it when tourists try to be social with them, probably because they are annoyed by the huge amount of foreign visitors. Which is understandable, to some degree.
How much time is needed in Seville?
Seville is a city with many nice sights, so if you want to get the full experience, you need at least two full days in Seville. That will – most likely – require a four-day trip since two days will pass with transportation.
A day trip to Seville is not really recommended since you will have to limit yourself and only focus on a few attractions. There are too many attractions to see in just one day. So be sure to take your time if you decide to go to Seville.
If you want to explore Andalusia, particularly the western part, we recommend you to find a hotel or a holiday apartment in Seville for the entire trip – and then you can do day trips to cities such as Córdoba, Cádiz, Jerez, Huelva, and other cities where one day is enough. In Seville, you need a lot of time: There are too many nice attractions and too many great restaurants to make it just a one-day trip. If you come for just one day, you will surely regret it later. Better to do a full-length trip where you can take your time and see as much as possible.
Conclusion: Should you visit Seville?
Seville is a nice city to visit. Is it the best in Spain? No – there are some better options.
However, you'll never regret a trip to Seville. There's a lot to see and do, and it is one of the hottest cities in Europe.
A vacation to Seville also allows you to visit many of the interesting nearby cities and towns. That might be the biggest benefit of them all. So yes, it is worth it to visit Seville, especially if you're interested in Andalusian culture and general world history.
If you are into sightseeing, and you love observing things, then Seville is also great. If you are more into being active, taking part in the local life, socializing – then skip it and choose another city in Spain – Madrid would be a good choice. Or even nearby Huelva or Granada.