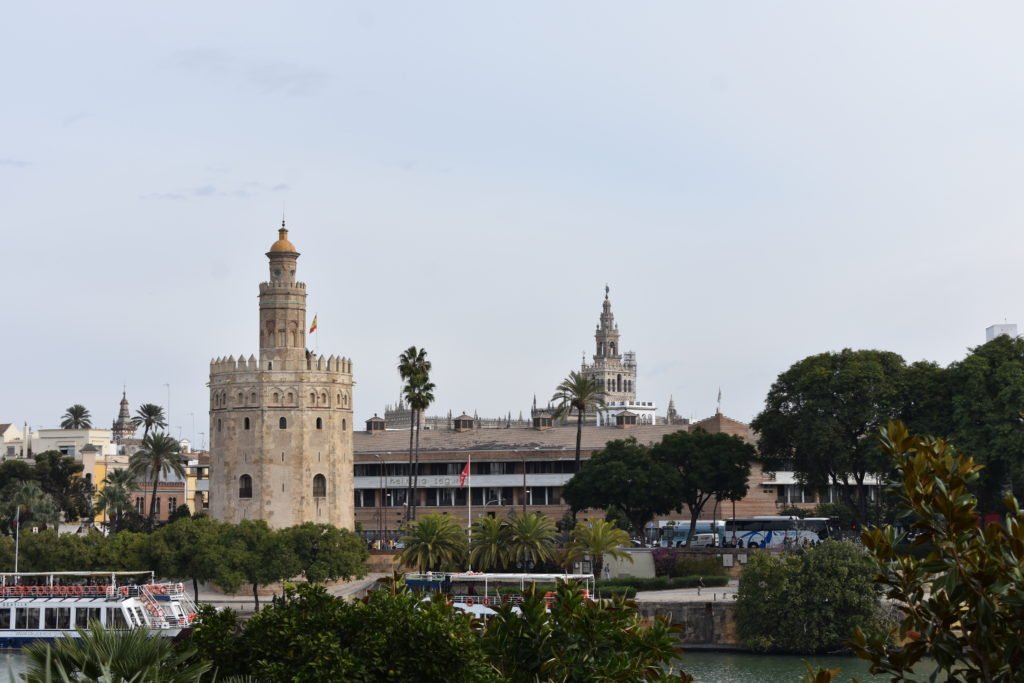 Seville is an amazing place to go on vacation. It's a beautiful city with many great attractions, and you should absolutely spend several days there. If you have additional time to spare, you can consider a day trip to one of the nearby cities. Here are the 10 best day trips from Seville!
All of these places are within a fairly short distance, making it possible to go back and forth on the same day. Train and bus tickets are relatively cheap in Spain, so if you have enough time it should be fairly easy to go on a few day trips while staying in Seville.
Cádiz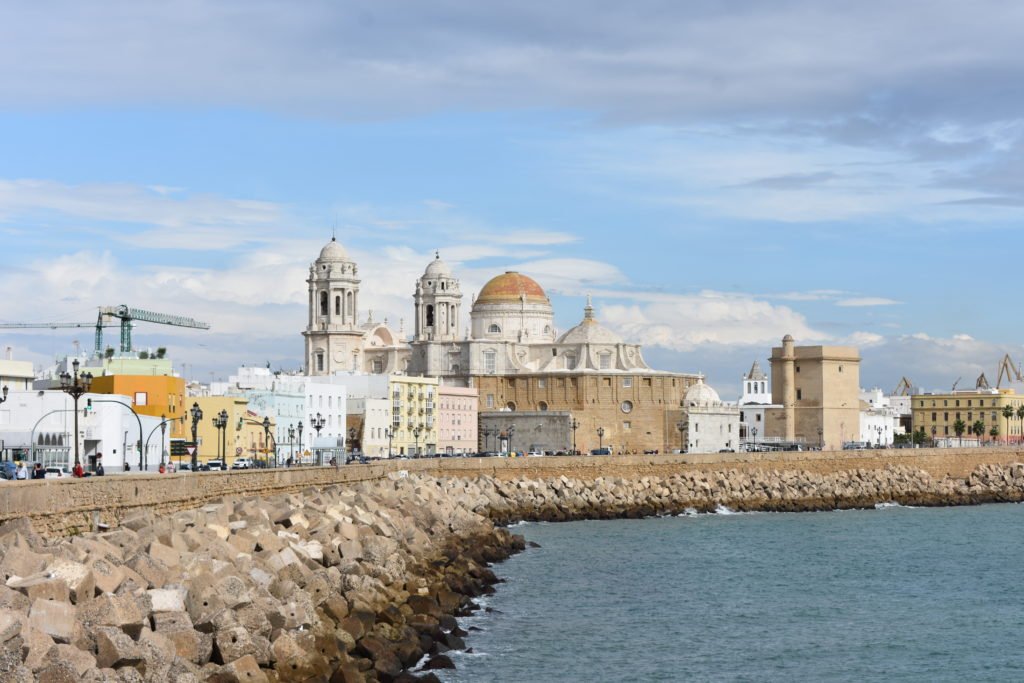 Cádiz is the best place to go if you're looking to do a day trip from Seville. It's easy to reach, affordable, and a super interesting place.
It's the oldest city in Spain – and also the oldest in all of Western Europe.
Cádiz is full of surprises, and it has surprisingly good food.
You can get there by taking the train from Seville. The price is usually around 13 euros each way, and it's a very fast journey. You'll get there in no time. Trains run all day long, so you can stay in Cádiz for as many hours as you'd like. We recommend visiting in the afternoon/evening so you can have dinner in one of the seafood restaurants.
Jerez de la Frontera
If you take the train to Cádiz from Seville, you will pass Jerez de la Frontera on the way. It's also possible to reach Jerez via the local Renfe Cercanías in Cádiz – the cities are very close to each other.
In its own right, Jerez is an interesting city. With many interesting buildings, particularly the cathedral and some of the other churches, there are plenty of things to see. Jerez also has a racing track that was once part of the Formula One calendar.
All over Jerez, you will find many palaces, statues and museums. It's an ideal city to visit for anyone interested in history. There's plenty of sightseeing, despite the fact that Jerez isn't as large as Seville or Cádiz.
We also recommend that you take a bus to the nearby town Vejer de la Frontera. A beautiful town with whitewashed houses, ideal for any photographer to visit! A few hours there is enough, but it can also be a romantic place to spend the night as a couple.
Córdoba
Córdoba used to be the biggest city in the world. Today, it is a mid-size city, but it still remains very impressive. It's easy to do a day trip from Seville to Córdoba since many trains run between the two cities. These trains are inexpensive and fast. An even cheaper option would be to take the bus.
The Mesquita, Córdoba's cathedral and previously a mosque, is the highlight of the city. But make sure that you also see the Roman bridge, the narrow streets decorated with flowers, and many of the other nice things that Córdoba also has to offer.
If you're in the mood for some lunch during your day trip, there are many nice restaurants in Córdoba. In fact, the city is full of them. It's a touristic city so some restaurants cater mainly to tourists and have increased prices. Therefore, try to go to some of the restaurants where local people eat. Better food, better prices!
You can expect to see a lot of other visitors in Córdoba for most of the year. People do day trips from Seville, as well as from Madrid, Granada and Málaga. It can be crowded at times, although not as much as Seville itself.
Granada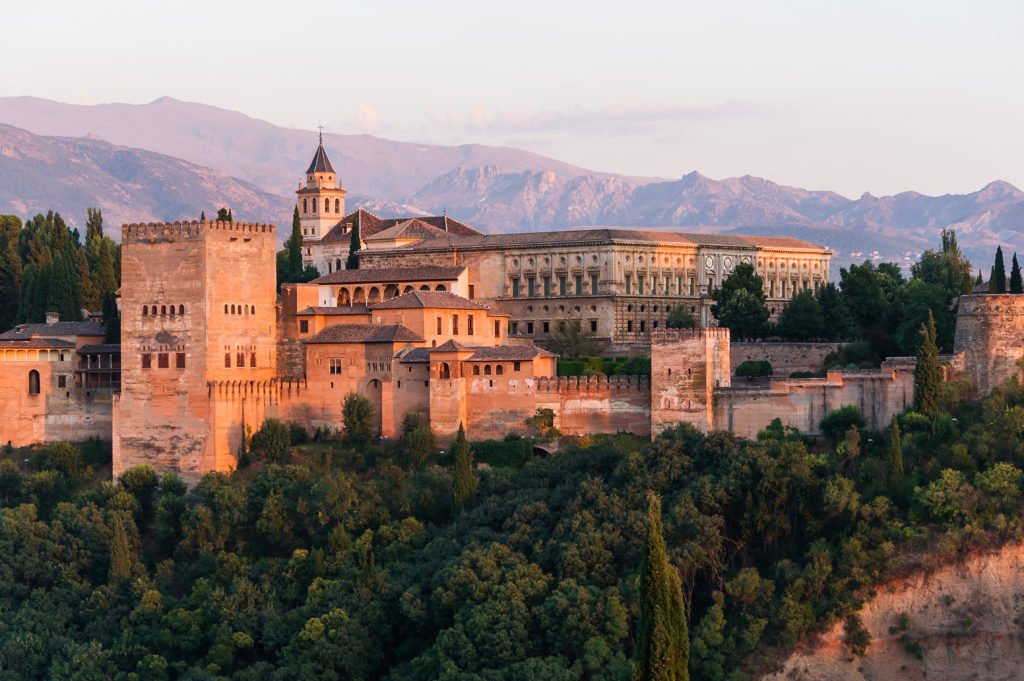 Tourists, as well as exchange students and expats, love to be in Granada. It is one of the most famous cities in Spain due to its rich history, its beautiful attractions, and the way it maintains many classical traditions.
Granada is the only large city in Spain where you still get tapas served when you order a drink. In most other cities, you actively have to order the tapas – in Granada, you often get them automatically when ordering drinks! They like to keep this old-school tradition, and that makes it a really fun experience to go out for drinks in Granada.
However, the big highlight is Alhambra, a large and mighty impressive castle/fortress. It was constructed in the 9th century on top of Roman fortifications and then rebuilt once again in the 14th century. It has hosted several historical events, and it served as the Royal Court from 1492 and onwards. The Alhambra is considered to be one of the top attractions in all of Spain, so it should be on top of your list. To make sure you get to see the Alhambra, book your entry ticket in advance – otherwise, there is no guarantee of getting in.
Granada is a bit far from Seville – you can expect around two and a half hours of driving, or three hours on a bus. But it is doable in a day, and if you think one day is not enough, then consider spending a bit more time in Granada. Many tourists combine a trip to Seville with one to Granada. It doesn't have to be just a day trip: On a one-week holiday, you could spend 4 days in Seville and 3 weeks in Granada, or something like that.
Málaga
Málaga needs no introduction. It is one of the most visited cities in Andalusia, so you can expect to meet many other foreigners there.
Most visitors stick to the beach areas, though. That makes sense since the weather is awesome for most of the year, and since the beaches are top-notch. There are plenty of resorts near Málaga and the small towns near the city are just as popular as the city itself.
Don't forget to explore the cultural attractions of Málaga. It is one of the largest cities in Spain, so there's always something going on. There are many bars where you can enjoy a night out, and culture lovers will also be well entertained: Start out by visiting the Picasso Museum. Pablo Picasso, the famous Spanish painter, was born in Málaga and the museum exhibits some of his most important pieces.
It takes around two hours to reach Málaga by car from Seville. There is currently no high-speed train line, but it is being built. If you don't have a car available, take a bus instead. Expect a price of around 15-20 euros if you book with ALSA in advance. Definitely worth it to visit such a great city!
Ronda
Ronda is a relatively small town, but it is highly worth visiting. It is famous for the Puente Nuevo – a dramatic bridge stretching between two high cliffs.
Most buildings in central Ronda are old. They are white in the typical Andalusian fashion – therefore very picturesque and impressive.
Many travelers have found interest in Ronda in recent years. Nowadays, the city can be quite touristy, with many tours going there as day trips from Seville or Málaga, the dominant cities in the region. You can go with a group, which is possible to book in advance, or you can simply drive or take a bus there yourself. Ronda is absolutely ideal as a day trip since you can experience most things in a matter of hours. You don't need multiple days in Ronda, you basically just need to see it once.
Huelva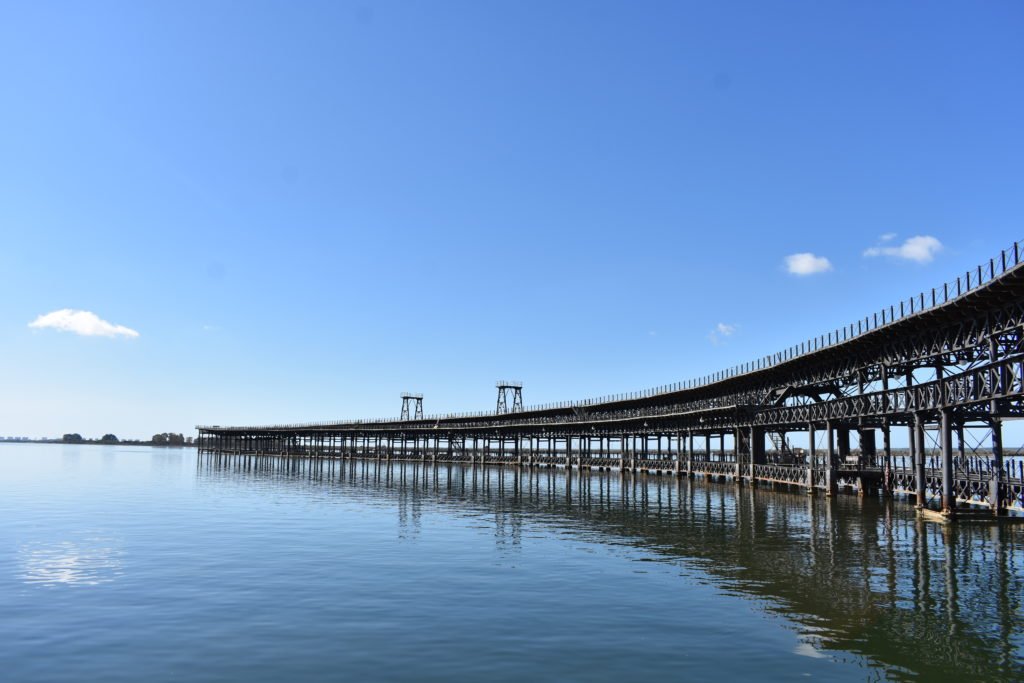 One of the most underrated cities in Andalusia is Huelva. Located in the western part of the community, Huelva is quite close to the Portuguese border. But the culture is very stereotypical Spanish – and particularly very Andalusian.
In the center of Huelva, you can see the Columbus statue, the cathedral, the Eiffel pier, and many other nice attractions.
When you're in Huelva, we advise you to take a local bus a couple of kilometers southeast to La Rábida. Here, you'll find an impressive monastery where Christopher Columbus once lived. Very close to the monastery, you can see Muelle de las Carabelas, an outdoor museum showing exact replicas of the ships used in Columbus' first voyage to the New World. La Rábida is part of Huelva, and it's the part of the municipality where you find the most history.
→ Read our full guide to Huelva here.
Matalascañas
Matalascañas is a beach and resort town very close to Huelva. It's an ideal place to visit if you're already headed west – its beach is one of the best in the region, stretching around 7 kilometers with plenty of space.
There are also a couple of nice restaurants and bars near Matalascañas, serving all sorts of nice foods – usually seafood of course.
Surrounded by the Doñana National Park, Matalascañas is found in beautiful settings. But if you want to experience more than just nature, then enjoy the view of the many whitewashed houses, the tall lighthouse, or some of the entertaining facilities in the area designed for visitors. But keep in mind – most tourists in Matalascañas are Spaniards, so speaking Spanish is recommended for proper communication here. English is not common like in the Mediterranean resorts on the east coast.
Mérida
Mérida is one of the largest cities in the community Extremadura, northwest of Andalusia. You can do a day trip from Seville to Mérida by driving yourself or by taking a bus.
It was an old Roman city with several monuments still existing from that time. The most important one is the Roman theatre, but don't forget about the Aqueduct or the Diana Temple. Mérida is an interesting city from a historic point of view, but it is also one of the most refreshing cities in the region, differing significantly in spirit compared to its surrounding towns.
Aside from Mérida, you can also consider Badajoz or Cáceres, the two other main cities in Extremadura.
But ultimately Mérida is the most natural choice since it has the most attractions to see.
Faro
Not the most obvious day trip, but one that should certainly be considered: Faro is a Portuguese city in the region of the Algarve.
It's a slightly longer trip than to some of the other cities mentioned here, but if you have your own car, you can reach Faro in two hours. With a bus, it will take around 2 hours and 40 minutes. You can book your ticket with ALSA, and buses depart from Seville's Plaza de Arma terminal several times per day. Unfortunately, there are no trains between Seville and Faro at the moment.
While Faro isn't a typical sightseeing city, you can get to experience Portuguese culture for a day. Visit some of the churches, go to the beach area, shop for some Portuguese goods in a market like Pingo Doce or Continente, or perhaps find a nice restaurant to eat bacalhau.
Overall, Faro makes for a very interesting visit. If you have a lot of time available, you can also visit the smaller Portuguese town of Tavira, located a bit closer to the Spanish border – or one of the many resorts on the Algarve, but those require more time than a single day since they are basically meant for either relaxing or partying.
→ Read our full travel guide to the Portuguese Algarve region here!
Conclusion
Seville has a pretty good location in the south of Spain. There are so many historic cities nearby and the coast isn't far away either. So if you have a long time in Seville, we absolutely recommend taking a couple of day trips. This allows you to experience more parts of southern Spain, and perhaps even Portugal as well.