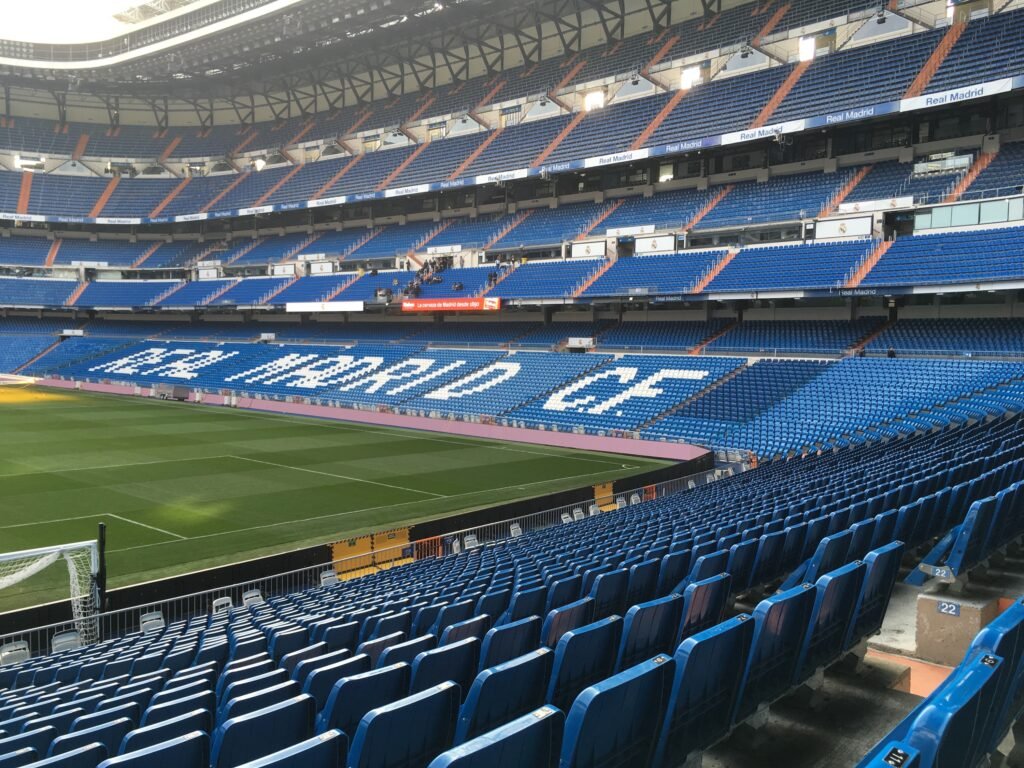 Madrid might be the best city in the entire world to visit if you are a football fan. With two major teams, Real Madrid and Atlético Madrid, there's always action in the Spanish capital. On top of that, we find several smaller teams, and we shouldn't forget that international finals are frequently held in Madrid.
Therefore, there are great opportunities to watch some live football in Madrid. Even if you are not coming for a match, you can still enjoy a stadium tour at either Bernabéu or Wanda.
Here's a full guide for everyone interested in taking a football trip to Madrid!
Football clubs in Madrid
Everyone knows the two big clubs of the city – Real Madrid and Atlético Madrid.
Both are historical giants, and to this day they remain some of the top clubs in the entire world. We will dig deeper into each of them below, but it is nice to give a general introduction to Madrid's football scene so that you are also aware of other clubs in the Madrid region.
In the southern suburbs, we find five other clubs that are quite popular in each of their own areas: Getafe, Leganés, Rayo Vallecano, Alcorcón and Fuenlabrada.
Getafe is playing in La Liga with the two big Madrid teams, while Leganés and Rayo Vallecano previously figured in the Spanish top flight but are currently playing in Segunda División. Alcorcón has established itself as a regular in the Segunda. Occasionally, the club has fought for promotion but is yet to succeed. Fuenlabrada is a relatively new addition to the Segunda and has never played in La Liga, but the small club has been on the rise over the last decade.
As you see, there are many football clubs in Madrid. The residents of northern Madrid, as well as residents in the most affluent areas, are generally supporting Real. Atlético is the working-class team, most popular in the southern and western parts of the city and especially in neighborhoods such as Tetuán and Cuatro Caminos. The five southern clubs are each popular in their own suburbs. Of course, many of the Madrid clubs also have fans in the rest of Spain, with Real Madrid being the most popular club in the entire country.
Real Madrid tickets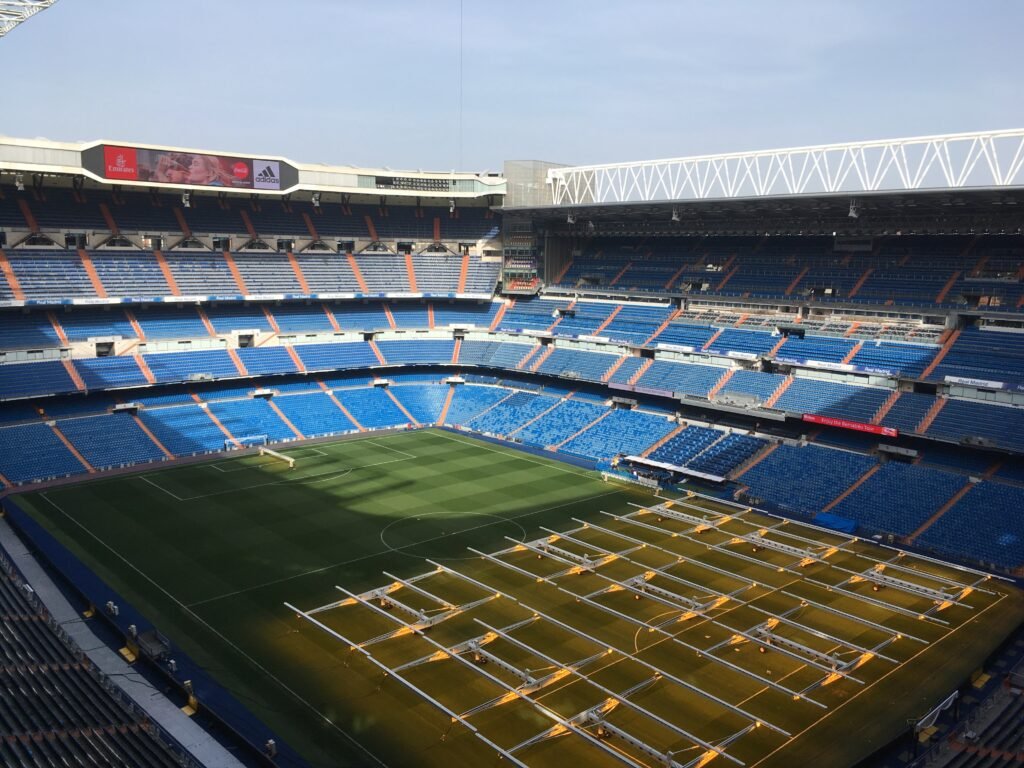 Football fans from around the globe dream to watch a Real Madrid match in person. Los Blancos are the main reason why people do football trips to Madrid.
As the most successful team in Champions League/European Cup history, Real Madrid has certainly done well for itself. The royal club was dominant in the 1950s when Alfredo di Stéfano sported the Madrid jersey, but it was during the Galácticos era (2000-2006) that Real Madrid attracted most of its worldwide audience. With stars such as Casillas, Raúl, Figo, Zidane, Ronaldo and Beckham, the team was impossible to ignore. Zinedine Zidane would later become the manager of the club, guiding Real to the latter two of its three Champions League titles in a row during the mid-to-late 2010s. The presence of Cristiano Ronaldo, the club's all-time top scorer, brought both extra fame and success to the club. Ronaldo is now gone, but the Real Madrid locker room is still full of stars, so watching a live match is still like a dream coming true.
Most tickets are reserved for members of the Real Madrid fan club. It's very difficult to get into the fan club, so unless you're a Spaniard with connections, forget about it. You will have to buy from the smaller pool of tickets that Real puts up for sale.
There are two official vendors for pre-booking: You can buy from Real Madrid's own website and from entradas.com. After purchase, tickets can be downloaded to mobile devices. Another option is to buy tickets from the office at the stadium. That will likely give you fewer seats to choose from, but it is a very flexible option if you spontaneously decide that you want to watch a football match during your vacation in Madrid. Of course, there are also many unofficial resellers of tickets (fan club members who are putting their tickets up for sale) but they are often overpriced.
Ticket prices start around 50€ for the cheapest seats. They go up from there, but on average, expect to pay a bit over 100€ for a seat. It is possible to get tickets for most matches without too much trouble. Only matchups against Barcelona, Atlético, and key Champions League bouts are hard to come by.
Real Madrid stadium tour
If you're not in town for a match day, but you still want the Real Madrid experience, you can do a stadium tour. This is surprisingly fun. One ticket costs 25€ – can be bought online or at the stadium – and it gives you access to the stadium.
During the Real Madrid tour, you will first see the massive stadium from a high angle. You will then walk through the inner parts of Bernabéu which is basically the Real Madrid museum. Here you can see shirts, trophies, documents, and all things related to Real. Video clips will be playing on screens throughout. As you reach the end of your tour, you will get to see the player's locker room, the press conference office, and you will get to the lower part of the stadium where you can even sit in the manager's and player's chairs.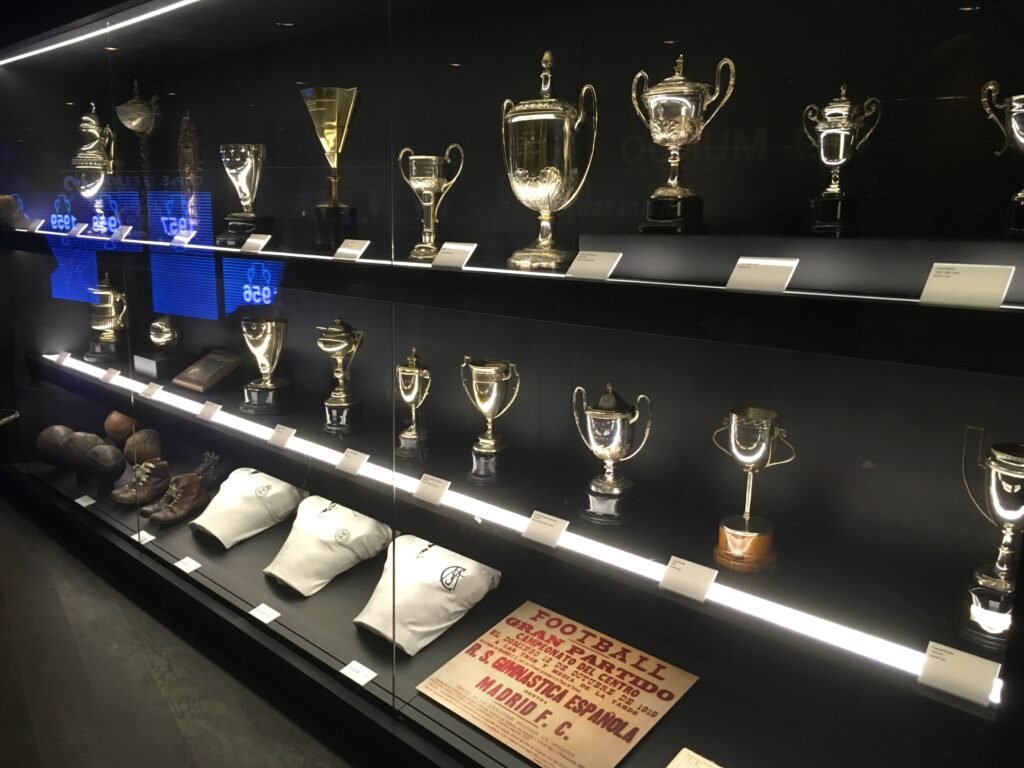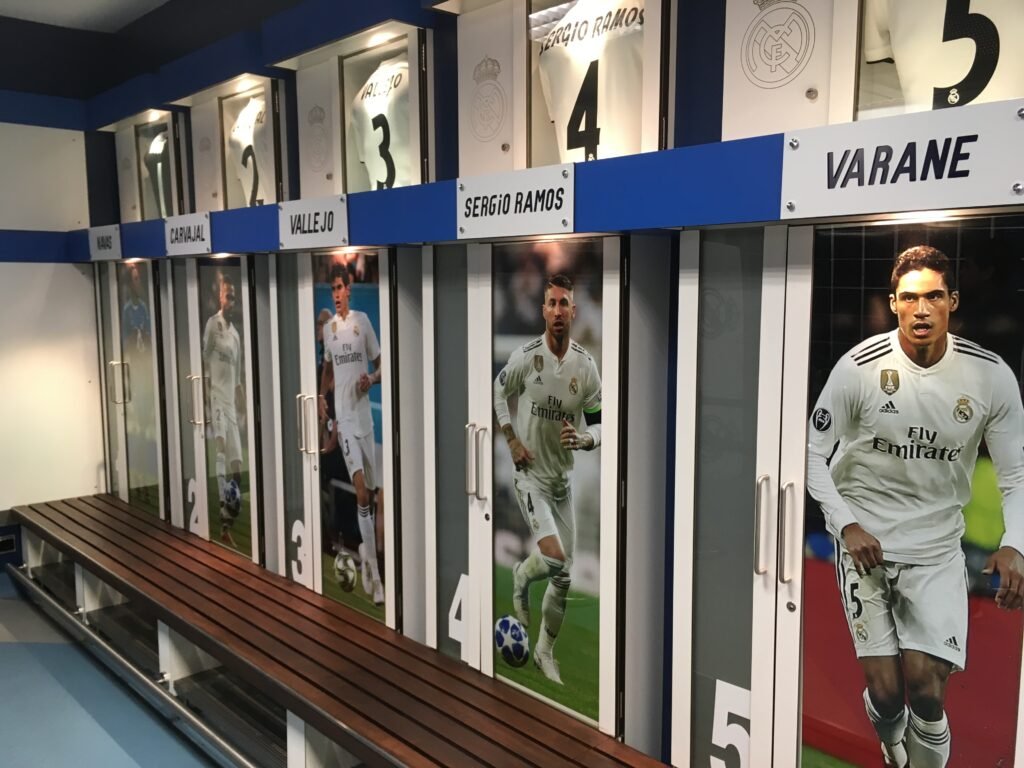 The basic tour is self-guided – you just show your ticket and go in – and fortunately, there are very clear directions, so it's easy to follow the route and see everything within the stadium. It's a great experience for any football fan.
Visiting Santiago Bernabéu
Estadio Santiago Bernabéu is Real Madrid's home stadium. It has an insane seating capacity of 81,044 which makes it the second-largest club football stadium in Spain and the third-largest in Europe (only Barcelona and Dortmund have bigger stadiums).
However, the record attendance actually reached 129,690 back in 1956 when Real Madrid squared off with AC Milan.
Bernabéu opened in 1947 and is currently under a soft renovation.
It's located in the neighborhood of Chamartín, very central in Madrid, just a bit north of the deep city centre.
Getting to and from Santiago Bernabéu is easy. Metro line 10 takes you to the door, and the station name is the same as the stadium, so you simply get off at Santiago Bernabéu. If you don't fancy a metro ride, you can use the Cercanías city trains and get off at Nuevos Ministerios which is also close enough. A taxi is always an option – every driver knows where the Bernabéu is situated, so they can take you there in no time.
Atlético Madrid tours and tickets
As you know, Real Madrid isn't the only big club in the Spanish capital. Los Blancos always face tough competition from local rivals, Atlético Madrid.
Atlético is the third most successful Spanish club with 10 league titles, 10 Copa Del Rey, 3 Europa League titles, and Atlético has also appeared in 3 Champions League finals, although all were lost (one of them heartbreakingly to Real Madrid in the final minutes of the match).
In most seasons, Atlético is playing at the same level as Real Madrid and Barcelona. The club has traditionally not been a club for superstars, like its two main competitors, but there's no doubt that some supremely skilled players have sported the Atlético jersey over the years anyhow. Fernando Torres, Sergio Agüero, Antoine Griezmann and Diego Godín are just a few examples. Star manager Diego Simeone has both played for and coached Atlético with great success.
If you're an Atléti fan, you must watch a live match. If you're a general football fan, we would also recommend you to see the club play at Wanda Metropolitano if you ever get the opportunity.
It's best to get your tickets directly from the organizer. You can buy match tickets at Atlético's own website. There will be other websites selling tickets as well, often resellers, and while that can also be a good option at times, we generally recommend that you buy tickets directly from the club since it is easiest. You can also buy tickets at the stadium, if available.
Prices usually start at 70€ per seat for non-members. If you're willing to pay 300€ per seat, you can get the 'Bench Experience' and sit right down by the field, very close to the action.
Aside from watching a match, we also recommend that you take the stadium and museum tour. The Atlético tour is a great alternative if there are no matches going on while you're in Madrid, or if you are simply looking for a more affordable fan experience.
A stadium + museum tour usually costs 24€ per person. You can book online or at the stadium. Online booking will allow you to skip the line. When you have your ticket, you can experience Atléticos new stadium, Wanda Metropolitano from within. This massive stadium is very fascinating, and it also contains a museum. This allows you to dig deeper into the history of the club, and you will see everything way up close. Highly recommended for all football fans!
Visiting Wanda Metropolitano
Wanda Metropolitano was built in the early 90s. It then closed, but Atlético wanted to move away from its old stadium Vicente Calderón, so a major renovation of Metropolitano was booked. It cost 240 million euros, but the result is highly impressive, and since 2017, Atléti has been playing its matches here.
Wanda Metropolitano has a capacity of 68,456. It hosts all Atlético home matches, but it has also hosted the Champions League final and the Copa Del Rey final, each on one occasion.
The stadium is located west of the city centre, near the M-40 freeway.
The best way to get there is by taking the metro. You take line 7 and get off at the Estadio Metropolitano station. Line 2, Las Rosas, is also relatively close. Several bus lines also drive to Metropolitano, and if you're ever in any doubt, you can always take a taxi to and from Wanda Metropolitano.
Getafe
The suburb of Getafe, mostly known for its industry, is also home to a very solid football team.
Getafe CF is a much newer team (founded in 1946, then re-founded in 1983 in its current condition). It's a fun club with passionate supporters. Obviously, the club has many fans in its local area, but internationally the club has also grown after a series of good results. Getafe achieved 5th place in La Liga, its best position ever, back in the 2018-19 season. On two occasions, Getafe made it to the Copa Del Rey final, and the club has participated in the Europa League three times.
Home matches take place at Coliseum Alfonso Pérez in southern Madrid. To get there, simply take metro line 12 and get off at Los Espartales. The stadium capacity is a bit over 17,000 and the average attendance is around 10,000. That means it is much easier to get tickets for a Getafe match compared to the two major Madrid clubs.
Buy your Getafe tickets at the club's official site.
Getafe's main rival is Leganés, another team from southern Madrid. Matches against Leganés are often heated. Getafe has friendly rivalries with Real and Atlético. Some supporters are fans of Getafe as well as either Real or Atlético.
Leganés
CD Leganés is another club from Madrid's southern outskirts. It recently spent four years in La Liga, Spain's best league, but was then relegated. Now, Leganés once again attempts to get into the fine crowd, and with great performances in the Segunda División, it seems very possible that Leganés will return to the top flight soon.
Estadio Municipal de Butarque is the home ground. Over 12,000 people can be seated which gives matches a decent atmosphere.
The best way to get to the stadium is to take the local city trains (Renfe Cercanías). Get off at the station Zarzaquemada and walk directly west for a few minutes. Alternatively, take the metro and get off at Estación de Julián Besteiro. The town centre of Leganés is within walking distance from the stadium if you wish to see the local environment.
Just like the other Madrid clubs, we advise you to buy tickets from the official club website.
Rayo Vallecano
A highly interesting team is Rayo Vallecano. Rayo comes from the neighborhood Vallecas, one of the areas of Madrid that has a high number of Latin American immigrants.
Since the 1970s, Rayo Vallecano has been an elevator team, bouncing up and down between La Liga and Segunda División. On several occasions, the club has impressed on the big stage. It finished 8th in La Liga in the 2012-13 season and once participated in the UEFA Cup.
It's a working-class club with mostly left-wing fans. Rayo's ultras frequently display political messages and are often criticized by authorities. Rayo has a rivalry with Atlético Madrid. Matches against Real are also passionate.
If you want a unique football experience with a true neighborhood team, plan a trip to Estadio de Vallecas and get some tickets!
International football tournaments in Madrid
Thanks to several major stadiums, many international football tournaments are held in Madrid. Most recently, Wanda Metropolitano hosted the 2019 Champions League final between Liverpool and Tottenham. Estadio Santiago Bernabéu has hosted the European finals on multiple occasions.
This is very likely to happen again several times in the future. Therefore, a football trip to Madrid doesn't necessarily have to be about any Madrid clubs.
We also see fans of other clubs in other countries travel to Madrid when their team has an international matchup against Real or Atlético. Football fans are often very visible in the city of Madrid, so when a team like Dortmund or Roma comes to visit for Champions League, that is easy to notice.
Visiting Madrid to watch football
Let's round off with some practical tips in case you want to go to Madrid to watch football – whether for Real, Atlético, Getafe, Rayo, Leganés, or an international match.
Madrid's main airport is located in the northeast. It is directly connected to the city centre by metro, trains, buses and taxis. It's a fairly short ride, often between 20-40 minutes.
We recommend that you book a central hotel if you are taking a football trip to Madrid. The city has a massive metro that makes it easy to get around. So along with watching football, you can experience other attractions in the centre while staying there.
Hotel Emperador on Gran Vía is one of the city's best and most historic hotels. We recommend that you stay there if you want a top-notch experience. For something cheaper in the centre, go to the 7 Islas Hotel, still a quality hotel.
The only exception to staying in the centre is if you are a fan of Getafe, Leganés, or Rayo Vallecano. In that case, you should stay in one of those towns/neighborhoods to get the full impression and to get close to the local fans.
Madrid is fairly affordable compared to other European cities such as London, Paris and Amsterdam. Accommodation will likely be your main cost. Eating out is cheap. There are many good restaurants and food bars in the city centre with great bites at decent prices. For more high-end restaurants, go to the Salamanca neighborhood.
If you're just coming for a football trip, a weekend is enough. But if you also want to experience Madrid as a city, try to arrange a longer stay in the city. One week is enough to see most of the attractions and to have a good time.
You will also notice that there are football shops in several places in the city, so it's easy to buy shirts and other merchandise.
Madrid is famous for very hot summers (often the temperature will exceed 40 degrees celsius!) and fairly cold winters. Spring and autumn are both amazing in Madrid with typical day temperatures between 15 and 30 degrees Celsius. March, April, May, October and November are some great months for football and life.
Conclusion
You definitely won't regret visiting Madrid – especially if you're into football. It's the most popular sport in Spain, and with multiple interesting clubs in the capital, it is the prime destination. Whether you want to experience a big club like Real Madrid or Atlético Madrid, or a minor club like Rayo Vallecano or Leganés, the city of Madrid lets you do it.