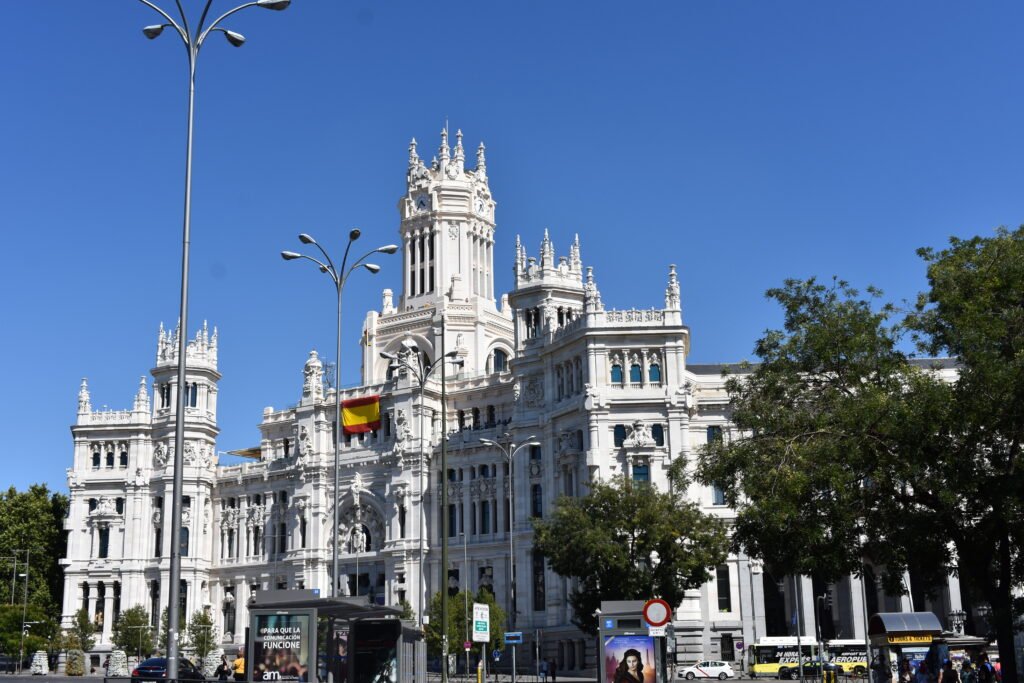 Spain's famous capital receives millions of tourists each year. This is no surprise at all since Madrid is rich in culture, gastronomy, and social events of all kinds. In this article, we are taking a general look at the city in order to provide a full Madrid travel guide.
Among the information in this article you will find general facts about Madrid, a list of attractions, places to stay, where to eat, where to party, how to get there, how to stay safe, and more practical tips that will prove useful during your trip.
Facts and figures
Madrid is the capital and the most populous city of Spain
Approximately 3.4 million people live in the city, and 6.7 live in the metropolitan area
It ranks as the second-largest city in the EU
Madrid was founded in the 9th century
It became the Spanish capital in 1561
Madrid is a centre for business, politics, culture and entertainment
Attractions in Madrid
Madrid has a massive number of exciting things to do. The city is foremost a cultural centre. Despite the fact that Madrid isn't as old as most other European capitals, it makes up for it with its many museums, its great architecture, the sports scene, and the unique institutions.
The top attractions in Madrid that everyone should visit are:
Puerta del Sol – the central square with the famous bear-statue
Plaza Mayor – the most important square, surrounded by majestic architecture
Gran Vía – the city's main commercial street, always full of life
Royal Palace – one of the most famous landmarks
Catedral de la Almudena – Madrid's main cathedral
Cibeles Fountain & Palace – historic building, now used by the city council
Templo de Debod – ancient Egyptian temples that were gifted to the city
Retiro Park – one of the best open city parks in the world
Depending on your interests, there are many other attractions you can consider as well.
If you are into art and history, don't miss these places:
Prado Museum – arguably the second-most important art museum in the world
Reina Sofía Museum – modern art
Thyssen-Bornemisza – feels like a mix of Prado and Reina Sofía
National Archeological Museum – collections of artifacts from Iberia
America Museum – collections related to the discovery and development of the Americas
If you are into sports, these places might interest you:
Santiago Bernabéu – Real Madrid's home stadium
Estadio Metropolitano – Atlético Madrid's ultra-modern home venue
La Zarzuela – the race track where you'll often see horse races
For those who want some excitement, you can consider:
Teleférico – the cable car that runs over the city centre
Parque Warner Madrid – probably the best attraction park in the region
Kapital – the largest nightclub in Madrid
Malasaña and Chueca – two famous neighborhoods with great nightlife
But Madrid offers so many attractions that the ones listed above are solely a few examples. As a tourists, you should focus on the main attractions first, and then you can explore things further. We recommend you to read our article alternative things to do in Madrid in order to find even more options!
Best places to stay in Madrid
Some areas are better than others. Ideally, you want to stay in a central part of Madrid near the main attractions and near the best shops and restaurants. That leaves us with the following neighborhoods:
Sol
Malasaña
Chueca
La Latina
Salamanca
Retiro
Atocha
These are generally considered to be the best areas for tourists, so they are safe choices. If you are coming to Madrid for the first time, it is probably best to stay in one of these areas. If you come back for a second, third or fourth time, you can begin to consider some more local areas outside of the centre.
The top hotel in the city is Hotel Emperador, located on Gran Vía. It's a historic hotel with a perfect location and very comfortable rooms.
A more affordable hotel, yet modern and highly sophisticated, is the 7 Islas Hotel. It is also very central and gives you great access to most interesting parts of the city.
Hotel Ópera is a great option if you want to be closer to the Royal Palace. It is also quite affordable, yet very nice and with good service.
Eating out in Madrid
There are great restaurants all over Madrid.
Salamanca, Goya and Retiro are the areas where you find the best dining options. There are many tasty restaurants in these areas, especially in Salamanca, but you can also expect prices to be high.
In the city centre near Gran Vía and Sol, there is a mix of Spanish and international franchise restaurants, as well as locally owned places.
The good thing about eating out in Madrid is that you will find cuisine from all corners of the world.
One must when you eat out in Madrid is to try some signature Spanish dishes, and – naturally – to try out tapas. This is easy since you find Spanish restaurants and tapas bars all over.
Prices vary wildly – some restaurants have very affordable food where you can eat out for about €15 per person. On the other hand, the high-end restaurants are often very expensive and it is not unusual to pay over €150 per person for a full course meal in the fancy areas of Madrid.
Nightlife in Madrid
Madrid has a crazy nightlife. The locals love to party, and so do the expats and the tourists. People often party all night long in Madrid and don't go home until the following morning.
There are some massive nightclubs such as Teatro Kapital, Fabrik and Opium. These places are great if you want to dance all night long.
But the main attraction of Madrid's nightlife is the bar scene. The city is absolutely full of bars, and they are everywhere. The top bar areas are Malasaña (where there is one entire street full of different bars) and La Latina. You'll find many traditional bars around La Latina.
You will also notice that many young people party in the street. It is common to stand outside the club or the bar and hang out with the friends.
This article was first published on scopetrip.com.
If you're traveling with friends, try to go to a different club every night, so that you experience all Madrid has to offer.
If you're travling solo and you want a guaranteed way of meeting people, go to the website/application MeetUp and find an event. There are often events where a large group of people meet in a bar and talk for an hour or two, before they proceed to party.
Drinks cost about the same in Madrid as in other large European cities. It also depends on the venue. Some places offer discounts if you show up early, since most Spaniards eat late at home and don't go out for get drinks until midnight.
Where to shop in Madrid
Gran Vía and Calle de Fuencarral are some popular shopping streets in the very centre. You will find a lot of international shops here.
The neighborhoods of Salamanca and Goya have many high-end stores, especially related to fashion and accessories.
El Corte Inglés department stores are located all over the city. The one at Plaza de Callao is very nice, and so is the one in Nuevos Ministerios. You can literally find everything in El Corte Inglés!
Madrid has several malls, but only a few of them are centrally located. The best one in the centre is Príncipe Pío, you can take the metro there or walk if you are staying near Plaza de España.
Some larger malls are La Gavia and Parquesur, both located in the southern suburbs. The oldest mall in Madrid, La Vaguada, has over 250 stores and is also a great place.
Madrid Xanadú is a mall with many entertainment facilities, but it is quite far away, so you would have to rent a car or take a long bus ride to get there.
Las Rozas Village is an outlet market near the town of Las Rozas. It is an amazing place to go if you want to find original brands for low prices. There is a shuttle going there a few times a day from the centre. Alternatively, take the city trains (Renfe Cercanías) or take a taxi to get there.
Getting to Madrid
If you're not already in Spain, the best option will always be to fly in. Madrid has a large airport (known as the Madrid-Barajas Airport) and it has connections to and from most major cities in Europe and in the Americas. From the airport you can either take a taxi or the metro into the city centre. It costs €30 to take a taxi and the trip is relatively fast (30-45 minutes depending on traffic).
When you are there, you can take the metro to get around. Note that the metro gets very crowded in the autumn, in the winter, and in the spring. In the summer it is mostly empty because local Madrileños go on holidays to other parts of Spain.
However, the city-centre is very walkable, so you can also get around on foot.
Madrid has two major train stations – Atocha and Chamartín – where you can take trains to virtually all major cities and towns in Spain. There are also connections to France and Portugal.
The Atocha station is located very centrally in the city. The Chamartín station is located in the northern part of Madrid.
In other words, you can easily take day trips and visit other Spanish cities while you are there. Many tourists use Madrid as a base while they explore the entirety of Spain. This does take some time, though, since Spain is so full of interesting destinations.
Madrid day trips
Here are the top day trip destinations from Madrid:
Toledo – the old capital, full of historic sights
Segovia – beautiful Roman city an hour northwest
Salamanca – famous student city about two hours west
Ávila – historic walled-city, often visited on the way to Salamanca
Aranjuez – famous for its palace and its gardens
You can comfortably visit all the cities above and see the main attractions in just a day. It is best to leave before noon and arrive back in Madrid at night.
This article was first published on scopetrip.com.
Other cities can also be considered – Valencia is only an hour and a half away if you take the high-speed AVE-train. Zaragoza, Valladolid, and even Córdoba can work as day trips, if you plan it right.
Destinations such as Barcelona, Seville, Alicante, Bilbao, and Santiago de Compostela are too far away for a day trip, but if you plan to go to any of these cities after spending time in Madrid, it is certainly an option.
Health and safety
Madrid is remarkably safe for a city its size. You can walk around most central neighborhoods at any hour, even alone at night. There are some areas in the centre where you have to be a bit careful at night – Lavapiés, Cuatro Caminos, Tirso de Molina.
The most sketchy neighborhoods are generally south of the city centre – Vallecas, Carabanchel, parts of Villaverde. But even in these parts of Madrid, it is still very unlikely that anything bad happens to you.
Salamanca, Goya, Malasaña, Chueca, La Latina, Sol, and the other popular areas of the city are ultra-safe, mainly because they are upper-class neighborhoods but also because there is a strong police presence.
As for health risks, there are very few. Sanitation is good, there are no unique local diseases that you won't find elsewhere in Europe, so your main worries are conditions such as flu, colds, Covid, etc. – which could happen anywhere. Food poisoning and traveler's diarrhea are rare in Madrid, so don't worry about it, but we still recommend picking good restaurants that appear clean whenever you go to eat out.
Conclusion
Madrid is a great city to visit if you are into cultural attractions. It also has an incredible nightlife, and it is a safe city to visit. Almost all visitors end up loving Madrid, so you have a lot to look forward to if you are planning a visit. We wish you a wonderful trip.