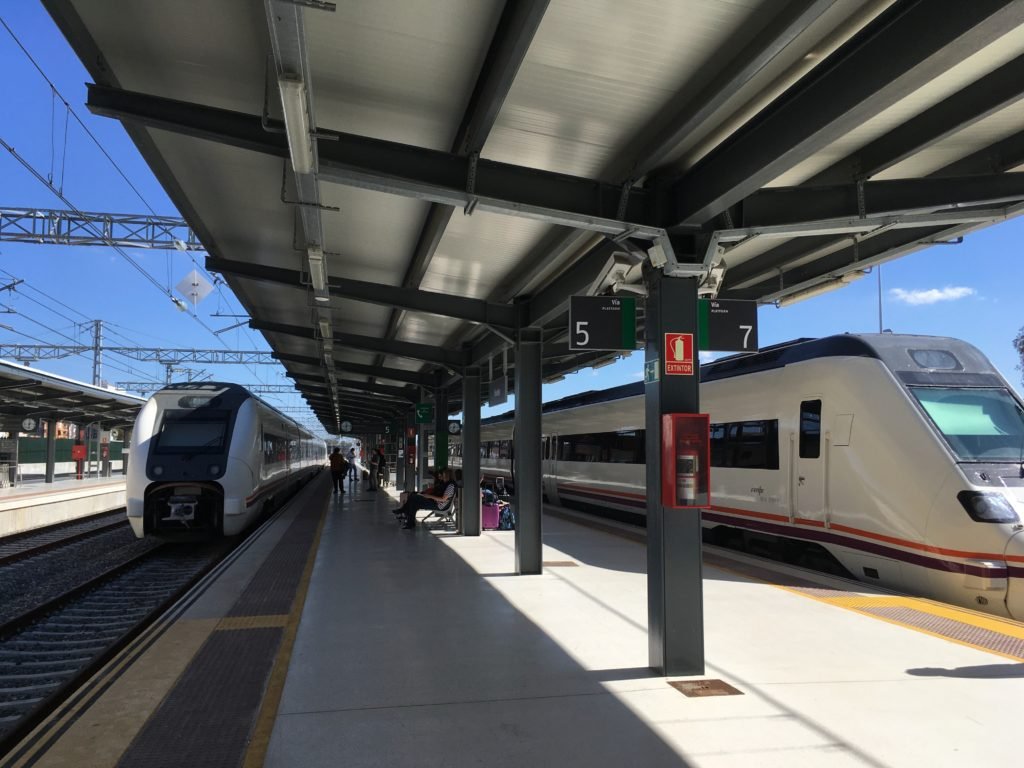 As one of the largest countries in Europe – and the second most visited – there is no doubt that Spain as an important travel destination. Most people come in by air, but once in Spain, it makes sense to take trains to get around. Here is a guide to train travel in Spain. We look into popular routes, types of trains, travel times, prices and international connections.
RENFE: The main operator in Spain
Renfe (officially styled as RENFE) is the national train operator in Spain, covering most domestic routes and some of the international ones as well. However, Renfe has many different types of trains, from high-speed long-distance routes to smaller suburban trains.
AVE trains in Spain
AVE (Alta Velocidad Española) is the most modern network of high-speed trains in Spain. Trains within the AVE network travel at speeds up to 350 km/h, so they easily cover long distances quite fast. There are only a few AVE routes so far, but the network is being expanded.
Get a full overview of the current AVE network on the picture below: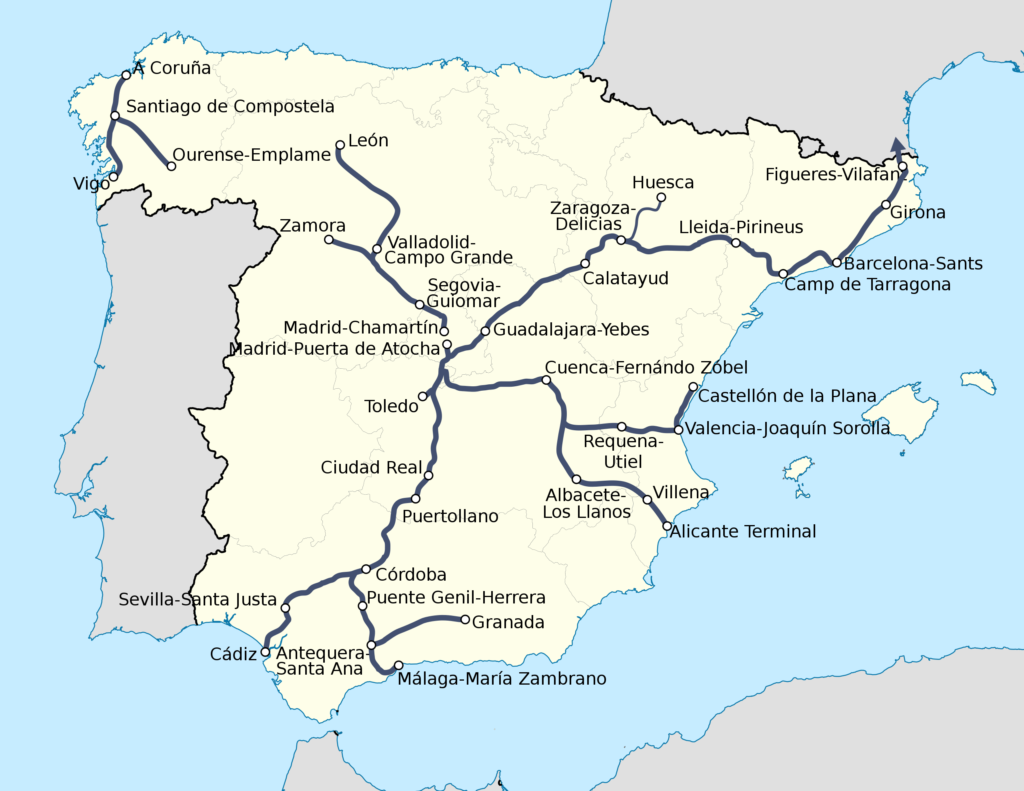 Overall, train travel in Spain gets a lot easier with the AVE trains. You can go from Madrid to Barcelona in just two and a half hours, something that would take much longer with a normal train.
The downside is that it is more expensive to travel with AVE. Most tickets will average around 50€ in price, sometimes even more, so it is not exactly cheap. Also, there are not many stops in between the routes. If you go from Madrid to Barcelona with an AVE train, it will often be direct with no stops in between. Sometimes, there will be one stop in Zaragoza, but don't expect it to stop in many smaller cities along the way.
However, the journey is very comfortable, since seats are usually quite spacious, and service is good compared to normal Spanish standards.
Other types of trains
There are other long-distance trains in Spain: Alvia, Avant, Altaria, Trenhotel, Celta and others.
And then we have the MD (Media Distancia) – very common to see. As the name so clearly dictates, these trains cover medium distances, usually within the same regions, but sometimes crossing regional borders as well. It is often affordable to travel with Media Distance trains. A trip from, say, Seville to Córdoba will set you back around 10€.
Light rail and metros
Several Spanish cities have a metro (subway). Madrid has the second-largest metro system in Europe, only surpassed by London: Barcelona also has a major metro with many travelers, and so does Valencia.
Here are all the cities in Spain with metros:
Madrid
Barcelona
Valencia
Palma de Mallorca
Seville
Bilbao
Málaga
Several other cities have light rail. That is the case for Alicante, Granada, Zaragoza and several others. A light rail system is under construction in A Coruña.
Furthermore, you will find RENFE Cercanías in many cities. These are suburban trains that connect larger cities to their suburbs. Most major cities have Cercanías, although they may come under different names (such as Rodalies in Catalonia).
Here are the cities/regions with Cercanías (or Rodalies):
Madrid
Catalonia (Barcelona, Girona, Tarragona)
Valencia
Málaga
Bilbao
Seville
San Sebastián
Asturias (Gijón, Oviedo, Avilés)
Murcia/Alicante
Cádiz/Jerez de la Frontera
Santander
Zaragoza
Travel times between Spanish cities
Madrid is the center of train travel in Spain. Therefore, most major routes – particularly the high-speed routes – go to and from Madrid.
Here are the expected travel times with high-speed trains in the most popular routes:
Madrid – Barcelona: 2h30min
Barcelona – Málaga: 5h50min
Madrid – Granada: 4h30min
Madrid – Málaga: 2h25min
Madrid – Santiago de Compostela: 5 hours
Madrid – Seville: 2h30min
You can always get the expected time of your journey by going to Renfe's website and typing in the cities you have in mind.
Night trains in Spain
There are several night trains in Spain. This will be updated.
International connections
It's never an issue to take a train from Spain and into one of the neighboring countries.
For example, there are connections between Madrid and Lisbon, Madrid and Marseille, Barcelona and Marseille, Barcelona and Paris, along with several trains departing into France from the Basque Country in Spain. However, the most frequent international route is the one between Vigo and Porto. It only costs around 12€ for a ticket here, so it can even be quite affordable to leave the Spanish borders with a train if you're up for it!
Interrail in Spain
Spain is one of the best countries to visit on an Interrail/EU Rail trip. Trains cover almost the whole country, and with many fast connections, you will get to the next destination in no time.
With a Global Pass, you can visit all the countries that are part of the Interrail agreement (which is basically all EU countries + a few more). But if you only want to travel around in Spain, you can get a One Country Pass covering just Spain, which is a bit cheaper.
If you want a One Country Pass, choose between the normal pass or the premium pass. The difference between them is that with the normal pass, you have to pay an extra fee when you book a seat reservation (which is obligatory with AVE and other long-distance trains), and with the premium pass, all further costs are included, although you still need to pick your reservations in advance. We recommend the premium pass. Prices start at 172€.
Where to buy Spanish train tickets
You should buy your train tickets directly with Renfe. That ensures you to get the legitimate price without any further fees. Visit Renfe's own website to search for departures and to book your fare.
When booking with Renfe, you will need to give information such as phone number, email address, passport number or another kind of ID, even though it will not be checked, and of course the names of you and your co-travelers.
You can pay with major credit and debit cards, such as VISA and MasterCard, and you can also pay with PayPal.
It is generally best to book online in advance, as it will give you the best price and you will be sure to get a seat. You can also book tickets by simply attending a station once you are here in Spain, but that comes at a risk of getting a higher price and some trains might be overbooked.