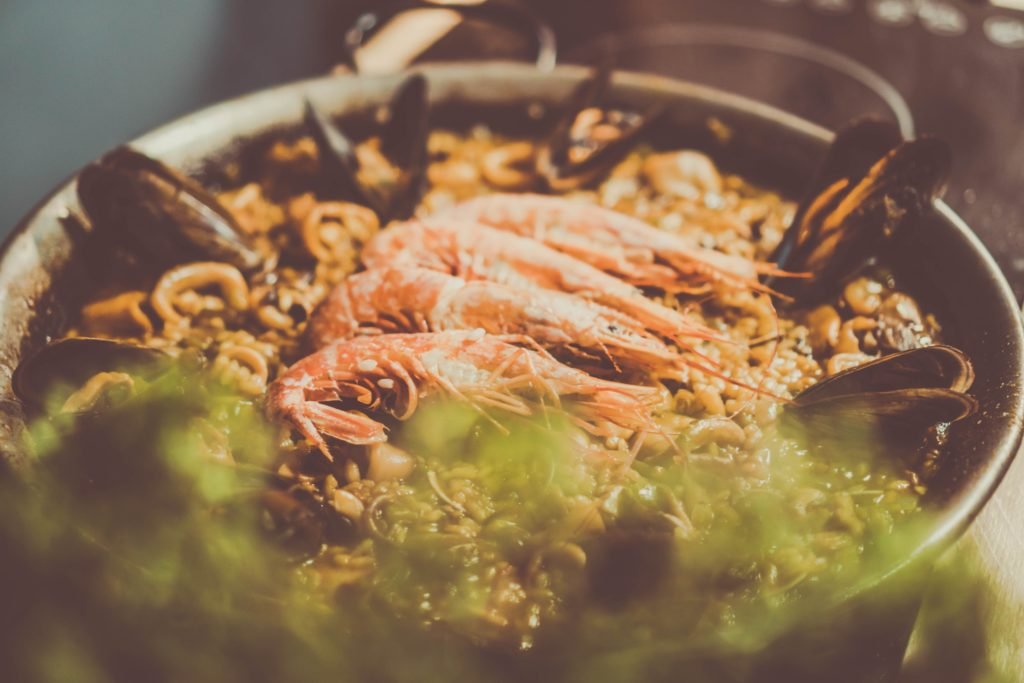 Some people love Spanish food, while others hate it. To form your own opinion, it is necessary to go there and try it. If you like to try different foods when you travel, there are a couple of dishes and snacks that you should eat in Spain to get the proper experience.
Here is a list of the top ten foods to eat in Spain!
Paella
This famous dish originated from the Valencian Community and now it has become famous all over the world. Paella is made in a large pan and includes ingredients such as rice, fish, meat, shellfish, vegetables and sometimes snails. It is spiced with saffron. Paella is a very tasty dish – and if you order it at a restaurant, you can expect a big meal. Usually, one plate is enough for at least two people!
Where to eat paella: Valencia
Grilled octopus
Grilled octopus (pulpo) is an extremely popular dish in Galicia. It has spread to all of Spain, but to try a fresh and authentic octopus cooked in a classic way, be sure to visit Galicia! It is very tasty and most seafood restaurants in Spain will have it on the menu.
Where to eat grilled octopus: Vigo
Alternatively, try the dish pulpo a la gallega (polbo á feira) – also based on the octopus. This time it is boiled inside a cauldron with a special routine where the tentacles are dipped first. After it is boiled, it is cut into smaller pieces and spices are added. Pulpo a la gallega will often be served with bread and red wine. The best cities to try it are in Lugo, Ourense and Vigo.
Patatas bravas
Patatas bravas is a dish you will see very often if you visit Madrid. It originates from the capital, and it is a highly popular dish among locals as well as visitors.
The dish is simple but good: It has cube-shaped white potatoes fried in oil and served with a spicy sauce. Patatas bravas are often meant as an appetizer for a larger meal or served along with tapas. It is usually a very inexpensive dish to order.
Where to eat patatas bravas: Madrid
Jamón serrano
Jamón serrano – also known as serrano ham – is a uniquely Spanish type of ham that has become globally famous. And, of course, it also remains incredibly popular in Spain itself.
This type of dry-cured ham is more expensive than other types of ham – especially if you want a high-quality jamón serrano. You can buy it in any supermarket, but it is usually best to eat it at a specialized jamonería or simply in a bar where it will be a typical component of tapas.
You can get jamón serrano anywhere in the country and the quality will be pretty much the same. For an authentic cultural experience, it would probably be coolest to try it in Andalusia.
Where to eat jamón serrano: Anywhere in Spain
Grilled sardines
Grilled sardines taste amazing. They especially love it in the south of Spain, and in cities such as Cádiz or Málaga, you will find it at almost every restaurant. It is also common in regions such as Galicia and Asturias, but prices and quality will often be better in the south.
However, Spain is not the only place where you can get grilled sardines. The ones in Portugal are even better, so if you are traveling around the Iberian peninsula, be sure to stop by Portugal as well!
Where to eat grilled sardines: Cádiz or Málaga
Fabada Asturiana
This bean stew is amazing to eat when the weather is on the colder side. Therefore, it is no surprise that it comes from Asturias, the coldest community in Spain. The ingredients are typically white beans, chorizo, black pudding, and lacón or bacon. It is spiced with saffron, like many other dishes in Spain.
In the community of Asturias, you can get this dish at several restaurants. Local shops will also sell full sets with all of these ingredients and after that, you simply go home and cook it yourself.
We recommend eating fabada asturiana at an Asturian restaurant with a good Asturian cider. This dish will keep you warm in the autumn and winter! It's definitely a dish you must try in Spain.
Where to eat fabada asturiana: Gijón or Oviedo
Crema Catalana
Arguably the most famous dessert in the Catalan cuisine. It is very old – crema catalana was first mentioned in 14th-century cookbooks from Catalonia. It has since expanded into France and other parts of Spain. Now it is served in many places around the world, but the name correctly reveals where it originated.
Crema catalana is reminiscent of creme brulée. It is made from milk and then thickened with eggs and cornstarch. Crema catalana is thick and usually cooked in the oven. Traditionally, it must be a little burned on the top. After it has been cooked, it is best to let it sit in the fridge for a while. Crema catalana is most common as a dessert, but if you love the taste, you can easily eat it for lunch too.
Where to eat crema catalana: Barcelona
Churros
Churros are a snack – and arguably the best snack in Spain if you ask most people!
It is commonly eaten in the morning or if you simply get hungry before lunch.
Churros are basically fried dough, somewhat reminiscent of waffles, but different in shape and much crispier on the outside. When you eat churros, it is recommended that you dip them in hot chocolate – churros and chocolate go well together. Most cafés in Madrid will have churros, and so will many other cities around Spain. It is possible to buy churros in supermarkets, that you later put in the oven or fry in a pot yourself, but it is never quite the same.
If you have never tried churros before, then be sure to find a café in Spain and eat them for breakfast ASAP!
Where to eat churros: Madrid
Tarta de Santiago
Everybody loves this Galician cake. Tarta de Santiago – or torta, as they say locally – comes from Santiago de Compostela and it is based on almonds. It is a very old dessert that has been consumed ever since the early Middle Ages.
The tradition says that Tarta de Santiago must be made in Galicia and must consist of at least 33% almonds. However, it is also very sugary. You will easily recognize Tarta de Santiago anywhere since it is almost always decorated with the Galician cross in the middle. A must-try dessert if you visit Galicia in Spain.
Where to eat Tarta de Santiago: Santiago de Compostela
Turrón
We'll round off the article with this magnificent snack. Turrón is a snack that is popular throughout Spain. You will find it in any supermarket around wintertime, and many outdoor Christmas markets will also sell it.
Turrón is typically based on a mix of nuts, honey, sugar and egg white. The original turrón from Alicante is mostly based on almonds. However, there are many different variants, and if you visit a turrón-shop such as Vicens, you will have several options.
Turrón is a marvelous snack to enjoy while you're visiting Spain, and it is an obvious treat to bring back home to your friends and family. Turrones have a long shelf life, and most of them are hard as rocks. You can easily travel with turrones in your suitcase.
Where to eat turrón: Anywhere in Spain, but particularly in Alicante