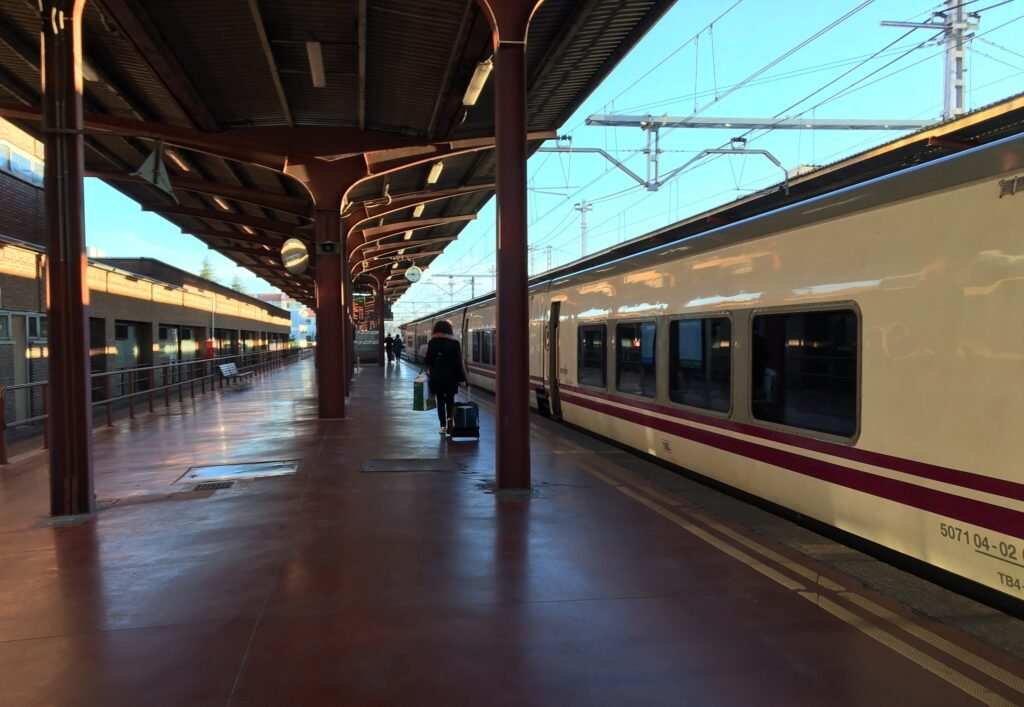 Madrid is the largest city in Spain and one of the absolute tourist hotspots. Murcia is another major city in Spain, located roughly 400 kilometers southeast of the capital. But what is the best way to travel from Madrid to Murcia and vice versa? See the options here.
You can either take the train, a bus, or drive by car yourself. Flying is also an option, but you will have to fly from Madrid to Alicante rather than Murcia. Let's look into each option and find what works best.
Madrid to Murcia by train
The easiest way to travel between Madrid and Murcia, if you are a tourist, is to take the train.
You can expect a travel time between 3 and 4 hours. The fastest option will be the AVE-LD train in the evening (3h7min), while the morning and noon trains are typically the slowest due to more stops on the way (3h52min).
In the past, the Chamartín station in northern Madrid was the main gateway to Murcia, but now most trains depart from the Atocha station in central Madrid. The usual stops along the way are Cuenca, Albacete, Elche and Orihuela. Some connections will have additional stops. It is possible that the train will continue all the way to Cartagena – if so, you will have to look for the Cartagena train at the station but simply get off in Murcia.
The Murcia train station is called Murcia-El Carmen and it is located in the southern part of the city. From there, you can take a taxi or bus to reach the city centre. It is also possible to walk if you aren't carrying too much luggage.
The price for a basic ticket will typically start around €28 while prices will be slightly higher at peak hours. A flexible ticket will cost €6-7 more than a basic ticket. First class tickets are not currently available for the Madrid-Murcia line.
You can always buy tickets at either the Madrid Atocha station or the Murcia-El Carmen station. However, you get the best price if you book online in advance. That can be done at Renfe.com.
Madrid to Murcia by bus
There are a few bus companies that let you travel from Madrid to Murcia and vice versa. But we don't consider it the best option since bus tickets are often more expensive than train tickets.
For instance, a bus ticket between Madrid and Murcia with the large company ALSA will typically cost around €45. This is more than what it costs to take the train.
It should be said that some buses are very comfortable and that there are multiple connections per day. ALSA offers 9 daily connections between Murcia and Madrid. A few of them drive at night, which can be useful in some cases. Also, buses actually connect Murcia directly with the Madrid Airport, which is super practical if you are on holiday in Murcia but you have to fly to your next destination from Madrid.
You can take the bus from either Estación Sur (southern Madrid) or Airport Terminal 4 (northeastern Madrid). In Murcia, the journey will start or end at the Estación de Autobuses de Murcia on Calle Sierra Pila. Expected travel time is 5 hours and 30 minutes on average.
Book your bus ticket with ALSA.
Drive from Madrid to Murcia
The most comfortable and flexible way to travel between the two cities will always be to do the drive yourself. If you have access to a car while in Spain, this is an obvious choice. Otherwise you can rent a car. For one person, this will cost more money than taking the bus or train, but it will give you a lot of freedom – and if you are traveling as a family or as a group, it will likely be cheaper overall.
You can rent a car with one of the top rental companies in Madrid – and then deliver the car in Murcia. Car rental should be booked online in order to obtain the best price and to get a car that suits you. It is possible to rent both manual and automatic transmission cars in Spain.
The fastest route is through the AP36 and A30 highways. There are small toll fees on the way. The drive takes just shy of 4 hours in total. Parking can be difficult in Madrid but relatively easy in Murcia. Having access to a car will allow you to take frequent day trips at your final destination (whether that is Murcia or Madrid)!
Madrid to Murcia flight
Flying between the two cities is impractical. You would have to fly between Madrid and Alicante, rather than Madrid and Murcia. Alicante Airport is the dominant airport in the southeastern region, so the vast majority of flights go there. And they are often relatively cheap – perhaps that is why some tourists consider flying.
Alicante Airport is located some 60 kilometers away from Murcia city centre. From Alicante Airport to Murcia, you can take the 55 minute bus for a price of €5. A taxi or a private shuttle will cost from €75 – €100.
Murcia does have an airport (RMU) but it does not currently have any connections to Madrid. So Alicante is the only option. For that reason, it doesn't make sense to fly from Madrid to Murcia.
The only situation where it makes sense to take a flight is if you are staying in Murcia and have a flight out of Madrid later. Then, it might be easier to go to Alicante, fly to Madrid from there, stay at the airport until your outgoing flight, and then leave the country. Otherwise, taking the train or driving by car is much better.
Conclusion
If you want to travel from Madrid to Murcia (or from Murcia to Madrid), we highly recommend that you take the train.
When everything is accounted for – practicality, price, comfort and travel time – the train usually wins.
Car rental is the best option if you are traveling more than three persons together. Driving from Madrid to Murcia or vice versa is easy and straightforward.
Taking the bus is impractical since it is usually more expensive and takes longer than the train. And while flying is possible, by use of the Alicante Airport, it is also very impractical. So if you have to travel between these two cities, your main priority should be booking a train ticket or renting a car.
Read our guide on where to stay in Murcia before you arrive!