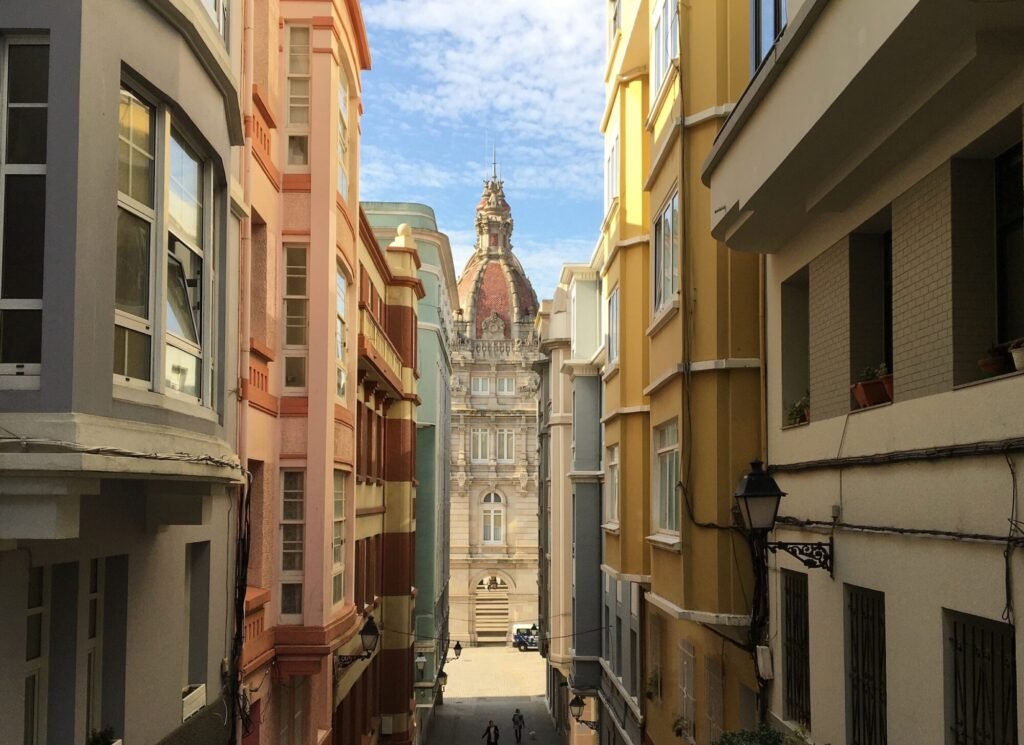 A Coruña is a great city to visit if you like the mix of culture and nature. Located on the northwestern tip of Spain, the city faces the Atlantic Ocean, and it has famous attractions dating back to Roman times.
It is important to find a nice place to stay in A Coruña.
Ideally, you want to be near the attractions that interest you. If you love architecture, museums and old churches, you should stay in the historic centre. If you want a beach trip or a football trip, you should be near the Riazor neighborhood.
We will guide you through the best neighborhoods in A Coruña in this article. You will also get a recommendation for the best hotel in each area. Let's look into it!
Marina district
We really like the northern marina district. In many ways, it is the perfect place to stay. There are several reasons for this.
First of all, the port is really charming. You can enjoy the view of the boats, and the area is pleasantly structured. When looking south, you get the beautiful view of Avenida Marina and A Coruña's trademark modern architecture.
But we should also mention that the port district is very close to La Pescadería which is the old historic centre of A Coruña. You can walk there in less than 5 minutes.
If you stay in the marina district, you will be near top attractions such as the San Antón Castle, the Church of Santiago, the city hall at the famous María Pita square, and countless other big sights. The main beach is about a kilometer away, also within distance. You'll also have several classic restaurants and bars nearby – it is the port district after all! The central location lets you do almost anything.
Best hotel in the marina district: NH Collection A Coruña Finisterre
The top hotel in the port district – perhaps even in the entire city – is NH Collection A Coruña Finisterre. It's a massive hotel that is visual from almost any part of the port district and even from Avenida Marina.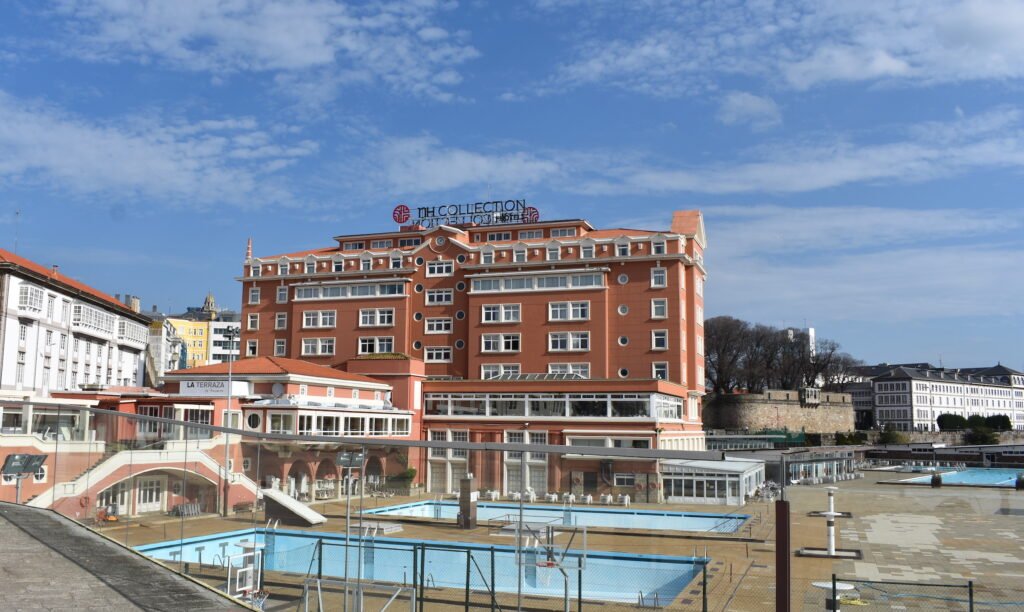 It's a 5-star hotel with great facilities: Beautiful rooms, great views of the city, 3 swimming pools, gym, sauna, Wi-Fi, private parking, bar, and much more.
Yet, despite all the great conditions, the hotel isn't as expensive as 5-star hotels usually are. Prices start around 70 euros per night. NH Collection A Coruña has several different rooms to choose from. A superior double room is affordable and well-suited for couples. Twin rooms are perfect for friends traveling together. A family quadruple room is obviously great for families, and a suite is the ultimate choice if you want to splurge.
When you are ready to book, you can select your ideal room. The hotel is very easy to locate, and with the hotel prices in A Coruña, you might as well choose the best option and get a luxurious stay.
La Pescadería
As mentioned in the previous section, La Pescadería is the barrio (neighborhood) that contains many of A Coruña's oldest parts. It can be classified as the old city centre. That automatically makes it a great neighborhood to stay in, especially if you are culturally interested.
La Pescadería has a lot of charming streets and houses. You can easily do some shopping and eat out in this neighborhood. Furthermore, it is very centrally located and there are top attractions in every direction.
Overall, that makes La Pescadería a great area to stay in. At least if sightseeing is your main priority!
Best hotel in La Pescadería: Alda Galería Coruña
This is just a 2-star hotel, but don't get fooled – it is highly popular and gets an average rating of 9.3 out of 10 from previous visitors. This is the hotel to pick if location means the most to you. You will be close to almost everything. If you want to do an evening walk, you can go right out the door, and you will instantly have impressive sights in front of you.
The rooms are quite basic – but very comfortable. Every room at this hotel has a private bathroom, a TV, a desk, and a nice bed of course. Sizes vary between single rooms and premium doubles. The staff is multilingual. The prices are very reasonable. When available, you can get a double room with a balcony for just around 60€ per night!
Who should stay with Alda Galería Coruña? The cultural traveller who prioritizes the location and spends most of the time outside exploring.
Beachfront area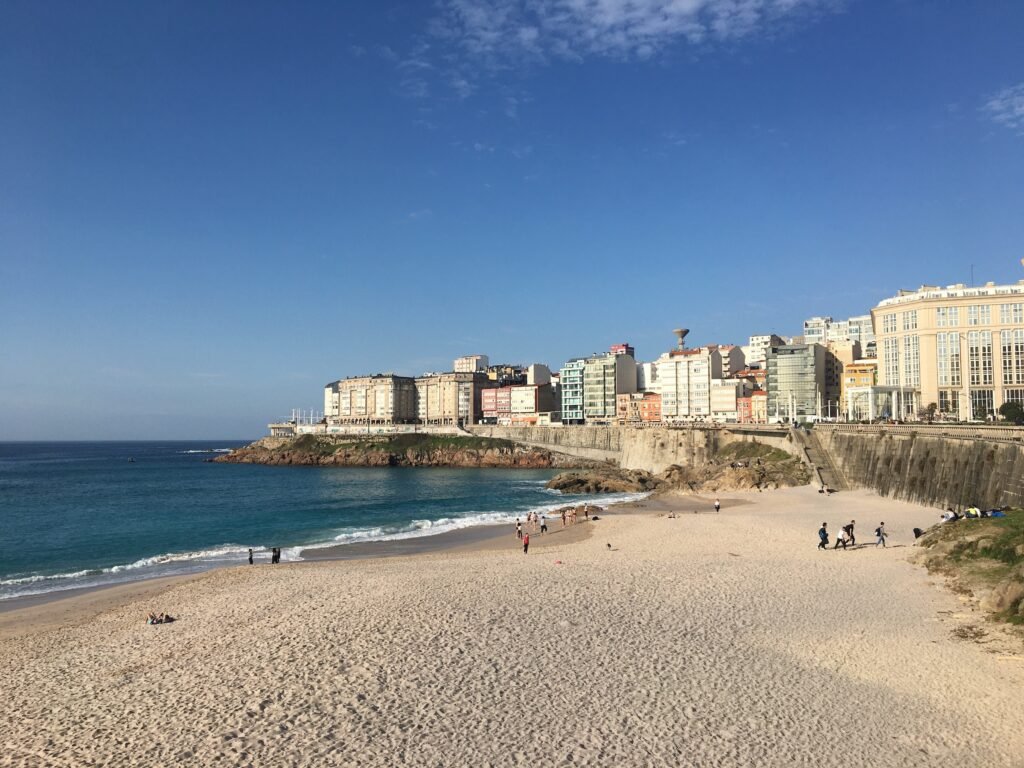 Love going to the beach? Then it's not hard to decide where to stay in A Coruña. It has a central beach facing the bay of A Coraza. This beach is called Praia de Riazor, it is very spacious and perfect for everything from evening walks to bathing and surfing!
And don't worry about only having the beach near. The beachfront area is so central that you are still within A Coruña's historical centre. It is a really beautiful area with great views in every direction, so it is an awesome place to stay.
The central beach area can be crowded in the peak of the summer (July-August) but for the rest of the year, it is very reasonable.
If the beach is your main priority, but you still want to be near historic attractions, you can easily stay in this part of A Coruña.
As a bonus, you will be near the Riazor Stadium – home to the football club Deportivo La Coruña. So if you're coming in to visit a football match, the area is also highly ideal!
Best hotel in the beachfront area: Hotel Riazor
This 4-star hotel is located just a few meters away from the beach. It's located on Riazor's promenade and it offers you some attractive facilities.
The rooms are nice and clean. They have air conditioning, minibar, toiletries, internet, tv, everything you need. There is a restaurant/cafe that serves traditional Spanish foods and snacks. It also has a bar and a gym.
We would recommend this hotel if you want to stay as close to A Coruña's central beach as possible. The hotel is suited for everyone – solo travellers, couples, families. In fact, there are specific family rooms since the hotel often hosts families that are eager for a fun vacation near the beach.
Hotel Riazor ranks as the third-most booked hotel in A Coruña. The average price per room is just 60 euros per night – very reasonable.
Book your stay with Hotel Riazor here!
Los Castros
Los Castros is a newer area than the ones we have mentioned so far. It is significantly less touristic. Located south of the port district, Los Castros is a more commercial area. It does not have many sights and attractions, but it does have malls, parks, supermarkets, schools and various businesses. It is also very near the main train station.
Why stay in this area of A Coruña? It makes sense for business travellers, for one-day travellers that want to be near the station, and for tourists who are looking to experience the day-to-day life in the city rather than focusing on the old attractions.
With that said, A Coruña is a very walkable city, so if you are staying in Los Castros, you can still get around to all the classic attractions. It is no problem at all.
Best hotel in Las Castros: Hotel Plaza
Hotel Plaza is a lovely place in Los Castros. It's a modern and minimal hotel with nice rooms and pleasant conditions. Large windows give natural light in most areas of the hotel, including inside the rooms. It has a swimming pool, a restaurant and a bar, so it will be easy to entertain yourself while staying there.
Thanks to the location in A Coruña's commercial area, this hotel is very popular among business travellers. So if you are looking for that type of hotel, browse no further. It gets tremendous ratings and a night at the hotel costs around 65 euros on average. There are several different rooms to choose between, from regular double rooms to family rooms and junior suites. Hotel Plaza also offers a "Romantic Package". With this, you and your partner get a nice double room plus access to the spa!
No matter what type of room you want, book your stay with Hotel Plaza here.
Norte (Hercules Tower area)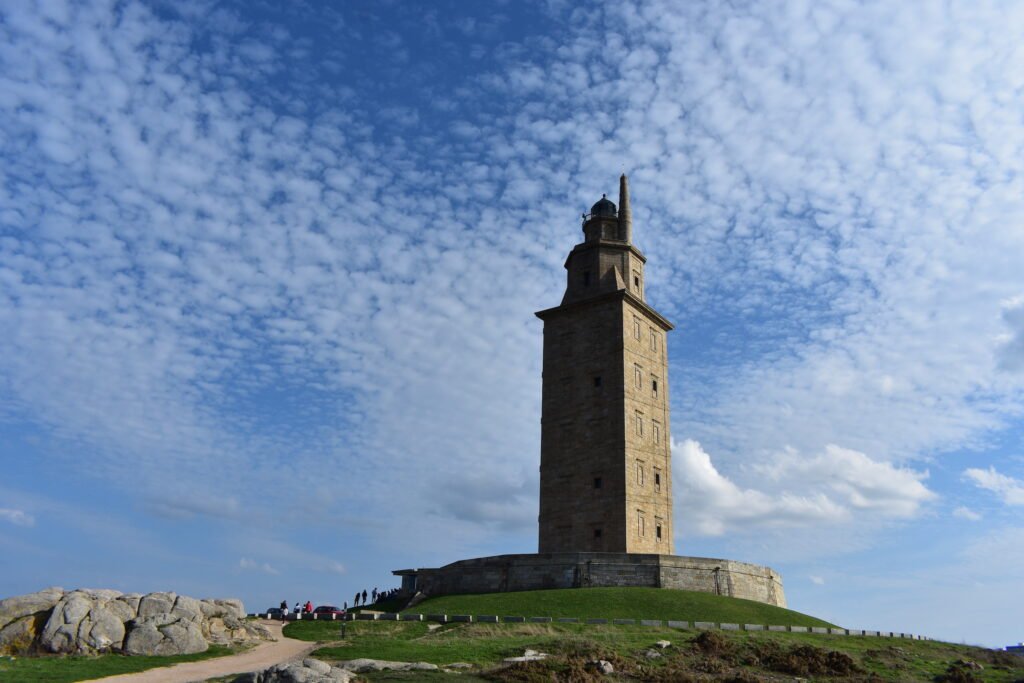 The main attraction in the city is the Tower of Hercules. This classic lighthouse is located a bit away from the centre. In fact, it is positioned in the northern tip of A Coruña's peninsula. There are other attractions here as well – for instance, Aquarium Finasterrae, the city's impressive oceanarium.
But we would say that the main reason to stay in the northern area of the city is the natural settings. The northern coast is raw and beautiful. If you love nature more than culture, this is the place to be. It is calm, the area is very green, and you can always hear the ocean. That is a bit different than the city centre where it's more crowded and loud.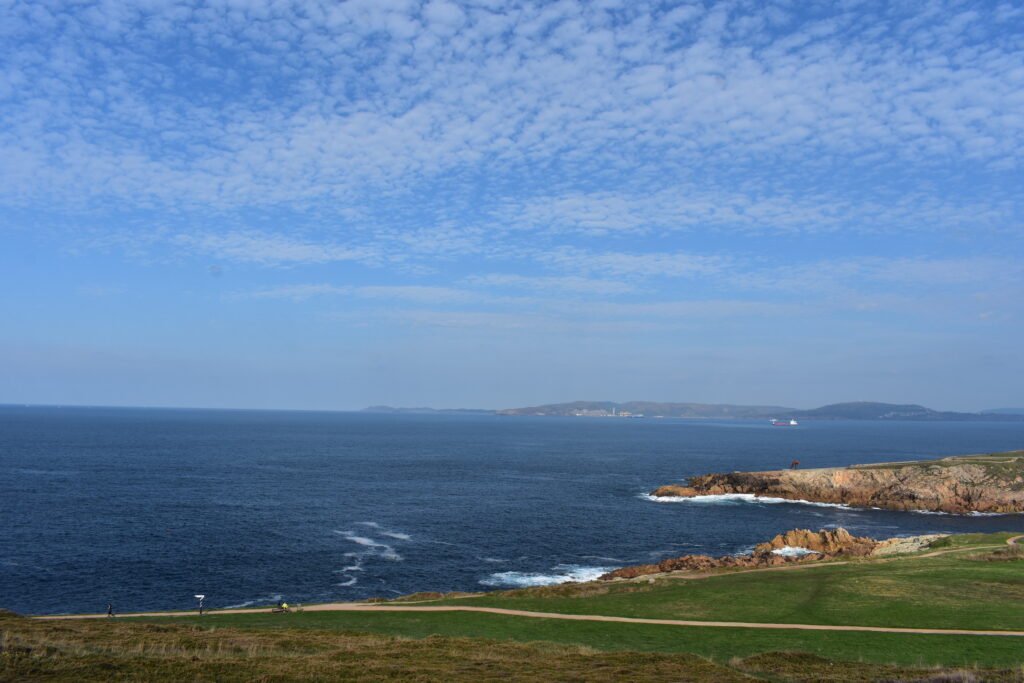 Still, the northern tip of A Coruña is not so far away that the rest of the city is inaccessible. It takes just 20 minutes to walk down to the historic centre, and 30 minutes to get to the business area on foot. By car or bus? Even faster!
This article was first posted on scopetrip.com on March 5th, 2021.
But this area is beautiful, you will be near the sea, you will be in a green area, and there is even a cute little beach nearby – Praia das Lapas. And of course, you will be near the area of the most famous attraction, the Tower of Hercules – a lighthouse built by the Romans a thousand years ago, the oldest extant lighthouse in the entire world.
Best hotel in Northern A Coruña: Eurostars Ciudad de La Coruña
The Eurostars Hotel is located in the north, at an almost perfect location if you want to stay at a calm place but still within reasonable walking distance of the city centre.
The hotel is just a bit east of the Hercules Tower and about 1.5 kilometres north of the city centre. If you want to shop, you have the neighborhood of Monte Alto very near.
It's a 4-star hotel with a very high rating by the visitors. Definitely one of the best places to stay in A Coruña, but again – it appeals most to nature enthusiasts who love green surroundings more than city surroundings.
Rooms are bright, large and extremely comfortable. There are windows with nice views in most rooms. The hotel has a restaurant, so you won't go hungry. There's 24-hour service in the reception and the staff speaks several languages.
Book your stay with Eurostars La Coruña here!
Conclusion
When planning a trip to the city, most tourists have one big question at first – where to stay in A Coruña?
After all, location is important, and you want to be near the places that interest you.
We hope that this guide has inspired you and helped you find the ideal place. A Coruña is not a huge city, so everything is within fair distance no matter where you are staying. But some areas are still better than others, and when it comes to hotels, it is simply nice to be staying at a comfortable and perhaps even luxurious place.
To round off we will once again recommend a few hotels in a Coruña. This time in more simple words:
We wish you a great trip to A Coruña! If you are looking for the best things to do in the city, read this article too!